This post may contain compensated links. Please refer to my disclaimer here for more information.
Whether you want to protect yourself from the elements during the winter months, you love outdoor activities, or you're looking for a packable jacket for your upcoming travel adventure, it's important to get the choice right from the start. There are many lightweight down jacket options on the market so we've made a list of best packable down jackets. We've done the research to help you find the best down jacket for your budget, as well as its functionality for your needs too. Almost all these options come in at under $100 with many under $50 so there's no need to spend a tonne!
How to pack down jacket products is a common question, because they seem so large in pictures, but in reality they fold down to be very small, and this is what makes a travel down jacket the ideal choice for getting out and about. You don't only have to look at size however, because the best packable down jacket for your cash has to fit your available budget, it has to be the shape and size you prefer, and your ideal down travel jacket has to be fit for the weather conditions you are likely to encounter.
So whether you are looking for a women's packable down jacket, or a men's packable down jacket, we have put together a few suggestions for each, as well as some choices for a children's packable down coat too, to make your choice much easier.
The Top 12 Affordable Packable Down Jackets for Travel
You don't have to spend a fortune when looking for the best packable down jacket men's choice on the market, because you will see some fantastic cheaper options available too, especially in puffer jacket style. This particular packable puffer jacket certainly won't break the bank, and is available in black, red, grey, green and blue colour options. The coat is made of 100% nylon, with 90% duck down filling, and 10% feathers; this all adds up to a very warm packable puffer coat. The front zips up and there are two zippered hand pockets for keeping your things safe in this down packable jacket. On top of this, the coat is quite slim fitting for fashion, and packs away into a provided pouch for easy carrying. This is certainly one of the best packable down jacket choices on our list.
Click here to check prices on this jacket.
This particular long packable down coat is available in several different muted colour options, which makes it fashionable, as well as being very slim fitting. Prices are very reasonable, depending on colour and size. This is a machine washable lightweight packable down jacket, which has a standing colour and zip up front. We mentioned sizes, and this particular coat is available in a large range of sizes, which makes it a fantastic packable down jacket plus size option to go for. There is a colour matched pouch included too, and this plus size packable down coat is certainly high quality for the price.
Check out the prices of this jacket and read reviews here.
https://www.amazon.com/ZSHOW-Winter-Packable-Jacket-Black/dp/B011P28UFS/ref=sr_1_4?ie=UTF8&qid=1470430400&sr=8-4&keywords=mens+packable+down+jackets
This packable down jacket for men comes in a variety of colours, including black, blue, white, red, and purple. Priced at around $35-43, packable down jacket reviews speak very highly of this particular coat, which has a zipper closure and is puffer jacket in style with a windproof hood. The elasticated cuffs mean you are kept warm and secure, and there are four pockets, two inside and two outside. This light down jacket comes with a packable pouch included, which folds down small enough to transport for travel or everyday use in a bag. Packable down parka or puffer jackets are very fashionable, but if you can pull in a functional reason too, which is ideal with this choice, that's even better. There are boys packable down jacket options in this range also.
Find prices and read reviews of this jacket here.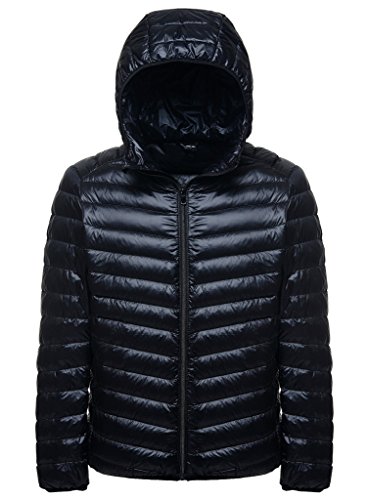 When looking for a men's packable puffer jacket, this is a great lightweight choice to go for. Available in navy, white, or black, this packable winter jacket is slim fitting, and made from 100% nylon and 90% white duck down as the filling, for extra warmth. When looking for the ideal packable down coat plus size, this one will fulfil your needs, as it comes in a wide range of different sizes and easily converts into a neck pillow for travel thanks to the included pouch. The large hood which is windproof also makes it a great choice for the best packable down coat with hood on the market too.
You can find prices and more details here.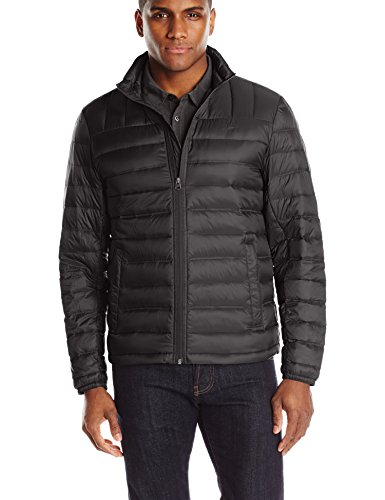 Packable lightweight down jacket options are everywhere on the market, so it isn't the easiest decision to find your ideal choice, having said that, going for a big name sometimes helps with confidence. This particular packable down jacket with hood will cost you around $46-79, which is still relatively low cost for the quality on offer. There are several muted colours available for fashion, and it is made of 100% nylon, whilst also being machine washable. Many packable down jacket men's choices have similar features, such as elasticated cuffs and being wind resistant, including many men's packable down vest choices too, but it's down to your personal choice at the end of the day when it comes to making your ideal down jacket packable final decision.
Check the price and read reviews on this jacket here.
A packable down jacket for women has to be functional but fashionable too, and the added bonus with this particular down packable coat is that it is relatively cheap too. You can choose between many different colours, such as black, blue, green, navy, beige, red, or green, and this women's packable down coat itself is made of lightweight, yet warm material, with 90% white duck down filling for comfort. There are four pockets, including two internal pockets which are very deep, and two external pockets with zip closure. This particular packable down jacket women's option is hand wash only, and also dry clean only, which could be the only downside of this coat. When looking for a lightweight packable down jacket women's choice is certainly good quality for the money, despite the washing disadvantage.
Check out the price, colours available and reviews on this jacket here.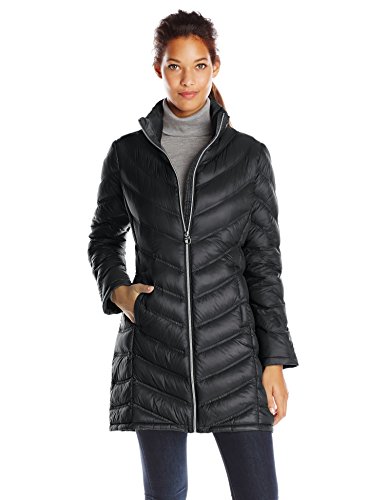 We know that Calvin Klein is a huge name in fashion, which should give you confidence when choosing this particular ladies' packable down jacket. Priced slightly higher than many, because of the label, this jacket costs slightly more than the others on our list, and comes in either black, beige, grey, or navy as colour choices. The long-line style is designed to keep you warm and dry on your travels or your day to day business, and this packable quilted jacket folds down small enough to store in the provided drawstring pouch. The jacket is chevron quilted with a strong zip front, standing collar, and two side pockets for storage. When searching for a packable down puffer jacket, you might be asking yourself "are packable down coats warm really?" Well, this one certainly is!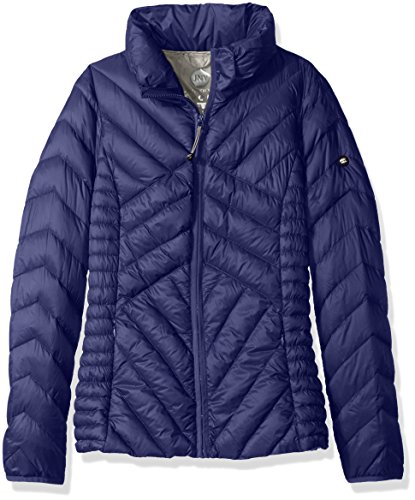 Light packable down jacket choices and packable feather down jacket options are very similar, if not the same, and the difference really comes in terms of what is inside it. This particular lightweight packable down coat is super lightweight indeed, and you can choose from black, indigo, or khaki for colour. The price is possibly a downside, because of the name, slightly pricier, however this hooded packable down jacket is quality, machine washable, and has two large side entry pockets which are hidden away and zip closing. This is actually a quilted packable down puffer jacket, which means it is extremely warm for those chilly days when traveling or heading to work, whilst also falling into the category of a long packable down jacket too, to give you extra protection from the elements.
Find prices for this jacket here.t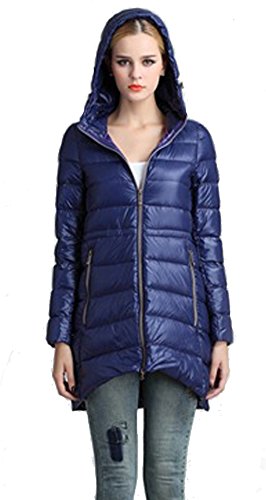 This packable down jacket women's option is a little low cost compared to our previous two packable down coats for women, but that doesn't mean that when asking yourself "are packable down jackets warm?" you will get a negative answer – quite the opposite! There is certainly not a lot of downsides attached to this packable premium down jacket, and you can expect to pay a slightly higher price. Choose between black or indigo, with 90% duck down filling for warmth. What is packable down? Basically a jacket that is filled with warm material for travel or use, and also a jacket which folds down for storage. This particular hooded packable down jacket is slightly longer at the back than it is at the front, which is a) fashionable, and b) perfect for extra protection from the weather, with an attached hood and drawstring too.
Find out prices for this jacket here.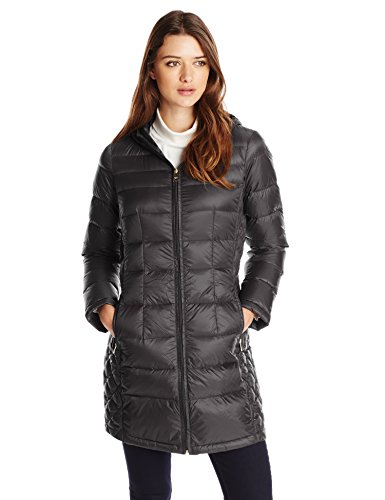 The final choice on our list of packable down coats for women is a London Fog variety. Priced at around $61-100, depending on colour and size, you can choose between black, blue, or khaki, with machine washing perfectly acceptable for this particular packable down jacket women's choice. This is a hooded jacket which has a strong zip closure at the front, and quilted side panels. There are two zippered pockets at the side, and the jacket folds into the provided pouch for ease when travelling. If you're wondering how to pack a packable jacket, or indeed how to fold a packable jacket, this is ridiculously easy, as despite the thickness required for warmth, the filling makes folding and storing these jackets into their assigned pouch, very simple indeed.
Get current prices and read reviews of this jacket here.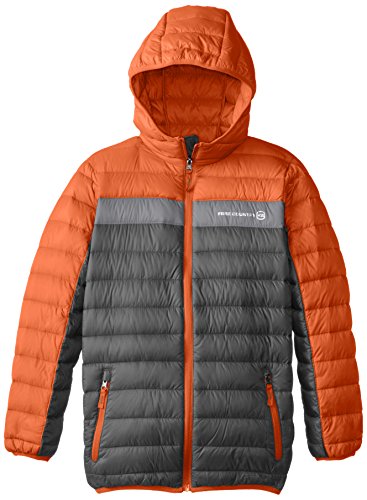 Of course when looking for a kids' packable down jacket you need to know that your little one is going to be warm whilst travelling or heading to school and back, and these packable insulated jacket choices are ideal for ticking that box. This particular jacket is reasonably priced and comes in a variety of different mixed colours, which offer a fun choice, but also safety in the dark. This packable down jacket boys' option is made of 100% polyester and is machine washable, which is certainly needed with any form of children's clothing! There is a large, wind-proof hood, and quilting all over the jacket, as well as two size entry zip pockets. Of course, you will want to know how warm are packable down jackets? Well, very warm in this case.
Find out current prices for this jacket here.
Little girls will love this cute girls' packable down jacket, which comes in two colour options – pink or blue, both mixed with grey. This warm packable jacket is priced between $24-56 depending on colour and size choice, and is made of 100% nylon, 90% down, and 10% feather for the filling. The hood is large and windproof, and the front zip has a reflective pull on it, for extra safety during dim lighting. When looking for a packable down jacket kids' option, one of the main points of asking is whether it is machine washable, and this particular packable hooded lightweight down jacket is certainly just that, on a cold setting however. In addition, there is an included neck pillow-shaped storage pouch for ease of travel too, which answers the question of how to pack a down jacket!
Find prices on this jacket here.
These are five men's, five women's, and two children's choices of packable down jackets, which goes to show that everyone is catered for when it comes to this warm and cosy way of travelling in warmth. Whether you are looking for a packable goose down jacket, a plus size packable down jacket, or packable down jackets for men alone, you will be spoilt for choice on the market these days.
Of course, there are many brand named choices to go for, and whilst it's important to remember that the price of a named jacket will be slightly higher, this is a consideration for quality too. A patagonia packable down jacket, a halifax packable down jacket, or a uniqlo packable jacket, will certainly tick all the boxes you need, or perhaps a big named marmot packable down jacket suits your requirements.
Whichever you go for, these particular jackets are ideal for day to day usage during adverse weather, for throwing something warm into your bag if you're not sure what the elements are going to throw at you, or for travelling somewhere new, perhaps somewhere which involves lots of outdoor time.
See also: The Best Packable Lightweight Rain Jackets to Keep You Dry on Your Travels!
Pin this post for later!