This post may contain compensated links. Please refer to my disclaimer here for more information.
The weather is unpredictable no matter where in the world you are; yes, some destinations promise wall to wall sunshine but we are in the midst of climate change, and that can mean a shower at any time! Of course, when you're out and about, you don't want to be getting soaked through whilst you're trying to explore, so you need to make sure you have the right equipment for the job. We are of course talking about a packable rain jacket, and a lightweight jacket one is always the best for the job – make it a lightweight waterproof rain jacket and you have all the things you need for a day out or even a travel adventure with unpredictable weather.
What You'll Find in This Post
Whether you're looking for a women's lightweight waterproof jacket, or a men's lightweight raincoat, you will be spoilt for choice. Of course, there are also many kids' lightweight jackets on the market too, and when looking for a kid's packable jacket, you need quality and durability as standard.
There are countless types of lightweight rain jacket on the market, and that can make choosing the right one for your rather difficult – never fear however, we have found some of the best on review! Whether you're looking for a men's lightweight jacket, or one of the many lightweight ladies' jackets around, you need to first think about what is important to you – price, colour, what it can be used for etc. A lightweight rain jacket for men may not suit a woman, but having said that, many women like the male style too – it's personal choice!
Best Packable Lightweight Rain Jackets at a Glance
Reviews of The 11 Best Packable Lightweight Rain Jackets: Ideal for Travel and the Outdoors!
Below we have reviewed 11 of the best waterproof packable jacket choices on the market, many ladies' lightweight rain jacket options, as well as men's, but they all add up to a high quality lightweight travel raincoat review list, which should leave you feeling a little more reassured about your purchase.
A good quality named product should give you plenty of confidence in the product you are buying, and much of the time that means you don't mind spending a little more for your lightweight rain gear. When it comes to being a good quality men's packable raincoat, This product will set you back quite a bit, but it is worth it for the quality. This packable jacket is designed with men in mind and is lightweight enough for travel. The material is constructed in such a way to keep you dry but cool, with a zip up front and dual pockets, which close with zips, to keep your belongings safe, which is one of the things you need from a packable lightweight jacket. There is a drawstring hood and a drawstring hem on this light rain jacket with hood, and this helps to keep the fit much more towards the body. If you find the market drenched in women's lightweight jackets, then this one will be a surprisingly good buy, whilst also being machine washable and stylish too. Ideal for the outdoors, this light rain jacket is one of the best on the market, despite the higher price tag compared to some of the other best lightweight rain gear around.
Check prices and read more reviews for the Patagonia Men's Torrentshell Jacket by clicking here.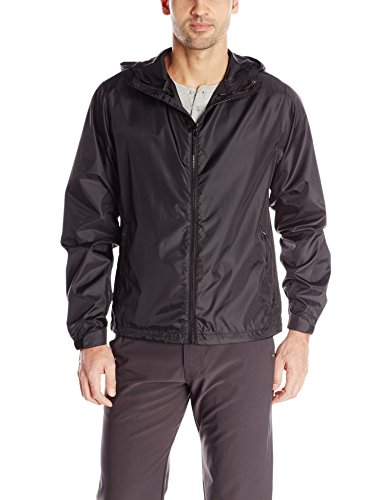 A packable raincoat doesn't have to cost you the earth, as this product shows, depending on the size and colour you opt for on this rain jacket packable option. There are several different colours on offer, such as red, blue, green, and navy, so you can identify the style that suits you best. Made of 100% polyester, there are elasticated velcro cuffs, which gets rid of that annoying flapping cuff problem which some lightweight raincoat options have. There are two zipper pockets for keeping things safe, as well as an adjustable hood and bottom hem too. This particular lightweight men's jacket also comes with a storage pouch, which is ideal for travelling, when you can pack it away into your bag when the weather is considerably better. This is certainly a great choice on our list of best lightweight rain jacket choices, in fact it is could be argued as in the top three of packable lightweight rain jacket options.
Check prices for this jacket and read more reviews here.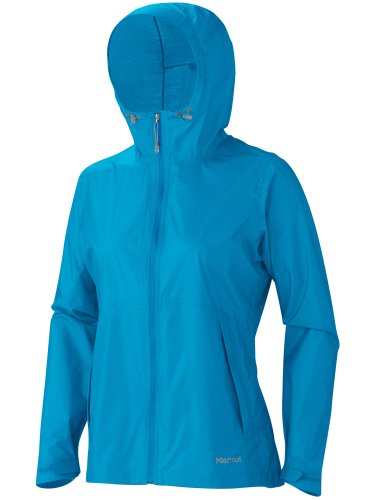 There are many lightweight women's jacket choices out there on the market, whether you're looking for a general jacket or the best lightweight raincoat for travel, and it will certainly be hard to figure out which one to go for, but this particular option is mid price range, and comes in a few different colours, including black, white, blue, and green. This is a lightweight waterproof jacket which looks sporty and fashionable, as well as having MemBrain Strata Waterproof technology, which means it keeps you dry, but is breathable at the same time, so you don't get sticky and start feeling annoyed when wearing this marmot lightweight rain jacket. Many lightweight jacket women's options can be oversized and not particularly flattering, but this one is anything but, making it an ideal option for travelling in style! Another plus to this lightweight waterproof jacket with hood is that this particular choice packs away into a storage pocket, and the hood is adjustable, with adjustable velcro cuffs, and reflective logos, for safety. This light rain jacket for women is priced quite moderately, this is one of the lightweight jackets for women which is middle of the road in terms of price, but you do get what you pay for, which makes this one stand out amongst the other light jackets for women around, in what can only be described as a large range of lightweight raincoats for women available.
Find prices for the Marmot Women's Crystalline Jacket here.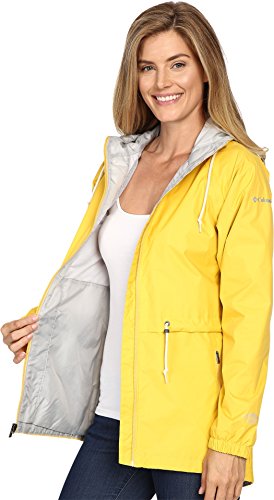 The best lightweight jacket on the market has many different facets to it, but when looking for the best lightweight rain jacket for travel, or indeed a general women's waterproof jacket lightweight choice, the option you go for in the end is really a personal decision, with a lot of it coming down to budget. This particular lightweight rain jacket for women comes in at quite the bargain price, totally depending on the colour you go for – this lightweight water resistant jacket is available in black, khaki, yellow, red, grey, or white. There is also a plus-size option for this jacket that you can see here. Made from 100% nylon, this is a stylish lightweight rain jacket women's option, which has a drop tail at the back and zippered pockets (two) for keeping valuables safe on the go. The adjustable waist give the jacket shape, and is very flattering too. As with many lightweight travel raincoats, on a more functional note, this is also machineable washable, and very durable, for long-life. The adjustable hood is attached, and the whole thing packs away into a small size, which makes it perfect for travel and day trips out. You will find that many packable jacket women's options are similar, but this one stands out as a light raincoat with a fashionable edge.
Find prices for the Columbia Women's Arcadia Casual Jacket by clicking here.
Find prices for the Plus Size version here.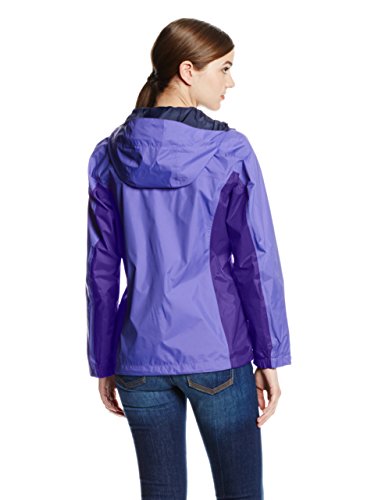 If you're looking for a packable coat or a lightweight travel rain jacket that comes in many different fashionable colours, this is certainly an option for you. This ladies' lightweight raincoat simply looks like a good quality outdoor jacket, but it is very waterproof and fashionable, coming in at reasonable price, depending on the size and colour you choose. There is also a Plus Size version of this jacket. Many light rain coats are warm, and this is no different, being a warm, lightweight jacket and one which is machine washable, which is always a useful extra to have when picking a women's lightweight rain jacket. The hook and loop closure is underlied by a strong zip, and there is a drawcord hem for better fitting. The hood is also built to stand heavy rain and winds, which is a must for packable raincoats for women, no matter where you are. This is one of the best packable rain jacket options for those who want to go for fashion in an affordable way, whilst being extremely durable too. There are many packable rain jacket women's options, but this is certainly up there for both travel and everyday use.
Check out the price of the Columbia Women's Arcadia II Jacket Skyward here.
Check out the price of the Plus Size version of this jacket here.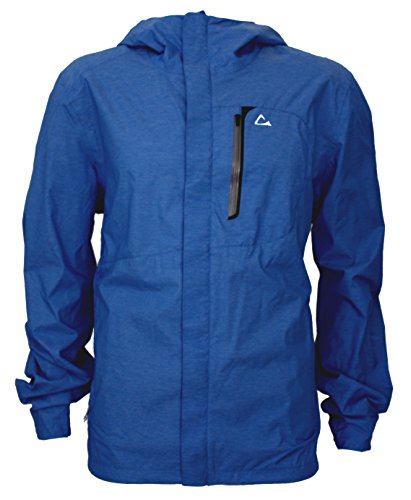 This particular packable waterproof jacket can be used for everyday use, or indeed for travel, and is specifically made for men as a packable raincoat with hood. Priced reasonably, choose between cobalt blue for fashion, or plain black to go with everything. This lightweight packable waterproof jacket is made of 80% nylon and 20% polyester, and you can machine wash this on a cold setting, which makes it more durable and lasts longer. This men's lightweight rain jacket is a good budget choice, which means it is open to more people, whilst also being fashionable at the same time. This is a men's packable jacket which has a 2.5 layer breathability level, meaning you won't get hot and sticky whilst walking around, but it will keep you warm and dry at the same time. There are many men's packable rain jacket options which are bulky, however this one is lightweight and easily packed away. In terms of a cheap men's lightweight waterproof jacket, this is a good and durable choice, and a great option for a best lightweight rain jacket for hiking activities.
Click here to check out the Paradox Waterproof Breathable Jacket, read reviews and get prices!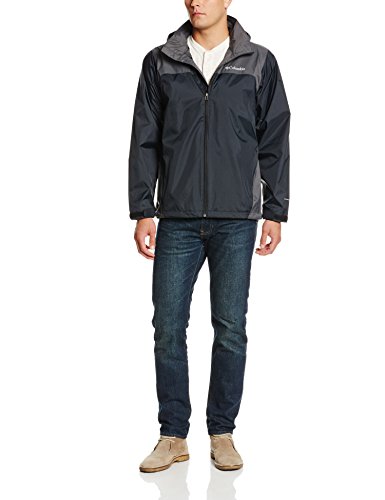 When picking a light packable rain jacket, nobody said that functional outdoor wear couldn't be fashionable, and this particular light waterproof jacket is certainly both of those things. This super lightweight rain jacket allows you to choose from a huge variety of different colours, some of them bright, and this means you can tailor your appearance to your mood, if you feel like it! In terms of use, this is great for everyday needs, or it can also be used as a dedicated travel option for packable rain gear, as it rolls up small and can be packed away into a backpack with ease. The strong zipper closure with drawcord means you will be warm and protected from the elements and there is a hidden hood for excessive rainfall. Pocket-wise, the side pockets are zippered at the hips, which means your belongings are safe, and the adjustable cuffs are there for extra comfort. In terms of how this light rain jacket men's option looks, you could say it is a mountaineering-type jacket, but it is stylish and practical enough to be used for a variety of different needs. If you're looking for a kids' lightweight rain jacket, check out the children's range too.
Buy the Columbia Glennaker Packable Jacket here.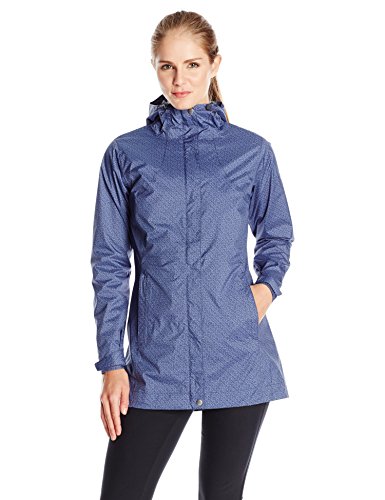 Packable coats can be used for several different needs, including working as packable raincoats for travel – nobody wants to be out and about exploring and be caught in the middle of a downpour with no protection. This is one of the best light rain jacket choices on our list for many reasons, but it is also a fashionable choice too, coming in several pastel and bright colours when deciding which to go for on this lightweight packable raincoat. This is also an affordable lightweight packable rain jacket too. The Omni-Tech side of things means you will also be warm but dry, and the material is breathable too, so no excessive sweaty or sticky feeling to contend with. This is one of the best lightweight rain jacket women's choices for many reasons, but the attached hood is adjustable and is described as a 'storm hood', so you know you're dealing with strength! There is an interior pocket for keeping special items safe, and two zippered pockets at the size, with adjustable cuffs for comfort. This particular lightweight waterproof jacket women's option is quite long-line compared to many, but not too much, as this is an added bonus for keeping more of you dry during those longer downpours. This particular lightweight raincoat women's dedicated choice is best described as fashionable but functional, which is exactly what you want from a jacket of this kind, with a girl's packable rain jacket range available too.
Find prices for  the Columbia Women's Splash Little Nocturnal here.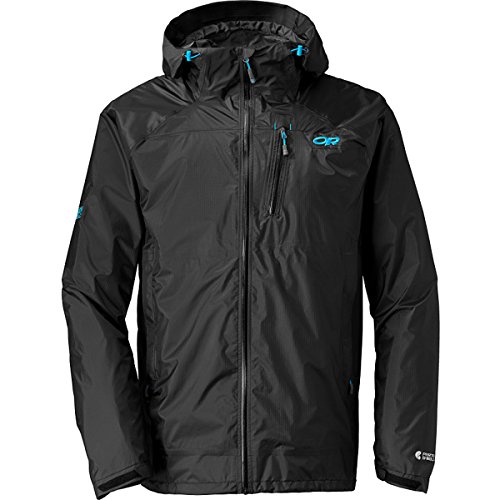 This lightweight breathable rain jacket is high fashion at its best, and when looking for one of the best lightweight waterproof jacket options, this should be up there. Very sporty and stylish, this lightweight rain parka costs around quite a bit compared to the above options, and is available in several different colours, including some bright ones too. Made of synthetic material, this packable rain jacket men's choice is breathable, lightweight, and will keep you cool and dry at the same time. There is an adjustable hood, making it one of the best waterproof lightweight jacket choices, as well as a reflective trim on the hood itself, which is ideal for walking around after dark. In terms of the best lightweight raincoats for travel, this one is a good argument for that claim, as it is very light and packs down very small into a travel bag of its own, which is included. The slightly higher cost of this particular lightweight waterproof jacket men's choice compared to some of the others on our list is made up for in terms of quality, so really it's a case of weighing up what is more important to you when choosing a lightweight breathable waterproof jacket.
Find the price of the Outdoor Research Helium Jacket here.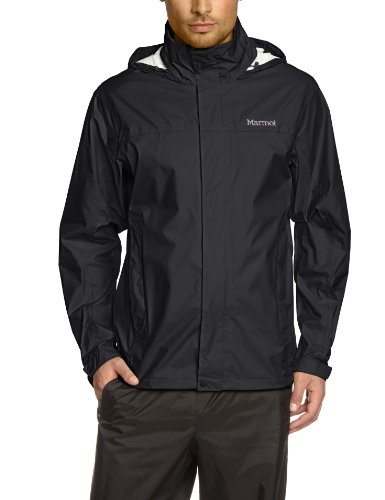 This particular lightweight packable jacket is for men, and is ideal for anyone wanting to find a lightweight rain jacket for travel or everyday use. Middle of the road in terms of price, this lightweight travel jacket comes in black, red, blue, and navy. This lightweight warm waterproof jacket zips up and has a button flap over the top, which keeps you warm and dry against the elements, together with an adjustable storm hood and armpit zippers, which are designed to keep you either warm or cool, depending on what the weather throws at you when wearing this lightweight hiking jacket waterproof choice. This waterproof lightweight jacket is basically ideal for everything, such as hiking, mountaineering, exploring, or simply walking around from home to the shops, and it has a sleek and stylish design to boot, and certainly rivals the best packable jackets for women top choices.. The angel wing movement means you can easily move your arms around without them irritatingly riding up, and if you're looking for a lightweight rain jacket men's choice, this is a good source of middle ground when looking for a range of packable lightweight raincoats for travel, or simply one of the best lightweight breathable rain jacket options. There is also a lightweight waterproof women's jacket in the same style.
Find prices for the Marmot Precip Jacket (Men) here.
Find prices for the Marmot Precip Jacket (Women's) here.
This particular lightweight women's rain jacket isn't the cheapest of our choices, but it is certainly a very high quality option to go for when looking for a ladies' lightweight rain jacket with hood. Prices are quite steep for this jacket but you're paying for the quality. you can choose between stylish black, blue or red. This lightweight women's raincoat is slim fitting, which makes it stylish with any outfit, be it for travelling or everyday general use, and it is one of the best lightweight packable rain jacket choices, because there are vents situated under the arms, to keep you cool at all times. Packable raincoat women's options should be easy to roll up and store, and that's exactly what this jacket it, and this waterproof light jacket is easily compressive for storage; if you are travelling, you can easily throw this into your hand luggage and grab it at a second's notice. This packable rain jacket for women is functional, and the fitted hood has an elasticated section, which keeps it close to your head in windy conditions, but allows you to see clearly without it getting in the way. There are also reflective strips on the jacket for safety. Many lightweight rain jacket with hood models on the market aren't that fashionable, but this one certainly ups the ante, and is one of the best light waterproof jacket choices, with the only downside being the higher price tag. There's a men's version of this jacket also.
Find prices for the Women's Arcteryx Norvan Jacket here.
Find prices for the Men's Arcteryx Norvan Jacket here.
We have just talked about 11 of the best packable waterproof jacket options on the market, and whilst there are countless others besides, these particular choices have been picked for their quality and popularity. The best men's lightweight rain jacket on the market is down to personal choice, but the ones we have in this list are considered the best by many customers, and similarly, the best ladies' lightweight waterproof jacket is down to many different considerations, such as style, functionality, and price.
It's also not just about adults, as there are many boys' lightweight rain jacket choices out there, as well as many girls' lightweight rain jacket options too – your kids certainly need to stay dry too! If you're packing your little bundle of joy off on a camping trip then you will need a high quality option, and there are many boys' packable rain jacket choices out there, as well as many for girls.
Put simply, when looking for a super lightweight jacket, you're spoilt for choice, but these 11 are up there with the best.
See also: The Best Packable Down Jackets to Keep You Warm on Your Travels!
Pin this post for later!