This post may contain compensated links. Please refer to my disclaimer here for more information.
When travelling around, be it somewhere new or somewhere totally familiar, you can never completely discount the possibility of a little bit of rain. It could be a total downpour, it might be high winds and showers, or it could be that irritating type of rain that just soaks you through without you realising it, but whatever it is, the main item of kit you need in your bag is of course a travel umbrella. To help you decide, we have reviewed the best travel umbrellas on the market, to make life that little bit easier for you.
Whilst you might think any old umbrella will do, it's important to find the best compact umbrella, which is going to last, especially if you are heading off somewhere that doesn't have a huge amount in the way of shops. Of course, you might also need an umbrella to shade you from the sun in particularly hot destinations, and in that case, you need to check whether your particular choice fits the bill.
Our Top Pick: Best Umbrella for Travel 2018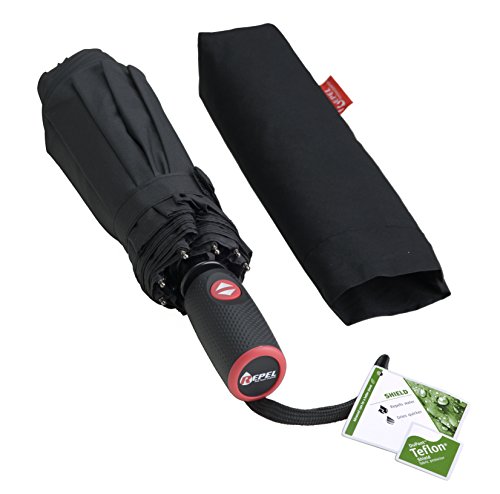 What You'll Find in This Post
Best Travel Umbrella 2018
Here's a quick look at the best umbrellas for travel. You can sort the table based on your preferred criteria and read detailed a travel umbrella review for each item further below. Using this list you can easily find the best small umbrella for your needs!
Top 7 Travel Umbrella Reviews 2018
Read through my detailed travel umbrella reviews to find the best option for you.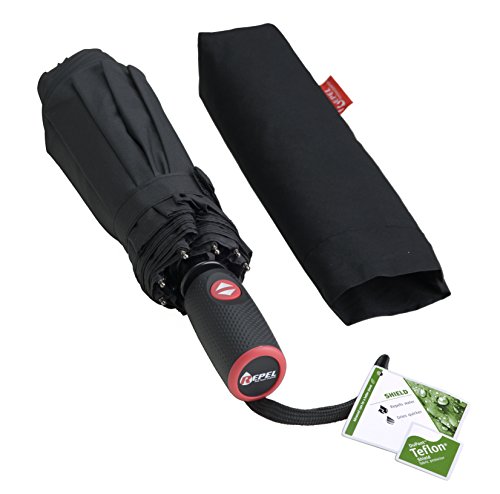 Our pick for best folding umbrella!
This is one of the best travel umbrella choices on the market, and it is certainly a stylish choice at that. Maybe you don't want many colour options, and you simply want a black lightweight travel umbrella which will go with all your outfits and fit neatly into your bag – this fits the bill. A lifetime guarantee comes with this particular product, which is boasted to be virtually indestructible. Easy opening and closing comes with the automatic function, and the slip proof handle means you won't struggle to hold it for long periods of time. This is a very strong compact travel umbrella, which has been reinforced to stand strong winds, as well as coming with a handy protective travel sleeve too.  
Check prices on the Lightweight Dupont Teflon Travel Umbrella and get more information here.

Our pick for best mini umbrella! 
If you are looking for a small travel umbrella which comes in a variety of different colours and patterns, then this is a good option to go for. Priced reasonably, the quality is surprisingly high for the price, and this is also a very lightweight option. Tested to be windproof to high speeds, the umbrella folds down easily, and opens with a one push button, before folding down to a small size of around 7". This sturdy travel umbrella is made of durable steel and has a nylon canopy, to withstand adverse weather. In terms of special extras, this particular umbrella is fairly standard, but the choice of colours does make it stand out.
Check prices on theRaines Automatic Open Mini Travel Umbrella and get more information here.
One if the best collapsible umbrella options on our list!
Those looking for one of the biggest bargains when it comes to a slimline travel umbrella then this particular option is a good one to go for. You are getting a true cost effective bargain here. Choose from black, red, or pink, whatever fits your mood. This is one of the best compact travel umbrella options, and is a strong and durable one too. Made from strong steel and water repellent fabric, this has a one button push option for ease of use, and is a fast responder too. The rubber grip also means you can easily hold it in strong winds. 
Check prices on the Oak Leaf umbrella and get more information here.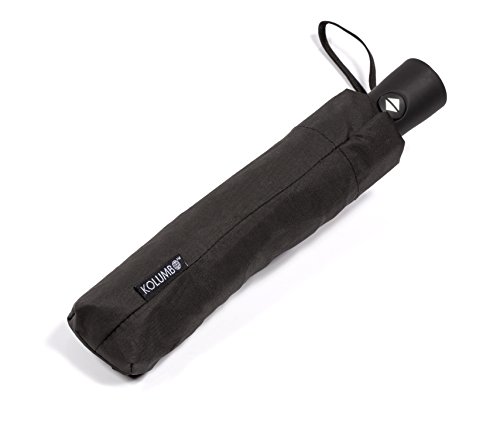 Another great choice for best foldable umbrella!
One of the lightest travel umbrella choices on our list is also very cheap and compact. This is an umbrella which is available in a variety of different colours, so you can choose according to your clothes! When choosing the best small travel umbrella for your needs you need one which is also going to stand a decent amount of force, and this one has been tested over 5000 times and proven to stand winds up to 55mph. The frame itself flexes against the wind, so if it does go inside out, it springs back to its usual shape. This is a very sturdy considering its size, which makes it one of the best umbrella for travel options we have.
Check prices on the Kolumbo travel umbrella and get more information here.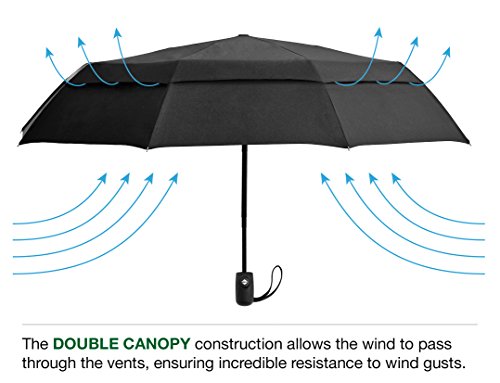 One of the best compact umbrellas on our list! Only 11 inches long.
Out of the many travel umbrellas on our list, this is a good option, and a strong one at that. The frame work is durable and strong, so it is built to last during high winds. There is also a vented double canopy construction which allows wind to pass through the umbrella without ending up inside out. The product is also small, which folds up to around 11", and opens and closes easily using one hand. We mentioned durability and one extra point to mention is that most umbrellas have 6 or 8 fibreglass ribs, but this one has 9, which gives it extra oomph.
Check prices for the EEZ-Y Compact Travel Umbrella here.

The best windproof umbrella on our list!
We have reviewed many different windproof travel umbrellas on our list, and many don't really stand out against each other, apart from the tiny little difference between them; this particular option however is great for those who want to invest in an umbrella which is going to last long-term. Tested to high standards, this has WindHero PRO technology, which basically means it is going to hold up against high winds, and it is going to last you too. The one handed button opening and closing mechanism making it easy to use, and the resistant flex memory frame means the frame will bounce back if the wind does make it turn the other way.  
Check prices for the CrownCoast 60mph Windproof Travel Umbrella here.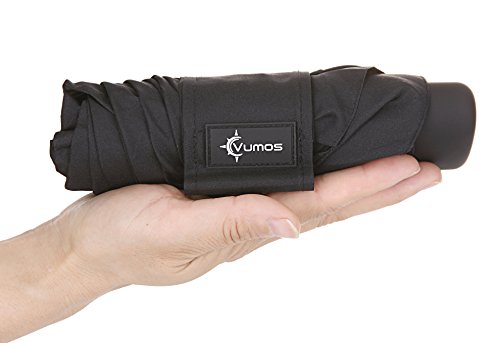 Another great pick for best mini umbrellas!
This is one of our small travel umbrellas which is truly ideal for travel, because it is so small and compact, and easily folded up and stored in a coat or bag on the go. This is a bargain, and although it is only available in black, it is a stylish choice nonetheless. A waterproof case is included in the price, and the strong metal shaft and fibreglass ribs mean it is going to stand up against any strong winds or heavy rain which comes your way. There is also a lifetime guarantee, so you have total peace of mind.
This is the best lightweight travel umbrella if you don't mind manual opening and closing. At 7.5 oz it's the best lightweight umbrella for travel. It's the smallest travel umbrella on our list. Definitely the best pocket size umbrella, it fits in the palm of your hand.
Check prices on the amazing Vumos Mini Umbrella with Case by clicking here.

So whether you're off to London or Paris or just want to be prepared on a longer trip, these travel umbrella choices should give you enough food for thought when coming to a decision on which one to invest in, and despite the fact they all have similar features, there are certainly tiny differences between them all, enough to help you find the product which suits your needs best. 
Pin for later!