This post may contain compensated links. Please refer to my disclaimer here for more information.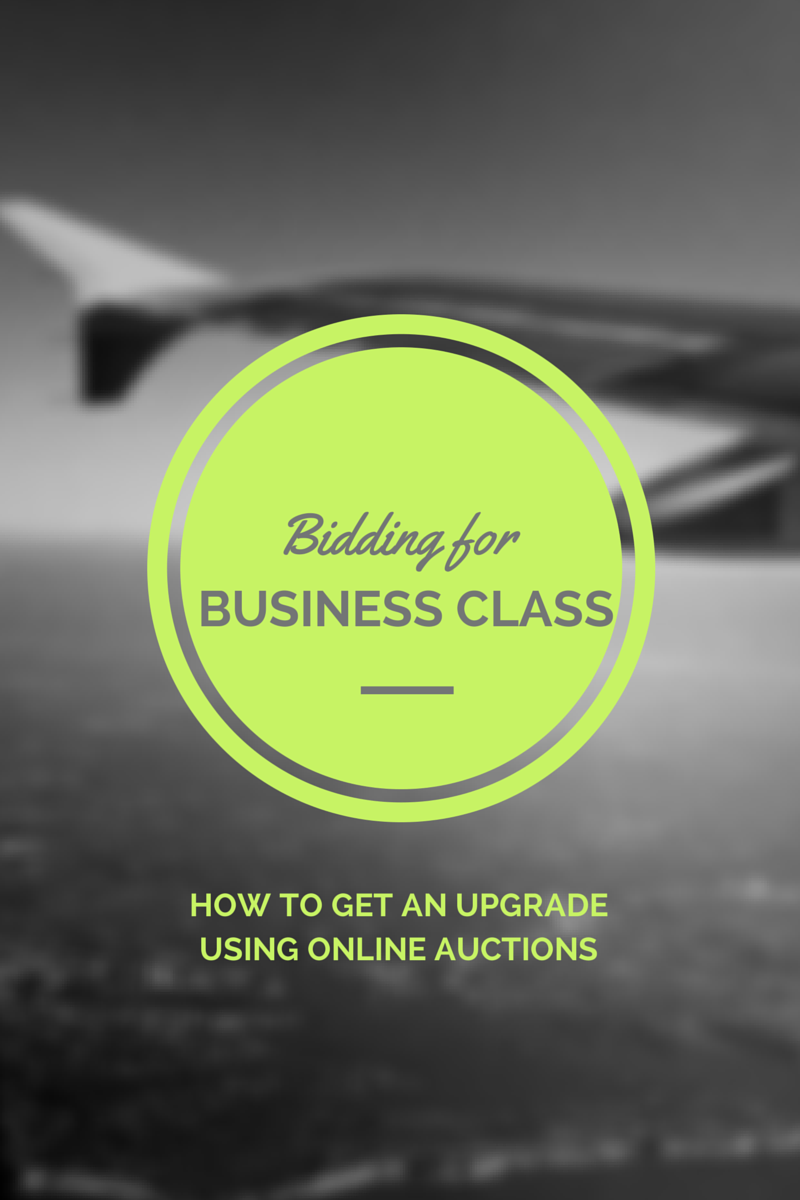 The days of free business class upgrades, of batting your eyes at the check-in desk, of dressing spiffily or of claiming it's your honeymoon, are sadly over. Plenty of travellers who are frequent flyer ninjas are getting cheap business class flights by making mileage runs or hacking credit card sign-ups and rewards but these kind of programmes are generally only open or work well for US residents. There are no really great options for gaining stacks of airpoints through Australian or New Zealand credit cards (that I've been able to find).
So, for those of us who don't fall into the mileage hacking category, is there a way to get cheap business class upgrades? Yes! It's called…
Bidding for Business Class
Airlines are looking to grab any extra money from you that they can. So naturally, if there are seats in business class going spare and you're already going to be on that plane, it makes sense for them to offer up those seats to you at a discounted price.
Here's How It Works:
Buy your ticket in economy class.
Receive an email from the airline informing you of the option to bid for a business class upgrade. (We received ours a week prior to the flight.) If you don't receive and email check on the airline website. Here's a list of the airlines that offer bidding for business class upgrade and links to the relevant page on their website.
Select the price you're willing to pay for the upgrade and place your bid. Your credit card will not be charged unless the bid is successful.
Wait until just before your flight to find out if your bid has been successful. You'll be notified about 24 hours before flying if your bid was successful.
Last month we had the opportunity to try this out on Etihad when flying from Brisbane to Singapore. I've never flown business class, we were all stressed & tired and not looking forward to being on a day flight with a toddler for eight hours. We debated back and forth on whether or not to spend the money but in the end decided it was worth the shot. And we got lucky! We put in just over the minimum bid for three business class seats and won the auction. I doubt many people on the flight actually gave it a go! The flight wasn't overly full and there were still several seats open in the small business class cabin. We ended up arriving in Singapore perfectly refreshed and happy after what would normally feel like a long flight. We were super comfortable the whole way, lie flat beds made it easy to nap and Reuben didn't make a peep the whole flight. Another business class passenger complimented us on landing saying that he'd never seen a child behave so well on a plane.
Tips for Successful Bidding
Look at what it would cost you to purchase the business class fare. Subtract what you spend on the economy class fare and aim for around 20-40% of that. For example, on our recent flight from Brisbane to Singapore the one-way business class fare was $2600 and our economy class fare was $500. With a difference of $2100, the suggested bid on Etihad was $800 and the minimum $500.
Bid slightly over the minimum bid. We bid $520 per person for the upgrade figuring most people giving it a go would select the minimum bid.
Check how full the flight is. Make a pretend booking online, in both business and economy, so you can get to see the seat map for each cabin. If business class if empty your chances of an upgrade are good. If economy class is super full, your chances of an upgrade are quite good as airlines overbook flights all the time so freeing up your economy class seat could help. If you can't look at the seat allocation map before purchase, ring the airline directly.
Decide what the upgrade is worth to you. If it's a long flight, would it be to your benefit if you could work comfortably on the plane for a few hours? Or arrive at your destination and not spend several days recovering from an uncomfortable flight? We noticed a huge difference in our mood when we got off the plane in Singapore. We weren't exhausted and we didn't suffer any jet lag. Lee was able to work in the lounge before departure but chose not to work on the plane. Champagne to drink instead!
Book a single ticket. You can't split your booking group up. If you're travelling with a family you all have to bid for the upgrade which could get tricky (and pricey) if you're a big family. If one of you wants to give it a go, book your economy class tickets separately. It's quite common for parents to travel in business class while their kids are back in economy.
The kind of ticket you purchase may matter. While airlines are cagey about this fact and don't divulge the exact formula they use, not all fares are eligible for business class upgrade auctions. If you've bought a super-hyper-mega promo fare, you might not get the email offering the service. If you're concerned, ring and check with the airline directly before paying for your flight.
Your frequent flyer status with the airline may count. Some airlines, like Air New Zealand, give extra weighting to bids made by frequent flyer club members.
Would you give it a go on your next flight? Or have you tried out bidding for business class upgrades? I'd love to know how much you paid for your upgrade compared to the cost of your economy class ticket.