This post may contain compensated links. Please refer to my disclaimer here for more information.
Can you stay in hostels with kids? Absolutely. Hostels are no longer the main stay of the grungy backpacker. People from every walk of life stay at hostels. During our stay at Sydney Harbour YHA last week we saw several other families with children from small babies to teenagers, a group of older women, couples without kids and, of course, lots of younger backpackers. It may not have crossed your mind before but hostels are actually a great choice when travelling with kids. (You can read about our experience at the Sydney Harbour YHA in this post.)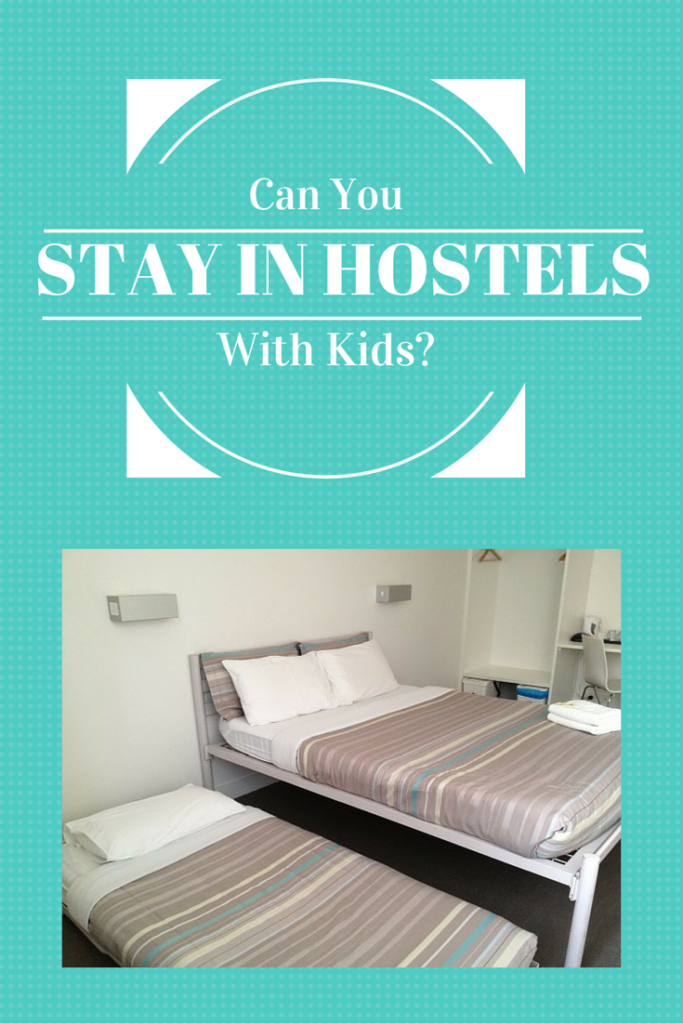 Why Choose a Hostel When Travelling with Kids?
Access to a full kitchen is priceless. This is probably one of the main reasons I'd choose a hostel when travelling with kids. Having a kitchen to prepare simple meals is great for keeping costs down but it also helps for heating up bottles at night time, a quick breakfast so you can get out of the door in the morning and eating in when your child can't take another night in a restaurant.
The communal atmosphere of hostels. Spending time in common areas – TV rooms, kitchens and rooftop terraces is a great place to meet other travellers and chat about where they've been and where you're going. This is something that is fairly unique to hostels and cheaper guesthouses.
Private rooms or family rooms work best for smaller families. Our room at Sydney Harbour YHA had a queen-sized bed for us and a trundle bed on the floor for Reubs. You could easily fit two kids into the trundle bed by topping and tailing. Larger families can book out a whole dorm room with 6 or 8 beds meaning there's plenty of room for everyone.
Emphasis on doing things cheaply. Not only are rooms cheaper in hostels but amenities tend to be more budget friendly too. 24 hours of fast Wifi internet only set us back $5 at the YHA in Sydney – considerably cheaper than you'd pay at a hotel. Staff know about things like local bus passes and cheap intercity transport options.
Access to a laundry. Kids are grubby little creatures and, if you travel light like us, you'll need access to laundry facilities at least once or twice a week. We had one day in Sydney where Reuben went through three changes of clothes… a messy ice-cream was involved! Having a washer and a dryer is a huge bonus.
Tips for Staying in Hostels with Kids
Hostels will welcome families with children but use your best judgement – read reviews and make sure you're not booking into a party hostel.
Avoid common areas later at night when people might be getting a bit rowdy.
Keep your kids under control… this goes for any situation but bear in mind your neighbours and hostel-mates in common areas especially if your kids are early risers.
Don't assume that there will be a port-a-cot (port-a-crib) available. Check in advance if you need one.
Don't book a hostel with lock out hours if your kids still need a nap or need quiet time during the day.
Do you stay in hostels with your kids? What are some of the best hostels you've found on your travels?