This post may contain compensated links. Please refer to my disclaimer here for more information.
Last summer we took an East Coast road trip, from Montreal all the way to Miami. What an amazing trip it was! There is so much to see on East Coast road trips in the USA. The East Coast is chock full of cities with amazing history, charming towns, great food and some lovely scenery.
We think we planned one of the best East Coast road trips there is! There's not much we didn't do on our trip from Montreal to Miami. We did our East Coast road trip with kids, naturally, but if you're travelling solo, as a couple or with friends this is still a great trip to take.
This post will help you plan your own East Coast road trip. Use the tools I have created to plan your itinerary and map out your route. Plus see what destinations we recommend the most!
What You'll Find in This Post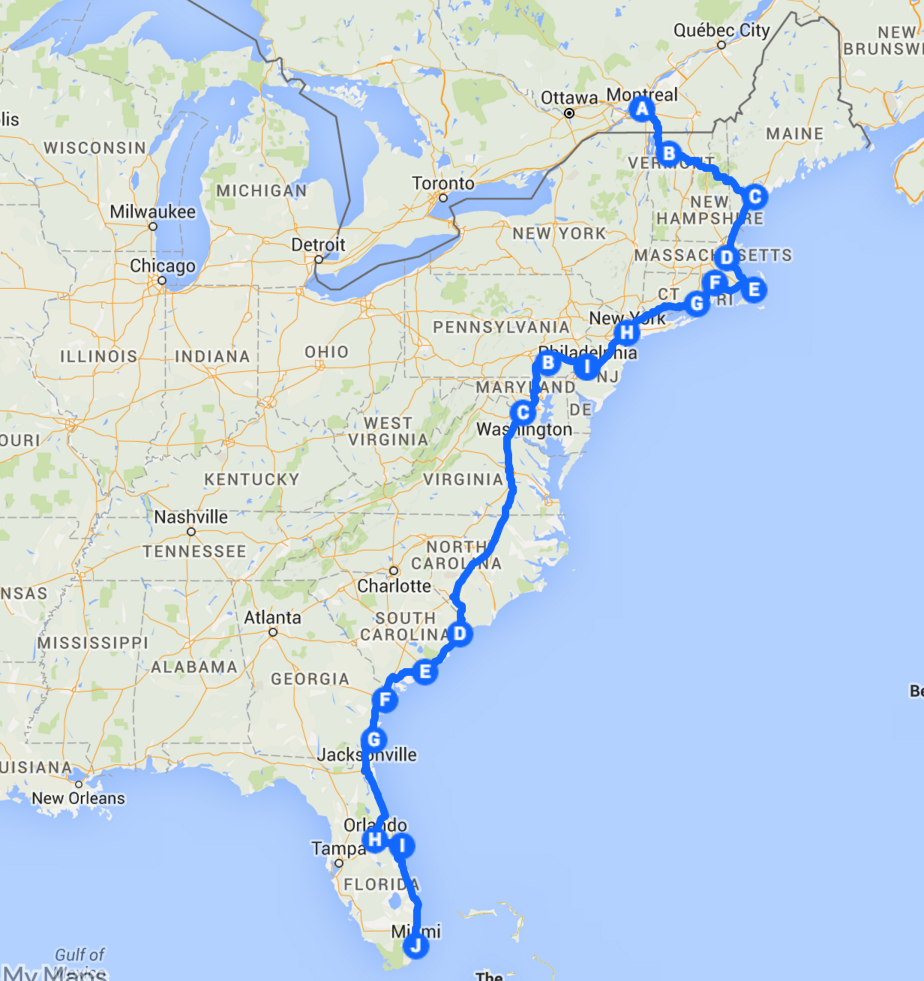 East Coast Road Trip Map
Here is the East Coast road trip map from our journey in this summer. You can customize this East Coast road map for your specific trip by making a copy of the Google Map below and saving it to "My Maps" in Google. This is an excellent tool for planning road trips!
Our East Coast Road Trip Itinerary
This is our East Coast road trip itinerary from the summer. It took us around six weeks to drive the entire length (almost!) of America's East Coast. If you are in a hurry you could do all or part of this in two to three weeks. Use our itinerary as a base East Coast road trip planner. You can customize this East Coast road trip itinerary to meet your needs. Send me an email if you need help or East Coast road trip ideas for your journey.
Here's our six-week East Coast road trip itinerary from Montreal to Miami:
Smuggler's Notch, Vermont (2 nights)
Portland, Maine (2 nights)
Boston, Massachusetts (3 nights)
Cape Cod, Massachusetts  (3 nights)
Providence, Rhode Island (1 night)
Mystic, Connecticut (1 night)
New York City, New York (5 nights)
Philadelphia, Pennsylvania (2 nights)
Lancaster, Pennsylvania (2 nights)
Washington DC (5 nights)
Fayetteville, North Carolina (1 night)
Myrtle Beach, South Carolina (1 night)
Charleston, South Carolina (1 night)
Savannah, Georgia (2 nights)
Jekyll Island, Georgia (2 nights)
Orlando, Florida (4 nights)
Miami/Fort Lauderdale (2 nights)
East Coast road trip itinerary template for you to download:
I have created a spreadsheet that you can download from Google Docs here. Use my East Coast road trip itinerary as a guide. You can customize this spreadsheet with the details of your East Coast road trip or just directly copy mine.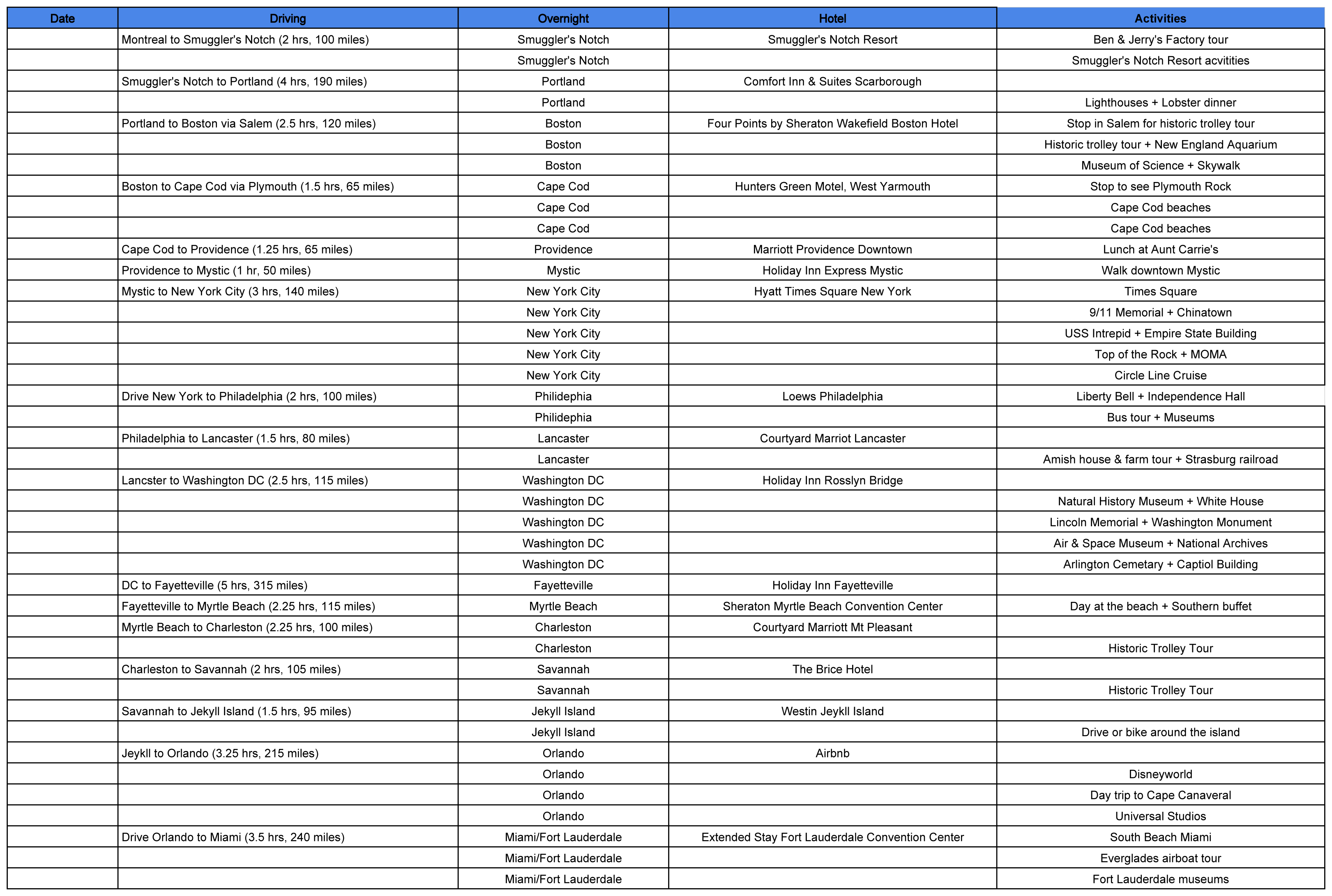 East Coast Road Trip Destinations You Can't Miss!
When you're planning a road trip, you start with the places you really want to see and then fill in the gaps along the route with other destinations that look intriguing or break up the journey. Depending on how much time you have available for your road trip, you may have to pick and choose what to do. Here are the of the East Coast road trip attractions and destinations we loved the best!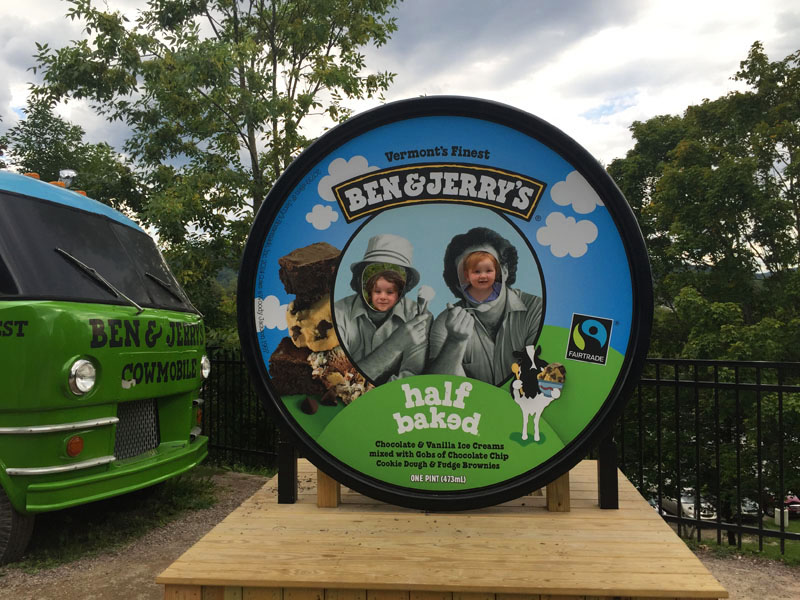 Ben & Jerry's Factory Tour in Vermont
If you're starting this far North, you have to stop and see some of Vermont's covered bridges and take a tour of the Ben & Jerry's Factory near Stowe. Free samples included!
Where to Stay: Smuggler's Notch Resort – This is the most amazing resort for families. Check out all the amazing things they have on offer. Your kids will love spending a few days here!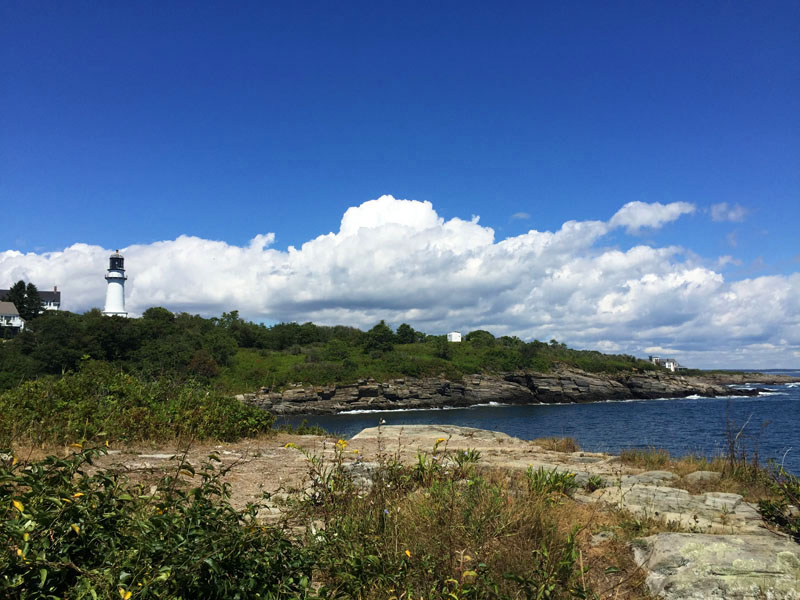 Maine's Rocky Coast
You'll love Maine's rocky coastline. Dotted with lighthouses to admire and lobster shacks to get a delicious dinner. Maine is beautiful in the summer and I would definitely recommend extending your East Coast road trip this far north if you can.
Where to Stay: Comfort Inn & Suites Scarborough – Portland is a surprisingly expensive city, especially in the summer. Save money by staying out in the suburbs. This was a great value hotel!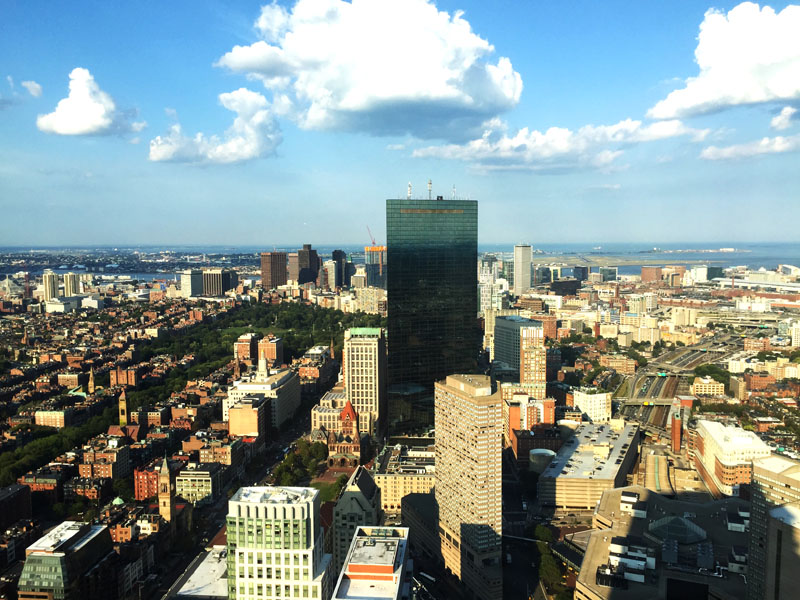 Boston's Historic City Center
If you don't know anything about the early history of the US, take a historic tour in Boston. It's the best place to begin your educational journey of America's history. A historical trolley tour is a must! Besides it's history, Boston is a super cool city with great food and interesting people. Squeeze in a trip to Salem and Plymouth Rock as you road trip to and from Boston. We recommend getting the Boston CityPASS to save money on all the museums and attractions in the city. It's only $55 and $42 for kids. You can buy it online in advance here.
Where to Stay: Four Points by Sheraton Wakefield Boston  – Forget staying in downtown Boston. Parking and hotels are both very expensive so you're better off staying outside the city. We picked Wakefield because it was an easy base for exploring both Boston and Salem. This Four Points is next to a great shopping complex with lots of restaurants including a Wahlburgers!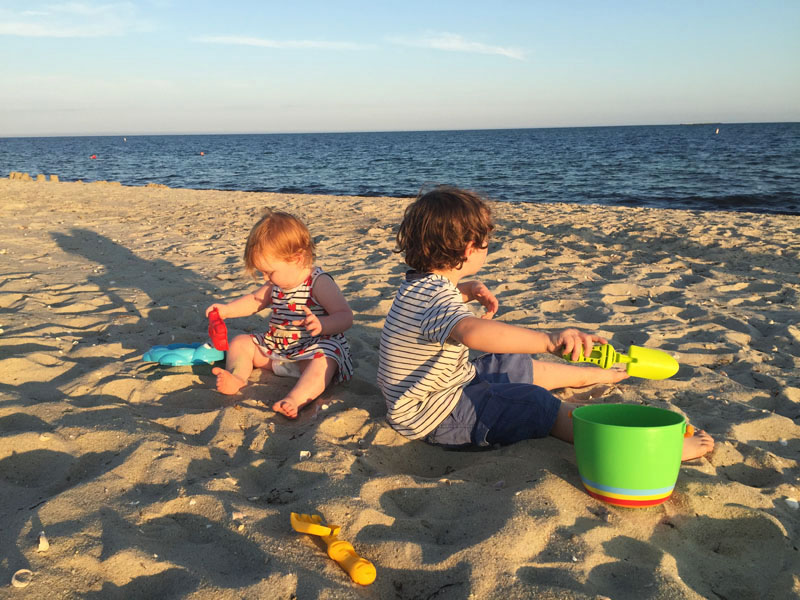 Cape Cod's Beaches
If you're road tripping the East Coast in the summer, swing by Cape Cod for a few days of beach time. The Cape is the Eastern most point of the United States and sandy & pebbled beaches stretch for miles along it's coast.
Where to Stay: Hampton Inn and Suites Cape Cod – Cape Cod ain't cheap, especially over summer weekends. This is an affordable option but you'll need to book ahead in peak season.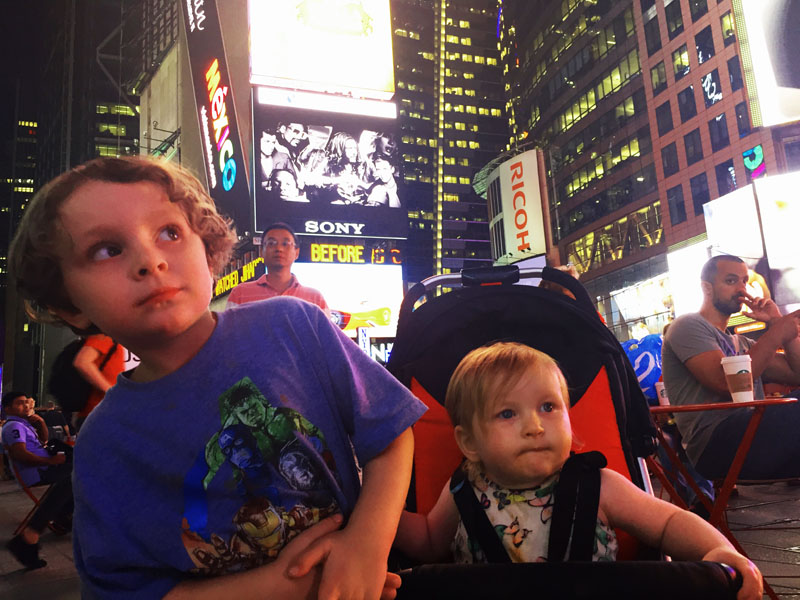 Everything about New York City!
If there's one city on the East Coast that you can not miss, it's New York City. The Big Apple is probably the greatest city in the world. There is so much to do here so allow yourself at least five days to explore. See and do as much as you can or as much as your budget permits. We recommend using the New York CityPASS to access the attractions in NYC. You'll save 40% on the actual cost of each of the attractions. You can buy it in advance online here.
Where to Stay: Hyatt Times Square – Right in the heart of Times Square this is a fabulous location that will let you walk to everything! They do have parking but it's cheaper to use Park Whiz for the parking building on the same block.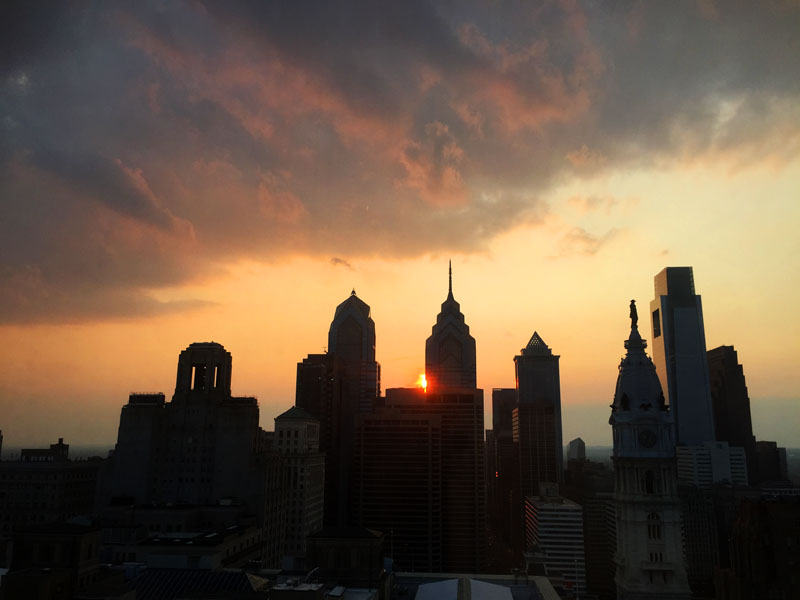 Philadelphia's History & Museums
Philadelphia was the first capital city of the United States and played an important role in the country's history. Not only is it home to Independence Hall and the Liberty Bell, there are also many great museums in the city. The Please Touch Museum is especially good for kids! Again, we recommend the CityPASS for Philadelphia to save money on the attractions in the city. It's $59 for adults and $39 for kids and includes an open top bus tour which is great for getting an insight into the history that occurred in Philadelphia. You can purchase it online here.
Where to Stay: Loews Hotel Philadelphia – This is a beautiful art deco hotel right in the heart of Philly. Again, use Park Whiz to skip the hotel's expensive valet and self park down the street. You'll be able to explore the city's historic sites on foot with ease. As you can see the view from the rooms is SO good at sunset!
Amish Country in Lancaster
OK. It's a little weird to travel to a place purely to peek at it's people but Amish Country Pennsylvania is a must visit! It's so unique and, even though it feels slightly voyeuristic, it is fascinating to see Amish people up close and witness their way of life. Ride the Strasburg Railroad, eat a home-cooked meal at Plain & Fancy restaurant (don't miss the shoo fly pie!) and visit the Amish Farm & House.
Where to Stay: Courtyard Marriott Lancaster – Like any other Courtyard Marriott you'll get a clean, comfy room. The location is excellent for exploring the county and it's just down the road from the Discover Lancaster tourism office so be sure to stop in an pick up some maps & info.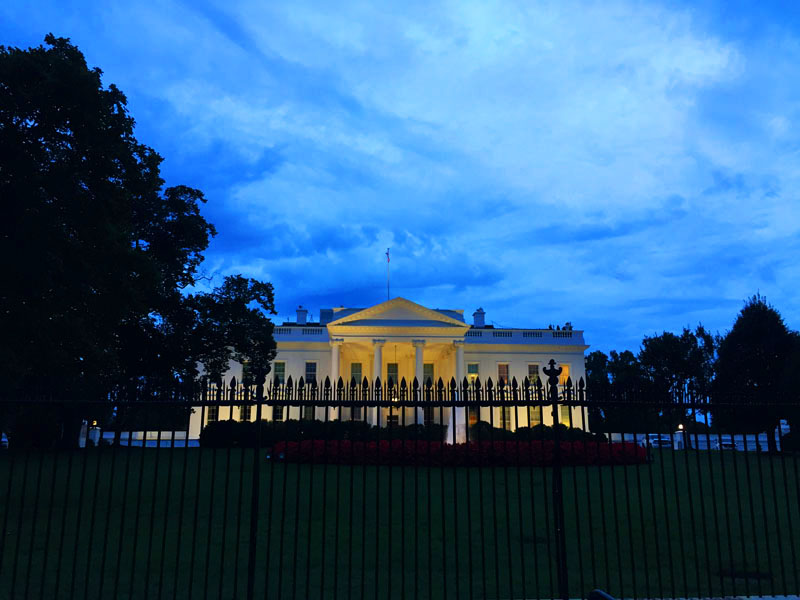 Monuments & Museums Washington DC
Washington DC is a major East Coast road trip attraction! Come for the museums, monuments and of course The White House. Best of all, almost everything to do in DC is free.
Where to Stay: Holiday Inn Rosslyn @ Key Bridge – This location is excellent. The hotel has free parking and is right across the Key Bridge from Washington DC's sites so you can easily explore from here.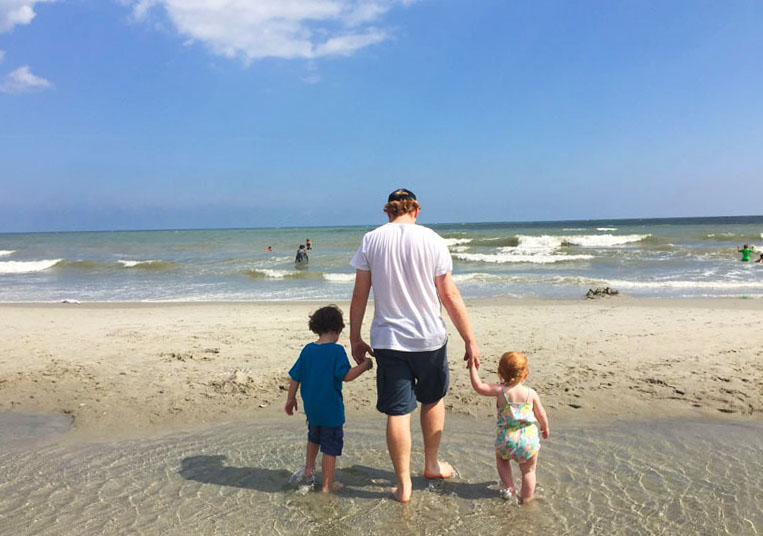 Southern Feast in Myrtle Beach
Myrtle Beach is just another beach destination. The beach itself is nice enough if not overly developed. The real star of Myrtle Beach was the food at Simply Southern Smokehouse. Good ol' fashioned Southern fare, served buffet style. It's cheap and it's good. It's worth going for the peach cobbler alone.
Where to Stay: Sheraton Myrtle Beach Convention Center – We chose to stay away from the beachfront because all the hotels there looked old and tacky. It was a great decision in the end as this Sheraton was very nice indeed. There is a small fee for parking but it's only a couple of dollars.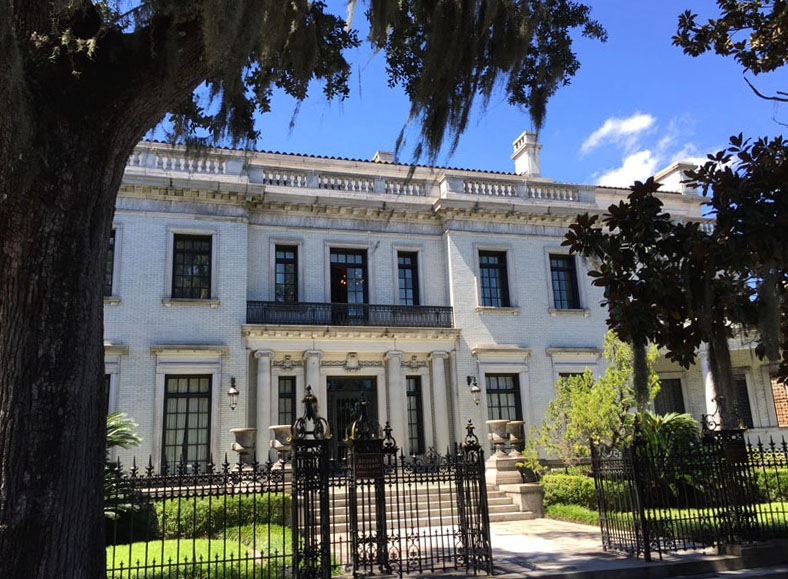 Historic & Charming Savannah
Savannah will steal your heart! The Spanish Moss covered trees, leafy squares and historic homes make this small town feel like it's stuck in time. Taking a historic trolley tour is a great way to get an overview of Savannah's past… and meet Forrest Gump.
Where to Stay: The Brice A Kimpton Hotel – This hotel is just WOW! It's an old converted factory only a block from the river so walking distance to all of Savannah's charming squares. The trolley tour we took stopped right at the hotel so it is very convenient!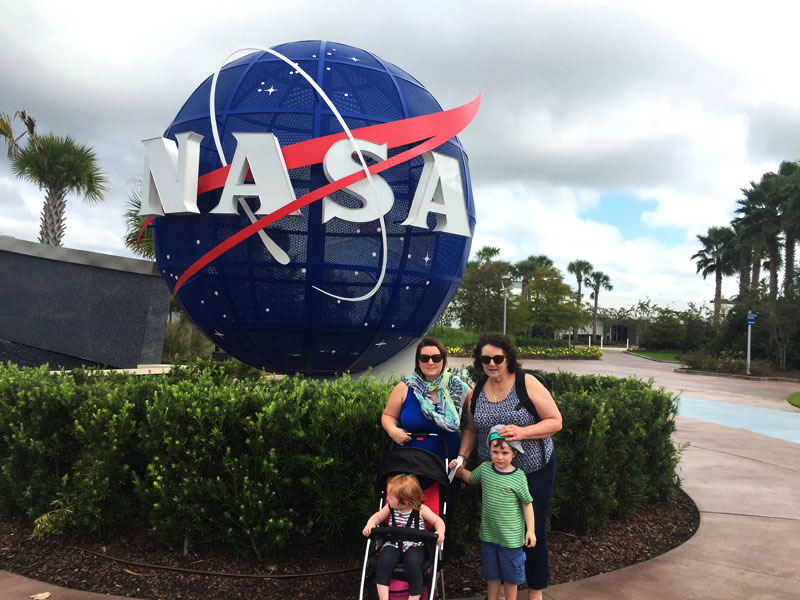 Awe-inspiring, educational and literally out of this world. The Kennedy Space Center on Cape Canaveral is somewhere you should definitely plan on visiting as a day trip from Orlando or a stop along the coast on your way south.
Where to Stay: Radisson Resort at the Port – You can stay in the Cape Canaveral area of visit as a side trip from Orlando as it's only about a one hour drive.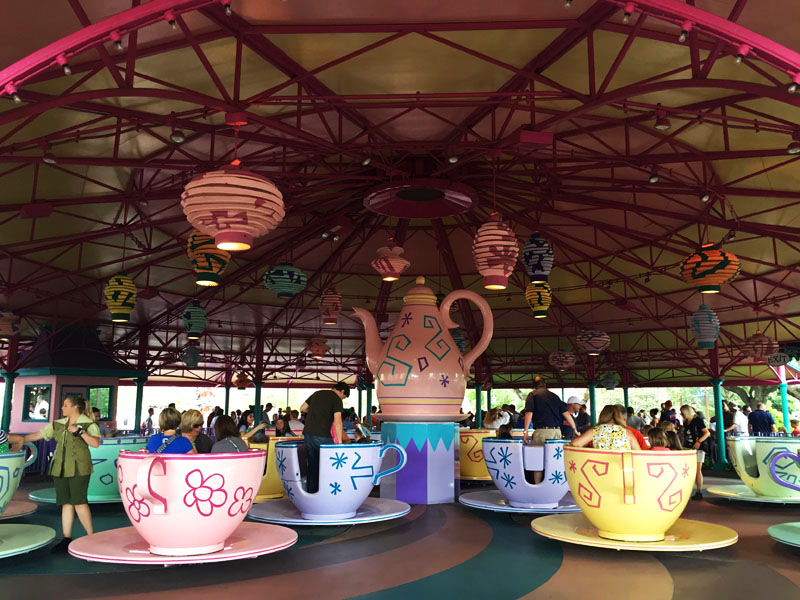 A Day at Disneyworld
You can't come all the way to Florida and NOT visit Disneyworld. If you only visit one theme park, you may as well visit the best! A day at Disneyworld is expensive and exhausting but, for the kids or young at heart, it's definitely worth braving the crowds, heat and prices. Huge Savings on Disney World Tickets, BUY NOW!
Where to Stay: Embassy Suites Orlando Lake Buena Vista South – Stay as close to the Disney gates as you can!
Planning an East Coast Road Trip?
Let me know if you need any assistance with your East Coast road trip itinerary, help choosing the best East Coast road trip destinations or deciding where to focus your time along the East Coast.
I have lots more posts about road tripping around America. If you want to extend your road trip around Florida, read this post. Or if you want more ideas for road trip routes, then read this post on my 5 favourite road trips.

Pin it!

Top 10 Road Trip Essentials
Before you set off on your road trip, make sure you've got all the essential items at the ready.