This post may contain compensated links. Please refer to my disclaimer here for more information.
If you're bored of the usual beach break, you've done DisneyWorld more than once, and you're not all that interested in rollercoasters, you'll be pleased to learn that there are a myriad of other options out there for you, especially if your brood are of the adventurous kind.
Heading out into the fresh air is one of the best ways to not only help your children learn about nature and scenery, but it's also great for health, and if you can throw a few adventurous activities in there for good measure, you'll be onto a serious vacation winner.
So, where can you go?
Have you heard of Bryce Canyon Country?
If not, you're seriously missing out, because this is one of the most dramatic and scenic areas you will ever set your eyes on. Simply driving into this part of Utah is a wonderful thing to do, with high elevations and interesting rock formations all around you, nature at every corner, and basically Mother Nature at her best, but the chance to actually stay there will allow you to explore this wonderful part of the country in full. You can read about our road trip around Southern Utah in this post.

Beside Bryce Canyon itself, the surrounding areas are just as fantastic and there's a lot for adventurous families to explore, including Anasazi Museum State Park, Dixie National Forest, and Kodachrome Basin State Park, to name just a few. When you're surrounding by dramatic landscapes no matter where you turn, you know you've stumbled across something special.
This is a great place to head for families, because you can spend quality time together, enjoy your surroundings, and there is more than enough to see and do, so you won't be hearing that famous 'I'm bored!'
The nearby towns of Boulder and Escalante are great for somewhere to stay, however if you want to be in the heart of nature, camping is certainly the way forward. Elevations in this region can be anything from 4000 to 11,000 feet, so you will wake up to one of the most stunning views in your life. If you don't want to stay in a tent or your motor home, how about hiring a log cabin or an airstream trailer for a spot of something special?
To get the most out of the area, why not hire a guide and head off on a jeep tour? This means you will learn more about what you're seeing, because this is an area full of culture, as much as nature and scenery. Walking is also a great family day out, and a new multi-use path is in place from Red Canyon to Inspiration Point, which covers around 21 miles, and will take you across dramatic landscapes – this is easily walkable, and a fun activity for the family.
Mountain-biking, hiking, scenic drives, fishing, bird watching – these are just a few other activities you can indulge in as a family, however canyoneering is one of the most adventurous you can take part in, and certainly something to remember.
It's important to point out that when the sun goes down, the fun doesn't stop, because Bryce Canyon Country has some of the darkest skies around, which is great news for those into star spotting! Telescopes and star tours are great ways to spend the evening, before retiring to your accommodation for a good night's sleep.
Whether you visit during winter or summer, Bryce Canyon Country is open for families to enjoy every single second.
PIN IT!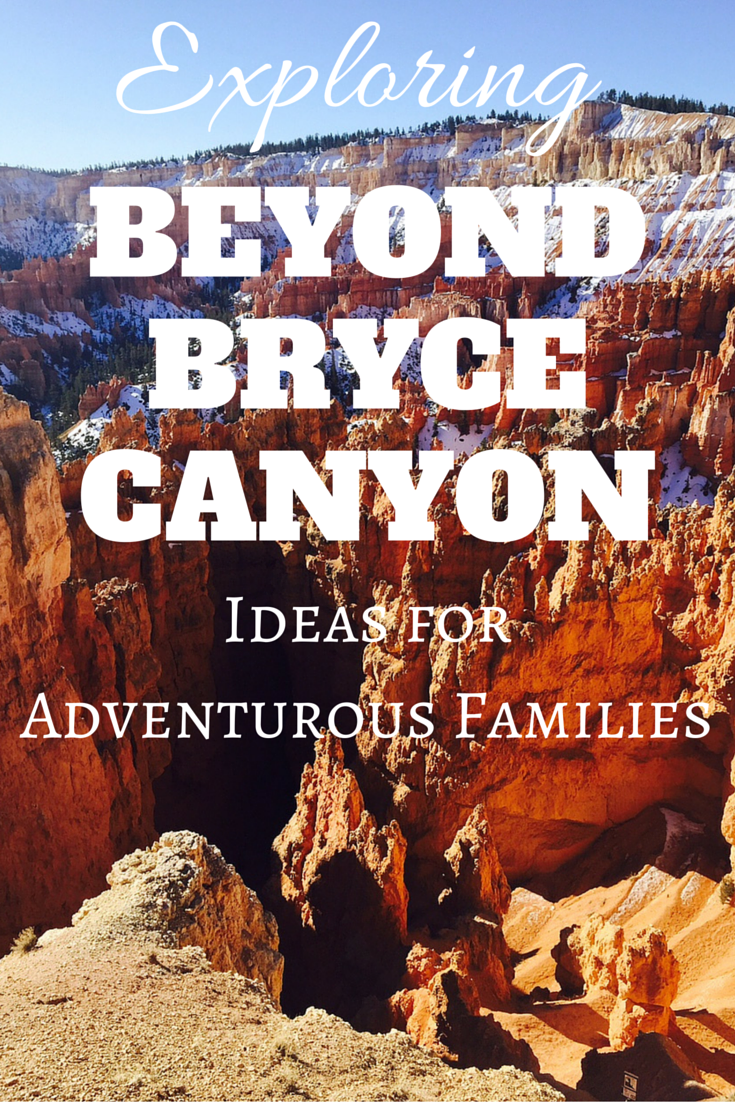 This post was sponsored by: