This post may contain compensated links. Please refer to my disclaimer here for more information.
The National Parks in Southern Utah will blow you away! An other worldly landscape covered in crazy canyons and rich red rock are waiting to be explored. Whether you're an active hiker or prefer to go at a more relaxed pace you will find a lot to see & do in the parks in and around Southern Utah. If you have a week to spend tripping around this fantastic state, this is the perfect Utah National Parks road trip itinerary for exploring Southern Utah.
My Utah road trip itinerary covers national parks, state parks in Southern Utah. This one week road trip itinerary for Utah also covers Monument Valley, Horseshoe Bend and a visit to stunning Antelope Canyon. If you've got a little extra time I've also included an extension for visiting the Grand Canyon.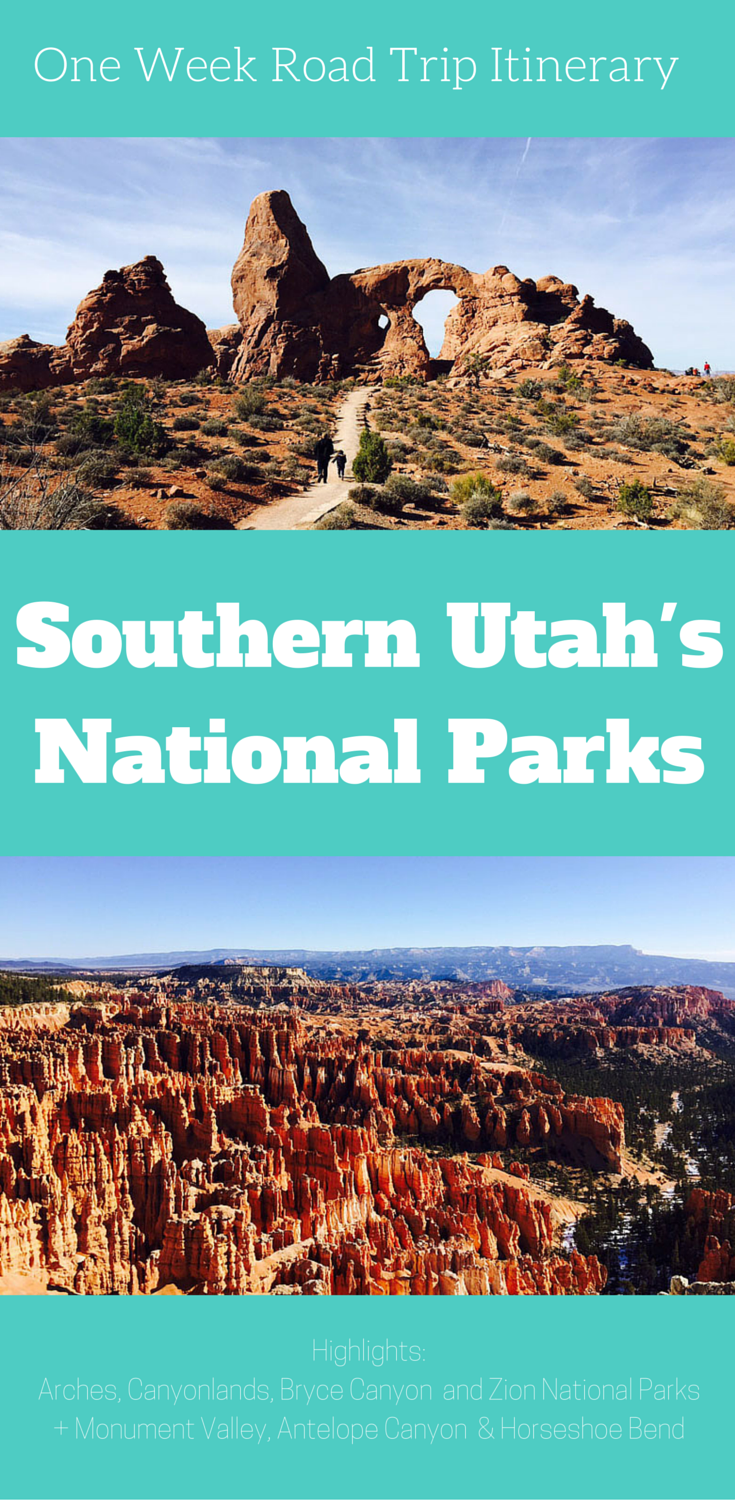 One Week Road Trip Itinerary for Exploring Utah's National Parks
Route Highlights:
Route begins in Salt Lake City & ends in Las Vegas
Alternative route round trip from Las Vegas
Arches, Canyonlands, Bryce Canyon and Zion National Parks
Monument Valley Navajo Tribal Park
Antelope Canyon & Horseshoe Bend in Arizona
Optional Grand Canyon extension day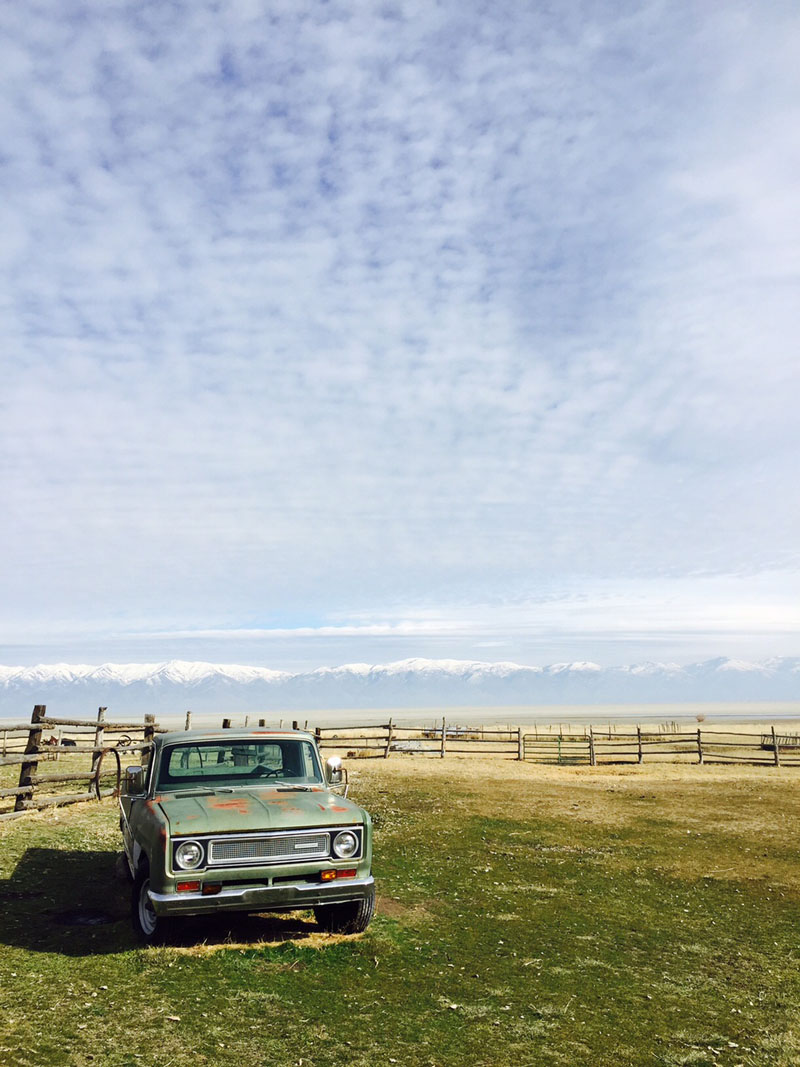 Day One
Arrive in Salt Lake City
Start your journey by flying into Salt Lake City, Utah and picking up a rental car. Depending on what time of day you arrive, there are a couple of great things to do in Salt Lake City such as the Natural History Museum of Utah on the western edge of the city or Temple Square in downtown Salt Lake City. If you have the time though, head straight for Antelope Island State Park.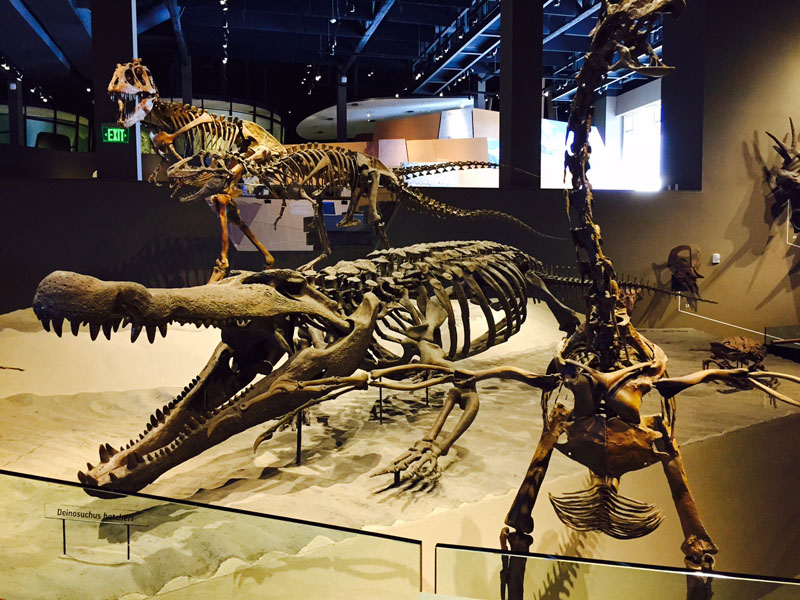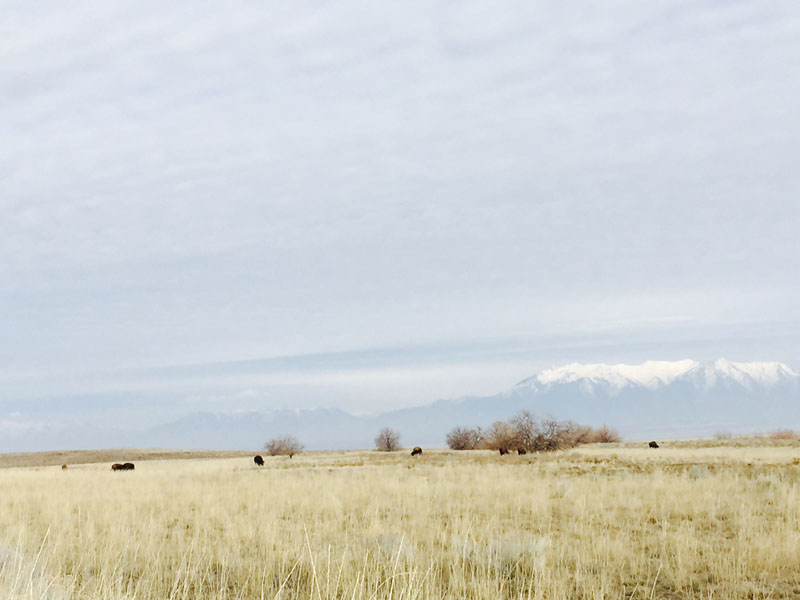 Antelope Island State Park is an island sitting in the middle of the Great Salt Lake. You probably haven't heard of it but you definitely shouldn't miss it. Don't come to Salt Lake City without at least getting a glimpse of the natural wonder it's named after. Besides getting to drive over the Great Salt Lake, Antelope Island begs a visit to see it's population of roving bison and antelope. There are some stunning lookouts, beaches and even an historic farm to explore. You can spend at least half a day here. Bring yourself a picnic lunch and pick up a map at the visitors center before you head out to explore.
Overnight in Salt Lake City
Suggested Hotels in Salt Lake City: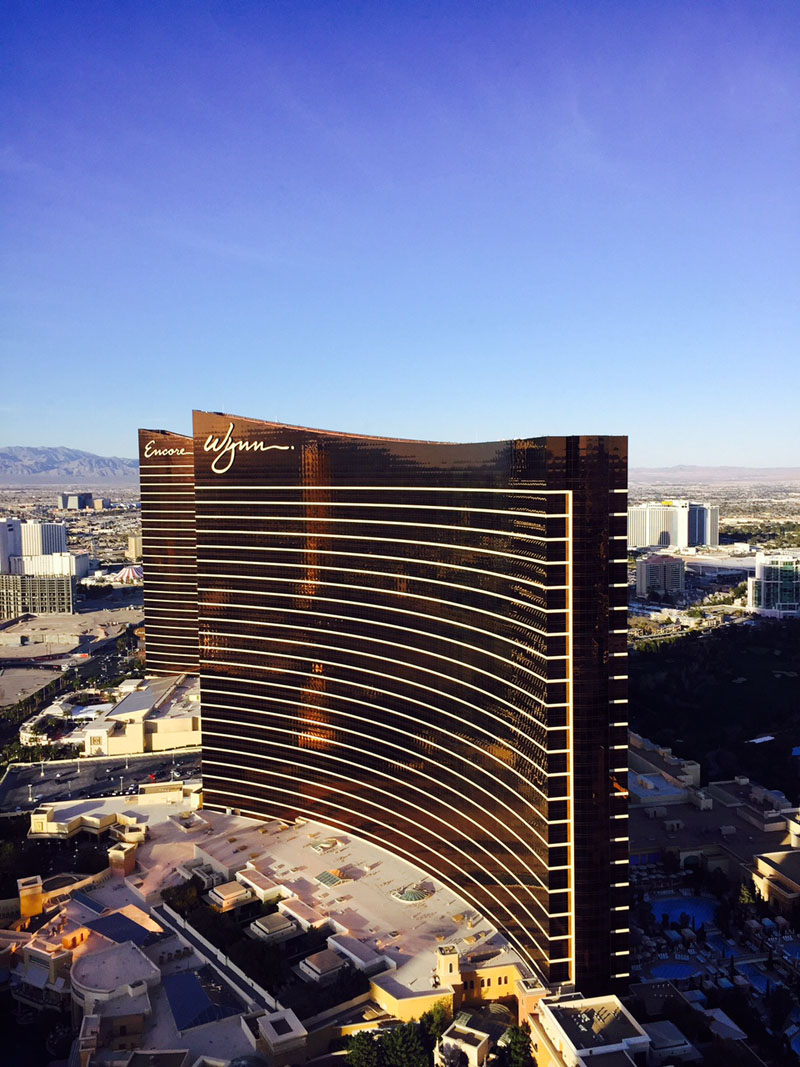 Alternative option that begins and ends in Las Vegas:
Arrive in Las Vegas
If you want to begin and end in Las Vegas, plan to arrive in Sin City early on in the day to pick up your rental vehicle to get in a full day of exploring. If you've got the family along for the ride, there are some great things to do in Las Vegas with kids. If you're on a budget, picking a hotel with a great pool and spending the day relaxing is not a bad way to while away the hours in Las Vegas.
The Golden Nugget is a very affordable hotel option and has one of the best pools in Las Vegas, complete with a water slide through a tank of sharks! If money is no object or you want to splurge before your road trip begins, pick The Wynn or Palazzo and spend the day & night enjoying the shops, shows and restaurants in your hotel.
Overnight in Las Vegas – For your one night in Las Vegas, stay in a great hotel to start your trip out right. We recommended hotels (in order of increasing budget) The Golden Nugget, Planet Hollywood, Trump International Hotel, The Palazzo or The Wynn. All have free parking.
Suggested Hotels in Las Vegas: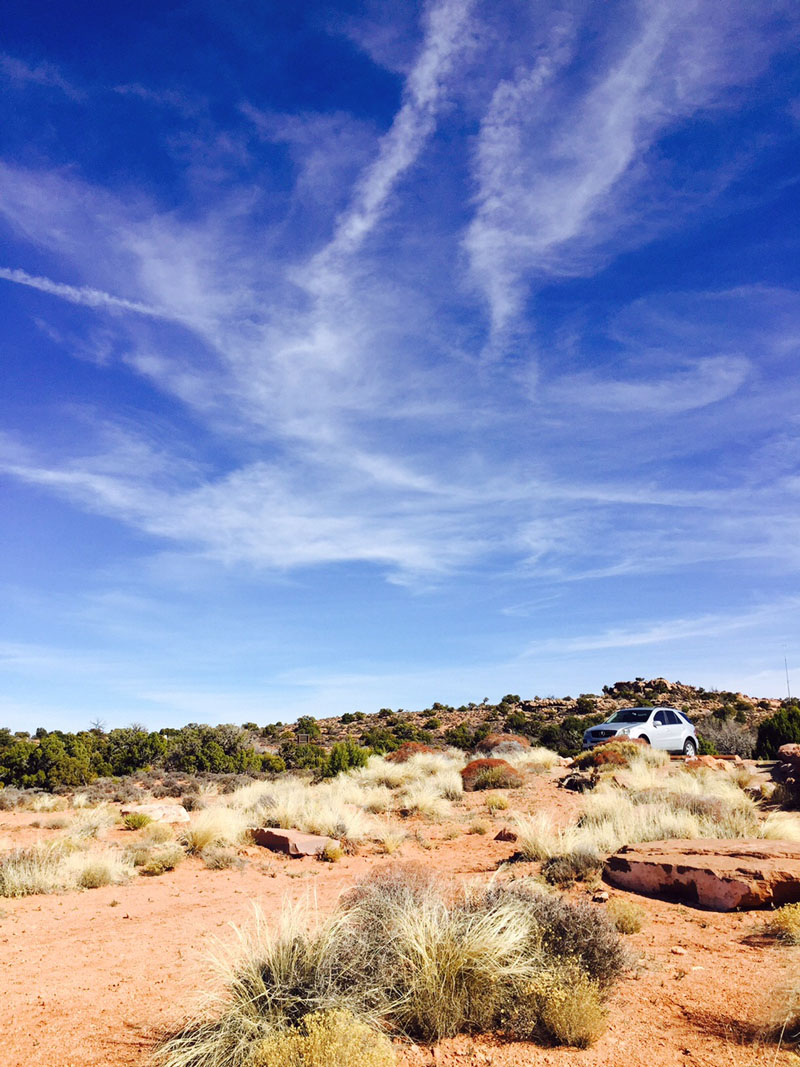 Day Two
Drive from Salt Lake City (or Las Vegas) to Moab
Your road trip begins today! Start your day early, pick up a picnic lunch, gas up your vehicle and get on the road. Depending on where you set off from it'll take you about 3.5 hours (from Salt Lake City) or 6.5 hours (from Las Vegas) to reach Canyonlands National Park. It's an easy drive along the I-15 for most of the way.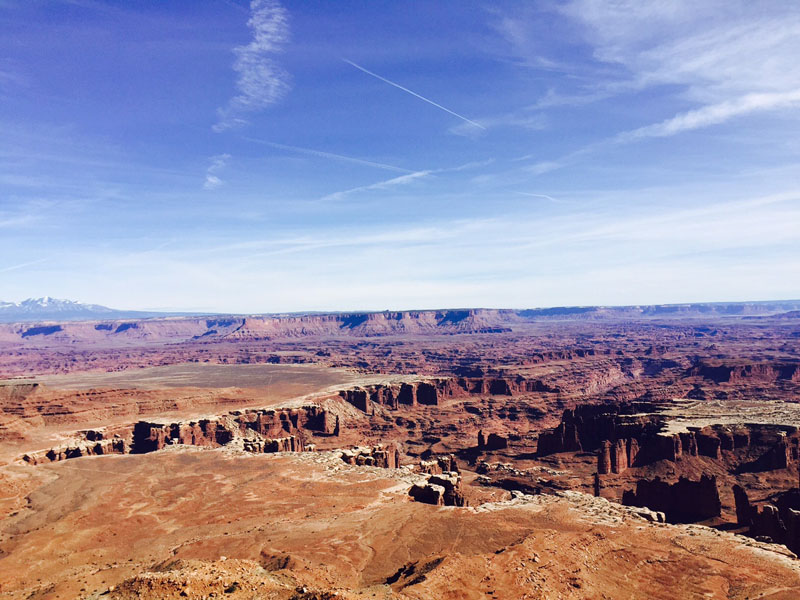 Canyonlands National Park
Canyonlands National Park is your first stop on your tour of Utah's National Parks. This is a huge park, split into four differently accessible zones. With one day, you can visit the Island in the Sky zone. The drive into the park itself is spectacular. Entering through the red rocks and journeying up to the park gates takes about 15 minutes. Stop at the Visitors Center and grab a map of the park to plan your visit. If you don't already have a National Parks Pass, consider buying one here. The parks in Southern Utah are some of the most expensive in the country so it makes sense to purchase an annual pass when visiting.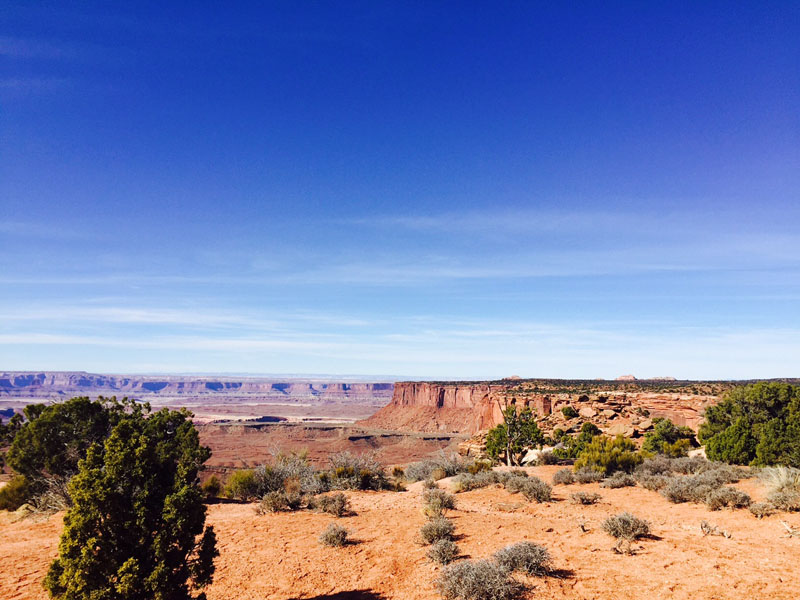 There are many spots to enjoy spectacular views over the canyons with varying degrees of difficulty, some just a short stroll from the car park and others more extensive hikes. Some of the best viewpoints are at the Grand ViewPoint Overlook, Green River Overlook and the Buck & Shafer Canyon Overlooks.
Overnight in Moab, Utah – From Canyonlands National Park, head down to Moab about 40 minutes away, to spend the night. Moab is a sweet little town surrounded by towering red rock cliffs. There are lots of hotels and restaurants to choose from in Moab, most of them set along the main road through town. We stayed at the Best Western Plus Canyonlands Inn as it has a wonderful pool & hot tub area. Some of the best dining options in town are Sabaku Sushi (though it isn't cheap) or Milt's Stop n' Eat for classic, tasty diner fare.
Suggested Hotels in Moab: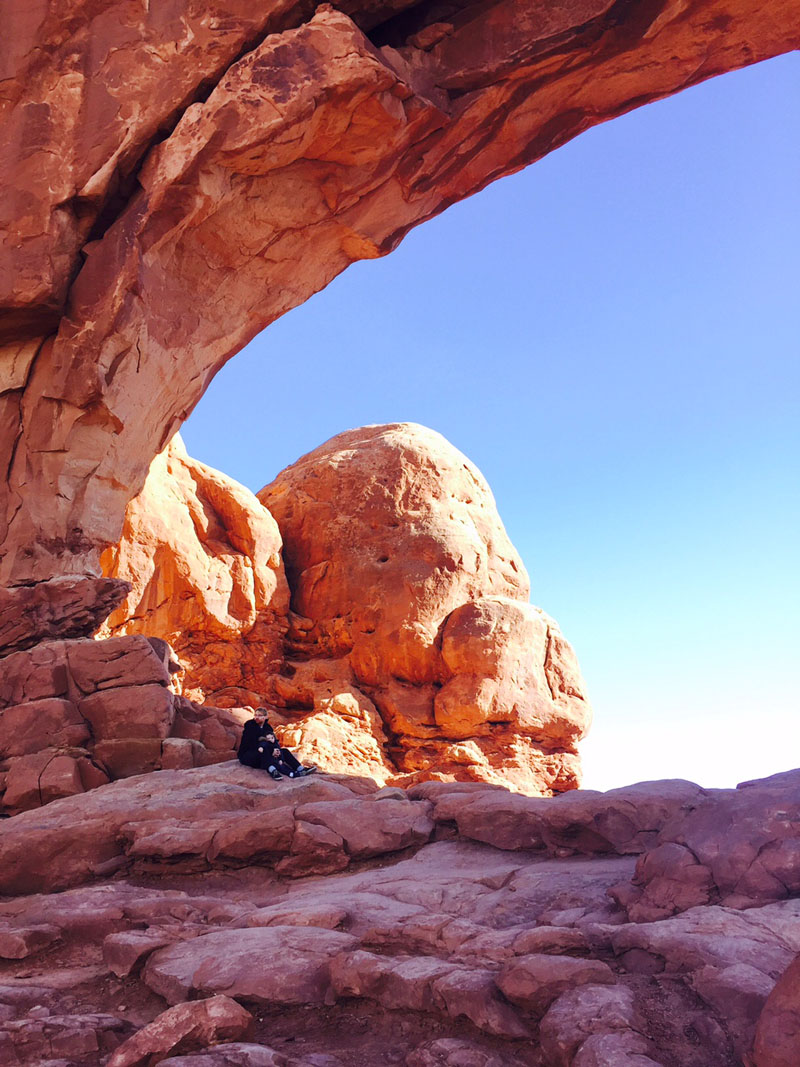 Day Three
Arches National Park
Start your day at Arches National Park. My favourite park in Utah!  The park gates open at 7.30am in Summer (8am in Fall and 9am in Winter) but you should always check the NPS website for weather advisories first. If you're visiting in the summer months, begin as early as you can to beat the heat. The visitors center is well worth a visit to learn how these natural sandstones arches formed. Kids will love it as it's interactive and informative. Pick up a map and ask rangers to point out the hikes that best suit your ability.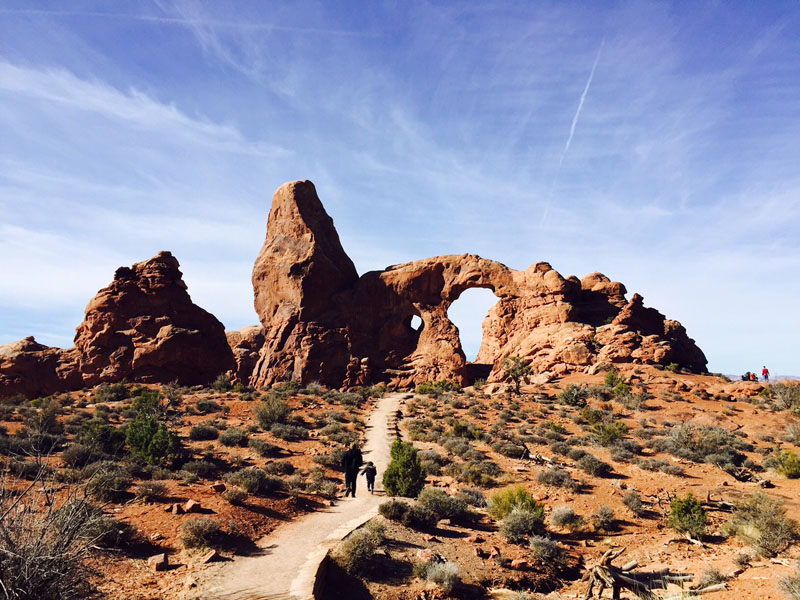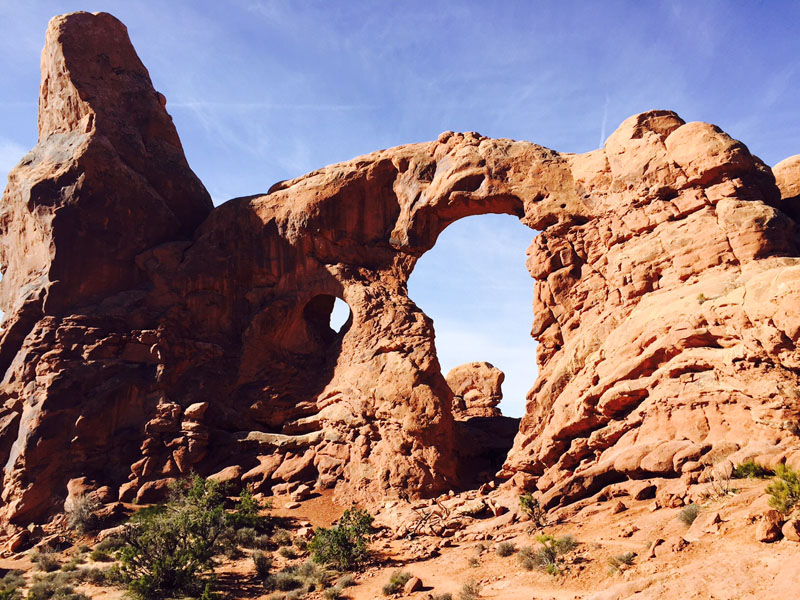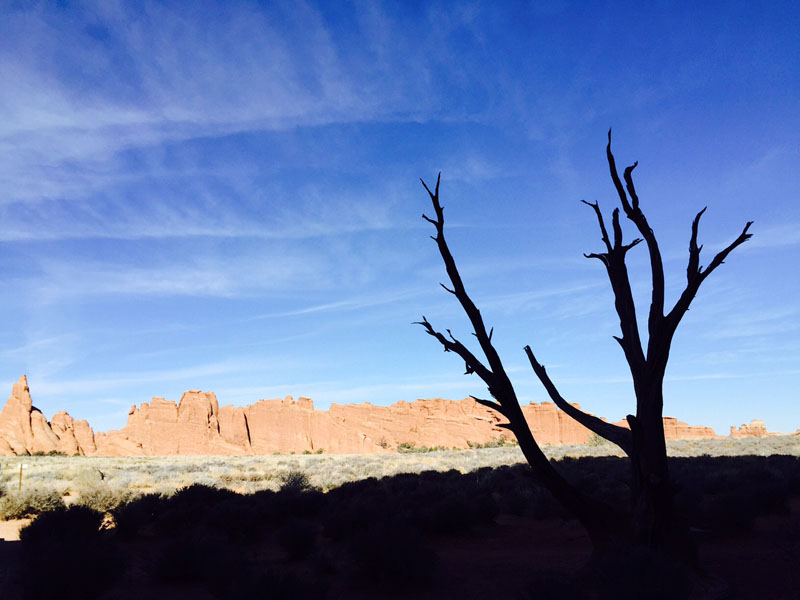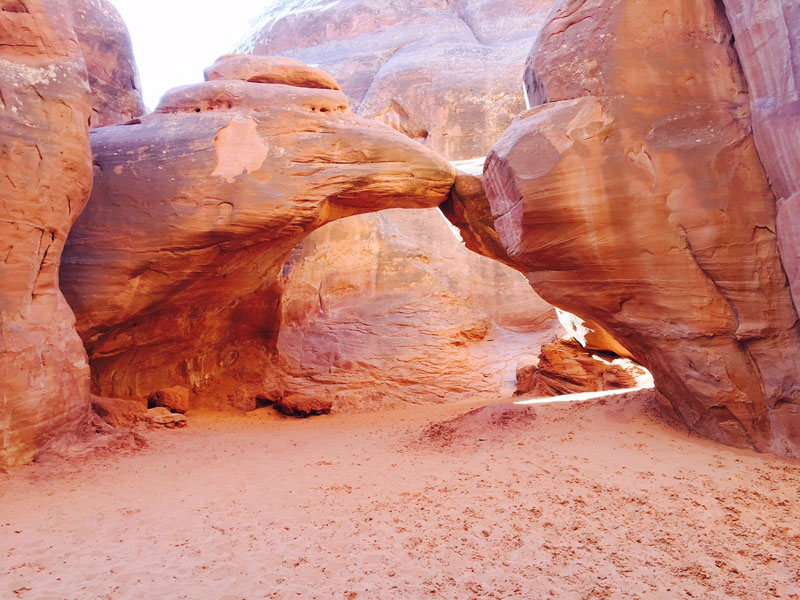 Once inside the park you won't want to miss the following easy hikes and viewpoints – Balanced Arch, Double Arch, Delicate Arch viewpoints and Sand Dune Arch.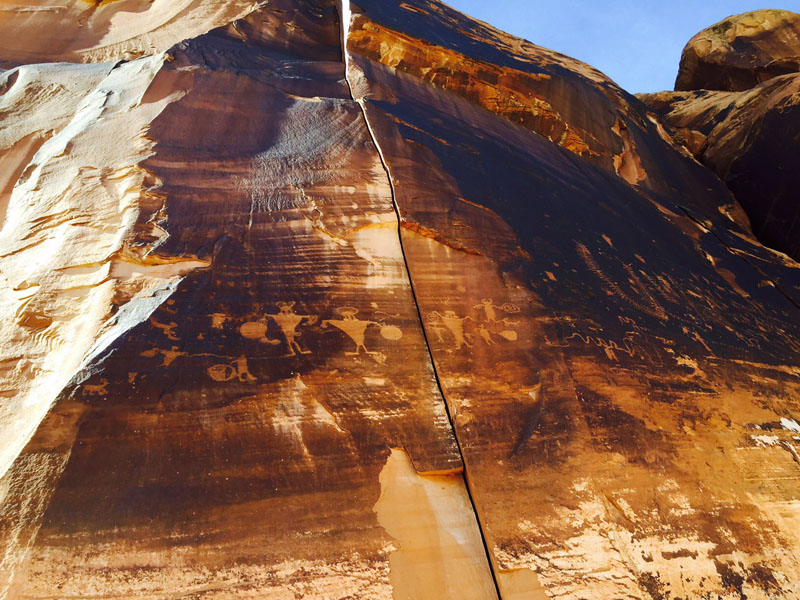 Native American Petroglyphs
After you've visited Arches, make a little time to go see some fascinating Native American Rock Art. As you're coming out of Arches, back towards Moab, cross the bridge to the other side of the river onto Potash road and continue driving along a few miles until you see the sign post. Park on the side of the road and look up!
Overnight in Moab, Utah.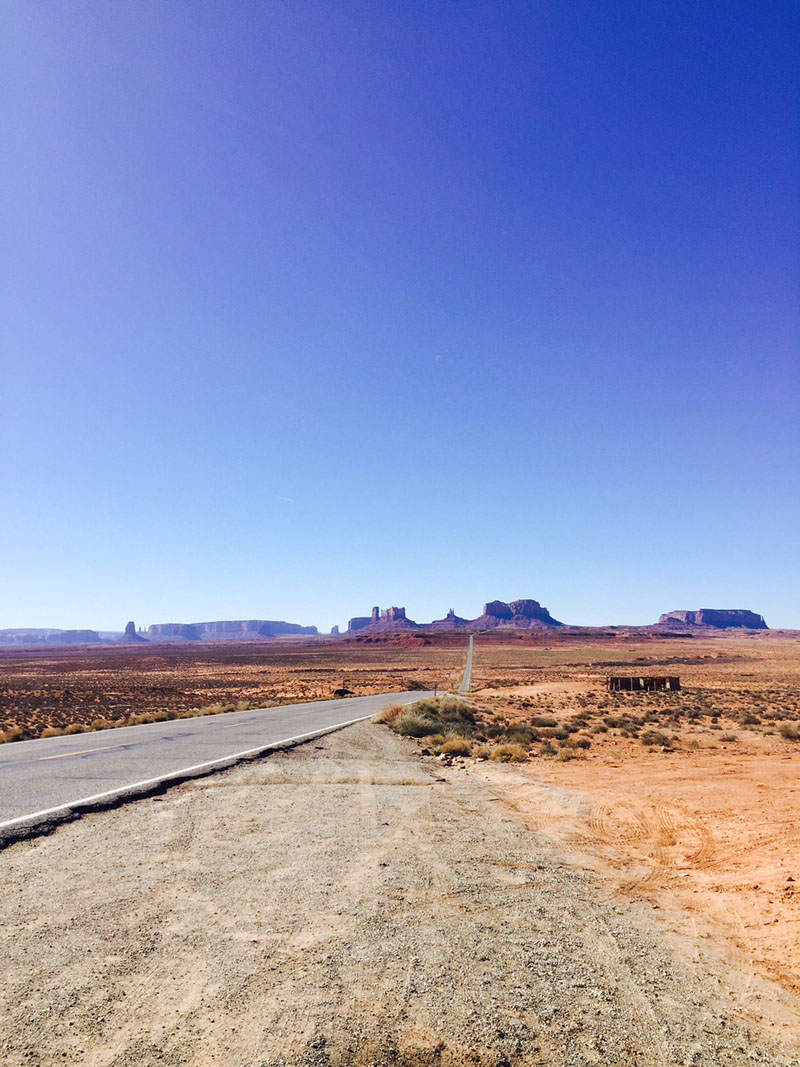 Day Four
Drive from Moab to Page, Arizona via Monument Valley
The drive from Moab to Page, Arizona is about 290 miles and will take you all day once you include the below mentioned stops. There are not a lot of services on this route so be sure to gas up your vehicle in Moab and pick up some supplies for your lunch before you leave town. This is your busiest day on the road trip by far so start out as early as possible.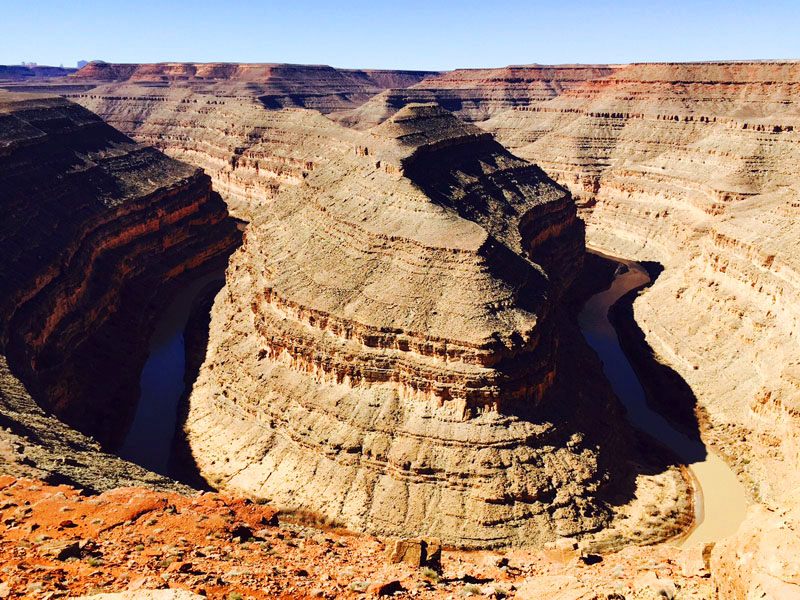 Goosenecks State Park
About 2 hours out of Moab, before reaching Monument Valley, take a quick detour off the 163 to Goosenecks State Park. The park is about 3.5 miles from highway. There's no hiking to be done, just drive your car into the parking lot, get out and take a good look at the San Juan river winding it's way around the valley 1000 feet below.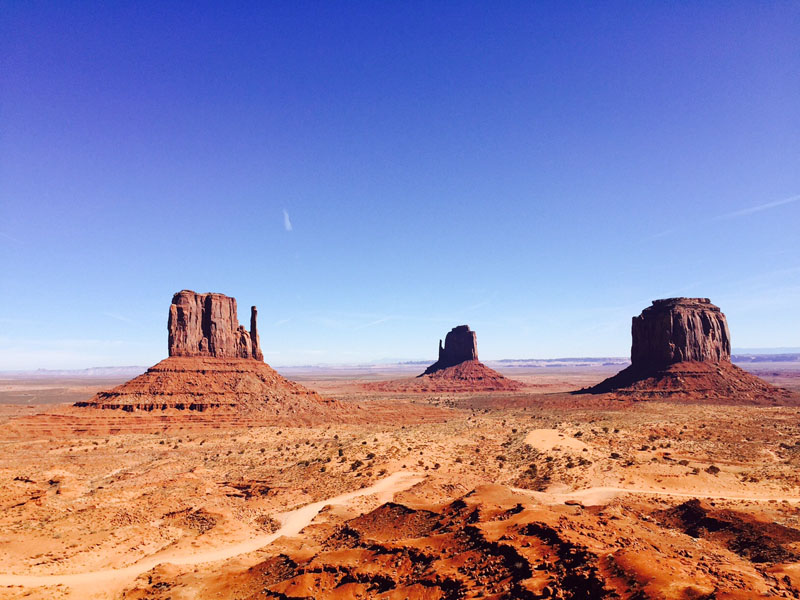 Monument Valley Navajo Tribal Park
Once you're back on the highway it's about 40 minutes on to Monument Valley and the Navajo Tribal Park, part of the Navajo Nation on the border between Utah and Arizona. About 20 minutes before you reach the park you'll get a great view of the road stretching out, leading up to the park. Look for the "Mile Marker 13" sign for the best place to pull over and photograph it.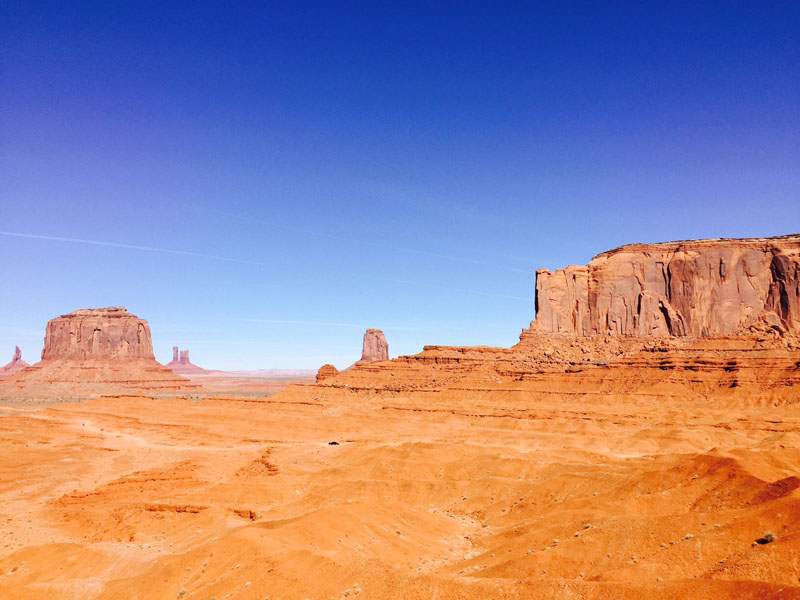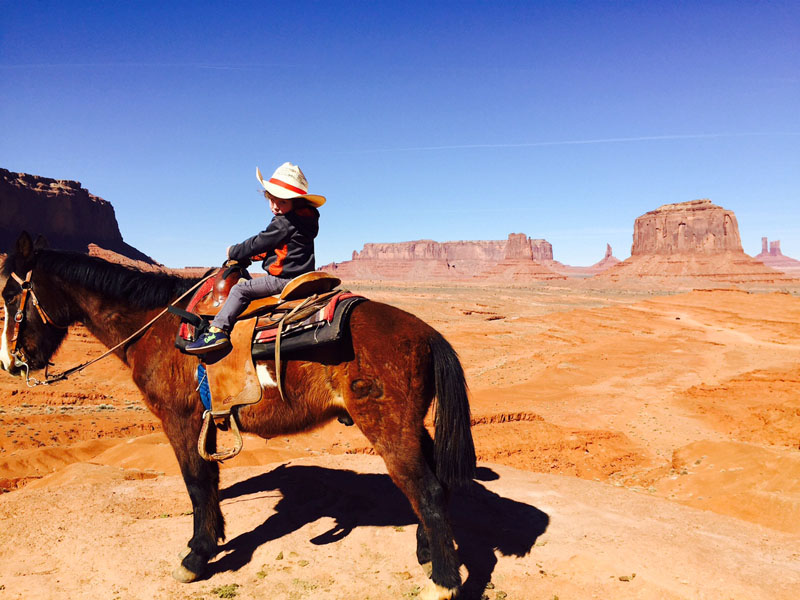 Park entry is $20 and is not covered on a US National Parks pass. Call into the visitor's center to start with, there's a great view out too the buttes and some historical displays. Exploring Monument Valley can be done on a guided truck tour but it's actually not difficult to drive some of it yourself in a decent sized sedan or SUV. The park is big, and all the roads are unpaved, so driving the whole 17 mile loop could take all day. If you want to gather some easy highlights then head down into the valley, pass The Mittens, Merrick Butte and Elephant Butte, and then drive up to John Ford's point before turning back to the visitor's center and exiting the park. See the map here. This will take you just over an hour.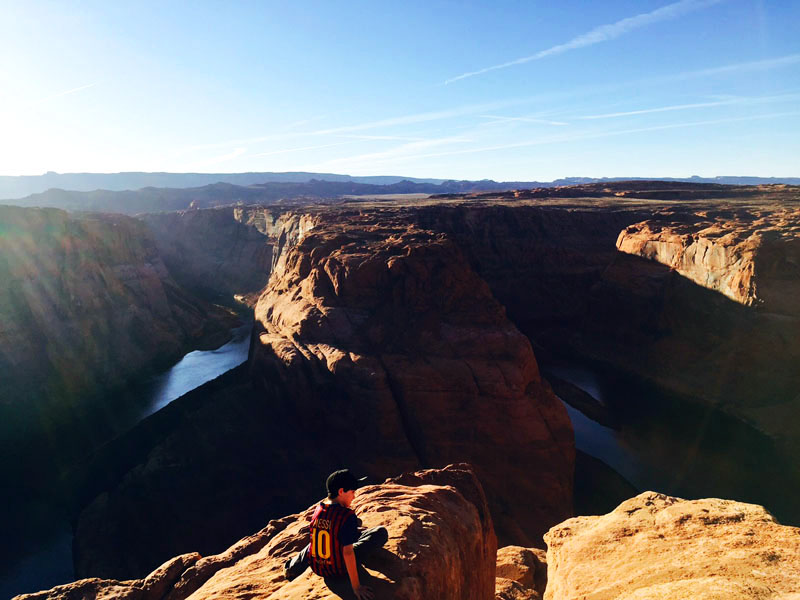 Horseshoe Bend
From Monument Valley, head toward Page, Arizona. It'll take you a little over two hours to drive this stretch of your journey. Timing your visit to Horseshoe Bend, about ten minutes outside Page, with sunset is a great idea but you won't be the only person who had it! The parking lot gets very busy at sunset so come as early as you can to grab a space. The 15 minute walk from the parking lot to the viewing point is moderately tough as it's on sand and a little step. Enjoy the view over Horseshoe Bend but take care as there are no barriers and many people standing or sitting at the cliff's edge. More than a little nerve wracking, especially with small kids.
Overnight in Page, Arizona – Page is a small town but makes for a convenient stopover with access to both Horseshoe Bend and Antelope Canyon. While there is not a lot going on in town, there are plenty of hotels to choose from and a great Mexican restaurant for dinner.
Suggest Hotels in Page: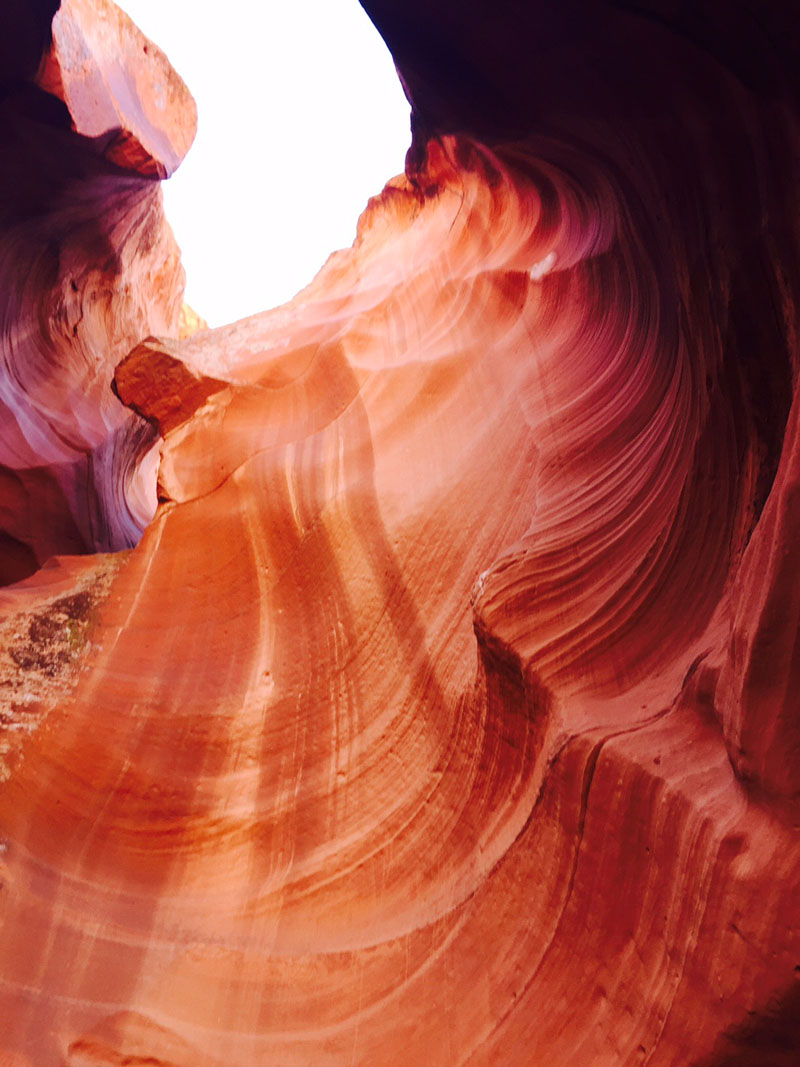 Day Five
Upper Antelope Canyon Tour
Antelope Canyon is one of those places that you just have to see to believe. The photos are of course spectacular but walking through and experiencing it is very special. Upper Antelope Canyon is on tribal land and is only accessible by joining a tour lead by Najavo guides.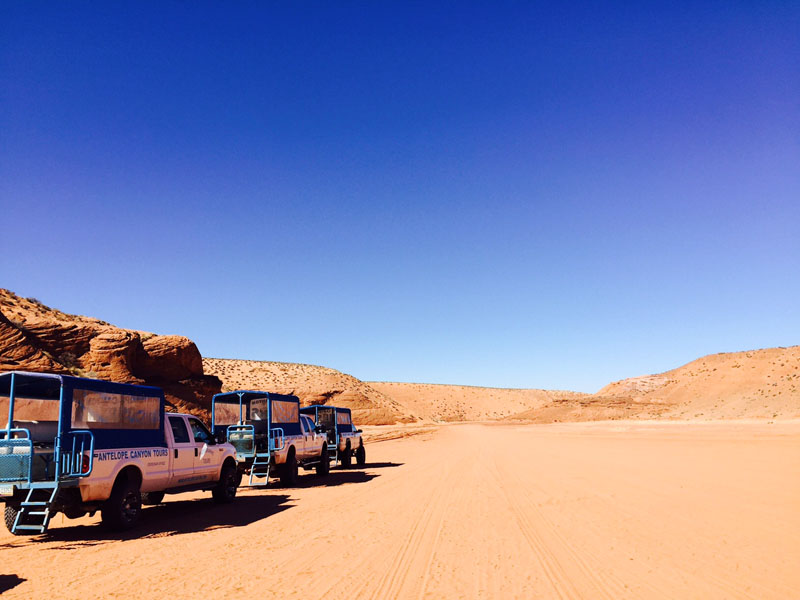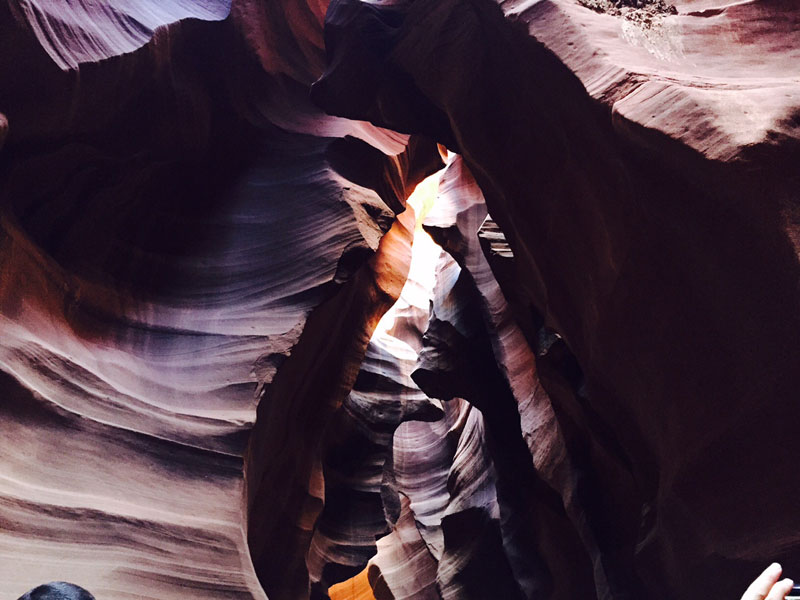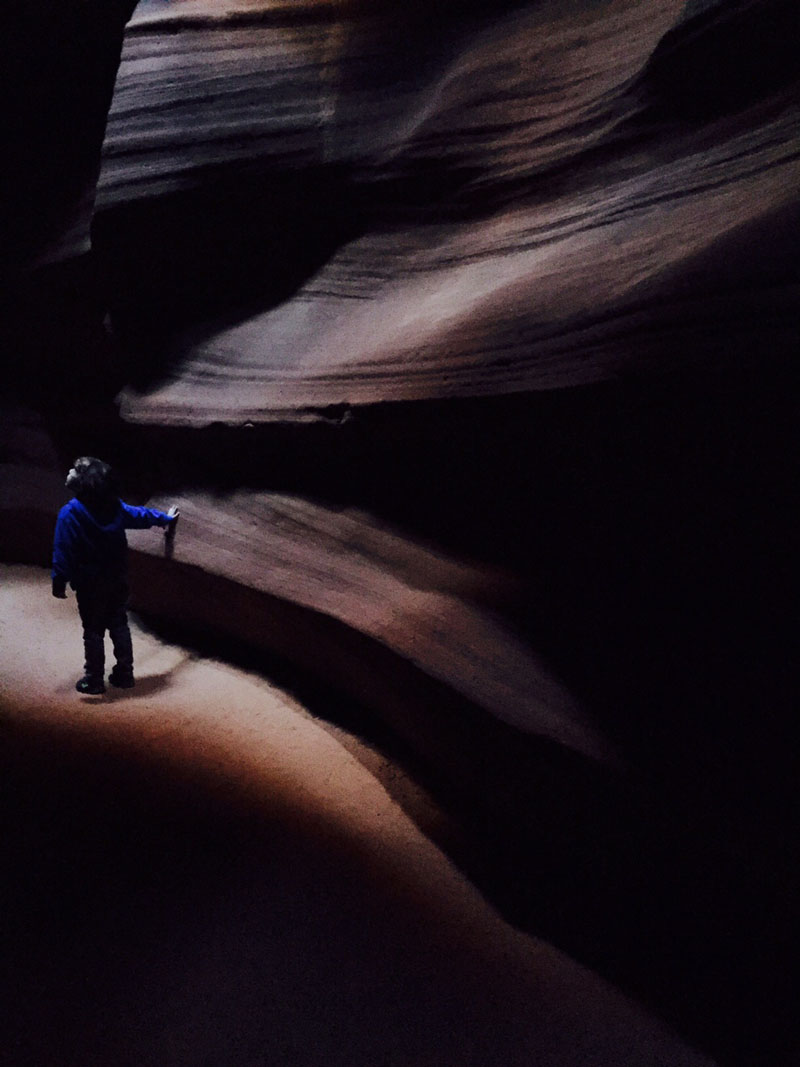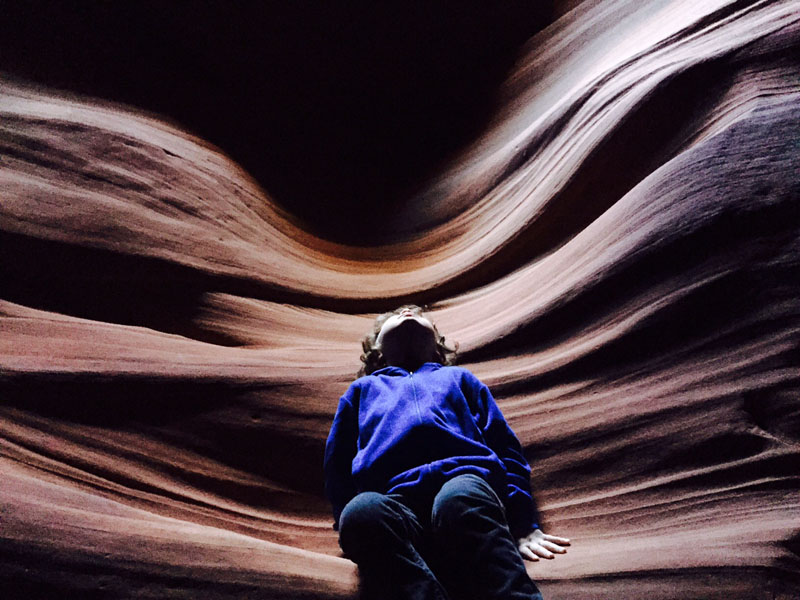 The guides are great and will tell you about the creation of these petrified sand dunes and help you line up your camera to get the best photographs. Walking through the canyon takes about one hour with about 15 minutes driving on a tour truck in each direction. You absolutely must pre-book your tour in advance as they sell out early.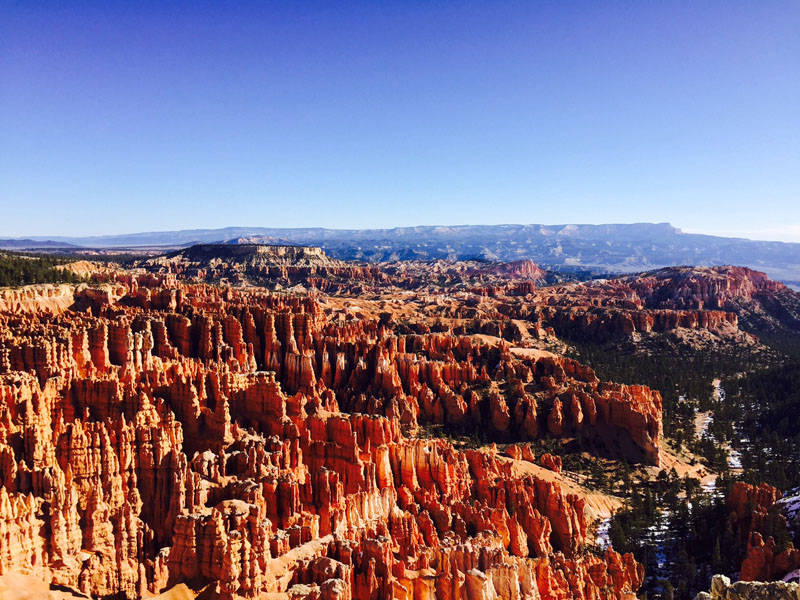 Drive to Bryce Canyon for Sunset
Driving from Page, back into Utah and up to Bryce Canyon takes about 2.5 hours so leave in the early afternoon to allow time to sneak in a sunset at Bryce Canyon. The aptly named Sunset Point is the best place to watch the sun drop over the hoodoos that dot the canyon. Bryce Canyon is also a wonderful place for stargazing. If you're in town during a full moon, the park rangers run a full moon hike or go to one of the hundreds of stargazing events run each year.
Overnight in Bryce Canyon, Utah – We stayed at the recently built and very comfortable Best Western Plus Bryce Canyon Grand Hotel. Dining choices are few and far between in Bryce Canyon. If you're there in the off season, your only dining choice is at Ruby's Inn. It's not outstanding but it's good enough considering it's the only place in town. In the on season, there is a pizza place too.
Suggested Hotels in Bryce: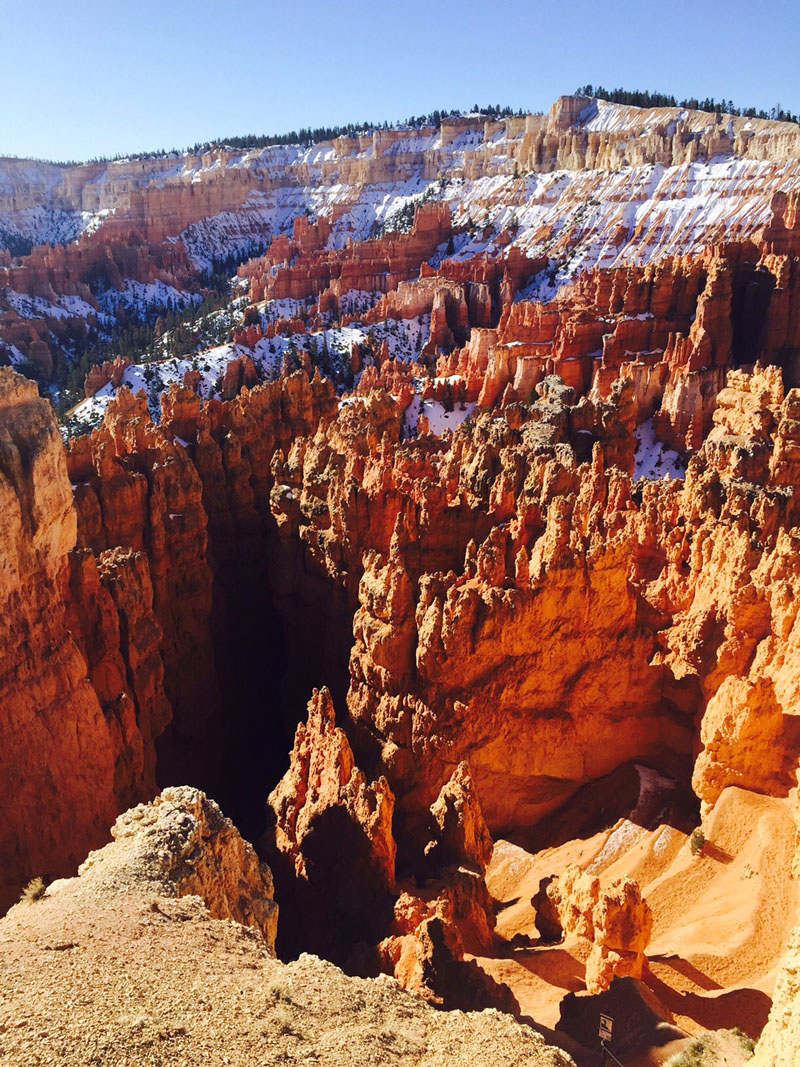 Day Six
Bryce Canyon National Park
Start your day early to catch the morning sun over Bryce Canyon. The park gates open at 8am year round. Driving from viewpoint to viewpoint is a great way to explore the park if you have limited mobility or if you're travelling with small kids. The main park road is 18 miles long.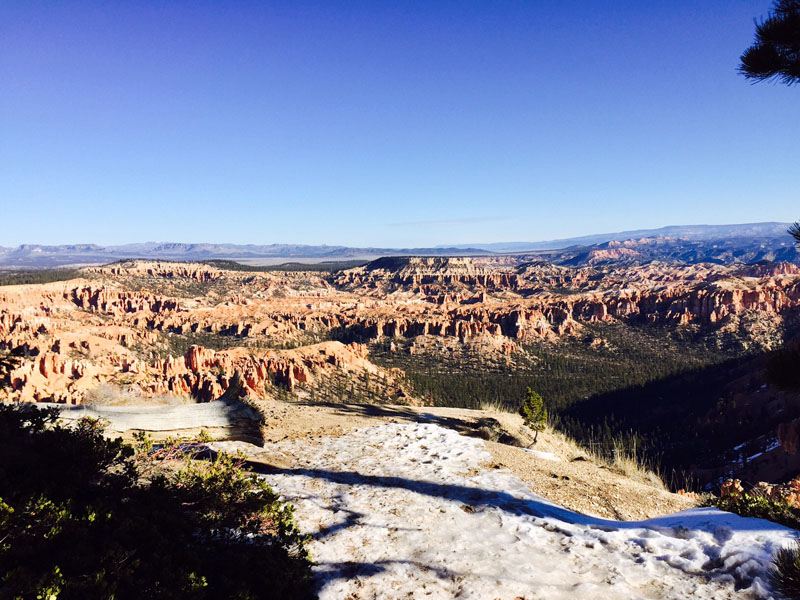 Heading into the park from the visitors center, don't miss Sunrise, Sunset, Inspiration and Bryce viewpoints all the way around the the other side of the canyon to Rainbow and Yovimpa points. Depending on your level of ability, you can hike down for a closer look at the hoodoos and walk the Rim Trail  at various points around the park. The entire Rim Trail is 11 miles long so pick and choose the bits you want to do. The Navajo Loop is one of the most popular trails and is only 1.3 miles long. There is a mandatory park shuttle that you must use to get around Zion National Park during peak months, roughly March to October. In winter months you are able to drive around the park.
Drive from Bryce Canyon to Springdale
Once you've had your fill of Bryce, get back in the car and head onwards to Springdale. The 85 mile drive will take you about 1 hour 45 minutes. Take the evening off, sit in the hot tub at your hotel and star gaze.
Overnight in Springdale, Utah – Springdale offers the best choice in lodging and dining close to Zion National Park.
Suggested Hotels in Springdale: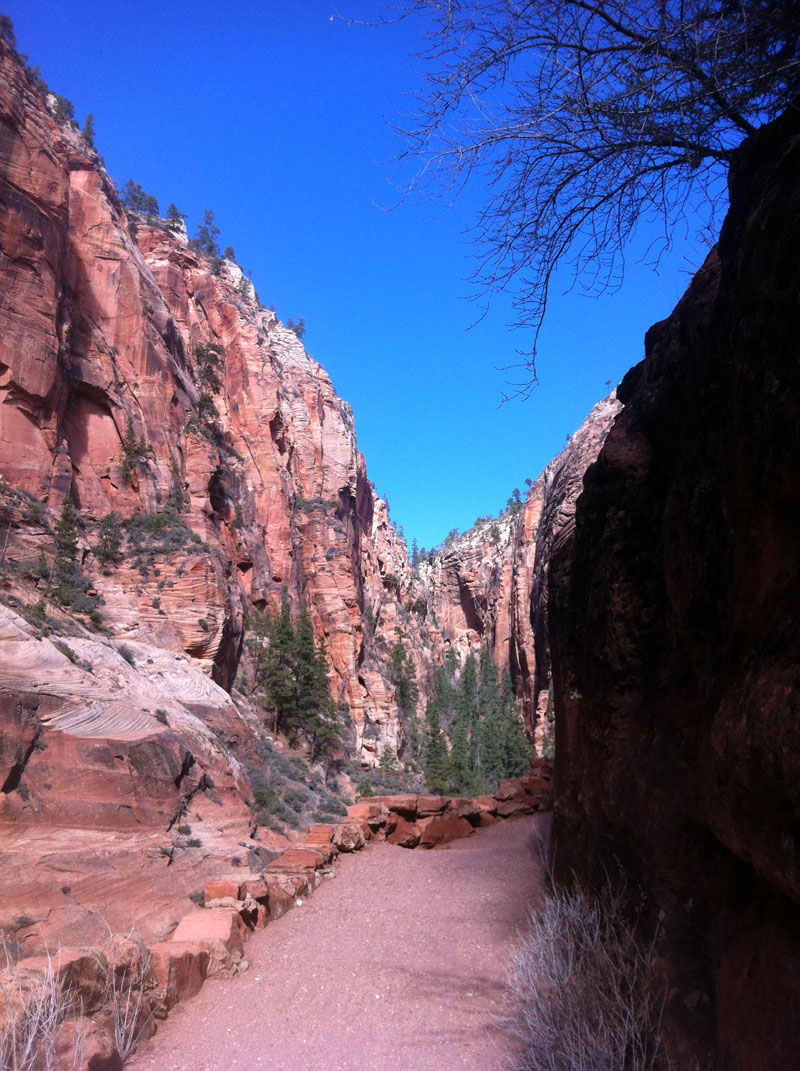 Day Seven
Zion National Park
Rise and shine for a full day exploring Zion National Park! Stopping at the visitor's center is always worthwhile to pick up maps, park information and to ask rangers for advice on specific hikes to meet you level of ability.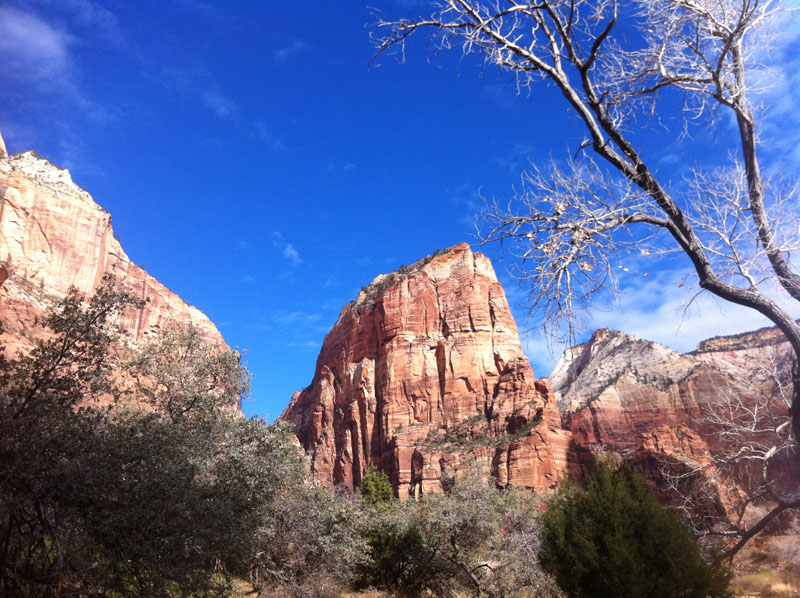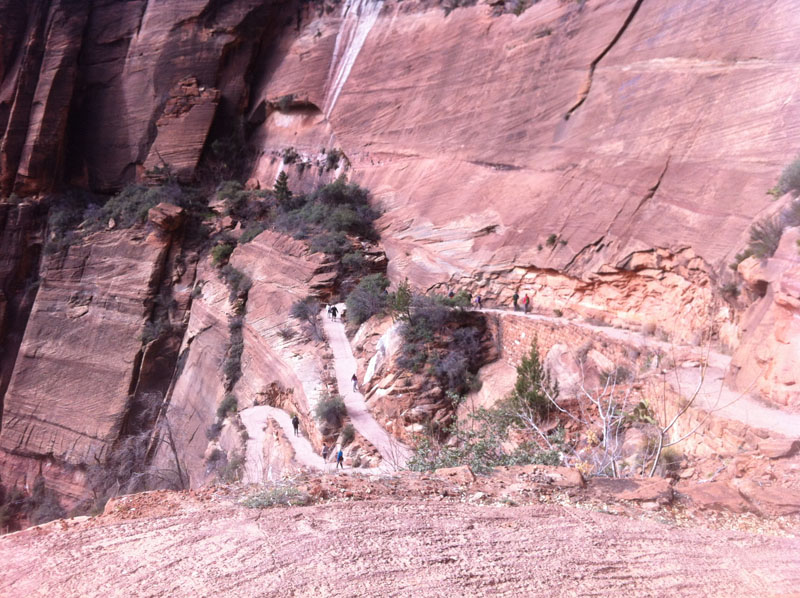 Many of the hikes in Zion are steep and narrow making them unsuitable for families or people who are scared of heights. Check out this hiking guide to pick some suitable trails before your visit. The best way to see The Narrows is from above by hiking along the paved, wheelchair accessible Riverside Walk for one mile from the Temple of Sinawava. If you're visiting Zion with the family in tow, here is a great post on what to do in a day when you're travelling with kids.
Drive from Zion to Las Vegas
The 160 mile drive from Zion to Las Vegas will take you about 2 hours 45 minutes. Fill up your vehicle while you're still in Utah, gas is considerably cheaper here than in Nevada! St George, Utah is a good spot to stop for coffee and gas.
Overnight in Las Vegas, Nevada – Try out a different hotel to the one you stayed at on your first night, suggestions above. If you stayed on The Strip last time, consider staying Downtown at The Golden Nugget this time around so you can swim in their shark tank. If you want to stay on The Strip, pick a hotel based on the shows you want to see or the restaurants you want to visit. That way you can make the most of the last night of  your vacation!
Suggested Hotels in Las Vegas: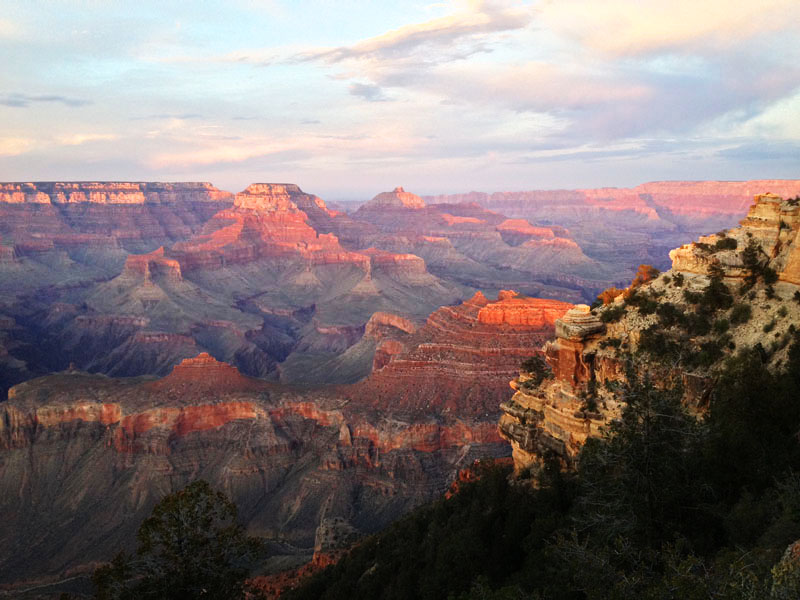 Grand Canyon Extension
If you haven't been to the Grand Canyon, don't come all this way and miss it! If you can add an extra night to your itinerary, you can build a quick visit to the Grand Canyon in Arizona into your road trip.
In summer, you can dip down from Page, AZ  and start at the North Rim of the Grand Canyon National Park. In winter, you'll need to access the park from the South Rim which is best done as an overnight side trip from Las Vegas. If you are really pushed for time, the Grand Canyon can be visited in a day from Las Vegas via helicopter or car.
Overnight in Tusayan, Arizona – Park accommodation in the Grand Canyon is booked out months and months in advance. The best place to stay is in Tusayan which is just outside the park gates and is a more affordable option.
Suggested Hotels in Tusayan:
Top 10 Road Trip Essentials
Before you set off on your road trip, make sure you've got all the essential items at the ready.