This post may contain compensated links. Please refer to my disclaimer here for more information.
Updated October 2016.
If you're thinking about a family trip to Las Vegas but are worried you won't have enough to occupy your kids, stop! Las Vegas is super family friendly these days and there a lot of fun things you can get up to in Sin City with kids along for the ride. You'll have some much fun with your family visiting Vegas and doing all the things to do in Las Vegas with kids.
We visit Las Vegas all the time with our two kids and find plenty of kids activities in Las Vegas. If it's your first trip to Las Vegas with kids, these ten activities will give you the highlights of Vegas. If you've got more time, check out the links at the bottom of this post two more lists of ten things to do in Las Vegas with kids. You won't be short on ideas for your family vacation to Las Vegas.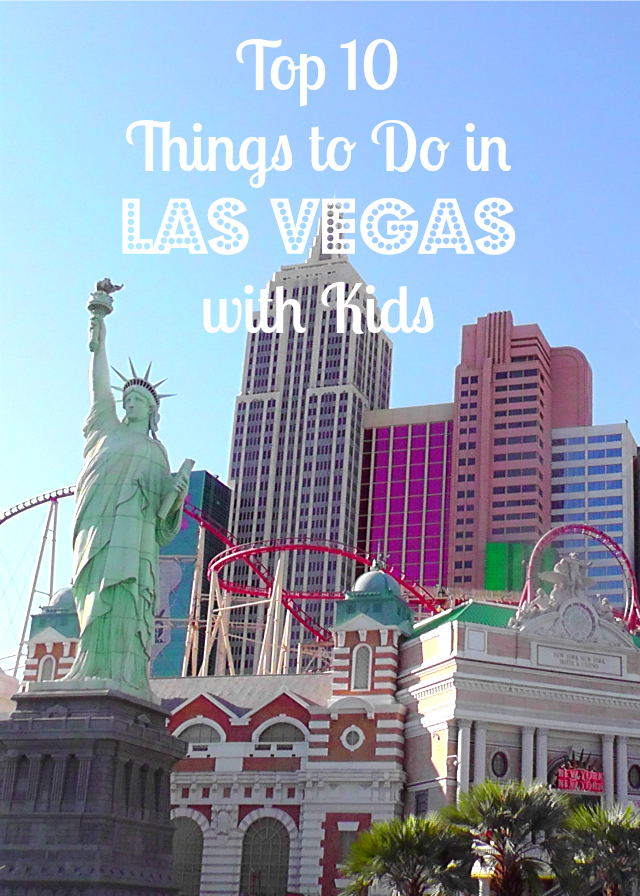 The Top Ten Things to Do in Las Vegas with Kids
Tournament of Kings at Excalibur
This medieval dinner and show is fantastic.  There's knights on horseback, jousting, sword fights and lots of action. You're seated sections and asked to cheer on your knight. On top of this you're fed a three-course dinner you eat entirely with your fingers and you're encouraged to bang your flagon of soda on the table! What kid wouldn't love this? It's $59 per person with kids three and under free. It's not scary so suitable for kids of any age.
Stay at Excalibur! Check rates & availability here.
Gondola Ride at The Venetian
Yes, it's cheesy but no trip to "Venice" would be complete without a gondola ride. Your singing gondolier will punt you through the canals under faux blue sky while serenading you with Italian classics such as "O solo mio". Kids will love it. Gondolas seat four and cost $16 per person. Under twos will need to sit on an adults lap but ride for free.
Stay at The Venetian. Check rates & availability here.
Secret Garden & Dolphin Habitat at The Mirage
The dolphin habitat houses adult and baby dolphins. You can get up close and personal with dolphins through the underwater viewing window or see baby dolphins swimming around in a shallow pool. While they no longer have a show, the Secret Garden is still home to Siegfried & Roy's big cats. Here you can see many varieties of lion, tiger, panther and leopard. Tickets cost $20 per adult, $15 for kids 4-12 and under threes free. Hotel guests receive a discount.
Stay at The Mirage. Check rates & availability here.
Adventure Dome at Circus Circus
An amusement park inside a hotel? Yes, there sure is. Complete with roller-coaster and log ride. There are only a few rides for little kids including a 4D cinema but it's mostly suitable for older children who will enjoy thrilling rides. You can pay per ride $5-8 or buy an all-day pass – $27 for adults and $17 for kids under 48 inches/120 centimetres.
Stay at Circus Circus. Check rates & availability here.
The Eiffel Tower Experience at Paris
At one third the height of the original, the view from the Eiffel Tower at Paris is still dizzying. After an elevator ride to the top, you'll be able to see all the way down the Las Vegas Strip and peer into the grounds of all the hotels. It is amazing to see how far some of the casino complexes stretch. The viewing platform is caged in so completely safe, even for little kids. You'll pay $10.50 for adults and $7.50 for kids during the day. Prices increase to $15.50 and $10.50 at night. Not recommended for sufferers of vertigo!
Stay at Paris Las Vegas Hotel. Check rates & availability here.
Shark Reef Aquarium at Mandalay Bay
The many exhibits at the Shark Reef should keep kids entertained for at least an hour. In addition to seeing sharks and turtles in the main shipwreck exhibit, you'll also find crocodiles, Komodo dragons, jellyfish and octopus. Seeing the piranha being fed is a highlight. There's a chance to get interactive with rays, sharks and fish in the touch pool. Adults pay $18, kids 5-12 $12 and under fours are free.
Stay at Mandalay Bay. Check rates & availability here.
Ride the roller-coaster at New York New York
Only suitable for older kids, you have to be 54 inches/137 centimetres to experience this adrenalin rush. An individual ride costs $14 with purchase of photos extra.
Stay at New York New York Hotel & Casino. Check rates & availability here.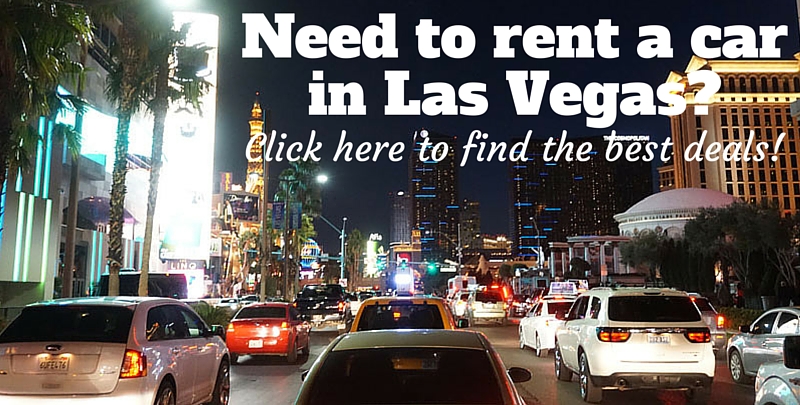 Go to a show!
There are actually quite a few shows that are kid-friendly. The #1 kid-friendly show in Las Vegas would have to be the Popovich Comedy Pet Theater at Planet Hollywood. One of the only Las Vegas shows to begin before bed-time, it starts at 4pm making it perfect for a pre-dinner show when you're travelling with kids. The content is 100% family friendly and your kids will love watching the animal actors perform astounding tricks on stage.
Stay at Planet Hollywood. Check rates & availability here.
A trip up the Stratosphere
Another one for those who like dizzying heights and thrilling rides. For $16 per adult and $10 per child you can head up to the viewing platform over 1100 feet in the air.  If your kids are real adrenalin junkies they will enjoy the rides though they are definitely not for the feint at heart and strictly for older kids. Ride prices are $12-13 but packages can be bought that include tower admission and multiple rides.
Stay at The Straosphere Hotel. Check rates & availability here.
Shark Tank Water-slide at The Golden Nugget
A three-story water-slide that goes through a shark tank? Yes this sounds insane but it's perfectly safe. Where else in the world would you get the opportunity to do something this crazy? Provided they aren't scared, your kids will love it. Most hotel pools in Las Vegas are only open for guest but non-guests can use the pool here for a fee. Besides the Shark Tank you'll also get access to the pool and Jacuzzi. For non-hotel guests, entrance is $25 for adults, kids free. The Golden Nugget is actually a great, affordable place for families to stay in Las Vegas.
Stay at The Golden Nugget. Check rates & availability here.
More Things to Do in Vegas with Kids
We find more and more great Las Vegas attractions every time we visit. Our list of favourites grows and grows. Here are a few more ideas for for Vegas attractions that kids will love.
Top 10 Free Things to Do in Las Vegas with Kids
If you're running low on cash in Las Vegas check out my list of the Top Ten FREE Things to Do in Las Vegas with Kids.
10 More Fun Things to Do in Las Vegas with Kids
For more ides on kids activities in Las Vegas, check out my latest post on 10 Fun Things to Do in Las Vegas with Kids.
Where to Stay in Las Vegas with Kids
If you're thinking about visiting Las Vegas with your family have a look at my post on The Best Hotels in Las Vegas for Families.
Don't pay for extra beds in hotels when visiting Las Vegas with your kids!
Brining your own portable toddler bed is a great way to save money on hotel fees for extra beds or cribs when you are travelling with children. We swear by this simple trick when travelling the world with our two kids. Read my post to find out more – Toddler Travel Bed Guide: Portable Toddler Beds are Great for Travel!
Need a Packing List for Your Trip to Las Vegas?
Go to this post to download your free packing checklist for what to pack for Vegas.
Visiting Las Vegas with your kids? Here are a few things you should definitely bring!
Easy Las Vegas Airport Transfers
We recommend using Blacklane for private airport transfers when flying into Las Vegas McCarren Airport. Taxi lines at the airport can get very busy. We've waited over an hour in a taxi queue when arriving in Las Vegas on a Saturday flight. Booking an airport transfer in advance will definitely save you time! Click here to book your Blacklane Airport Transfer Service
.