This post may contain compensated links. Please refer to my disclaimer here for more information.
If you're heading to Las Vegas this summer there is plenty on offer to keep your kids entertained, energised and excited. We have already written two great posts on the things to do in Las Vegas with kids. You can read them here and here. But you know what? There is even more to do! Every time we visit Las Vegas with kids we discover something else awesome to do. Las Vegas keeps us coming back over and over again. Here are my latest picks on fun things to do in Las Vegas with kids. Enjoy!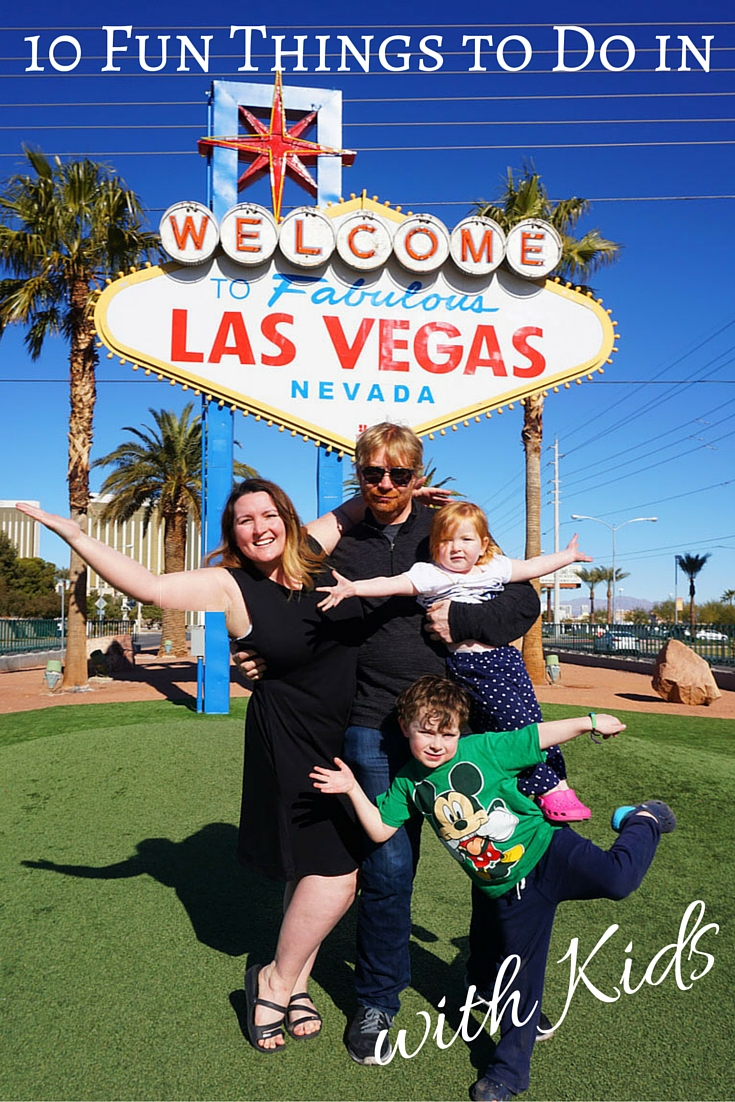 10 Fun Things to Do in Las Vegas with Kids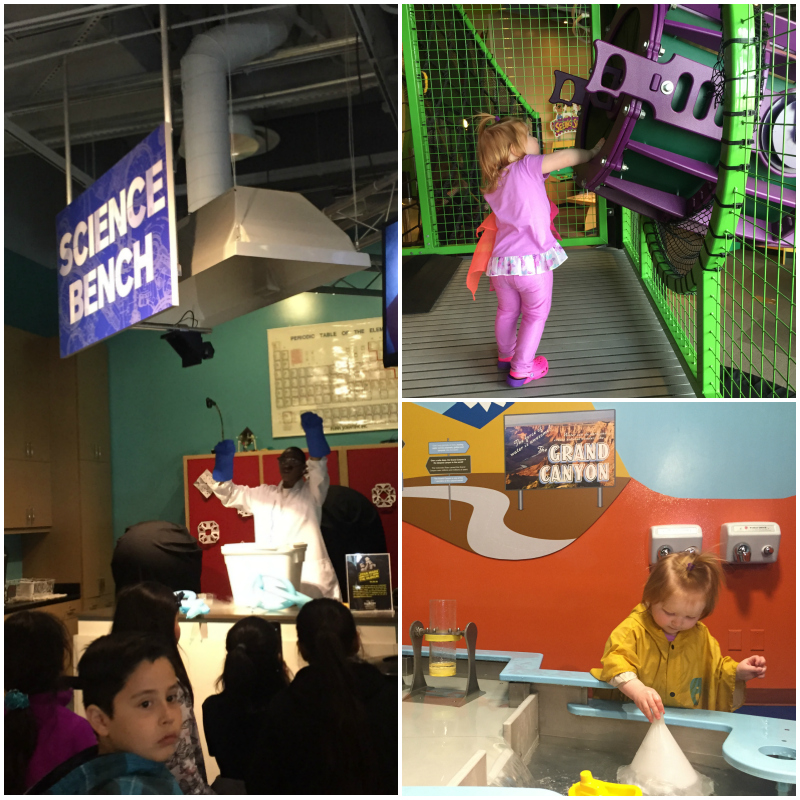 Discovery Children's Museum
Las Vegas has an outstanding children's museum! The Discovery Children's Museum is the perfect place to head for your younger children to be educated and entertained. You'll find a pirate ship, dress ups, stage, construction zone, airport, grocery store, vet clinic and bank. All kid sized and super fun! There is a large climbing structure that runs through the center of the building too. As well as art and archeology stations. In short, your kids will love it. Budget on spending at least two or three hours there. Admission is $14.50 for everyone over the age of one. You can check exact opening hours here as they change from summer to winter.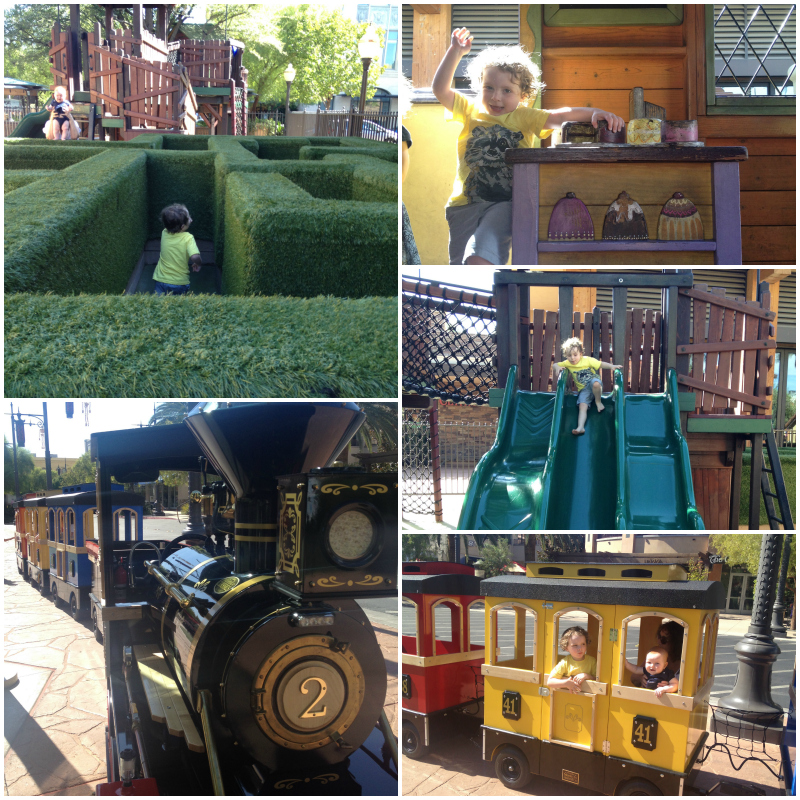 Town Square Playground & Train
Town Square is a great outdoor shopping center just at south of The Strip. You'll find all your favourite clothes shops and large Whole Foods which is a great option for lunch. There is an excellent playground at Town Square with slides, a hedge maze, climbing structures and even a water play area. There is also a toy train that does laps of the center. It's really fun and only costs $2 per person.
Jump for Joy at Sky Zone
Sky Zone Trampoline Park is a great place to let little ones loose to burn of some energy. Bounce on the many trampolines, slam dunk a basket or dive into the foam pit. If you've got young kids, go during toddler time for maximum enjoyment. Prices start at $13 and special socks are included.
Visit Red Rock Canyon
Get out of town and stretch those little legs with a walk around Red Rock Canyon. About 25 minutes from The Strip by car, Red Rock Canyon is a great place to explore the desert area that surrounds Las Vegas. Kids will love exploring the trails and scrambling on the red rocks. Download activity books for kids before your visit. Red Rock Canyon gets hot in the summer so go early. The park area opens at 8am and costs $7 per vehicle.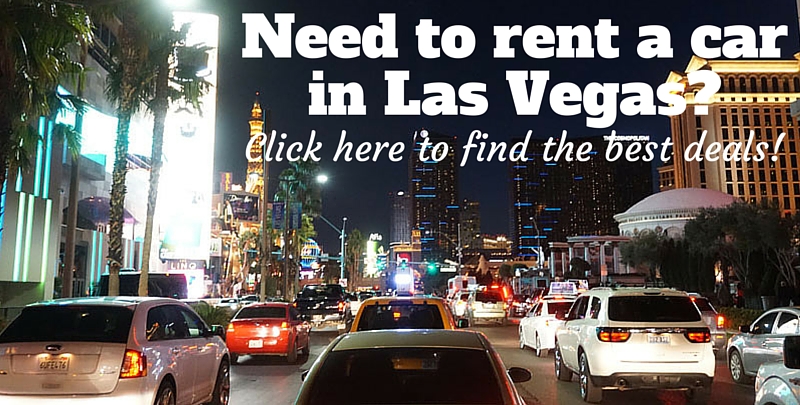 Eat at a Las Vegas Buffet
If you love to eat, you've come to the right place! There are so many great buffets in Las Vegas with options to please even the fussiest little eaters. They're all kid-friendly and have high chairs for babies. Kids under 5 are usually free which is a bonus when travelling with the family as eating out can really add up. There are reduced rates for kids under 12. Here are my picks for the best buffets in Las Vegas but, for kids, really any of them will go down a treat.
Take Your Kids to a Las Vegas Show
Can you take your kids to any Las Vegas shows? Sure you can! Picking the right show is key. There are few shows specifically designed for kids and others that are suitable for kids to attend. Popovich Comedy Pet Theater is one of the best shows for kids. You kids will love seeing these rescue animals perform amazing tricks. The 4pm show time is perfect for little kids. Jeff Civilico: Comedy in Action is another family-friendly Las Vegas show. It's on at 5.30pm so great for families. It's also free on the Las Vegas Pass! The only problem with taking your kids to shows in Las Vegas is that generally they are on very late at night. Encourage an afternoon nap on show day or stay in the same hotel that the runs the show you want to see for convenience. Read this post on what Las Vegas shows are suitable for kids. Prices vary from show to show but you can save money by booking through Tix 4 Tonight booths on the day (or the day before) the show.
Slurp a Frozzzen Hot Chocolate
It's totally a thing to get a giant Frozzzen Hot Chocolate in Las Vegas! You'll find this monster drink at Serendipity 3, right on The Strip in front of Caesar's Palace. If you & your kids like sugary, chocolate drinks served in giant cups, then this is the place for you to come. It's $16 for a drink for two (which will easily serve three).
Ten Pin Bowling at Red Rock Casino
Red Rock Casino sits on the outskirts of Las Vegas, close to Red Rock Canyon. Red Rock Lanes, is always a winner with kids especially if you're looking for an early morning activity as they open at 8am. It's one of the few things to do in Las Vegas with kids that opens before 10am. They also have a movie theater showing the latest releases, many of them for kids. For parents, there is a large day care center on site that looks really fun, almost like a supervises indoor playground. You can drop your kids off to play while you go off and enjoy the casino or sit by the pool to relax.
Madame Tussauds Wax Museum
Get star struck by all your kids favourite celebrities! Madame Tussauds Wax Museum is located at The Venetian. Kids will love the Marvel Super Heroes 4D Experience. You can get cheap tickets for Madame Tussauds from Tix 4 Tonight booths or book online to save 20% on admission. You can find coupons online to save $10. Tickets cost $29.95 for adults, $19.95 for kids under 13 and kids 3 & under are free. You can visit Madame Tussauds using the Las Vegas Pass too.
You can get 10% off your Las Vegas Pass using the code – OCT10 To find out more about the Las Vegas Pass click here. 
Go to the Container Park
Downtown Las Vegas is under going a revival. It's no longer the seedy side of Sin City. Instead you'll now find hipster book stores, retro feeling casinos and cool restaurants. It's where the locals come. The best addition to Downtown is the new container park. A shopping center with boutique stores and eateries housed in shipping containers. At the center of the complex is a great play area for both adults and kids. There are huge foam building blocks, bridges, climbing structures and three super high slides. The animatronic praying mantis at the entrance is amazing! It's adults only after 9pm and entry is free.
Looking for more things to do in Las Vegas with kids?
There's plenty of other things to do in Las Vegas with kids! Here are some ideas:
Best Las Vegas Shows for Kids (Post coming soon!)
Need a hotel in Las Vegas?
Before you book your hotel in Las Vegas, read through my tips on hotels in Las Vegas. You'll save a bundle!