This post may contain compensated links. Please refer to my disclaimer here for more information.
Las Vegas is an excellent place to start your travels in the US. The scenery in the surrounding deserts is unlike any landscape I've experienced before. We used it as a jumping off point for a South West USA road trip but there are many other road trips you can take from Las Vegas. Visiting the Grand Canyon from Las Vegas is probably the #1 road trip from Las Vegas. You can get there and back in a long day trip if you need to but it's worth staying the night so you can experience the canyon at both sunrise and sunset.
Check out my tips for a Grand Canyon road trip from Las Vegas, hiring a car in the US and also where to stay near the Grand Canyon.
Visiting the Grand Canyon from Las Vegas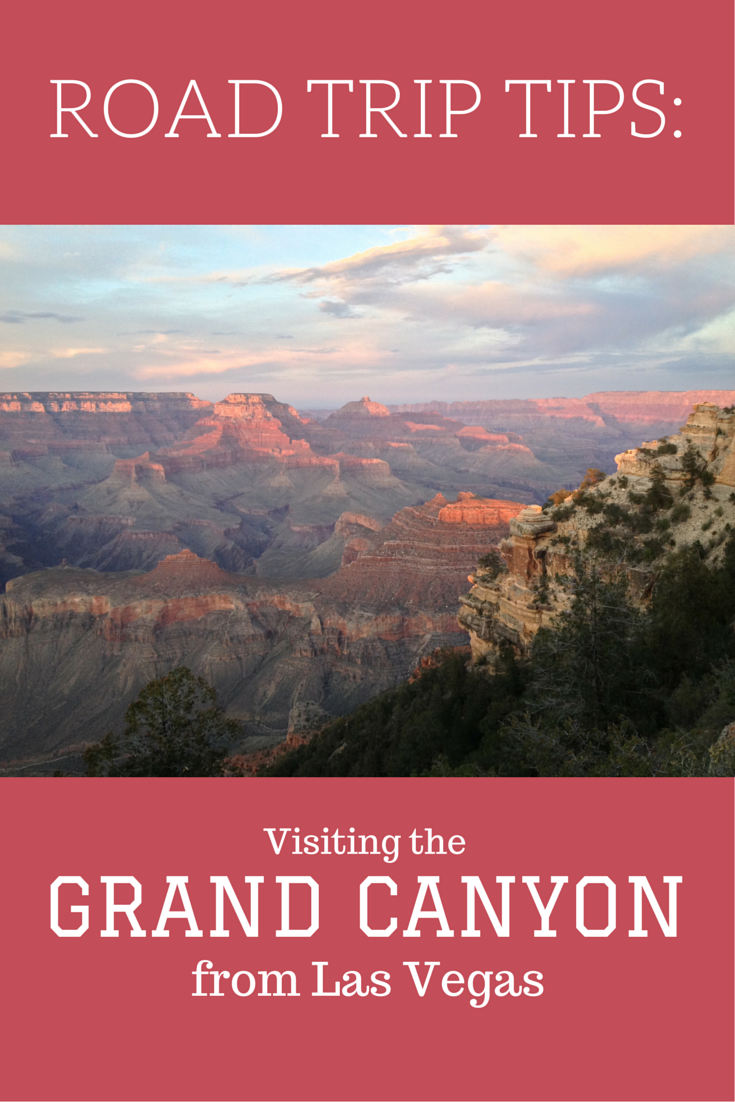 Before you choose to hire a car in the USA you should definitely do some legwork online to find a good deal. There can be a great deal of variance between companies. Car hire in the US can seem cheap at first but remember that the insurance often isn't included in the initial quote and most often doubles the cost of the car hire. It is essential to have insurance of course. If you're from the US you probably already have car insurance that covers you while renting so this won't be an issue for you.
Tips for Visiting the Grand Canyon from Las Vegas
No visit to the USA would be complete without seeing the Grand Canyon. It's by far the greatest natural monument the country has to offer and is one of those things that has to be seen in it's full glory to be believed. The size and scale are indescribable.
The Grand Canyon is one of the most expensive National Parks in the USA to enter, costing $30 per vehicle. You'll get 7 days entrance to the park for this price. If you're on an extended road trip around the states it pays to grab an annual National Parks pass which costs $80.
Did you know the Grand Canyon is actually in Arizona, not Nevada? Many people assume it's in the state of Nevada because of it's close proximity to Las Vegas. There are a number of tours to the Grand Canyon from Las Vegas but it's best to spend more than a day there and visit independently if you can.
Lodging inside the park is expensive and gets booked far in advance so it's best to stay outside the park. Flagstaff, Arizona is the closest major city to the Grand Canyon or you can stay in the small village of Tusayan just outside the park borders at the South Rim.
Coming from Las Vegas the drive to Tusayan takes four hours. Stop and visit the Hoover Dam along the way. Lake Mead is also one the drive between Las Vegas to the Grand Canyon.
If you have limited time to spend at the Grand Canyon, head for the South Rim. It's accessible year around and is easy to get to from Las Vegas. You can enter and exit at the South Rim and head back to Sin City.
If you're on a longer road trip, try starting at the South Rim and driving around to the East Rim to exit. If you exit at the East Rim you can continue North to the Najavo lands and Monument Valley or drive down South and connect back with Interstate 40 near Flagstaff.
Recommended Hotels Near the Grand Canyon:
Hotels in the Grand Canyon National Park:
Yavapai Lodge – Recently refurbished, the 2-star Yavapai Lodge has a 160 rooms and cabins that are located in the national park. It's pet friendly and very comfortable. Check rates and availability here.
El Tovar Hotel – If you have the money the views and decor of the El Tovar can't be beat! Located in the park itself on the South Rim, this historic 4-star hotel is extremely popular so make sure you book well in advance. Check rates and availability here.
Hotels in Tusayan (15 minutes from South Rim entrance):
Best Western Premiere Grand Canyon Squire Inn – An upscale but still affordable option in Tusayan, this 3-star hotel has a great breakfast and an outdoor pool, hot tub and sauna which guests love after a long day of exploring. Check rates and availability here.
Holiday Inn Express Hotel & Suites Grand Canyon – A comfortable 2-star option with an indoor pool and hot tub. The large suites with bunk beds are great for families who are travelling together. Check rates and availability here.
Hotels in Flagstaff (80 minutes from South Rim entrance):
DoubleTree by Hilton Hotel Flagstaff – For a comfortable 3-star option in Flagstaff, the DoubleTree is a great choice. The hotel has an excellent onsite teppanyaki restaurant that we love. Check rates and availability here.
Courtyard By Marriott Flagstaff – You can't go wrong with a Courtyard by Marriott and the Flagstaff hotel is no exception. Well-appointed rooms, spacious surrounding and comfortable beds as well as great on site amenities for road trippers.  Check rates and availability here.

For more tips on road trips in the USA check out these posts:
Need a Packing List for Your Trip to Las Vegas?
Go to this post to download your free packing checklist for what to pack for Vegas.