This post may contain compensated links. Please refer to my disclaimer here for more information.
Updated July 2016.
Visiting Vegas with the family? Looking for free things to do in Las Vegas with kids? Las Vegas is full of fun things to do with your kids… without spending a dime! You can really stretch your vacation budget further by mixing in some free activities to the pricier options in town. If you mix some of the items from this list with some of the pricier paid Vegas kids' activities you can really save money on your trip to Vegas.
Here is my list of the top 10 FREE things to do in Las Vegas with kids!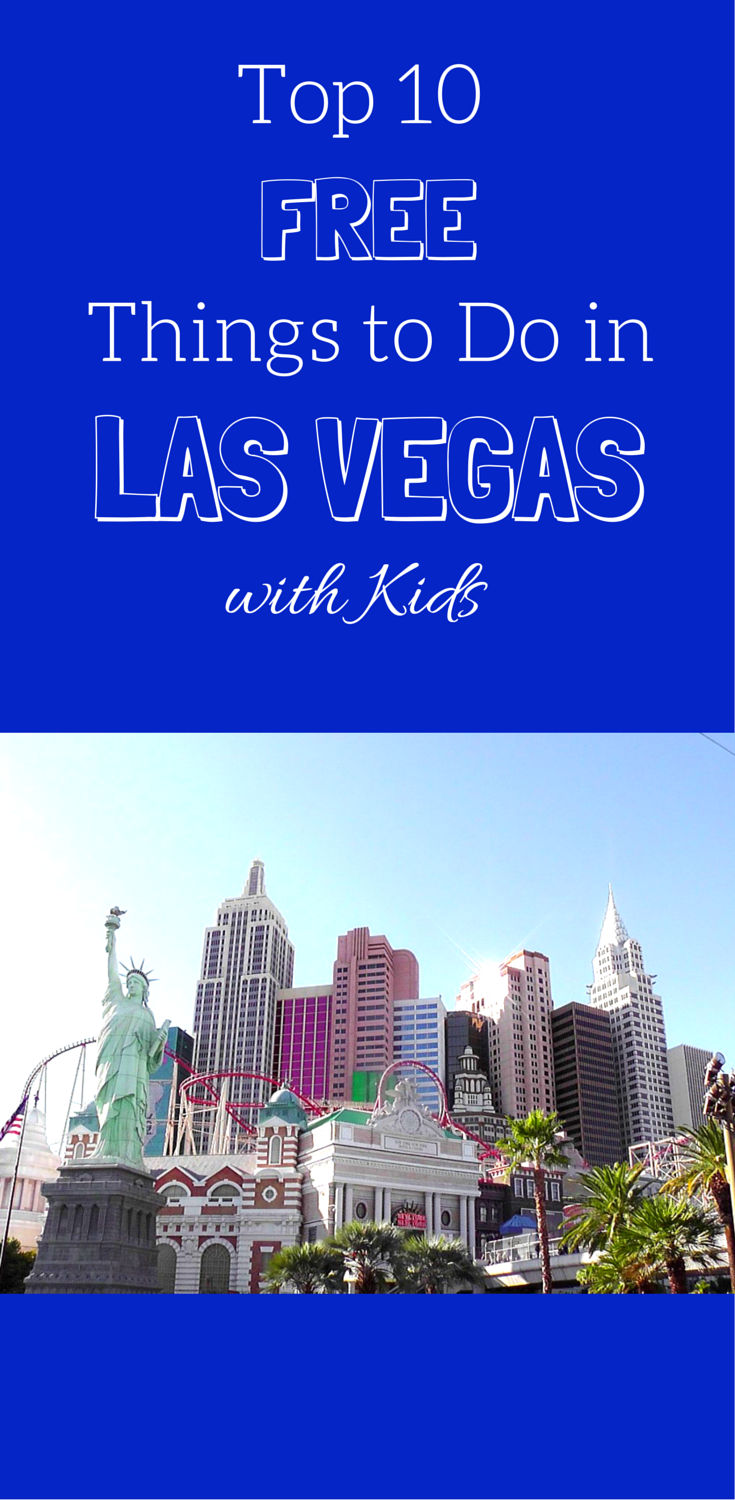 Fountains at The Bellagio
The lake in front of the Bellagio is home to a spectacular water show every half hour from 3pm and every 15 minutes from 7pm. Get there at a few minutes early to nab a spot for an unobstructed view. The fountains dance along to classical and contemporary tunes for about five minutes. You won't believe how high the water cannons shoot into the air. It's best after dark.
Enjoy the street performers
Along The Strip, as well as on Fremont Street, you'll find every kind of street performer you can imagine – break-dancers, musicians, singers, celebrity impersonators and your kids' favourite cartoon characters.
Botanical garden at The Bellagio
Before you watch the fountains dance outside, take a walk through the botanical garden inside The Bellagio. You'll find the garden after walking past reception. The garden is themed based on the season or holiday – there's always something interesting to look at. In addition to flora there's a large watermill, pond and even a talking tree!
Volcano at The Mirage
The volcano outside The Mirage erupts with lava and exploding fireballs choreographed along to tribal music. Even little kids will find it fascinating – it's not at all scary. The eruption begins every hour on the hour from 6pm to 11pm. Get there 10 minutes before the hour to make sure you get a good viewing spot. There are usually street performers on this wide stretch of sidewalk to keep little ones entertained while you wait.
Walk Fremont Street after dark
You have to see The Fremont Street Experience to truly understand it. Words don't do it justice but The Fremont Street Experience is a canopy of light and sound the arches over the main section of Fremont Street in Downtown Las Vegas. There aren't a lot of attractions in Downtown but if you're staying on The Strip head down for at least one night time walk along Fremont Street. Plenty of street performers line the street.
Visit the Playground at Town Square
There's an amazing playground at Town Square, a beautiful outdoor shopping center, just south of the famous Las Vegas sign on The Strip. Let your kids work up a sweat playing and then cool off in the water splash park which is open all summer.
Garden at Flamingo
Kids will enjoy wandering through the garden at Flamingo. The garden is populated with pink Chilean flamingo as well as turtles, ducks and swans. In addition to the wildlife there are some lovely waterfalls and koi ponds to peer into.
Circus acts at Midway
Circus Circus offers up a free circus performance every hour from 11am. You'll find these ustairs in the Midway. Kids will love the trapeze, acrobatics and juggling. Performances last about 40 minutes. Arrive early to be sure you get a seat. There are also amusement arcade games to play – though you'll have to pay for these.
M&Ms World
Visit this four-story, brightly coloured world of M&Ms. You'll see rows of colourful candies in shades you've never seen before, lots of themed toys and you'll get to taste some free samples. You probably won't get away without making a few little purchases! Personalised M&Ms make a good choice.
Ride the free trams
There's a free high-tech monorail tram that runs between Monte Carlo, City Center and Bellagio and another that runs between Excalibur, Luxor and Mandalay Bay. They're on elevated platforms so offer good view of what's going on below. There's also an old-fashioned tram that runs between The Mirage and Treasure Island. If you don't take public transport or trains at home then kids will get a kick out of taking a ride on these trams.
Want more posts about visiting Las Vegas with kids?
Need a Packing List for Your Trip to Las Vegas?
Go to this post to download your free packing checklist for what to pack for Vegas.