This post may contain compensated links. Please refer to my disclaimer here for more information.
Whether you're a food lover, a bargain hunter or just a glutton, you'll find plenty to please at LasVegas's buffet restaurants. Almost every hotel and casino has their own buffet and each are decidedly different. If you're in Vegas for a weekend or a week you should hit up at least one buffet but make sure you come hungry!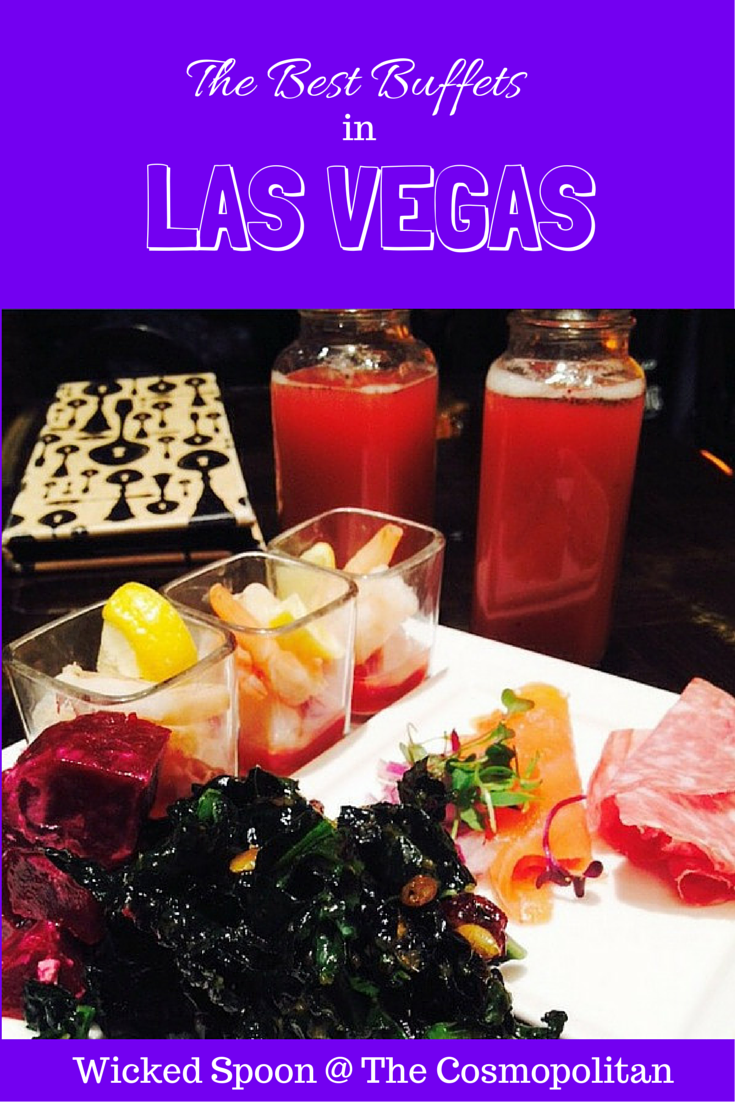 Here are my picks for the best buffets in Las Vegas:
Caesars Palace
You'll find one of the best all-round buffets at Caesars Palace Las Vegas. The Bacchanal buffet has a wide selection of high quality food. There's lots of fresh seafood on offer – oysters, clams, ceviche and crab legs. The well-cooked prime rib is always a hit. Wagyu beef sliders and glazed sweet potato tater tots offer a modern twist on classic American dishes. Macaroon aficionados will love the selection at the dessert bar.
Paris
If you're a dessert lover, this is the buffet for you! With a crepe station, creme brulee, creme caramel and a plethora of other Parisian puddings you'll be in heaven. The atmosphere at Le Village Buffet at Paris is great. Diners are seated in smaller individual rooms which feel more like dining in an outdoor courtyard or street than a large buffet hall. The queue is always long for this buffet, even if you're after an early dinner. Expect to wait at least 45 minutes.
Hot Tip: Get the 24-hour buffet pass and stretch it to include four meals over two days. Take a late dinner on night one (or even just dessert at Paris) and on day two do breakfast, lunch and an early dinner. You only have to enter the buffet within 24-hours after purchase. 
Planet Hollywood
The Spice Market Buffet at Planet Hollywood is great for breakfast. They have an excellent breakfast burrito station as well as the usual offerings of eggs, bacon, french toast, pancakes and other breakfast treats. Dinner time offerings include the usual Vegas buffet standards such as prime rib and crab legs. Kids will love the dessert bar! Toffee apples, candy floss, cupcakes a make-your-own sundae bar with frozen custard on tap.
The Cosmopolitan
The Wicked Spoon buffet at the Cosmopolitan is the best buffet for foodies in Las Vegas. The atmosphere is classy and the food here is at another level completely and, while it's still a buffet, it doesn't feel like it as many of the dishes are served in individual portions. Think mini-fryer baskets with chicken wings, mini-claypot curries and mini-saucepans full of deliciousness. The dessert options will dazzle with bite-sized pastries and gourmet gelato with flavours including nutella and strawberry & balsamic vinegar  Price includes a free glass of Champagne.
The Wynn
The buffet at The Wynn has a smaller selection than other Vegas buffets but the quality of food on offer is high. Italian food is the winner at The Wynn buffet with some of the best pizza I've ever tasted outside of Italy. Plenty of pastas and risotto are also on offer. The sushi and pork buns are also wonderful. The dessert case has a tonne of options and lots of sugar-free versions of all the classics.
Rio
The Carnival World buffet at Rio is one of the most popular in Sin City and the best for those who want quantity and choice over quality. It's a short taxi ride from The Strip but worth the trip to see the outfits the cocktail waitresses wear on the casino floor. The Rio buffet always has a long line so come early. It's the largest buffet in town with a huge range of cuisines including American, Chinese, Mexican, Italian… even a Teppanyaki bar. While the quality might not be as high as other buffets in town, the choice is the greatest.
Hot Tip: Don't use your 24-Hour Buffet Pass at the Rio. The queue for pass holders is really long and slow while cash customers can walk straight up.
Check out my other Las Vegas posts:
Need a Packing List for Your Trip to Las Vegas?
Go to this post to download your free packing checklist for what to pack for Vegas.