This post may contain compensated links. Please refer to my disclaimer here for more information.
Las Vegas is designed to relieve you of as much of your precious cash as possible. If you're smart, however, there are ways to make a trip to Las Vegas affordable.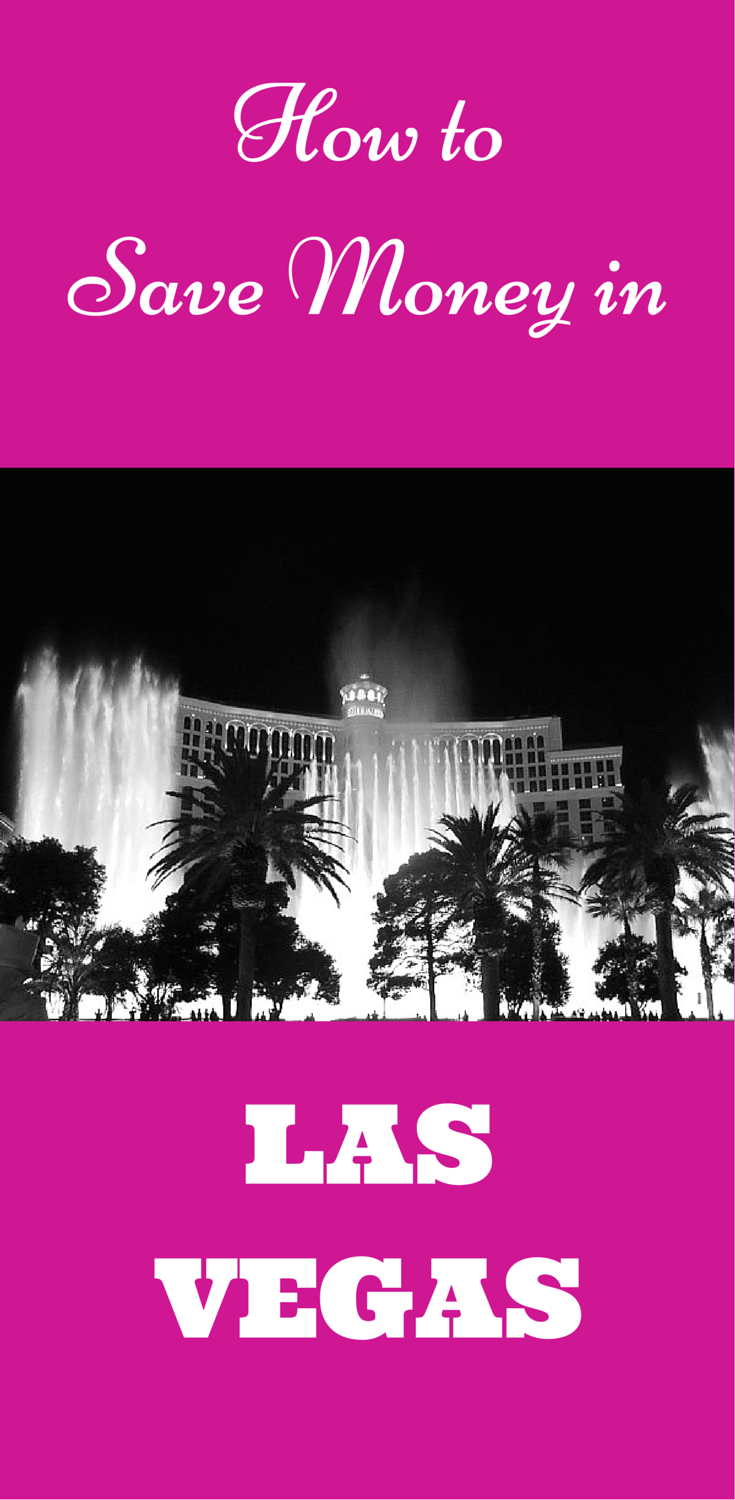 Here's how to save money in Las Vegas
1. Avoid public holidays. As you can imagine, Las Vegas get busy at holiday weekends. Room rates skyrocket as visitor numbers surge. Steer clear of any large conference dates too as hotels will be packed and you'll struggle to get a good rate on even the crustiest room.
2. Book flights early. The sooner you book your flights for Vegas the better. Airlines like Southwest have cheap flights to Vegas from all over the country. You can get to Las Vegas from Los Angeles for as little as $36 if you're willing to fly on Spirit (but beware of their baggage charges.)
3. Stay midweek. Sunday to Thursday are the cheapest days for hotel rooms. Rates increase drastically over the weekend with most hotels tripling their prices for Friday and Saturday nights. Read my post about using Priceline to book hotels in Las Vegas at amazing prices! 
4. Stay Downtown. If you're really squeezing pennies, consider staying in Downtown Las Vegas instead of directly on The Strip. Everything's cheaper Downtown and the atmosphere along Fremont Street is still buzzing. The Golden Nugget (4 stars) is one of the nicest hotels in the Downtown Vegas and rooms start at only $55 a night. You can get a room at the Fitzgerald's (2.5 stars) for as little as $27 a night.
5. Know how to gamble before you go. Learn the rules for casino games before your trip. Blackjack is a good game to start with as the rules are relatively simple. Read through the rules of Blackjack. You'll enjoy the gaming much more if you know what you're doing before you start… and you won't waste as much money. Start at the cheaper casinos like Circus Circus as they have tables with lower limits. Set yourself a spending limit and don't be tempted to gamble with more than you're prepared to lose. It's a good idea to take some cash out and leave your credit card in your room to avoid temptation.
6. Take advantage of freebies. Many of the best attractions in Las Vegas are completely free of charge. The volcano at The Mirage, the fountains at the Bellagio, the pirate show at Treasure Island and the circus performances at the Midway in Circus Circus are all free. Check out my list of the top ten free things to do in Las Vegas for more ideas.
7. Book your show tickets at the last minute. Unless you have your heart set on seeing a specific performance, don't book your shows in advance. Use the last minute ticket booths, TKTS, instead. They'll have tickets for many of the popular shows at 50% off. There are TKTS booths all along The Strip including at Circus Circus and Fashion Show Mall.
8. Get a 24-hour buffet pass. For $50 you can purchase a buffet pass that will allow you access to seven hotel buffets for a 24 hour period. If you plan it right, you can have a late dinner on night one followed by breakfast, lunch and an early dinner on day two. That's just $12.50 a meal… all you can eat, baby! Read my post on the best buffets in Las Vegas!
9. Ride the Deuce. Unless it's really sweltering outside, skip the taxis and ride the Deuce – the double decker bus that runs up and down the length of The Strip. You can get tickets for two hours ($6), 24 hours ($8) or three days ($20).
10. Avoid the malls and casino shops. Las Vegas is a great place for discount shopping. Don't pay full price by shopping at the Miracle Mile, Forum Shops or Fashion Show Mall. Instead, hit up the Premium Outlet malls in either North or South Las Vegas. You can get to both on the bus although getting back with all your shopping bags can get a little tricky if the bus is crowded. If you've got the time to paw through rack after rack of discounted gear, there are two "Ross Dress for Less" stores on The Strip – one near the Riviera and one near MGM.