This post may contain compensated links. Please refer to my disclaimer here for more information.
There's no getting around it – Singapore is pricey when it comes to accommodation. If you're planning a visit to Singapore you can count on the cost of a hotel being your major expense. Luckily food and transportation are quite cheap. Since you know you're going to have to spend a packet for even the pokiest little hotel room, it makes sense to see Singapore as a destination you splurge on accommodation for a short period of time. Luckily there are an abundance of really great hotels in Singapore… and I'm going to show you how to make it more affordable.
How to Save Money on Hotels in Singapore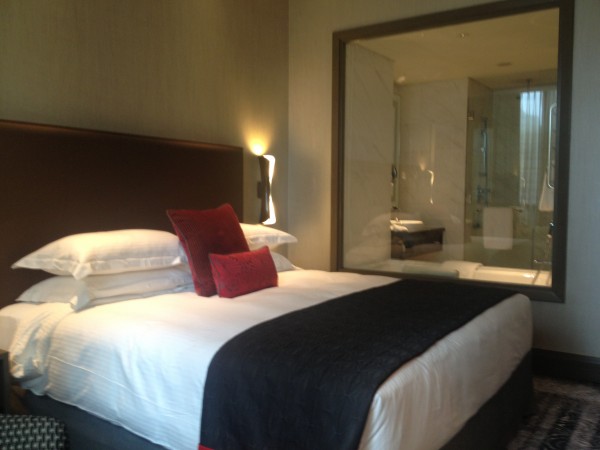 Save up hotel reward points for more expensive destinations like Singapore. We used Hotels.com Welcome Reward points for our booking at the Carlton City Hotel. With Welcome Rewards you get one free night for every ten you book through Hotels.com. I love Paypal and the Hotels.com mobile app let's you pay with Paypal which is a big bonus in my book. The value of the free night is the average then ten booked. We stayed three nights in Singapore but one was much more expensive than the other two so we used our points for the two cheaper nights and just paid the higher rate on the third.
Avoid major events. We ended up in Singapore during Formula One Grand Prix week. This meant, closer to race date, the cost of hotel rooms skyrocketed and availability was much more limited. Major events, Singapore sales or even Malaysian school holidays can send hotel rates soaring so be sure to Google for a Singapore events calendar before you arrive.
Look for a hotel further out but close to transport. Public transport in Singapore is top notch. The SMRT (Singapore Mass Rapid Transit) is efficient and inexpensive so be smart (get it?) and use it. While it might be nice to stay in Marina Bay or on Orchard Road, moving slightly out of these high end areas can save you $100 a night.
Split your stay between multiple hotels. Some hotels have higher occupancy at weekends and some during the week, so if you're staying for more than three or four nights it might make sense to stay in more than one hotel.
Choose a new hotel. We booked the Carlton City Hotel which had only been open for six weeks. Hotels often open with cheaper rates so they can build up reviews online and get a customer base going. Our room literally felt like we were the first to sleep in it! The rates were significantly cheaper than the Amara Hotel we stayed in last time we were in Singapore which is right across the street and the same standard of hotel.
If you're thinking about a trip to Singapore, take a walk with me through Chinatown in Singapore in this photo essay.