This post may contain compensated links. Please refer to my disclaimer here for more information.
There's an article on the Daily Mail website which is making waves across the internet. In it the author, a mother, advocates using anti-histamines like Phengran & Benadryl to drug kids for flights for their own benefit and for the benefit of the passengers around them.
I wholeheartedly disagree that the only way for a small child to fly quietly and comfortably is to drug them. Our son Reuben had been on over twenty flights before he was two. I've never felt that drugging him was the only method for him and passengers around him to fly happily. I know flying with young children isn't easy (three hours sleep on an overnight to Singapore, anyone?) but drugging little children isn't the answer.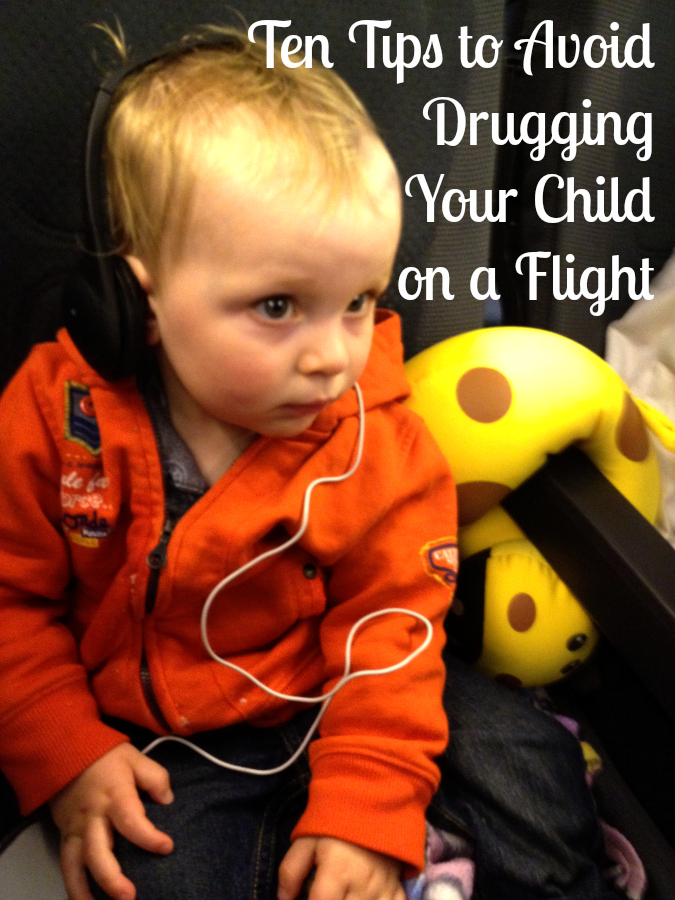 Here are ten tips you can use to avoid drugging your child on a flight
1. Get your child's ears checked by a doctor before you fly. Getting your child to the doctor is relatively simple. Ear pain, due to cabin pressure change, is the biggest cause for distress amongst children when flying as they are unable to pop their own ears. Any sign of ear infection can heighten the pain. If your child does show signs of an ear infection, don't fly. Your travel insurance will cover you to make flight changes due to illness.
2. Talk to children, even if they're little. Mentally prepare them for a flight. Let them know how long it's going to be, what's expected of them, how much fun they'll have and why they're flying. Children cope much better when they know what to expect.
3. Physically prepare your children. Let them burn off as much energy as possible preflight. The best way to do this is to move through the airport as quickly as possible and settle at your departure gate. Let them run and play as much as possible at the departure gate, right up until getting on the flight.
4. Choose your flights carefully. Time short haul flights to coincide with nap times if your kids still have them. If they're no longer napping pick a flight at meal time so there's a focus to the flight. To avoid baby jet lag, pick long haul flights that fly overnight. Break up long flights. If you have the choice, don't do extreme long haul flights all in one go. Auckland to London is an extremely hard flight even for an adult. It must seem like an eternity to a toddler. Build in a stop over that allows your family to sleep in a real bed, eat decent meals, get fresh air and burn off some energy.
5. Keep up your normal routines as best you can. When you're taking a night flight, follow your usual bedtime routine. Put on their pajamas, brush their teeth and read them their bedtime stories.
6. Ask check in staff and cabin staff to give you a few extra seats if the plane isn't full. It's better for you and better for other passengers. It's a lot easier to entertain a small child with a bit of extra space. Other passengers don't want to sit next to excited or upset children. This is one of my best tips if it's your first flight with baby as most parents wouldn't know to ask if they haven't travelled with kids before.
7. Bring comfort items and activities. Your child's blanky, binky or cuddly toy is the best antidote to distress from flying. Lavender oil is relaxing. Put a few spots on their blanket or clothes (but don't go overboard as the flowery smell could irritate other passengers). Pack whatever games and toys you'll need to entertain them on board. Small cars, dolls, colouring books, stories. You don't need a massive amount of gear as the flight itself is pretty entertaining and exciting.
8. Avoid sugary foods like the plague. The excitement factor in kids is way up and sugary foods & drinks will only heighten your child's energy levels. Keep meals as healthy as you can. Don't rely on airplane meals – bring your own snacks.
9. Mentally prepare yourself. Flying with children isn't the same as flying alone. Consider it your job to keep your child happy, quiet and comfortable. Expect to bend to your child's every will on a flight. If you have to take 20 trips up and down the aisles on a four hour flight, just do it. Don't drink any alcohol.
10. Try your best and don't despair. Sure, you'll get judgey looks from grumpy child-free passengers if your kids are screaming but as long as you're doing your best to soothe, control and entertain them other passengers will understand.
I'm not the only one who disagrees with drugging children on flights. Keryn from Walking On Travels wrote this post last year on the issue of drugging kids on flights.
Do you have any tips of your own to avoid drugging your child on a flight? Leave me a comment below and let me know.
For more information about flying with babies & toddlers check out my posts in the Toddler & Baby Travel Tips section. Read my tips on avoiding jet lag in babies here.