This post may contain compensated links. Please refer to my disclaimer here for more information.
Ever thought about visiting Vietnam with kids? Here's a little something to get you inspired! Vietnam travel with kids is very rewarding. There's so many great things to do in Vietnam with kids – ancient temples, bustling markets, beautiful nature and fascinating history. Vietnam has it all including wonderful people and delicious food. A Vietnam holiday with kids will be locked in your families memories for years!
In this guest post, fellow family travel blogger Melissa from Thrifty Family Travels shares where to go in Vietnam with kids and the best experiences to have when you're there. During 2016, Melissa visited Vietnam with her partner and then 5-year-old daughter Myla. They had a fantastic time and Myla in particular absolutely loved it and still tells everyone who will listen how much she loved it!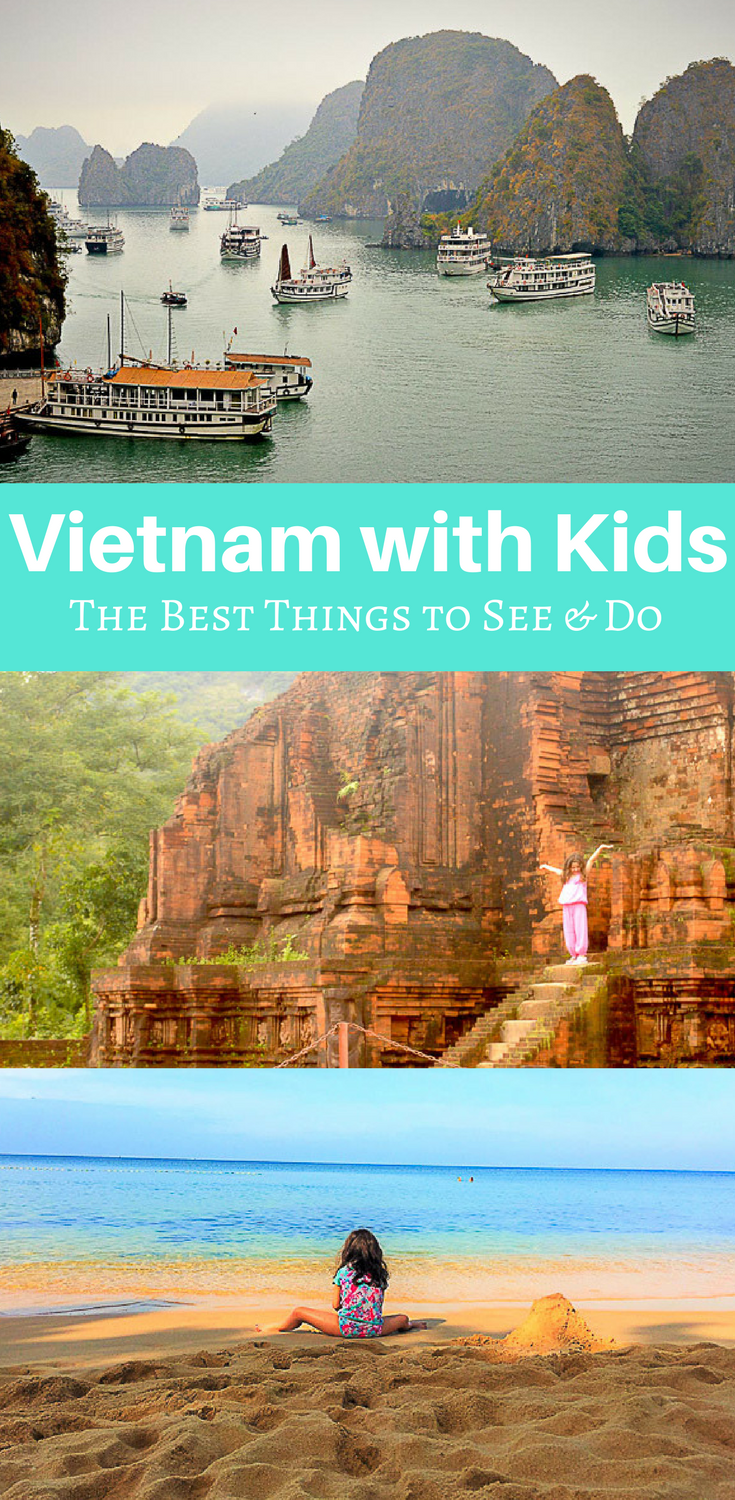 Vietnam is a fantastic place for a family holiday. It's the perfect mix of its chaotic cities, stunning countryside and paradise like beaches, as well as culture, history and relaxation. Not to mention the delicious Vietnamese food and it is a relatively cheap country to visit.
The Vietnamese people are super friendly and absolutely love chatting to kids. Provided your kids aren't shy, they will feel like super stars as they walk down the street and all the locals stop them for a chat or a selfie.
Due to the long and skinny shape of Vietnam, it's also a really easy country to travel around with the kids. Usually you will fly into either Hanoi in the North or Ho Chi Minh City in the South and travel in one direction either down or up. You can easily get between all the major cities either by bus, train or plane.
To help you plan for family adventure to Vietnam, in this post I will cover off on some of best places to visit and things to do with the kids in Vietnam
What You'll Find in This Post
Top 10 Things to Do in Vietnam with Kids

Check out Hanoi with HanoiKids
One of Myla's favourite activities in Hanoi was our day out with 2 young Vietnamese people from HanoiKids. HanoiKids is an organization which arranges young Vietnamese people who offer their time to guide tourists around Hanoi in order to practice their English. The tours can be whatever you want them to and are completely free. You are only required to pay any entrance fees, transport and food for both yourself and your guides. It's definitely one of the best things to do in Hanoi with kids.
Our guides took us to the Hoa Lo Prison Museum, Museum of Ethnology, a walk around Hoan Kiem Lake and some delicious Vietnamese food. Myla absolutely loved spending the day with our young guides who even gave her piggy back rides around Hanoi.
I highly recommend the Museum of Ethnology for kids. The Museum is a great opportunity to learn about the various ethnic minority groups in Vietnam and the kids will love exploring the replica traditional village houses.

Try Yummy Vietnamese Food
We absolute love Asian food and in order to become familiar with whats on offer in a country we always go on a food tour.
I wasn't sure how Myla would find the food tour, as there is quite a bit of walking around, but she absolutely loved trying out all the different foods, especially the satay pork sticks and sticky rice puddings.
We did our food tour with Hanoi Street Food Tours. They were great and I highly recommend them.

Spend the Night on a Vietnamese Junk Boat in Halong Bay
Halong Bay is one of the most scenic regions in Vietnam and is a must do for anyone visiting the country. The bay is filled with thousands of giant limestone cliffs which jut from the water and are covered with lush rainforests.
Halong Bay is best visited by a 1 or 2-night cruise. There are some great family boats with large rooms able to cater the entire family.
Most cruises follow a similar itinerary and include activities such as swimming, kayaking, squid fishing, tai chi, hiking and cave exploring.
The highlight of the trip for Myla was kayaking and the disco / karaoke night.

Take a Boat Ride Past the Limestone Cliffs of Trang An
Trang An is known as the inland Halong Bay with its spectacular limestone cliffs coming out of the land surrounded by gorgeous waterways. To explore the area, take the boat ride down the various waterways where you will be blown away by the spectacular scenery. You will pass beautiful limestone cliffs and even through them via a fantastic system of caves.
The journey takes you past several temples isolated on tiny little islands which you have the option of getting off the boat to explore closer.
The entire trip takes roughly around 3 hours, depending upon whether you visit all the temples or not. Tickets cost 150,000 VD.
I'd recommend doing the boat trip as early as possible as you will be in the full sun and it can get very hot. I wondered how Myla would go sitting still that 3 hours, but she absolutely loved it, especially going through the caves.

Make Friend with the Locals
Everywhere we went the locals would stop Myla for a chat. I lost count of the number of selfies Myla appeared in.
Encouraging Myla to interact with people of different cultures is one of my favourite things about travelling. Regardless of race, religion of language barriers I like her to see we are all the same and hope that she will grow up to continue to spread this message and stop all this crazy hate going on in the world.
One of my favourite little friendships that Myla struck up was with the old lady at the convenience store at the bottom of our hotel in the Old Quarter in Hanoi. Most days either when we left for the day or returned home we would stop for drinks or snacks. The old lady was always there and did not speak any English, but she absolutely loved Myla and Myla was only to happy to talk and cuddle with her each day.
Most visits the lady would have small sweets or pieces of fruit to give Myla. Before we left Hanoi we stopped in with a small gift to say good bye and the lady's eyes swelled with tears. It made my so happy that my daughter could bring a stranger so much happiness.

Explore the Old Buildings in the Old Town of Hoi An
Hoi An is famous for its beautiful old buildings in its well preserved ancient town. With its rows of bright yellow stained buildings and colourful lanterns strung across the narrow alleyways, Hoi An is certainly a city full of colour.
There is no shortage of old buildings to visit in Hoi An. Your ticket to the ancient city gets you entrance into 5 out of the 22 various old buildings such as assembly halls, old houses, communal houses, museums, pagodas, temples as well as a river cruise and water puppet show. The most popular building to visit is the Japanese bridge which is now a famous symbol for the ancient city of Hoi An.
I also recommend jumping on a bicycle tour, or you can hire your own bicycles and explore on your own.It's a great way to explore in Hoi An with kids. Either way make sure you go out to Cam Thanh Coconut Village where the locals will take you for a ride in a bamboo basket boat as well as whip you up some fancy head wear and jewelry made from palm leaves.

Explore the Ancient Ruins at My Son
A great day trip from Hoi An is to UNESCO listed temples of My Son. The My Son complex is in the lush Vietnam jungle and is a site with cultural and religious significance to the Vietnamese people.
Originally there were 68 individual structures, whereas now there are only 20 left standing. Whilst some structures are almost toppling over, others are in almost perfect original condition. The level of detail in some of these building is mind blowing!
Unfortunately, My Son was also a battle ground during the Vietnam War, so there are numerous massive holes in the ground from bombings. It is quite devastating to think that countries like Australia (where I am from) are responsible for some of these magnificent structures being destroyed.
Whilst Andy and I loved the history of My Son, Myla was also mesmerized by the old ruins. She loved exploring the buildings. My only recommendation is to go early or late in the day and take loads of water as it gets very hot.

Explore the Markets in Ho Chi Minh City
There's lots of great things to do in Ho Chi Minh City with kids. Visiting the markets, particularly the local markets as opposed to the tourist markets is a great way to get a glimpse into the lives of the local people. For photographers, the local markets also provide plenty of fantastic photo opportunities with all the bright and interesting produce on display.
Ben Thanh Markets are the most famous tourist markets in Ho Chi Minh City. These markets are packed, super-hot and buzzing with activity. There are over 3000 stalls selling numerous souvenirs as well as fresh produce, drinks and meals.
I personally prefer checking out the local markets away from the tourist areas when traveling in Saigon with kids. Here you won't find any tourist souvenirs– just fresh produce and products for the local people. It's fantastic walking through and seeing all the displays of food such as fresh herbs, dried spices, colourful fruit and vegetable and fresh meat as well as the local people going about their daily life.
Another great local market is the Binh Tay Markets. These markets are in district 6 which is also the Ho Chi Minh City's largest China town. The markets are packed with both vendors and customers and items on display include both fresh produce as well as trinket type goods.
Walking through the markets in Ho Chi Minh City can be extremely tiring and exhausting due to the heat, so allow plenty of drink breaks. It's still a very fun thing in Ho Chi Minh with kids!

Stay at a Homestay in the Mekong Delta
Explore the exotic Mekong Delta by basing yourself at one of the home stays in a local village. For families, I highly recommend a few days at the Nguyen Shack just outside of Can Tho. The guys at the Nguyen Shack are fantastic with the kids and the kids will absolutely love it with the various animals that love on site and the long swing bridge over the river to reach the rustic bungalow accommodation.
The guys at the Nguyen Shack will take you all on various tours around the Mekong Delta. I recommend the following:
Get up before sunrise and explore the Cai Rang floating markets;
Explore the Cai Rang land markets;
Ride bicycles around the local Mekong Delta villages;
Take a log boat ride down the water ways of the Mekong Delta and catch a glimpse of life on the water; and
Take a food tour in Can Tho and try local delicacies like rat, crocodile, snake and frog.

Spend Some Time at a Beautiful Vietnamese Beach
Spend a few days relaxing on the beaches on Phu Quoc Island. The beaches on Phu Quoc Island are some of the best in the world. With the soft fine white sand and beaches fringed by coconut trees, they are right out of a postcard. Some beaches have warm, crystal clear and calm waters, whilst others have soft waves. Some beaches are so isolated that there is no one else there but you!
For family travelers, I recommend checking out Long Beach and Ong Lang Beach where most of the islands' accommodation is. Both beaches are very similar in that the ocean is calm here, resembling a warm swimming pool which is perfect for families.
Have we inspired you to travel Vietnam with kids? This list of what to do in Vietnam with kids should help you get thinking about your own trip. These are some of the best places to visit in Vietnam with kids but there is of course always more to explore. I have visited Vietnam three times now and would go back again & again.