This post may contain compensated links. Please refer to my disclaimer here for more information.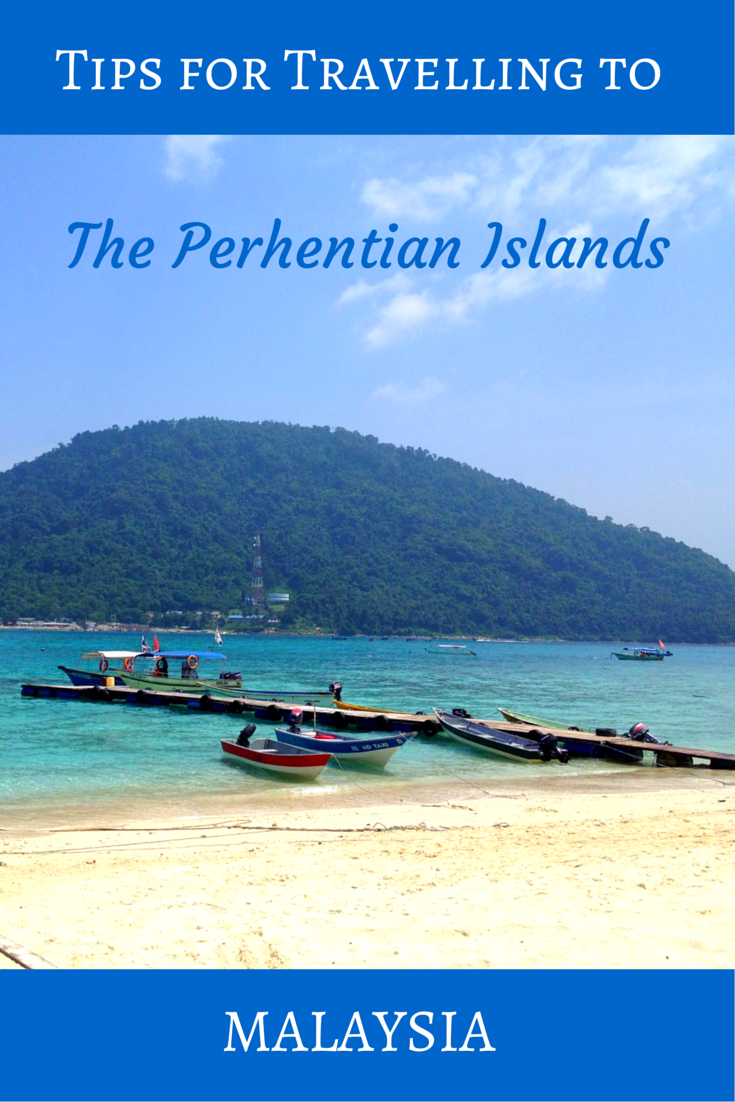 The Perhentians are two wonderful islands off the mainland of east coast Malaysia. They offer spectacular snorkelling in the clearest, bluest water I've ever seen. It really is a little slice of paradise. They're certainly not the cheapest spot to enjoy island-life in South East Asia but they offer something just a little more special than the other islands and beaches in the region.
Here are my tips for travelling to the Perhentian Islands in Malaysia:
A Word About Hotels in the Perhentians Islands
After much research, we stayed at Tuna Bay Resort which is one of the more midrange options on the islands. Our room cost 250 RM a night, just over NZ$100, which is a lot considering the standard of accommodation. Every resort on these islands is expensive and the standard of accommodation is pretty low. We paid about half this for our bungalow on Koh Phangan which was of a similar standard in a resort that had better amenities.
Our 250 RM bought us an attached bungalow with a small balcony and basic tiled bathroom. We had air-con but no TV, fridge or wifi. The room was old but very clean and the staff did a fantastic job of servicing the room every day. It's not easy to keep a beach bungalow free of sand!
We liked the resort overall. The accommodation was all on the flat with easy access to the beach. Other accommodation options, like Coco Chalets a few doors down, don't have such easy access. The restaurant was good although pricey but room rates included a fantastic buffet breakfast. We hadn't seen baked beans and hashbrowns for months! They even had a high chair for Reuben.
Wifi is available in the restaurant for 5 RM an hour which feel a bit mean considering the cost of the room. There's no swimming pool but the sea is so lovely it wasn't something we missed.
A Norwegian family we met had tried a few different resorts across Perhentian Besar and concluded that Tuna Bay was the best in terms of rooms, beach and price.
A Word About Eating on the Perhentians
Dining options are pretty dire across both these islands. Actually, it's so bad that we ate a massive breakfast, skipped lunch and had an early dinner just so we didn't have to go through the trauma of deciding where to eat for lunch!
We ate a few times at Tuna Bay and felt it was too expensive – 20 RM for a small portion of pasta or a chicken burger. There Malaysian food wasn't very tasty and they had difficulty making any of it without MSG.
The food at Abdul's Chalet down the beach is notoriously bad. We tried it a few times because it's cheap and on the odd occasion got some nice food. Stick with their Malaysian food. Avoid their BBQ – you'll be waiting along time to eat and the wait isn't worth it.
We ate once at the village on Perhentian Kecil which was cheap and perfectly adequate. Factoring in the price of the boat ride though wasn't worth it. The boat ride was fun and it felt good to get off our island after a few days.
The best dining choice on our beach was at Coco Chalet. The food was delicious and the menu typically Malasyian – satay, curries, stir-fried dishes. They did a wonderful chicken with cashew nuts in a fragrant coconut broth.
Perenthian Island Resort is situated on a lovely, crescent-shaped beach. We took a water taxi over one evening to check out their dinner menu. It looked a little overly ambitious given the surroundings and our Norwegian friends warned us off eating there. They pointed us in the direction of Coral View Resort, a short trek over the rocks by a concrete walkway. Coral View Resort definitely had the best food on offer on the whole island. Annoyingly, we only discovered this on our final night! It's reasonably priced and they had a highchair which was a bonus for us. They don't serve alcohol as the resort is run by a Muslim family.
Tips for Travelling to the Perhentians Islands with Kids
Take the Tuna Bay boat from the mainland to the islands. It's a larger more comfortable boat as opposed to the smaller boats used by the other resorts. It felt very safer than the other boats.
Bring your own lifejackets for your children. While the Tuna Bay boat had lifejackets for children, there are none on the water taxis between the islands.
Bring supplies from the mainland – UHT milk, cereal, nappies, formula and snacks. You can buy snacks and milk at the small stores on the island but they're expensive. You'll find a few larger stores in Kuala Besut (the pier on the mainland) but if you can, bring them from Kuala Lumpur or Penang (or another large centre).
Other than spending time at the beach, there's nothing else to do on the islands. Kids may get bored of the same stretch of beach after a few days. Beach toys are available for sale on the island. The inflatable car we bought cost 25 RM (about NZ$10) and was a great investment!
Bring Crocs or sport-sandals that your kids can swim in. There's a lot of broken coral in the water and it can be sharp underfoot.
Download some movies onto your iPad or your laptop. The resorts on the Perhentians are basic and, even the expensive ones, often don't have TVs.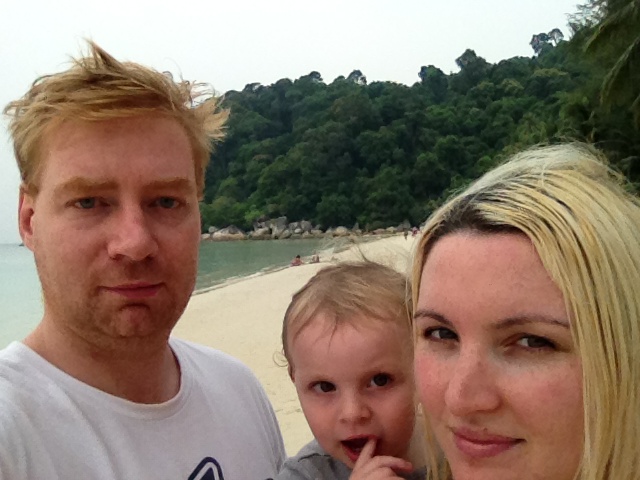 And, if you're a digital nomad… 
Plan to take some downtime while you're on the Perhentian Islands. The internet is slow, expensive and constantly drops in and out. Besides, who could bear to be inside working with this a few metres away???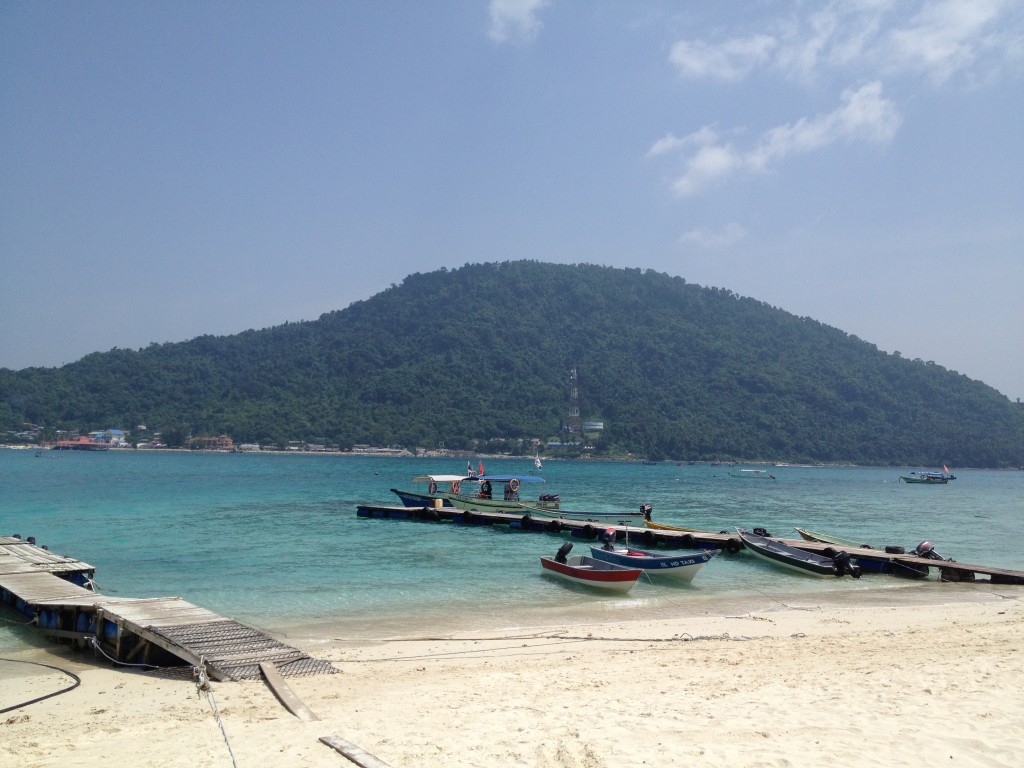 View of Perhentian Kecil from Perhentian Besar
Perhentian Islands Hotels – Hand Picked for You!
If you're wondering where to stay in the Perhentian Islands, I have done all the research for you. Here's my rundown of the best Perhentian hotels. I've separated them out by island and ordered them from lowest price to highest. Rates and availability vary so click on the link to check prices on your dates. It's advisable to book well in advance when visiting the Perhentian Islands!
Perhentian Besar Hotels
Coral View – Coral View is a more basic two-star option but still offers air-con, wifi and refrigerators. Their chalets are located on the beach, garden or hill, depending on your budget. Check prices and availability here.
Cozy Chalet – Cozy Chalet is an affordable 3-star option. It doesn't sit on the beachfront, rather it's built up onto the rocks. There's wifi in the resort. Rooms are air-conditioned and also have a fridge which is useful to know in advance so you can bring some snacks from the mainland.. Check prices and availability here.
Tuna Bay Resort – OUR PICK!!! This 3-star hotels on Perhentian Besar was our pick during our stay. Tuna Bay has 46 comfortable chalets, all with air conditioning and wifi. Tuna Bay has a lovely beachfront, quite a few loungers and an excellent buffet breakfast. Check prices and availability here.
Perhentian Island Resort – If you're looking for a resort with a swimming pool, this is your best choice in the Perhentian Islands. Perhentian Island Resort has air-conditioned rooms, wifi throughout and two restaurants for you to dine in. Check prices and availability here.
Perhentian Kecil Hotels
Perhentian Tropicana Inn – This basic 1.5 star resort has fan rooms, 6-person shared dorms and a few air-conditioned rooms. Set back a little from Long Beach in the interior of Perhentian Kecil, this is the place to come if you need a bargain. Check prices and availability here.
The World Cafe – Located on Long Beach, The World Cafe has great looking rooms that feel modern and zen. Check rates and availability here.
Bubu Long Beach Resort – The only four star option on the islands. You'll find comfortable air-conditioned rooms, some with four-poster beds, luxurious bathrooms and comfy robes. There a beachfront and garden rooms. Massage service is available onsite. Check prices and availability here.
Alunan Boutique Resort – This little boutique hotel is nestled on the hill in Perhentian Kecil. All the suites are double storey which makes it great for families or larger groups. A great choice if you want a more modern, upscale room. Check prices and availability here.