This post may contain compensated links. Please refer to my disclaimer here for more information.
Australia is one of the most expensive countries on the planet at the moment. High costs of living, high wages and a relatively stable economy mean that Australia hasn't suffered the way the US or Europe has economically. Combined with the expense of buying Australian dollars and the cost involved in reaching Australia initially, it can be a very expensive place for travellers.
We've spent 3+ months a year in Australia for the past three years so have gathered some tips for making travel in Australia just a bit less expensive.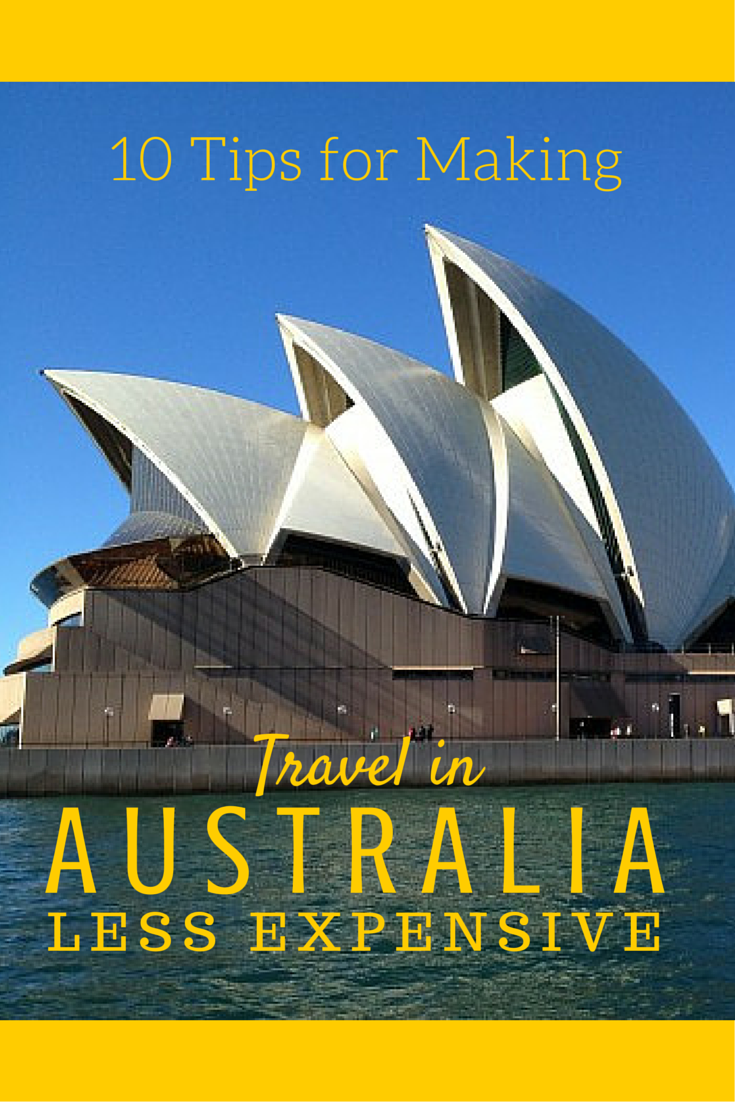 Here are ten of my top ten tips for making travel in Australia less expensive:
1. Rent cars from local, off airport companies. Not only is the cost of renting the vehicle much cheaper any added extras like carseats or GPS units are also significantly less expensive. You can find them by searching on Google. They often won't show up in any car rental aggregator sites.
2. Do a vehicle relocation. Australia is a big country and lots of tourists choose to travel one-way meaning rental car and camper companies need to move vehicles around a lot. You get a cheap rental, like $1 per day, and sometimes even fuel vouchers towards your journey. The only catch is the limited amount of time you can take to complete the relocation.
3. Book flights from outside of Australia. You can save a few dollars on domestic flights by booking through flight search engines with a better currency conversion. Have a look at buying your Jetstar flights through Expedia.co.jp as an example.
4. Sign up for airline newsletters. The main airlines flying domestically in Australia are Qantas, Jetstar, Virgin Australia and Tiger Airways. Sign up to their newsletters & Facebook pages and watch out for deals. Jetstar have a weekly Friday Fare Frenzy and Tiger have weekly deals for email subscribers too.
5. Don't pay cash on city buses! The fare is always much more (sometime more than double) when you pay cash on boarding the bus. Instead, get a transport pass or re-loadable swipe card. You can get these from convenience stores and newsagents. Stick with buses when you're travelling around a central city. A bus-only transport pass in Sydney is MUCH cheaper than one that lets you use rail or ferries. Pay for those only when you need to.
6. Book an airport shuttle. Taxis are expensive in Australia so don't rely on them as an option for getting to or from the airport. Or take a public bus. Catching the train in from Sydney is quick and convenient but actually super expensive.
7. Watch Groupon for accommodation deals. Once you're a month or two out from your trip, sign up to Groupon Australia and get the email alerts for their travel deals. You'll find lots of city hotels on for 1-2 night stays as well as longer stays in holiday destinations like the Sunshine Coast and Gold Coast.
8. Book mystery hotels. Wotif.com is my favourite site for booking hotels in Australia (and New Zealand). The have great hotel deals all the time but also do mystery hotels. A mystery hotel means you won't know the exact name of the hotel before you book but you can narrow down search results by criteria like location, star rating etc. You can pretty much work out which hotel you're booking by checking the amenities list and comparing it to the hotels listed. Priceline is another great way to book mystery hotels cheaply. Read my guide on using Priceline Express Deals here.
9. Self cater where you can. If you're staying in an apartment or hostel or touring in a campervan it's easy to self-cater. Supermarket food in Australia is a lot more reasonable than eating out as wages are high for restaurant workers. Even if you're not staying somewhere with catering facilities, the weather in Australia is great for picnicing and eating outdoors. It's really easy to find shared gas BBQs in common areas in parks and beachfronts too.
10. Search for coupons and vouchers. -Supermarket dockets (receipts) in Australia have really great coupons on the back for local attractions, cheap eats and discount hotels. You'll almost always get a fuel voucher on your supermarket docket too. Entertainment books are also a great source for vouchers for dining and activities if you can get your hands on one (you might need a local to help you). Look on Groupon for activities and dining vouchers too.
Got any more tips for making travel in Australia less expensive?
Leave me a comment below. I'd love to know your tips!