This post may contain compensated links. Please refer to my disclaimer here for more information.
If you're looking for a tropical getaway but are not looking to party with the masses, don't discount a visit to Cancun. Villa del Palmar Cancun is a great family-friendly resort in the Cancun area. We stayed for three nights in December 2014 with our two small children and one set of grandparents. Villa del Palmar was a perfect place for our multi-generational group to meet for a family vacation on Mexico's Riviera Maya.
 
Location
Located on a quiet stretch of beach called Playa Mujeres, opposite to Isla Mujeres and adjacent to the ferry, Villa del Palmar's location is firmly away from the hustle and bustle of Cancun's Hotel Zone. If you do want to venture out, the Hotel Zone is about 20 minutes away by taxi. It took us around 40 minutes to reach the resort from Cancun airport using an airport shuttle service.

Rooms
Rooms were spacious and well appointed with a small kitchenette, comfortable beds and nice bathrooms. The large flat screen TV, with channels in English, was a godsend at early morning hours for our jetlagged children. Our favourite spot had to be the balcony, with a hammock and small table and chairs, it was definitely the place to be on a balmy evening while children were sleeping in the room or to greet the rising sun first thing in the morning with breakfast. Internet was not included and was $10/day for two devices.

Pools, Beach and Entertainment
Only one word can describe the pools at Villa del Palmar – WOW! I've never been to, or even seen pictures of, a resort with such a lovely pool complex. Sprawling around the whole central part of the hotel, there was a pool for every occasion. The children's pool while fun was on the cold side of the hotel and would really have benefited from being heated. The large, lazy hot tub at the front, looking over the beach was definitely the place to be for a wonderful view.
The beach at Playa Mujeres was lovely. Perfect white sand and the crystal blue water you expect when you're on vacation in the Caribbean. The sea was too cold for swimming during our visit in December but the sun was still warm which meant lots of sunbathing to make up for it.
Villa del Palmar has nightly entertainment. During our three night stay, we witnessed a karaoke show and a fantastic Michael Jackson tribute act which was definitely a winner for all ages. Having in-house entertainment is great when you're travelling with kids. I was able to whisk the baby up to bed while the rest of the family stayed downstairs to enjoy the show.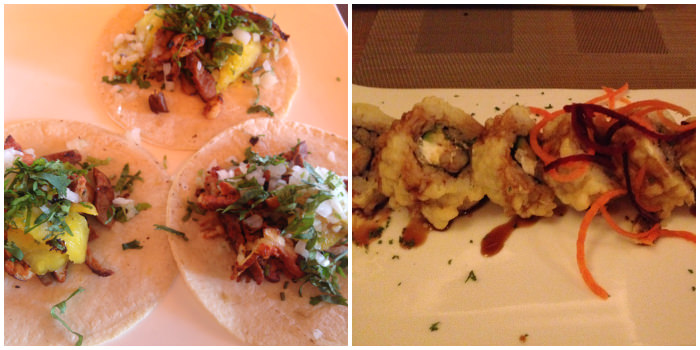 Dining Options
This is a resort, and many of the patrons are either all-inclusive tourists or timeshare guests, meaning you do kind of get stuck in the resort. Taxis in Cancun are not cheap so even if you did want to venture away from the resort to eat, it would probably end up costing you more (unless you had your own car).
That said, the restaurants we tried were pretty good. Room service isn't over priced if you wake early and need a spot of breakfast. The breakfast buffet was fairly priced, had a lot of variety but lacked seating and queueing was a little chaotic. We ate at the pool bar – basic Mexican fare like quesadillas, fajitas and ceviche. We also tried the sushi restaurant which was great, some interesting, innovative Japanese dishes. The best of the bunch though was Zama – the central, circular restaurant in the middle of the pool area, serving high-end Mexican dishes with great atmosphere. We had some very good ceviche, tortilla soup and roast pork.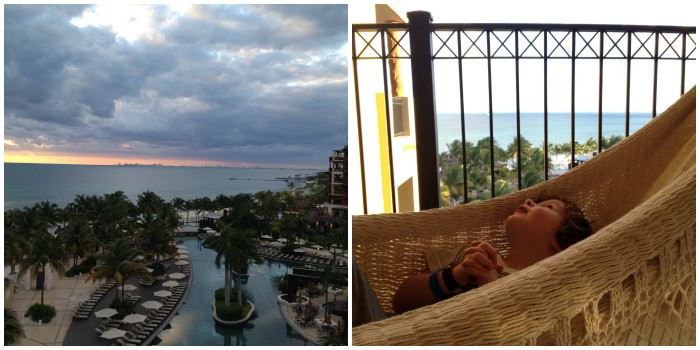 Cost
Villa del Palmar kindly hosted us for our three-night stay. We paid for all our own meals as well as accommodation for other members of our family travelling with us. We believe the hotel represented good value compared to other comparable properties in Cancun. We paid $145 a night through Hotels.com and meals cost us between $40 to $100 per sitting for our group of four adults and two children.