This post may contain compensated links. Please refer to my disclaimer here for more information.
….or are we in hell?
Things are pretty miserable for us at the moment. It doesn't matter where in the world you are, a tantruming toddler can successfully ruin anything. For us, he's making our time here in paradise a living hell.
We've been on Thong Nai Pan Yai for a few days. A beautiful spot on the north-eastern coast of Koh Phangan. It is the perfect beach – a crescent of white sand curving along a bay of warm, shallow, greeny-blue water. It's quiet, there's hardly anyone here. No rowdy parties. Just a few mellow beach bars and restaurants on the sand.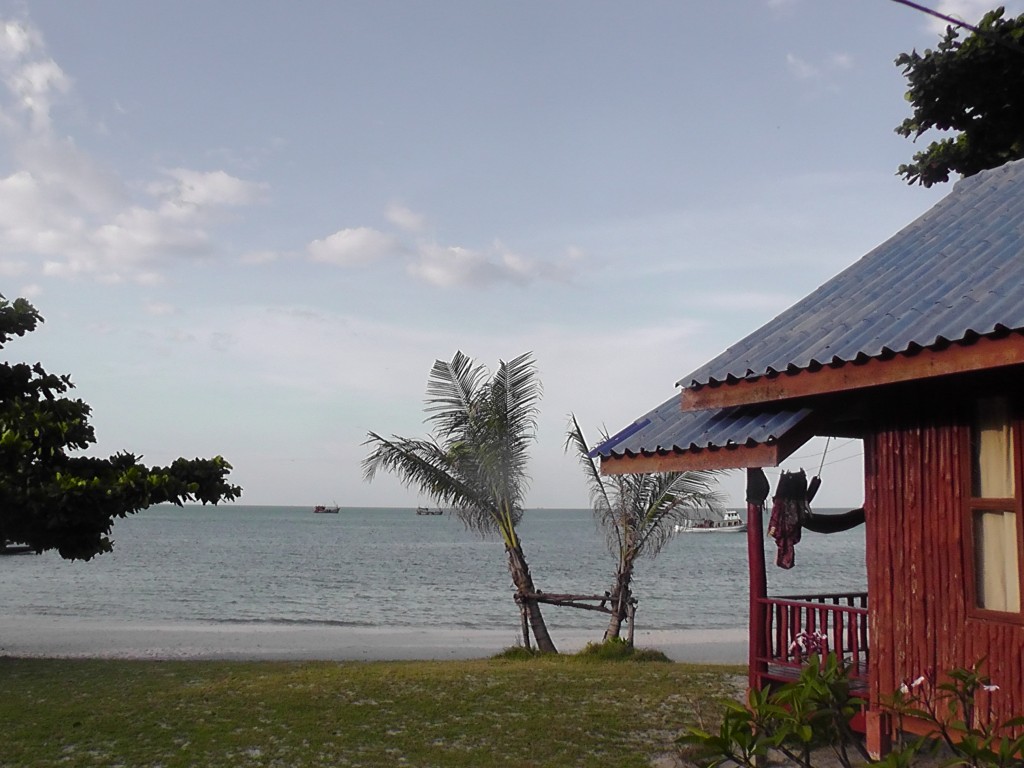 Our bungalow is a few metres from the beach. It's small, very small, but perfectly adequate as most people who visit here would barely see the inside of their room if not for sleep.
But….
Reuben's tantrums continue to make our lives a misery. He now refuses to set foot on the beach or go into the water. He screams and cries until we take him out. I've tried forcing him to stay in, ignoring him, but it doesn't stop. Actually, since we've been on Koh Phangan he won't even leave the bungalow porch unless it's to go eat.
This is a real problem considering there is NOTHING to do here EXCEPT swim or play on the beach.
Seriously, who has a toddler that HATES the beach?
He loved the beach in Australia and if we went swimming at the local pool we'd be lucky to get him out of there before he went blue. The beaches we've been to in Thailand are much nicer and more child-friendly than the ones in Mooloolaba. No waves to contend with, lovely clear, warm water. He's just not into it. I've got no idea why.
Lee hasn't set foot on the beach either. Only to walk down to the restaurants at the other end of the bay. He's busy working. Since his AdSense income has taken a serious dive he has decided to learn programming and, on top of his usual projects, he's spending hours a day taking tutoring online. If we were on a trip that he had planned, say snowboarding in Colorado, I'm sure the programming could wait another month.  Needless to say, this is causing some disagreement between the two of us.
What's making it worse is all the loved up, childless couples here. They spend all day canoodling with each other  in the ocean and laid out on the sand, sunbathing, snoozing, reading books and listening to music.
I can't remember when I last read a book. I don't think my iPod has been charged for at least 18 months.
They're all slim, tanned and wearing cute bikinis. Now that the senior citizens in the bungalow next door have left, I'm the only person on the entire beach wearing a one-piece. I'm feeling frumpy and old.
The hammock on our porch broke one morning… with me in it. Very embarrasing and not at all good for my beach body self esteem. And now I have a very sore, bruised elbow.
I don't know how to shake these feelings. I'm jealous of all these other people having a wonderful holiday. My child and (occasionally) my husband are making me miserable.
It seems utterly ridiculous to be unhappy in such a beautiful place. I almost feel guilty for feeling this way.
Things could be a lot worse. I could be stuck in Christchurch, where it's currently -4 degrees Celsius overnight, enduring another round of magnitude 5.2 aftershocks.
Maybe the problem is I have such fond memories of my own travels in Thailand. I was an independent, single girl going where I pleased, doing what I pleased. Now I'm feeling constrained by a tantruming toddler (and a husband who's not acting much better). Is it wrong that I would just like a day on my own? Or an afternoon even?
I don't know how single travelling parents do it. (You guys are amazing!) At least when Reuben has his afternoon nap I can go out and swim, lie in a hammock and sunbathe. Even if it's just for an hour.
End of rant.
Leave me a comment and tell me to get over myself! Or sympathize with me and promise things will get better.
If you like this post, just feel sorry for me or have some fantastic advice about parenting on the road, share it on Facebook, Twitter or email it to a friend with the buttons below.