This post may contain compensated links. Please refer to my disclaimer here for more information.
On the most perfect winter's day, Reuben and I set out on the water to experience a whale watch of the coast of Kaikoura in New Zealand's South Island. We couldn't have asked for better. We had beautiful bright blue sky, calm waters and sunshine streaming down. Conditions were set for a fantastic afternoon on the water spotting wildlife. And boy were we treated to something special!
Moving back to New Zealand after travelling long term for 18 months has given us the opportunity to explore our own country, one step at a time. Exploring your home surrounds can be just as rewarding as travelling overseas. Whenever we met people on our travels, they always tell us that they either desperately wanted to visit New Zealand or they had visited and fallen in love with our country. It's taken me a while to realise that I actually come from one of the most special places on earth. I need to appreciate it and explore it as much as I do other parts of the world.
Another reason for heading off this past weekend was for me to spend some quality time with Reuben. The nature of being a family of four with one boy and one girl often means that we split up based on gender. The boys go off to do things and Hazel & I do our things. I wanted to do something special with Reuben, to experience something amazing together and build some memories for just the two of us. So off we went!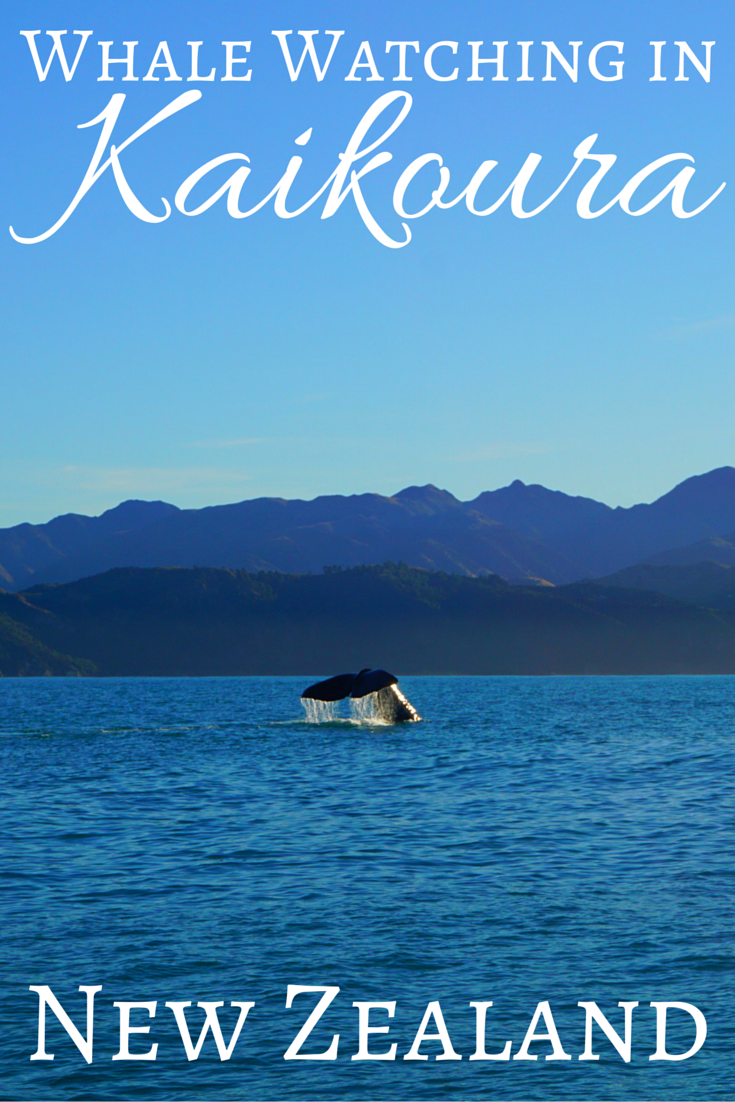 Our Experience in Kaikoura Whale Watching
Our trip started at the Whale Way Station, a pun on the fact that the Whale Watch Kaikoura office is located in a former railway station. Get it? Reuben and I checked in for our tour, browsed the gift shop and watched a few videos playing on the big screen. Next up, a safety video and we were all off to a tour bus to head down to the marina for our trip.
Once at the marina, we boarded the Paikia – a large purpose built whale watching vessel with comfortable indoor seating, huge windows and a professional team ready to make our whale watching journey the best ever. The crew on board were fantastic. Knowledgable, funny, entertaining and, above all, great at finding whales.
In between spottings, we had to sit indoors and were given various presentations on the whales we were seeing, what makes Kaikoura so special for spotting whales, other wildlife in the Kaikoura area and history of whaling in New Zealand. Reuben especially loved learning about the different types of whales and the fact that some of the inhabitants in Kaikoura are recognizable, named regulars. He was especially excited when we spotted one of the regular whales Tutu.
It's always nerve-wracking booking an activity, like whale watching, where a successful trip means having good conditions and an element of luck to spot animals in the wild. Whale Watch Kaikoura did everything in their power to make our trip a success – having a dedicated whale spotter, recording GPS coordinates of previous sightings, radio communication with other boats and finally lowering a sonar into the water to find the whales.
On our trip we privileged to spot three sperm whales, each in a separate location. Sperm whales spend about 10-15 minutes on the surface oxygenating before diving down for 45 minutes underwater. The whales bob about on the surface, spurting water into the air from their blowholes. The crew were excellent at warning us when the whales were about to take a deep dive. This is the prime time to take a photo. The money shot where the whale dives down and it's fluke pops above the water for one last moment before descending. All passengers on board had ample opportunity to get their cameras up and ready for the best possible photos.
Photos from Our Whale Watch in Kaikoura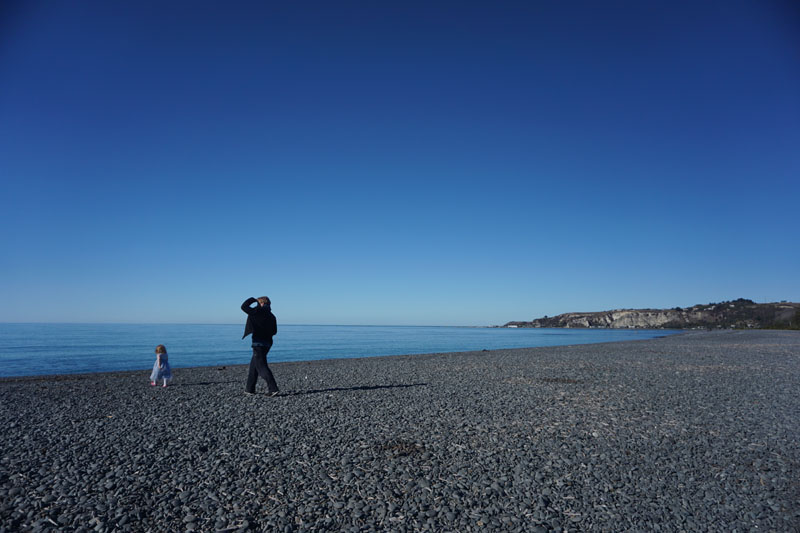 We left Hazel and Lee to enjoy the beach in Kaikoura before we set off. Children under three aren't allowed on board.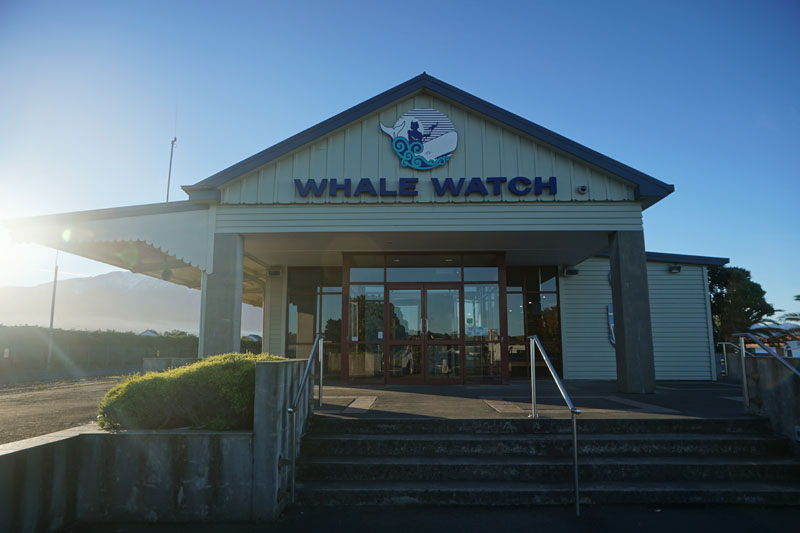 The Whale Way Station, where Whale Watch Kaikoura is located, is an old converted railway station.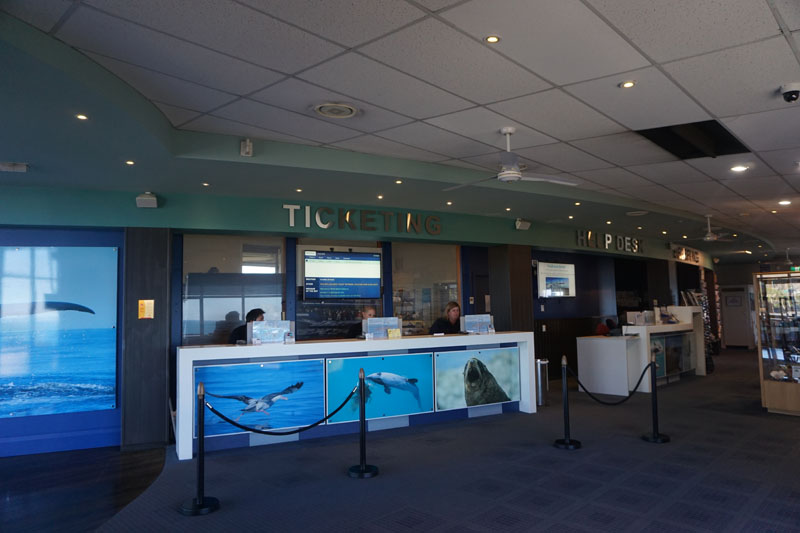 We checked in for our whale watch here and watched a short safety video before heading off. There's also a gift shop and cafe inside.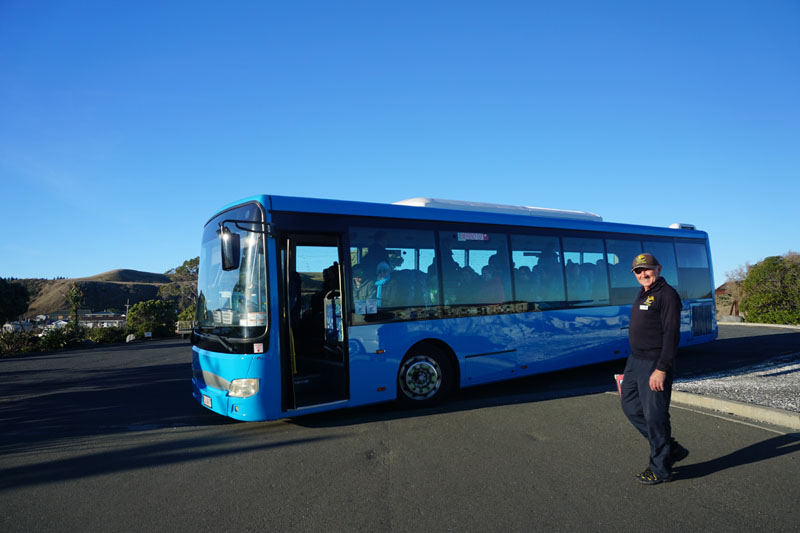 A quick bus ride took us from the Whale Way Station down to the wharf about 10 minutes away.

Our vessel for the day, the Paikea. Children were allowed to board first.

Once on board, we set off for our whale watch. We sat down inside while the boat was in transit and then hopped out to start the search for whales.

Still searching for whales. It didn't take long before we were hot on the trail of our first whale.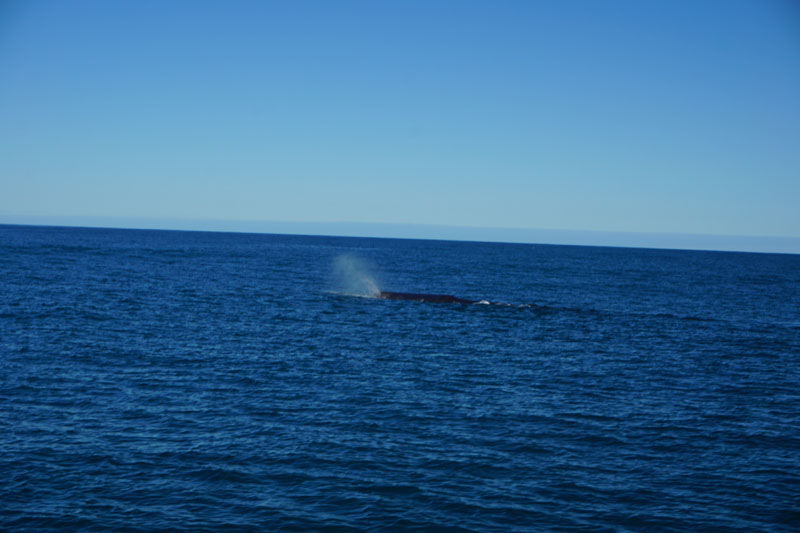 We spied our first whale!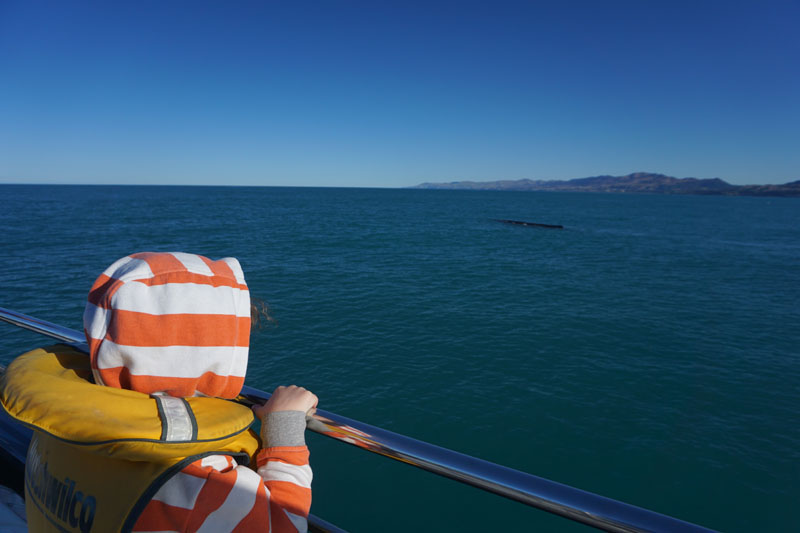 So we headed up to the top level of the boat for a better look.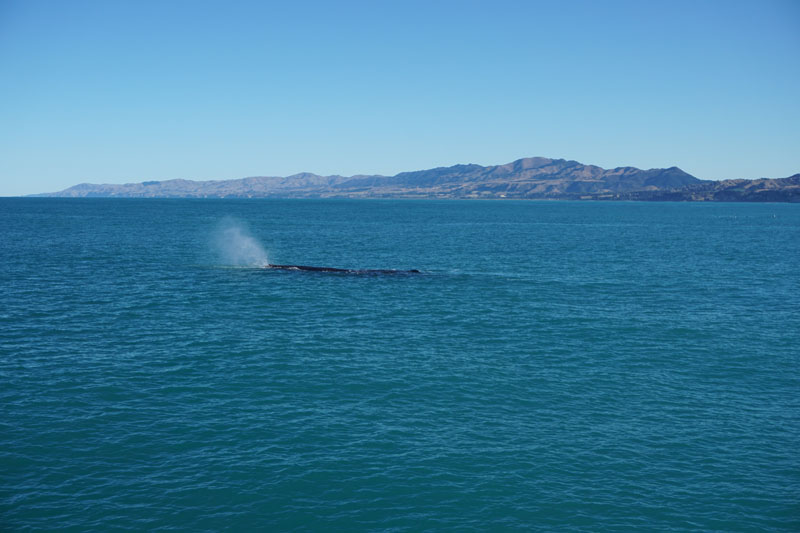 We watched this Sperm whale bobbing around on the surface, blowing water from his blow hole.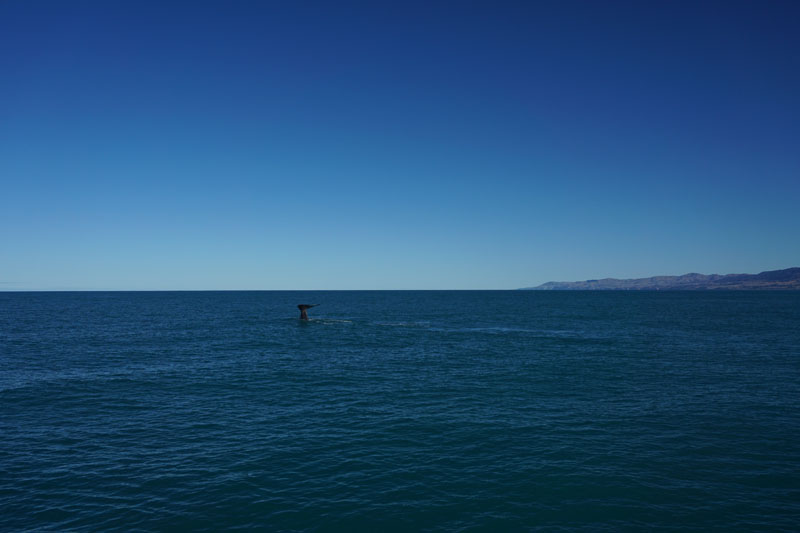 Our first whale takes a dive.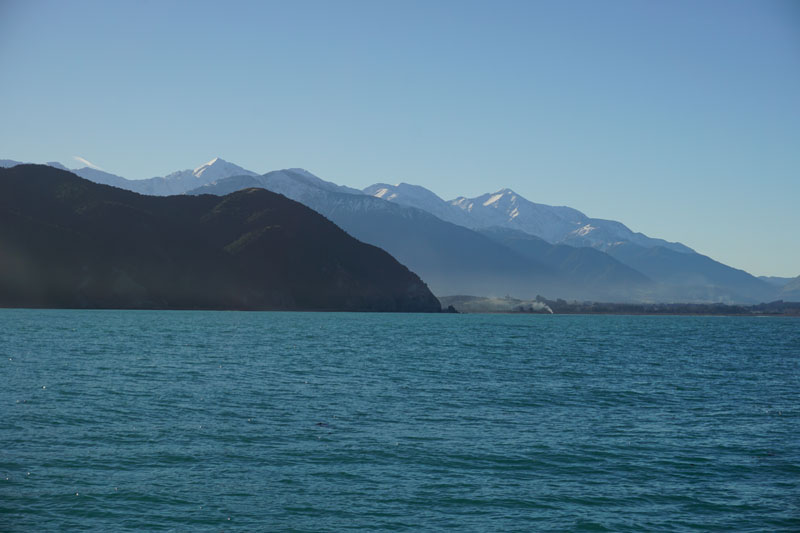 We set off searching for another whale and get a great view of the Kaikoura Ranges from while we sailed.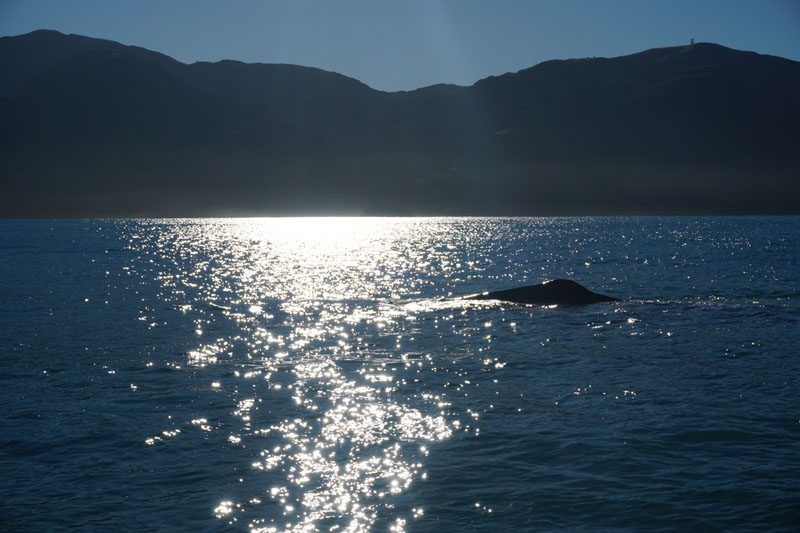 We spot whale number two basking in the sun.

And playing with a bird. We only saw him for a few minutes before he was off.

Whale number three is found!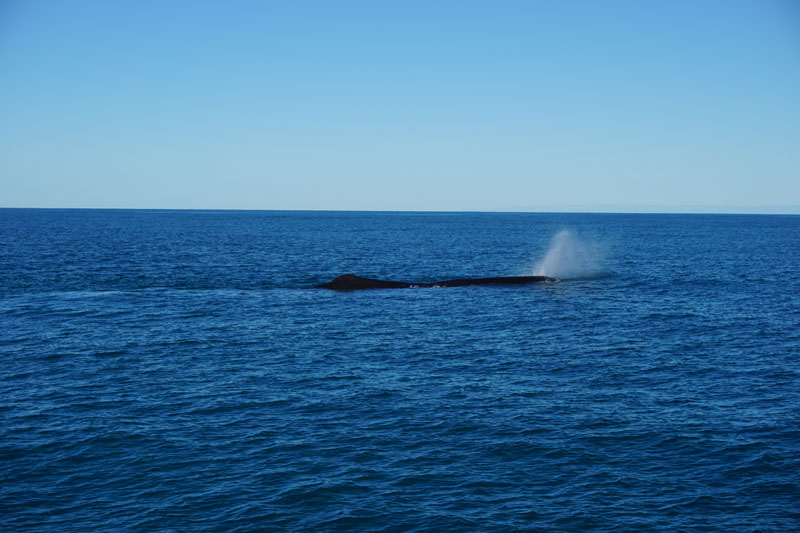 We watched him for some time at several different angles.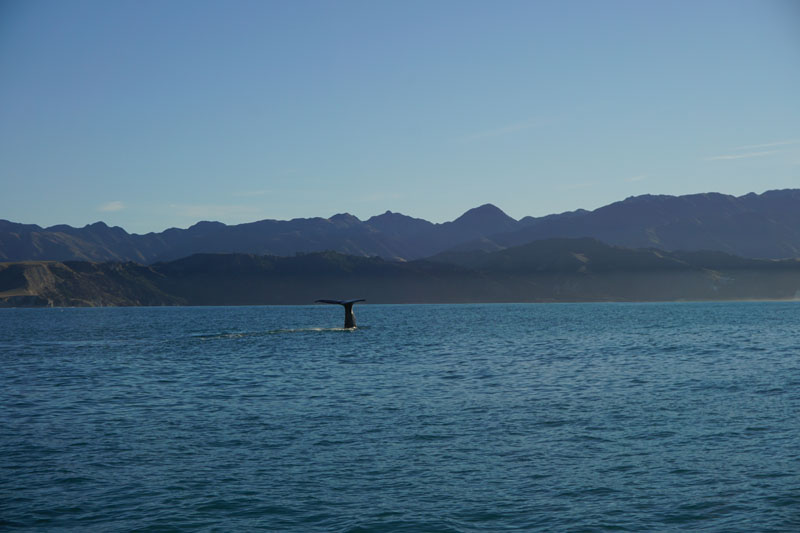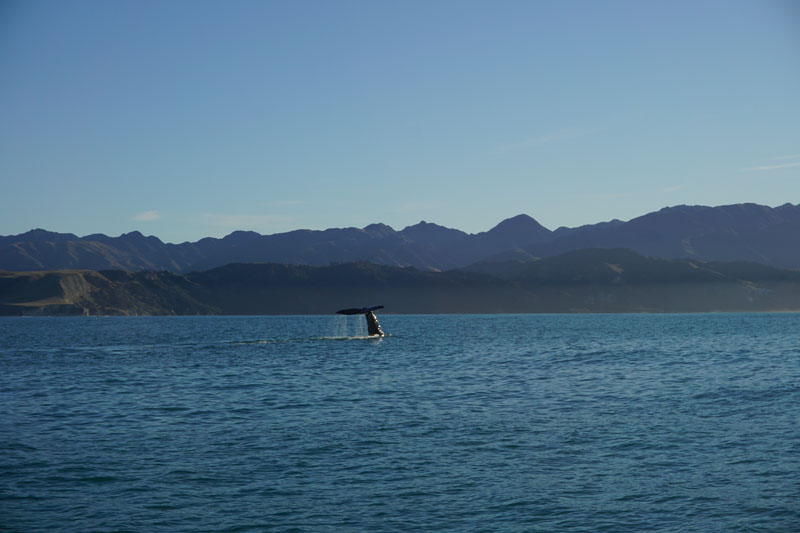 And caught him taking a beautiful dive.

On our way back to the wharf we circled this large white rock, spotting seals.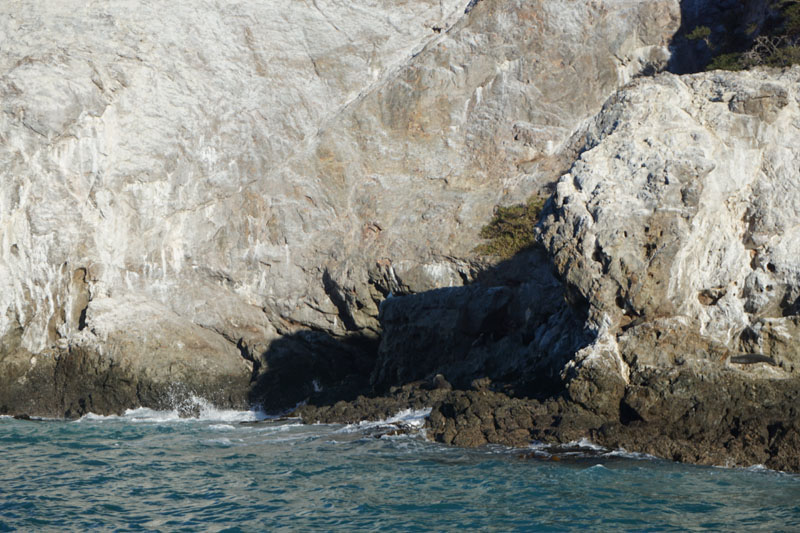 And saw a few lounging on the rocks.

Our whale watch was over. We said goodbye to our wonderful, knowledgable crew and headed back to the station.
What wildlife can you expect to see on a Kaikoura whale watch?
Whales, obviously! Sperm whales, Humpbacks, Pilot whales, Orcas and more. Check the Kaikoura whale watch sightings report on what animals have been spotted in the last month. We saw sperm whales on our journey which are quite common in Kaikoura. The males spend most of their time in the cool waters off the coast of Kaikoura because they're filled with tasty squid. It's too cold for the females as they're smaller and have less blubber. At the right time of year you can see humpbacks migrating and even orcas.
After our whale watch, on our way back to the marina, we swung by a huge white rock that seals love to hang out on. We searched for dolphins but didn't see any. Albatross are also a common site around the waters in Kaikoura. In short, if you're at all interested in marine wildlife then you have no end of options to explore in Kaikoura.
Add whale watching in Kaikoura to your New Zealand bucket list!
Whale watching in Kaikoura is a very special activity. If you're in New Zealand, I would highly recommend that you include it on your South Island itinerary! Kaikoura warrants at least one night if you're road tripping around New Zealand.
Quick Facts on Kaikoura
Whale Watch Kaikoura:
Times: Sailings daily at 10am, 10:30am, 12:45pm and 1:15pm. Do check the website as times may change based on season with more sailings in the summer months. Tours last around two hours.
Price: $145 for adults, $60 for children aged 3 to 15 years
Bookings: Bookings can be made online via Whale Watch Kaikoura or by phoning 0800 655 121 or emailing res@whalewatch.co.nz.
Getting There:
Car – Kaikoura is just under two hours drive north of Christchurch. You can make it up to Kaikoura and back as a day trip from Christchurch in your own car but it's better to stay the night. Coming from Picton, it will also take you just under two hours to reach Kaikoura. If you're looking for a rental car from Christchurch, search here.
Day tour – You can also make it up to Kaikoura as a day trip from Christchurch on an organised coach trip that will include your whale watching experience. See this link for more details.
Train – Kaikoura is a stop on the Coastal Pacific rail route between Picton and Christchurch which runs between September and May only.
Bus – Kaikoura is connected to Christchurch, Picton, Nelson and Blenheim by the Naked Bus. Intercity also runs buses between Kaikoura and Christchurch or Picton. Kaikoura is also a stopping point on Kiwi Experience bus tours.
Where to Eat in Kaikoura:
Where to Stay in Kaikoura: