After spending four months travelling in Europe this year, we picked up a few tips about booking flights to Europe and flying around the continent. Flying around Europe is generally really affordable thanks to it's many budget airlines, flights into smaller airports and multiple large international airport hubs.
We've put together a few tips to help you book flights into and around Europe. These tips will make it cheaper and more convenient for you to fly into Europe and make sure your flights within the continent are affordable and enjoyable.
10 Tips for Booking Flights Into and around Europe
Pick a hub to fly into
When booking your flights over to Europe from abroad, look at what hub is the cheapest and most convenient to fly into at the start of your journey. For us, we found flying into Rome significantly cheaper than flying into London (which was our ultimate destination). It saved us about $200 per person to start our trip in Rome vs London. We wanted to go to Italy on this trip so starting there and flying on a budget airline into London later made sense.
Make it open jaw
While you're looking into flights to and from Europe, experiment with making your journey "open jaw" – where your start and end point are different cities and you make your own way between them. It often makes flights cheaper and helps you avoid backtracking to your first airport if you're on a multi-country tour of Europe. We did this on our trip this year, booking our flights to Europe into Rome and out of Bucharest, where we were attending a wedding, and it cost us no more than flying to Rome return.
Get to know Europe's budget airlines and their "rules"
Budget airlines in Europe have lots of strange rules and additional charges that you can get lumped with if you're not careful. Some charge for things like checking in at the airport, printing boarding passes, carry on luggage and checking in carseats & strollers. If you know the rules of the airlines you're flying you won't have any surprises!
Do the math before booking a budget airline! Don't just look at budget airlines for flights within Europe. Sometimes it's cheaper or only a few dollars more to fly a full service airline without all the additional charges. Full service airlines often have better departure times and fly into more convenient airports.
Bonus tip: Download the app for the airlines you're flying to check in and get an e-boarding pass. It's much easier than looking for a printer when you're on the road. 

Factor in the cost of getting to the airport if there are multiple airports to choose from
While it might look tempting to book a cheaper flight in or out of a secondary airport, it's often not cheaper once you factor in the additional cost of getting to the airport. It might save you £20 per person to fly into Luton or Stansted instead of Heathrow but you'll pay at least that to get into London from the airport by train instead of just taking the tube.
Check if it's faster to take a train before flying within Europe
If you factor in transport time to the airport and arriving at the airport two hours in advance to complete the check in and security process, it might actually be faster to take a train between destinations. You can use a site like Rome2Rio to check train routes. Train travel in Europe is often more expensive than flying but significantly more relaxing and often more convenient.
Your carry on bag will probably be weighed
Unlike in the US, airlines in Europe limit the weight of your carry on luggage and will often weigh your carry on luggage to check if it's within the limits at check in or the gate. Ryanair, Norwegian Air, Wizz Air, Vueling all have limits of 10kgs. Some airlines like SAS, Aegean and Alitalia limit you to 8kgs. It's worth noting that Easyjet doesn't have a weight limit for carry on bags so, if you're an overpacker, stick with them!
Make sure you cabin bag dimensions fit with all the airlines you're flying with in Europe. The carry on bag dimensions for airlines in Europe are a bit smaller than for the US. If you're purchasing a new suitcase for your trip make sure it fits these dimensions. This is a handy chart to consult or just Google the carry on luggage dimensions for the airlines you plan on flying.
Bonus tip: Bring a travel luggage scale with you on your Europe trip! It's one of the best ways to avoid being that awkward person packing and repacking your bags in the check in queue
Avoid flying on public holidays
Public transportation is often limited, running on a Sunday schedule or not running at all on public holidays like Christmas and Easter in Europe. Even in big cities like London and Milan! If travelling on a holiday is significantly cheaper, factor in the cost of a taxi or Uber to/from the airport and make sure it's worth the saving.
If your flight is delayed or cancelled you can claim compensation
The EU has strict laws that gives passengers rights when it comes to airline delays. This means that airlines are required to compensate passengers for long delays or flight cancellations. You can get up to 600€ for flight delays of more than three hours. You can use a site like AirHelp to make it easy to claim compensation. Before your trip, it's worth reading up on the rules regarding what you need to claim compensation, how to do it and what the airline is supposed to provide in the even of delays or cancellations. It might not happen to you but, if it does, it's best to be prepared.
Priority boarding and upfront seats are worth it on budget airlines
It might only cost a few Euros more but it's totally worth purchasing the priority boarding on budget airlines like Easyjet and Ryan Air. These airlines often fly out of the worst terminals in airports where seating and facilities are limited. Queues to board form early and can be an absolute bun-fight. Spending a few dollars on priority boarding means you can avoid all these stress. Priority boarding also comes bundled with paying for a carry on bag on airlines like Ryanair so it's doubly worth it.
We often find that booking the seats up front are well worth it on these budget airlines, especially when travelling with kids. Narrow aisles and tight seat pitch on these airlines can make it hard to get to the back of the plane if you've got kids, snack bags, toys and carry on luggage to manage. It's worth the few extra dollars to walk onto the plane and sit right down, especially if you're a parent travelling solo with several kids.
If you're travelling with carry on luggage it means you get first access to the overhead bins too which can fill up. (My uncle recently lost his carry on luggage in Europe because the overhead baggage compartments were full and the airline gate checked his suitcase. It was never seen again!)

Bring your own snacks onboard budget airlines!
We found the food onboard budget airlines in Europe was pretty nasty. The food and drinks in European airports was usually overpriced and lines were often long even to grab a coffee or bottle of water. Pick up some snacks from a supermarket before your flight and bring a refillable water bottle.
Bonus tip: On some airlines like Ryanair, you can't use foreign currency credit cards to purchase snacks and drinks. We found this out the hard way! We tried three NZD and USD credit cards and none of them worked. Foreign just don't work in their onboard machines so bring cash.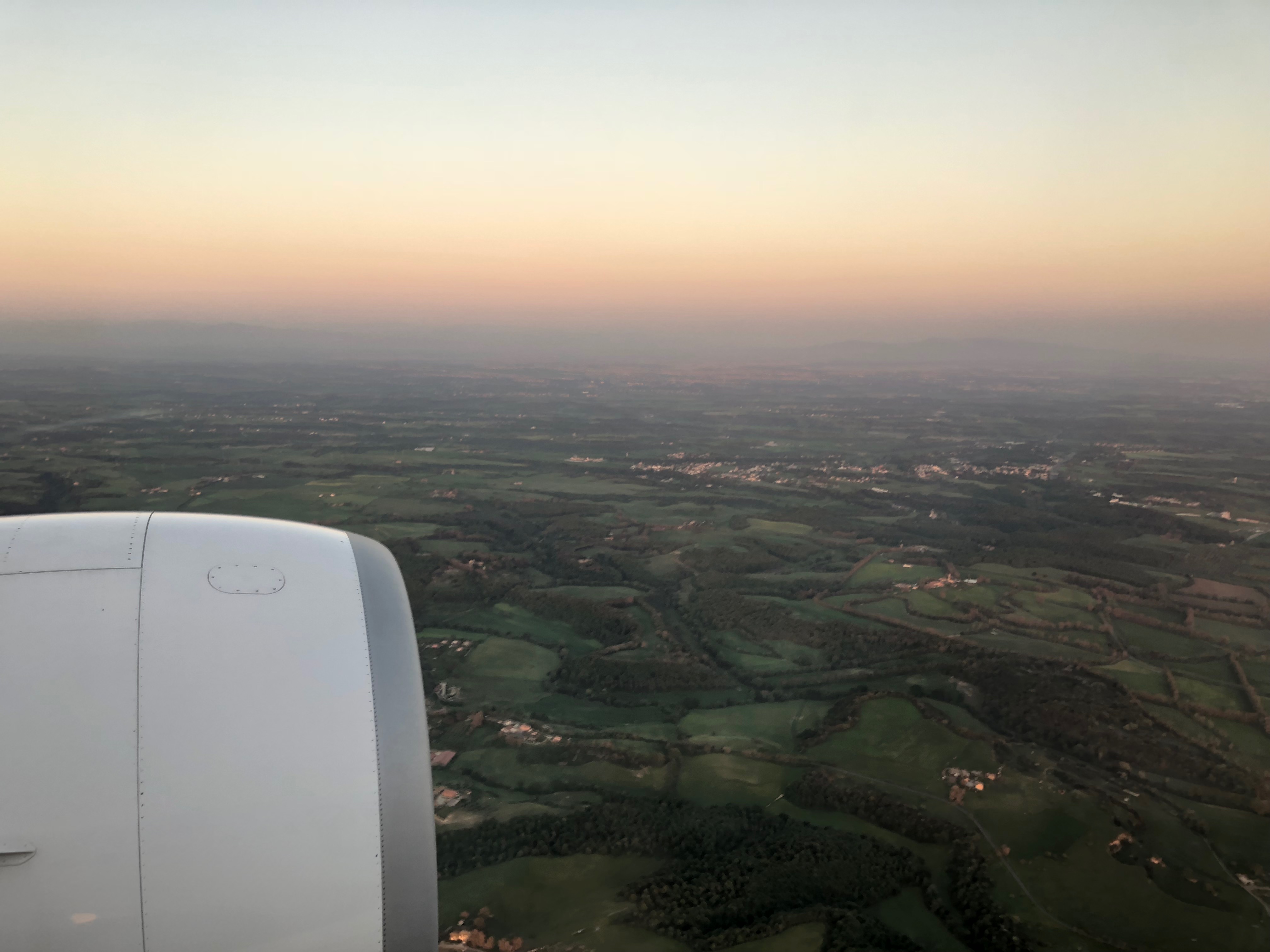 Do you have any tips for flying in Europe? I'd love to hear your best advice for booking flights, using budget airlines and getting around Europe. Let me know in the comments below if you've ever had to claim compensation for a delayed flight or been stung €55 for not checking in online with Ryanair.
Pin this post to help other travellers find these tips!