This post may contain compensated links. Please refer to my disclaimer here for more information.
I've flown on Air New Zealand in both economy and premium economy several times in the past year. Both solo and with my family in tow. For business and for pleasure. This is our Air New Zealand Premium Economy review from our flight over to Japan.
We love flying with Air New Zealand and, being from Christchurch, we don't often have much choice for international flight options. Our Air NZ premium economy review will show you what the flight was like, how the food and inflight enterainment was, the seat comfort and what it was like to fly premium economy with our kids.
Air NZ have one of the best premium economy products in the skies and they were one of the first airlines to offer the service. This is an Air New Zealand 787 premium economy review. I flew on a 777 with the older Spaceseat premium economy earlier in the year which was fabulous but this has since been shelved (as it was probably too nice for premium economy!) and all premium economy seats on Air NZ have been refitted to the versions we flew on during this flight.
Air New Zealand Premium Economy Review
The Cabin & Boarding
We flew on NZ91 from Auckland to Tokyo Haneda in September 2017. Our flight departed at 3.50pm and arrived in Tokyo at 11pm taking just over 11 hours. (It looks like Air NZ has now changed the schedule of the AKL-HND flight to fly overnight, leaving at 11pm and arriving in Japan at 5am.)
There is premium check in at Auckland International Airport for passengers flying premium economy but as we were connecting from Christchurch we already had our boarding passes and were checked in.
Boarding was a breeze. Premium economy passengers get priority boarding which is always nice.
The Air New Zealand Premium Economy 787 cabin is lovely, as are all Air NZ's cabins. With mood lighting lots of overhead space and smart decor. The cabin is arrange 2-3-2 across three rows, so 21 seats total.
Our family of four were arranged in two rows in the middle of the cabin occupying a middle and aisle in the row of three. There were passengers in the other aisle seat of our row of three, next to each of our kids, but flight attendants moved them to spare rows of two straight after take off. This was appreciated both by them and by us.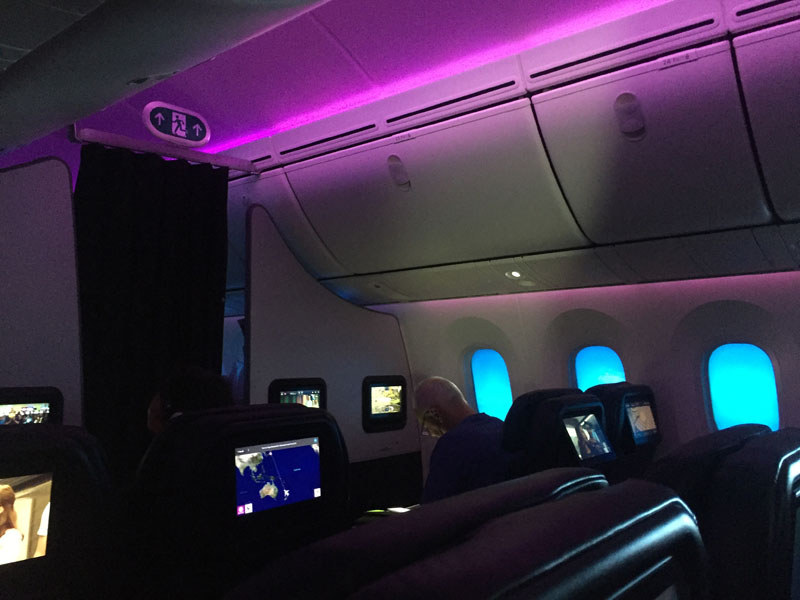 The Seat
Air NZ premium economy seats are extremely comfortable. They're akin to the seats on a first class domestic flight in the US. A great leather armchair with good recline and the all-important foot rest.
The seat itself is a wide, comfortable leather recliner with a great footrest. I didn't sleep at all on this flight as it was an afternoon/evening flight but it would definitely be comfortable enough to sleep in overnight.
There is so much legroom in these seats! More than enough for me to stretch all the way out and move about comfortably. There is definitely more than enough legroom for the kids. There's no way they could possibly kick the seat in front.
The foot rest is actually one of the most comfortable parts of the Air NZ premium economy seat. It allows you to extend and elevate your legs just the right amount so they don't get swollen and sore after a 12-hour flight.
The Amenities
The amenity kit consisted of slippers, socks, an eyemask, ear plugs, a really nice lip balm, toothbrush, toothpaste and a pen that you'll definitely want to keep. Each seat had a large bottle of mineral water on boarding.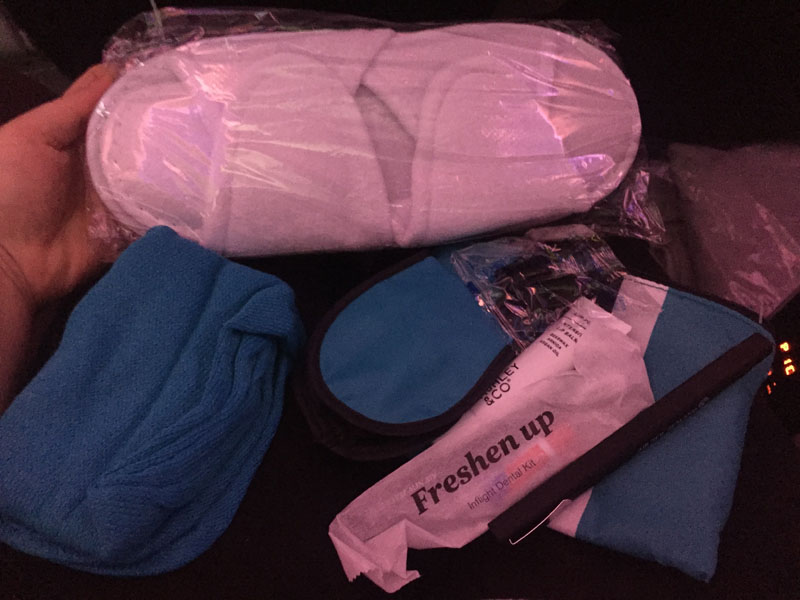 Noise cancelling over-ear headphones are also supplied and are a nice upgrade from what you get in regular economy on Air NZ.
We all loved the extremely large, almost full sized, fluffy pillow. It was so comfy especially for the kids. A nice fleece blanket is provided too.
The IFE
Air NZ's in flight entertainment (IFE) is great. The touchscreen is reasonably big and very resposive. There's a good welcome video that let's you get to know all the features of your seat which is very useful. There were lots of movies and full seasons of TV shows to watch. I watched the first half of Big Little Lies on the way over and the rest of the way back.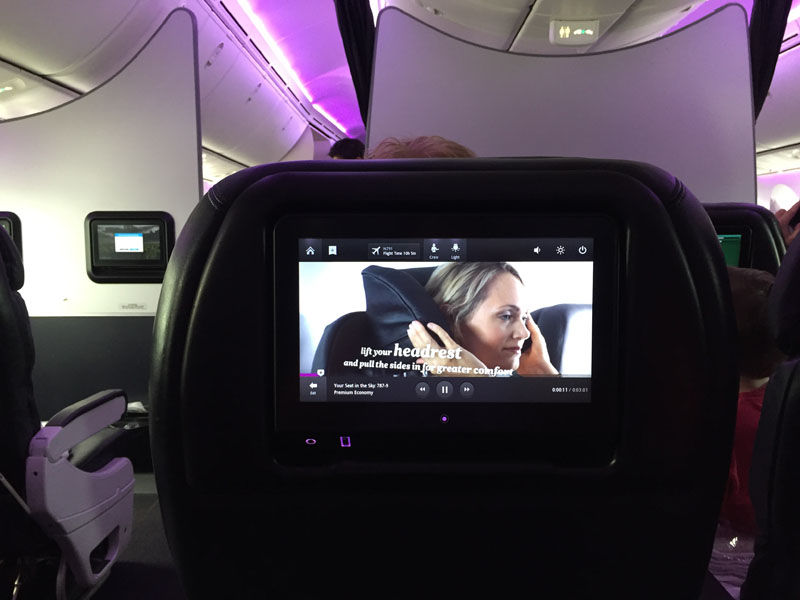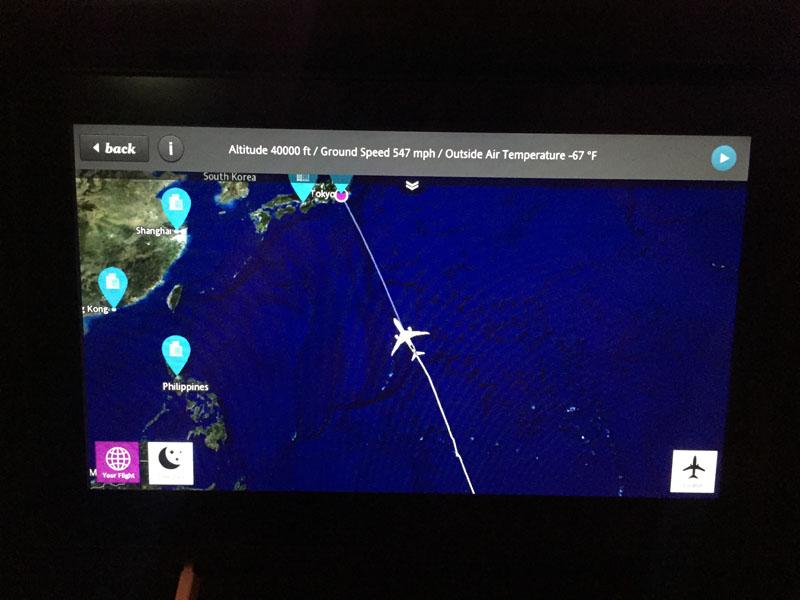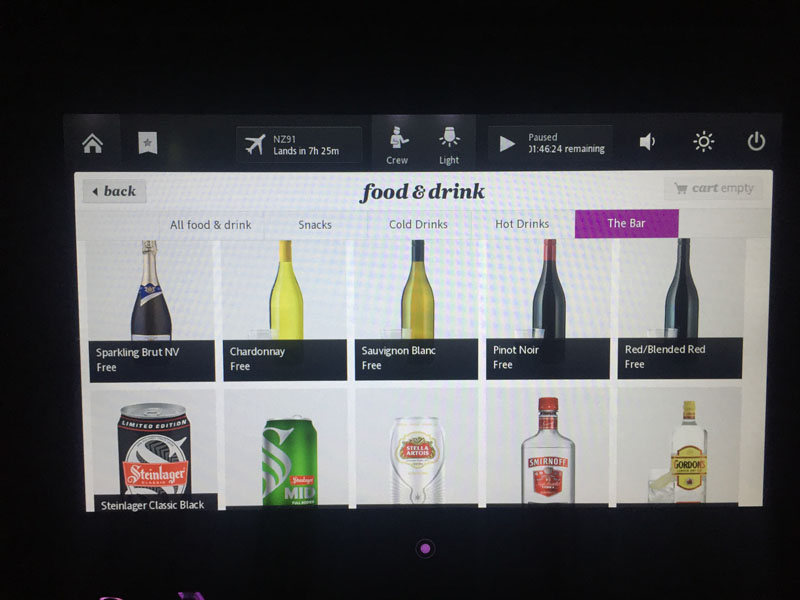 You can order food and drink using the touchscreen on the IFE. It's all free of charge for premium economy passengers. In addition to alcohol there were lots of types of tea, coffee, and snacks like chocolate bars, chips and cookies.
The Food & Drink
We were served lunch and dinner on our flight even though we departed in the late afternoon. I guess the meal service was on Tokyo time. The food & wine quality, presentation and meal service on Air NZ in premium economy was excellent. You basically get business class level product.
There was a menu to order off with varying options for a main course. Because this flight was to Japan there was a Japanese option for the main on both the lunch and dinner service. The entree, salad and dessert were fixed. Warm bread rolls with fresh olive oil and garlic bread were also served.
Real cutlery, cloth napkins and classes are used throughout the flight (except for the welcome drink on boarding which is a plastic cup.)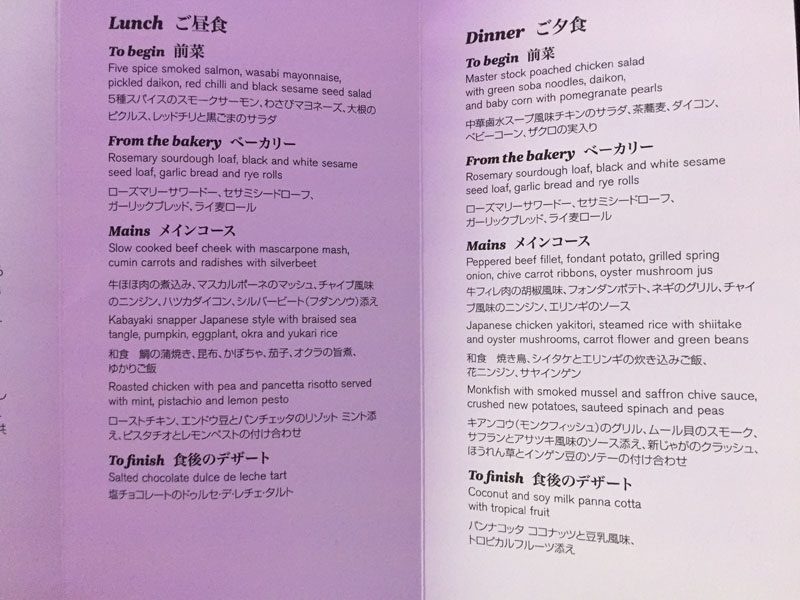 Overall the food was incredible. Very tasty and not at all boring. I enjoyed all my meals and was incredibly full by the end of the flight. Too full!
I will say though that it wasn't particularly kid friendly and, even though we'd ordered kids meals in economy, they didn't have kids options for premium economy. Our children did eat some of their food but the portions were too large for them and it was a bit adventurous. There were lots of kid-friendly snack options to order from the IFE which was nice.
The Service
The service on Air NZ is always great but in premium economy it's extra attentive. The cabin crew are obviously well-trained and enjoy their jobs which makes such a difference. They were friendly and welcoming towards children in a premium cabin which is an attitude I like to see. The service was better than service I've had in business class on other airlines like Air India.
Is Premium Economy Worth It?
I think Air NZ's premium economy product is well worth it if you can get it at a good price. The seat is extremely comfortable and you get a lot of legroom. The service, food and wine are all top notch. Honestly, it's a better product for families than flying business class in individual seats/pods if you've got little kids that require constant attention.
I would not want to be stuck with the middle seat if flying solo however. No direct aisle access is fine for a child or a couple traveling together but if you're flying solo be very careful about picking the right seat.
While I haven't done a full Air New Zealand Premium Economy Space Seat review I did fly this product only a few weeks before I took this flight. While the space seat was amazing for comfort and privacy, I think this configuration worked better for us as a family. Air NZ's space seat really was too good for the price anyway (it honestly felt like business class!) and all Air NZ aircraft have been refitted with the configuration shown in this Air New Zealand Premium Economy seats review. RIP Space Seat!
Bidding for Upgrades to Premium Economy of Air New Zealand
We didn't pay full price for this Air NZ premium economy flight. We used Air NZ's one up upgrade auction system to bid for our upgrade before the flight. We paid $3243.00 USD for four people to fly CHC-AKL-HND then PVG-AKL-CHC so the actual cost of our AKL-HND leg was probably about $350 USD per person. We got an incredibly good deal on this flight!
Our upgrade bids were $275 USD per passenger. We found out about a week before the flight that our bid was successful. On other flights I've done I've only found out a few hours before the flight that the bid was or wasn't successful. There was obviously plenty of space in premium economy on this specific flight as we got the upgrade request approved early and there were still seats available in our cabin when we flew.
Premium economy on this specific route is normally about $1100+ USD one way so we saved about 50% by booking economy and bidding for an upgrade vs buying the premium economy outright. When you times that by four for our family's tickets it's a great saving!

Of the four long haul flights I've done with Air New Zealand in the past two months, I have received One Up upgrades from economy to premium economy on two of the flights. 50% odds aren't bad and I'm willing to risk it for the savings involved.
You can read this post for more information on bidding for upgrades and this post for a list of airlines that offer this service. Most airlines offer an upgrade of one class only so if they have a premium economy service you'll get that otherwise you'll move from economy straight to business if they don't operate premium economy on that specific flight.
Pin this post for later!