This post may contain compensated links. Please refer to my disclaimer here for more information.
Need a hand to pick the best travel purse for Europe? There are luggage, day packs and backpacks, suitcases, rolling bags, and duffels, but when it comes to choosing the best travel bags for Europe, ladies, you can't forget about your purse. This is a crucial piece of your Europe travel gear and the item you'll keep with you during most of your days.
As you research travel purses for Europe, you'll likely be looking for one that is functional, comfortable, and fashionable. It's also important that your bag be secure, particularly if you'll be carrying valuables such as money or mobile phones. Finding the best purse for international travel will allow you to be comfortable, prepared and look good on your European trip.
We've put together a list of the best travel purses for Europe (and of course you can use them for all your international travels!) with a range of styles, colors and fabrics. Some of our pick for the best travel handbags for Europe are traditional purses and some are specific travel brands with built in antitheft technology to keep your bag's contents safe from pickpockets and bag snatchers.
What You'll Find in This Post
Best Travel Purse for Europe 2019 – Top Pick!
Our top pick for the best travel purse for Europe 2019 is the Travelon Women's Anti-Theft Tailored N/s Slim Cross Body Bag.
Here's an excellent day bag for Europe, so you can be ready for your adventure ASAP. It's safe, it's fashionable, it's lightweight, and it's the perfect size. There are a few reasons this is the best purse for Europe.
Anti-theft is a major feature that you'll want in your Europe travel purse. Though Europe is incredibly safe, many of the bigger cities have problems with pickpockets. As a tourist, you will unfortunately be a target for these petty thieves. Tourists generally travel with money and cameras, and they are also busy enjoying themselves and sightseeing. Even when being careful and alert, it's far too easy for your purse to end up out of sight. That's why anti-theft elements are so important, and this Travelon bag has plenty. These including locking compartments for your valuables, slash-resistant material, and a slash-resistant carry strap that can secure the purse to a stationary object. A lockable front pocket is especially useful, allowing you to stash items easily while still keeping them secure.
At 13.6 oz, this is a lightweight purse that still has ample room to carry your essentials. Numerous interior compartments make organization easier, too. It is available in several colours and patterns, and it is flattering and fashionable enough to accompany any outfit. An outstanding choice for safe travel bags for Europe, the Travelon Women's Anti-Theft Tailored N/s Slim Cross Body Bag is a perfect go-to.
Click here to buy the Travelon Women's Anti-Theft Tailored N/s Slim Cross Body Bag.
What to Look for in Travel Purses for Europe
If you're looking to spend more time searching for the ideal Europe travel bag, our comparison chart and details on European purses will help you in your quest. What are travellers searching for in handbags for travelling Europe?
The perfect size – A purse needs to be just the right size for travelling throughout Europe. You want something large enough to fit the things you need during the day, such as a guidebook, but you don't want it to be too bulky or heavy. When looking for the best travel purse cross body style bags are definitely the way to go.
Anti-theft technology – While not all of the good travel bags for Europe contain anti-theft technology, many travellers will specifically look for this in a travel purse. When travelling in Europe or other places—especially big cities—the threat of thieves and pickpockets can be a cause for concern. With proper anti-theft technology protecting your handbag, you can sightsee without extra worries.
Fashionable – There's no doubt about it, Europe is a stylish place. Most tourists would prefer not to stand out when visiting Europe, so adapting to their chic, fashionable looks is a must. Bringing a fashionable travel purse can help. The ideal handbag will avoid chunky, "nerdy" looks that scream "Tourist!" and will instead be sleek and understated.
Best Travel Purses for Europe – Comparison Chart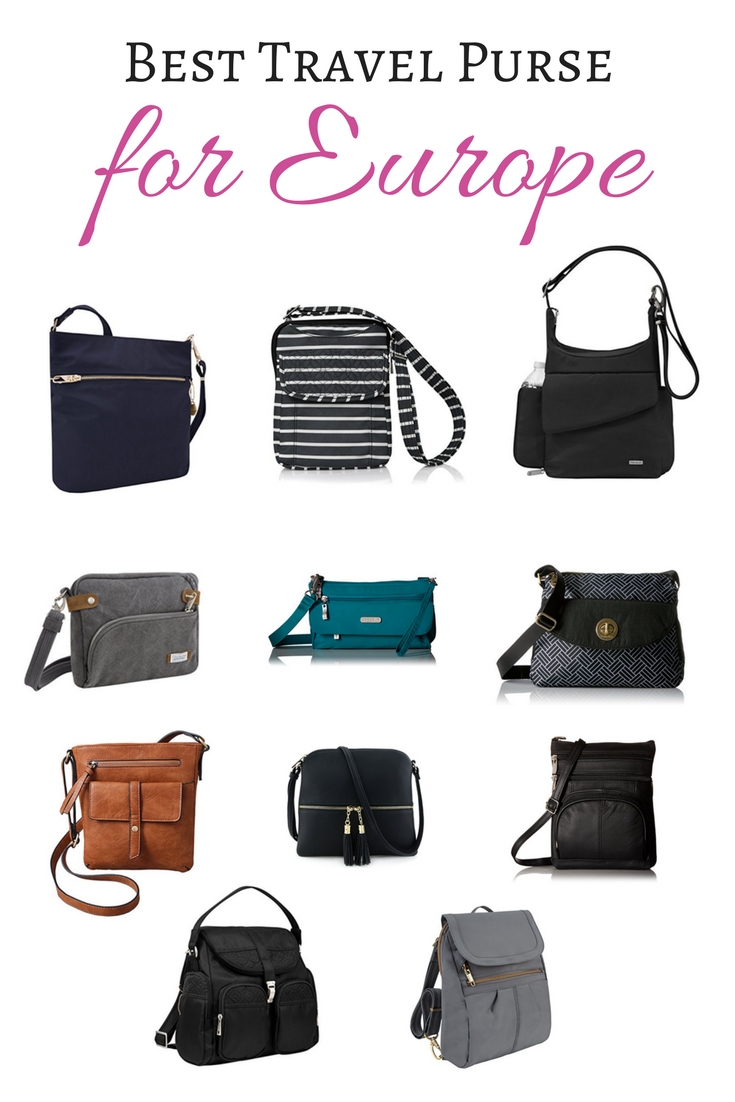 Best Crossbody Bag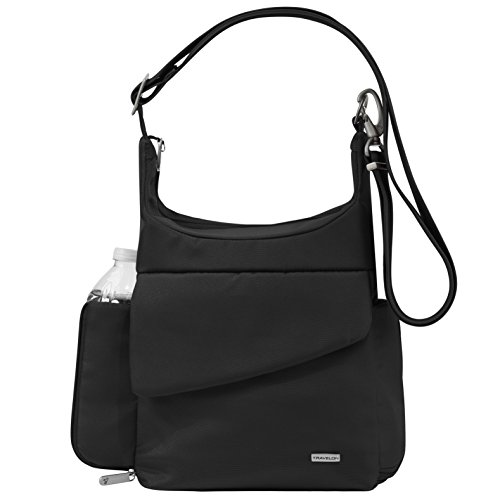 Looking for the best crossbody bag for European travel? This Travelon messenger is a sturdy choice. It's large enough to carry a good number of items. With dimensions of 11″ high, 10″ wide, and 4.5″ deep, it's definitely spacious.
You need to stay hydrated while touring Europe, so this bag's tow external zip-up water bottle pockets will come in handy. Inside, you'll store your gear within lockable compartments. The bag itself is constructed with anti-theft technology, rendering it slash proof. The long shoulder strap is also cut proof, so you needn't worry about a grab-and-go. Electronic theft, such as the reading of identity cards, is a fresh security worry, but this bag contains an RFID blocker for just such situations.
There are a number of colour choices for this bag, and with its basic features (card and pen slots, etc.) and its spacious size, it is a solid option for a travel purse for Europe.
Click here to buy the Travelon Anti-Theft Classic Messenger Bag.

Fashionable Travel Purses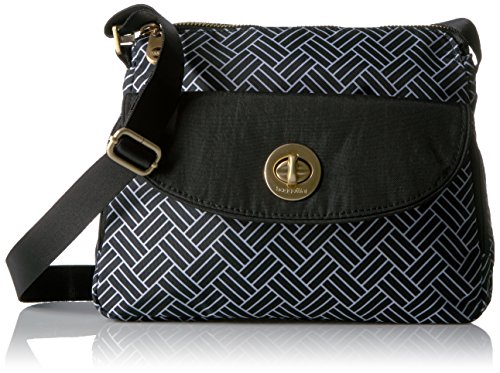 Not every travel bag for a Europe trip has to have muted, understated colors and looks. If you want something a bit bolder, the Baggallini Provence will do the trick. This bag is available in some bright hues and cool prints. Nylon with a polyester lining, the purse is water-resistant and lightweight (great for travel and adventure). This brand was actually founded by two flight attendants, so you can feel confident this purse has been designed with the traveler in mind.
It is excellent for organization, with interior compartments, 5 card slots, and a quick-access phone pouch. The 52" adjustable cross body strap means you'll be able to tote your bag along with ease. Heading out for the evening? Detach the removable clutch, and you'll have a small evening bag perfect for a night on the town.
Click here to see the full range of colors of the Baggallini Provence Crossbody and to make your purchase.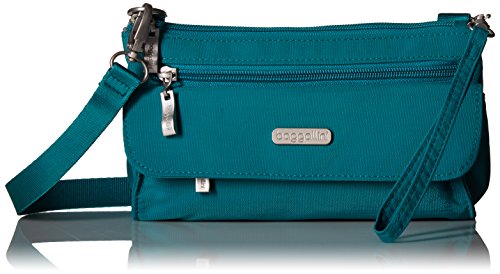 If you are after the function and ease of the Baggallini Provence, but want a more compact bag, then the Baggallini Plaza Mini will do just fine. This baby weighs in at just 6 oz; it's so light, you may not even know it's with you. But the fact that it sits across your body gives you that all-important security. The 52" removable shoulder strap can be adjusted to fit you in the way you like best. Though this bag is petite, it is very durable, made to meet all of Baggallini's top quality specifications. And despite its small size, it still offers plenty of organization within, including simple card slots and two front pockets. The purse's main compartment has a top zipper, so you can keep your eye on what's in your bag more easily. Is this the best purse to travel Europe with? It definitely might be!
To see the range of colors and prints for the Baggallini Plaza Mini Crossbody click here.

Anti-Theft Travel Purses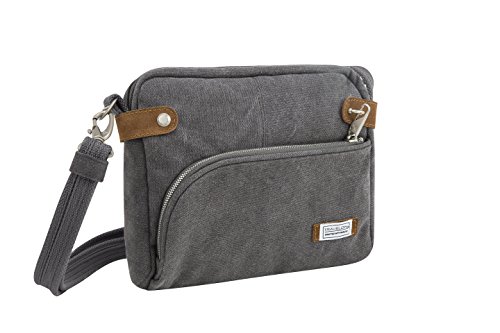 If security is your priority, you can't go wrong with an anti-theft travel purse. This Travelon version combines safety with a rugged, unique look. The purse is cotton canvas, and comes in a variety of colors. Suede trim adds a classic touch. With this bag, you won't need to worry about your items falling into the wrong hands. It has locking, zippered compartments, is made with anti-slash construction, and if you're concerned about scanning technology, it's got an RFID blocking pocket. The Heritage can be worn as a crossbody bag, or the strap can be shortened for on-the-shoulder carrying. A tethered LED light clip ensures you'll be able to find things in your bag even in the dark hotel room! Reviewers report this bag is roomier than expected and great for carrying all those travel essentials. This could be one of the best crossbody bags for Europe on the market.
Click here to get the Travelon Anti-theft Heritage Crossbody Bag. It comes in 8 neutral colors.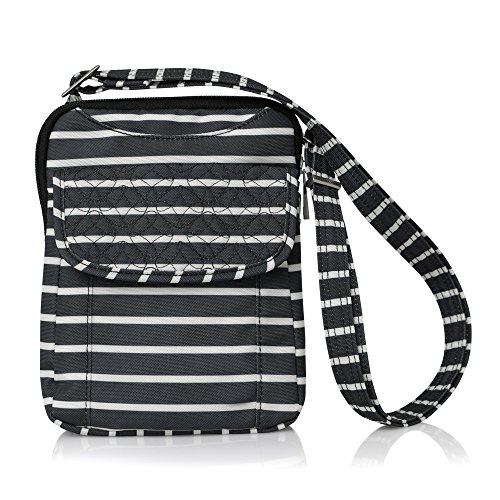 Maybe you know you need to carry a purse while travelling in Europe, but you'd prefer something minimalist. Check out this Travelon Anti-Theft Slim Pouch. It is simple and safety-conscious, but it won't weigh you down with excess. Just carry the essentials. In fact, if you have a mirrorless camera or other small equipment, this could be a great travel camera bag for Europe.
Inside the pouch is the solid organization found in other Travelon models. You can rely on slash-free straps, an interior wire mesh that is cut-proof, a locking central compartment, and RFID blocking card slots. Since you'll only be carrying the essentials, there's a designated passport pocket in there, too.
The Travelon Anti-Theft Slim Pouch comes in this cool black and white stripe, black, berry, navy and truffle (you can click here to see all the colors).

Leather Purses
For some wanderlusters, leather bags make the best travel handbags for Europe. That's because leather is undeniably sophisticated and attractive. This FanCarry bag is tall and thin and will sit close to your body as you carry it. This bag is ideal for someone who wants to bring along an iPad Mini or similarly sized tablet. There are pockets inside to hold your phone and wallet and plenty of space for a guidebook, bottle of water, or other items. Two outer slip pockets, while not necessarily the most secure, are great for quickly accessing items on the go. Need a place to stash that museum brochure? These slip pockets could be perfect.
Click here to get the FanCarry Women's Small Front Flap Solid Crossbody Purse.
Another beautiful choice for a leather purse for Europe is this one. It appears both elegant and functional all at once. Do you love pockets? This is the bag for you! There are endless options for organizing your things within this bag. While petite and unassuming, this bag does serious duty. There are four outside pockets to stash your belongings in, including the front bottom compartment, which has space for credit cards and change. (This makes it super easy to get to your money, but it does not offer the security of some of the anti-theft bags.)
In the main compartment, you can hold a small book plus plenty more. Your smartphone can fit easily into a rear slip pocket, making it a breeze to grab it when you need to snap a photo. Lovely leather, a long, strong strap, and a pretty design make this one of the top crossbody bags for Europe travel.
Click here to buy the Roma Leathers Genuine Leather Multi-Pocket Crossbody Purse Bag. It comes in black, brown, tan and beige.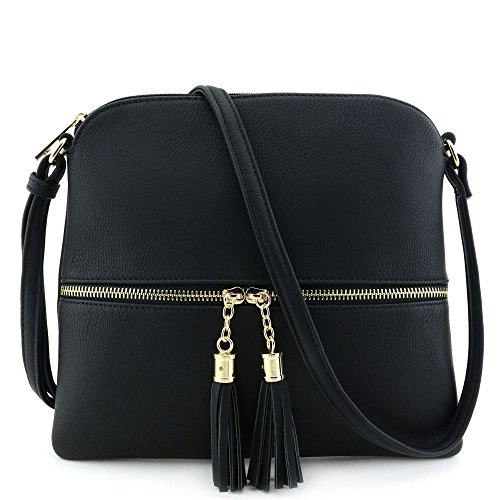 If you're looking for an affordable choice for European cross body bags, take a closer look at this. Here is a faux leather bag that comes in more than 20 different colour combinations. It's as simple and as elegant as you can get with a small cross body travel bag. There's not anything complicated with this purse. There is a main compartment with options for organizing within, but you'll find no bulky exterior pouches on this bag. Just a small zippered pocket where the cute tassel hangs. The bag's interior has a clever pin-striped design. If you want the freedom of an extremely lightweight, hands-free cross body bag, this is a leading option.
Click here to get the Lightweight Medium Crossbody Bag with Tassel. It comes in over a dozen colors and is faux leather.

Backpack Purses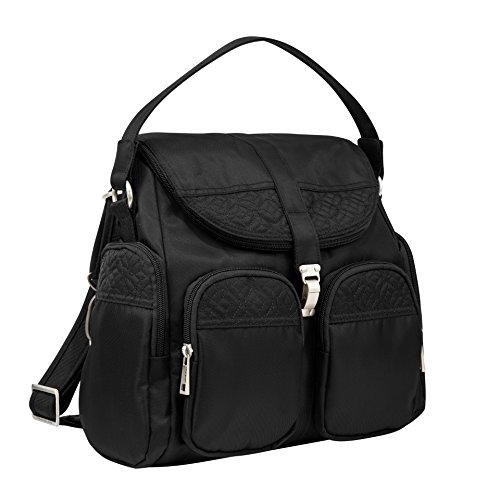 For some, the best purse to take to Europe is one that can be carried in multiple ways. This is the best backpack purse for travel because it does both travel styles – backpack and purse. The Travelon Signature Convertible Backpack can't be beat. Wear it like a purse using the shoulder strap, carry it in hand with the top handle, or toss it onto your back for the classic "backpacking Europe" look. It can be worn across your body, too. No matter how you carry this bag, it provides exceptional security. It's Travelon brand, which means you can depend on slash-free straps, interior wire mesh that prevents slashing to the bag itself, locking zippered compartments, and more. This bag is quite roomy, so if you have a lot to bring with you, it's a perfect companion. Inside you'll find space plus organizational help (spots for cards, passport, etc). The attached key clip with LED light is also a great feature.
Click here to get the Travelon Anti-Theft Signature Convertible Backpack.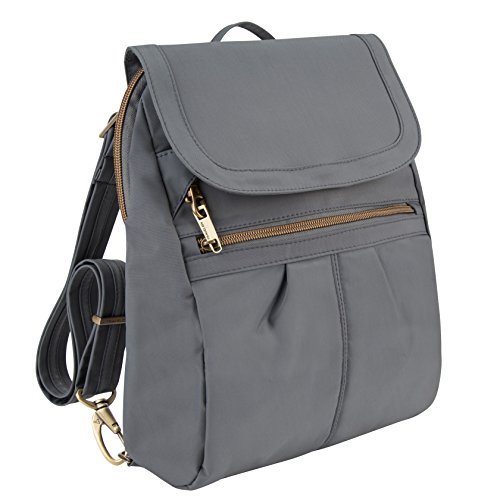 Finally, you might just want to forget the purse altogether and just carry a true backpack. Small backpacks make excellent day bags for Europe travel. This Travelon Signature Slim Backpack offers top security and anti-theft protection. Just pop it on your back, and head out for happy days exploring Europe's finest cities.
The bag is made of a soft nylon material, and its straps are adjustable so you can find your perfect level of comfort. You don't have to worry about your straps being cut and a thief running off with your pack. The straps are slash-resistant, whether the bag is on your back or attached to a stationary object like a chair leg. Everything locks up tightly, even the front stash pocket, which many travellers prefer for a smartphone, sunglasses, or lip balm. An RFID blocking pocket and a slash-proof construction make this a most wonderful backpack for travelling in Europe.
Click here to get the Travelon Anti-Theft Signature Slim Backpack

Questions on Finding the Best Purse for Travel to Europe
What do you think of our list of the best bags for backpacking Europe? Which will you bring on your next adventure? Our list of should help you find the best purse for traveling Europe but if you've got a questions or comment please leave it below. With all our travel experience we know what good travel purses Europe travelers need. We think this list covers the best cross body bag for Europe, from purses to backpacks but feel free to give us your feedback and let us know your favourite European travel purse.
More Europe packing tips and travel gear for Europe here: