This post may contain compensated links. Please refer to my disclaimer here for more information.
Lucky you! You're off for some fun in the sun on a Carnival Cruise! My Carnival cruise packing list will help you get organized so you can be fully prepared and totally relaxed once you're on board. Read through my post on what to pack for a Carnival Cruise which includes clothes, toiletries, footwear and all the other bits and pieces you'll need on your trip.
I'll give you lots of examples of what to wear on a Carnival Cruise including some pics of outfits I wore on my recent Western Caribbean cruise on Carnival Breeze. (Our Carnival Breeze review and trip report is here.) I'll also show you want to wear on Carnival Cruise formal night too so if you want to dress up you can. When you're headed out on a Carnival Cruise what to pack is a breeze once you have read my post!
At the end of this post you can print out your own Carnival Cruise checklist so you can prepare and pack for your own trip. If you're new to cruising in general or just new to Carnival what to pack might be a bit overwhelming but if you follow my checklist you'll soon have it under control.
This Carnival Cruise packing checklist is for a warm-weather cruise. If you're headed to Alaska, then you need to head over and read my Alaska Cruise Packing List. You can also read my other cruise packing posts on what to pack for a cruise and 12 mix & match cruise outfits you'll love to wear! If you're interested in more Carnival Cruise tips you can read my post here.
What You'll Find in This Post
What to Wear on a Carnival Cruise
If you're wondering what to wear on Carnival Cruise Lines, then relax. It's actually pretty easy going on Carnival. Carnival Cruise attire is fun and casual for the most part.
If you're headed out soon on a Carnival Cruise what to wear is pretty easily decided once you know what kind of activities you need to dress for. You'll need the following types of outfits:
An embarkation outfit or travel outfit if you're flying into port from out of town (smart casual, still nice for photos!)
Casual clothes to wear on board the ship and on shore excursions (shorts and t-shirts or sundresses)
Work out clothes for active excursions or for working out on board
Cruise casual dinner attire for non-formal nights (jeans and a tee or polo shirt for men, a sundress or flowy top or tunic & jeans for ladies)
Some smarter outfits for formal night (more on that below!)
And some swimwear of course!
Above are some examples of Carnival Cruise wear. These Carnival Cruise outfits are pretty casual and fun as you can see. I've linked all the specific items in the "what to pack Carnival Cruise" section below. You can click on any of those links and order the specific items in the image above.
What to Wear on Carnival Cruise Formal Night
Formal night on Carnival Cruise Lines is more relaxed than on other cruise lines. You won't see many people in a sport coat, let alone a tux or evening gown. Think of it as smart but relaxed and fun rather than formal. Men generally wear a collared shirt and maybe a tie with some slacks or chinos. Women tend to wear fun cocktail dresses or sundresses that they dress up with accessories and heels.
Our cruise on the Carnival Breeze went from Galveston and we did notice that some families did get really dressed up. Women were in full evening gowns with perfect hair and make up and men were in dark suits & ties. If you want to go all out and get dressed up that is totally up to you! I would just make sure you liaise with your entire travel group so you're all at the same level of attire.
I'll add in some examples of what to wear on Carnival Cruise formal night below. You can click on any of these images for a closer look. There are also some ideas in this cruise outfits post.
What to Pack for a Carnival Cruise
My Carnival packing list will show you exactly what to take on a Carnival Cruise. From clothes to footwear to electronics and all those other useful little things, once you've read through this list you'll know what to bring on a Carnival Cruise.
Clothes for women:
Clothes for men:
T-shirts
Polo shirts
Short sleeved shirts
Dress shirts
Shorts
Chinos or khakis
Jeans
Sport coat or suit (optional) – I would only suggest you do this if your partner is getting dressed up for formal night, otherwise you're fine without it on Carnival.
Light sweater
Work out clothes
1o pair of underwear
Swimwear:
Shoes:
Flip flops
Sandals
Sneakers
Wedges or heels – I prefer wedges for cruises because they're more stable!
Boat shoes or loafer or dress shoes (men)
Aqua or water shoes – These are really useful for excursions where you're active in the water or for beach days.
Accessories:
Sunhat
Sunglasses x 2 – One good pair and one cheap pair for wearing in the pool or ocean
Statement jewelry
Pashmina scarf
Light scarf
Belt (men)
Tie (men)
Electronics:
Toiletries:
What to pack for Carnival cruise: Toiletries you'll need.
Carnival cruise toiletries provided are shampoo, conditioner and body wash supplied in shower dispensers as well as a bar of hand soap. If you're picky about the products you use it does plan to pack your own brands. Travel sized bottles will do for your 7 day Carnival cruise packing list, either buy mini versions of your favorites or decant them into GoToobs like these.
This post has a guide on what to pack on a Carnival cruise in your toiletries bag – Toiletries List for Travel. I'll leave it as a separate list to the main packing list because it's quite lengthy but just make sure you bring at least a full sized bottle of sunscreen and after sun lotion like aloe vera gel. These are essential toiletries for cruising!
Sea Sickness Prevention:
Sea sickness prevention is essential when packing for a Carnival cruise. I bring the following on every cruise we take:
A little seasickness prevention pack makes a nice gift for someone you're cruising with also! You can also read this post with more tips on how to avoid getting sea sick on a cruise.
Drinks:
Wine – You can bring one bottle of wine per adult (750mL) which must be packed in your carry on luggage. You need to drink this in your room or at least pour it into a glass if you want to carry it to dinner. If you bring your own wine bottle to dinner, open or not, you'll be charged a $15 corkage fee to consume it at your table. You cabin attendant can provide wine glasses for your room. If you are bringing a bottle of wine with you, it's a good idea to pack it in a wine bottle protector sleeve.
Soda or water – Each person can bring 12 cans or cartons (12 oz or less) of soda, milk, juice or sparkling water on board in your carry on luggage when you embark.
Refillable water bottle – Collapsible ones like this are great for travel!
Travel Documents & Money:
Cruise documents and luggage tags – You need to print these out yourself!
Passport
Cash – Bring some US dollars for using in the port and some smaller bills for tipping for cabin attendant or dining room server on the last day of your cruise
Credit card
Wallet or purse
Driver's License / ID
Other Things to Bring on a Carnival Cruise:
Carnival Cruise Luggage and How to Pack for a Carnival Cruise
Carnival Packing Rules
Carnival cruise packing rules for the amount of luggage you can bring are as follows:
One suitcase for cruises of 3-5 days
Two suitcases for cruises of 6+ days
Carnival cruise suitcase size limits are 16 inches high by 24 inches wide (the length of the bag is not a factor) and weight limits are 50lbs per bag
All suitcases must be unlocked
If you have checked baggage, you must be checked in at least two hours before the ship's departure time
Carnival cruise carry on size luggage is the same dimensions as for checked luggage but you must be able to manoeuvre through the queues with your carry on baggage and look after your carry on bag yourself until your stateroom is available which can take several hours. It is therefore better to just bring a tote bag, backpack or small wheeled suitcase as your carry on (as you would for airline travel).
Your checked luggage must be placed outside your stateroom door the evening before disembarkation if you want it taken off the ship by porters. You can opt to self carry your luggage off on the morning of disembarkation but you have to be able to fully manage your luggage yourself. It is a great idea to do this however as it means you can depart a lot earlier and not have to wait on board until your boarding group is called.
Carry On Bag on Embarkation Day
In your carry on bag for embarkation you will need to pack:
All your travel documents, wallet and phone
Valuables like your camera or iPad that you don't want to leave in your checked luggage
Your swimsuit, pool cover up, hat, sunglasses and sunscreen so you can hit the pool on day one when you embark
A change of clothes with underwear (just in case your luggage goes missing!)
Any important medication
Book or Kindle
A water bottle and a snack for kids (sometimes checking in and boarding can take a loooong time!)
All this should fit easily into a backpack, tote bag or carry on suitcase. If you're flying in to the port you'll probably a suitcase for the things you need on the flight or the night before the cruise if you're arriving early.
If you're bringing trays of soda cans on board these must go in your carry on bag so I would suggest using a small wheeled suitcase for this so you're not carrying them through the embarkation queue. It usually takes a minimum of one hour of queuing for security, document checks and boarding so make sure you can comfortably manage your Carnival cruise carry on.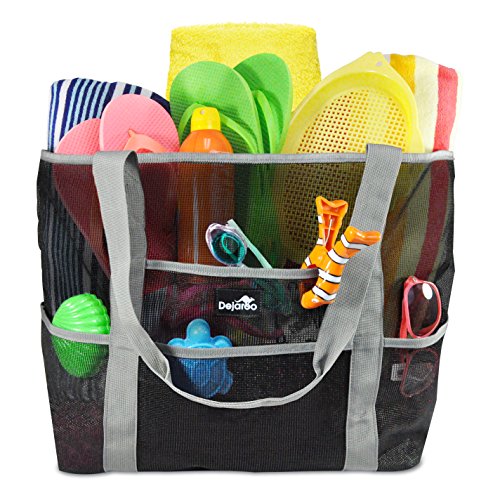 Shore Excursion Bag
For shore excursions, assuming you're off to the beach or doing something active, you should bring the following:
Swimsuit, pool cover up, hat, sunglasses and sunscreen
Watershoes or sneakers depending on your excursion
Carnival beach towel – These are provided in your stateroom and can be taken off the ship (but be sure to return them or you will be charged for replacing them!)
Water bottle
Wallet with cash in USD and Sail & Sign card
Waterproof phone pouch – These are the BEST thing for cruising! You can use your phone while it's in the waterproof pouch so you can take photos at the beach or in the ocean without worrying about damaging your phone. We actually just tuck cash and our Sail & Sign cards into one of these waterproof case along with our phones if we are headed to the beach so we can avoid learning or valuables on the beach while we are in the ocean.
Camera – If you want to leave your phone at home or onboard and take a camera out and about the Olympus TG-4 is a great camera for cruising because it's full waterproof and shockproof. GoPro cameras are also great for active cruise vacations.
Use the same backpack or tote bag you used for embarkation as your shore excursion bag or bring a foldable beach tote like thisalong in your cruise luggage.
Suitcase
We recommend a suitcase of around 24″ to 25″ for a single person or a couple traveling together and a suitcase of around 28″ to 30″ for a family sharing a suitcase. This is ample luggage capacity for a 7 night cruise. We have done cruises with only two carry on bags for our family of four in the past. If you pack strategically and follow my cruise packing checklist for Carnival that you can print below you will have no problems with a bag of this size.
As I mentioned above, there is a maximum weight limit of 50 lbs which should be ample allowance for your suitcase. Your suitcase needs to be no more than 16 inches deep by 24 inches wide across the base. It's also a good idea to have a suitcase with four spinner wheels as they're easier to manage, especially if you want to take your bags off the ship yourself on disembarkation day to save time.
Here are some suggested suitcases that meet these requirements: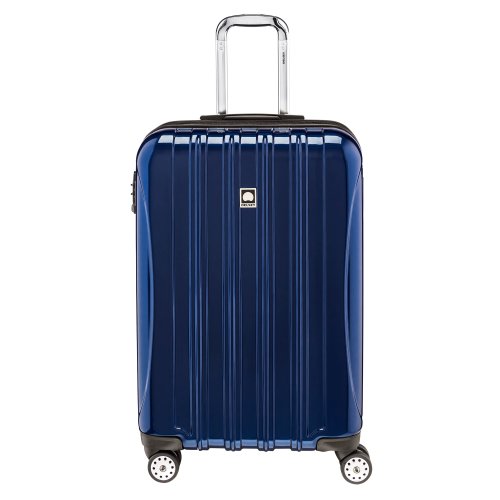 Delsey Luggage Helium Aero 25″ Expandable Spinner
25″ high x 17.5″ wide x 11.5″ deep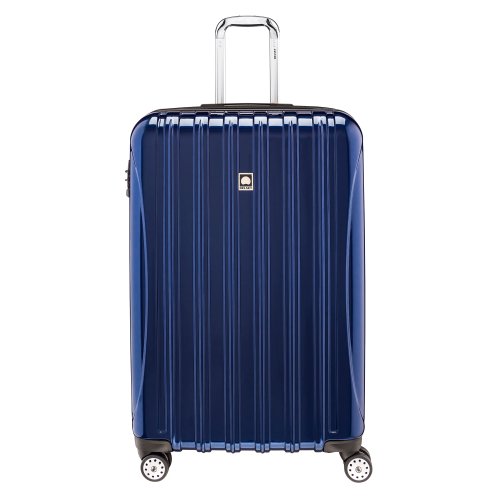 Delsey Luggage Helium Aero 29″ Expandable Spinner Trolley
29″ high x 19.5″ wide x 12.5″ deep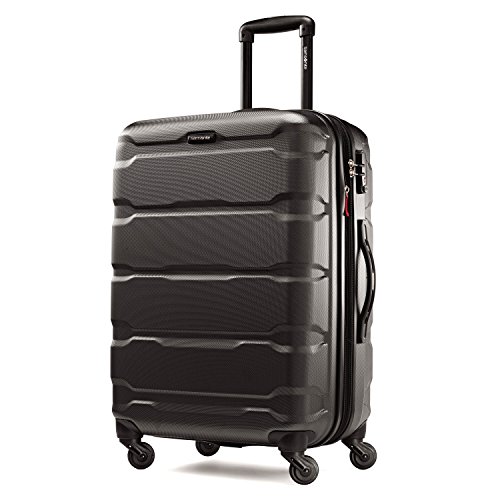 Samsonite Omni PC Hardside Spinner 24″
24″ high x 17.5″ wide x 11.5″ deep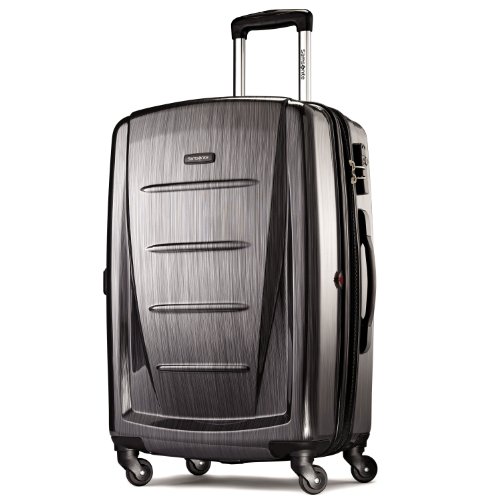 Samsonite Luggage Winfield 2 Spinner 28″
28″ high x 19.75″ wide x 12.5″ deep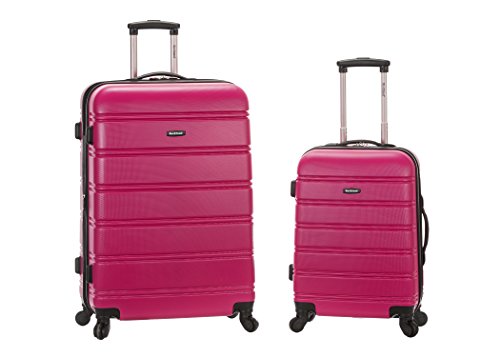 Rockland 2 Piece Expandable Spinner Set
Carry on: 20″ high x 13″ wide x 9″ deep / Checked suitcase: 28″ high x 17″ wide x 12″ deep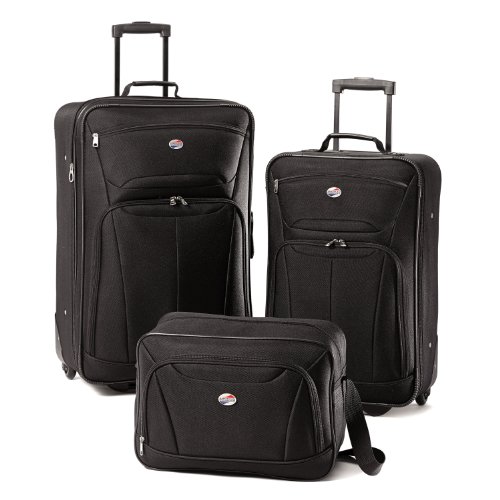 American Tourister 3 Piece Set
Shoulder bag: 15″ long x 10″ high x 8″ deep / Carry on: – 21″ high x 14″ wide x 7″ deep / Checked suitcase: 24.5″ high x 16″ wide x 8″ deep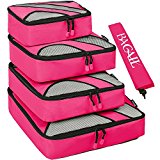 Packing Cubes
Using packing cubes will make your Carnival cruise packing a lot easier!
Packing cubes allow you to organize your luggage and pack a lot more in your suitcase. It also makes it really easy to share a suitcase with your travel partner or family – everyone just gets their own colored cube. If you're traveling alone you can separate your day and evening wear easily with different packing cubes or your tops and bottoms. Use one for your swimwear so you can grab it all in one go. They really do help you pack smarter!
Using packing cubes also make it easy to unpack when you arrive in your stateroom and organise your belongs. Just pop the cubes out of your suitcase and straight into a drawer or cupboard. Easy! You can read my complete guide on how to pack with packing cubes and which ones to buy for more information. I even have an instructional video on how to use them.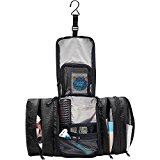 Hanging Toiletry Bag
A hanging toiletry bagis one of the ideals things to pack for a cruise, Carnival has hooks on the back of all the bathroom doors so you can just hang your bag and see your stuff without unpacking too much. You can read my review of the eBags flat toiletry bag here. It's flat and packs super easily into your suitcase!
Laundry Bag
A laundry bag like this
is very useful for all your dirty clothes. You can also bring a
small pop up hamper
for laundry and put it in one of the cupboards in your stateroom.
Wet-Dry Bag
A wet-dry bag is super useful
for cruising because you can put your wet bathing suits into it and avoid soggy luggage on your return journey home.
Carnival Cruise Checklist (Printable)
Download your own copy of my Carnival Cruise packing list PDF here.
You can also download my what to pack for a Carnival cruise checklist here as a spreadsheet if you prefer so you can plan and customize it on your computer. You just need to save a copy to your Google Drive or simply download it as an Excel spreadsheet.
You can also get my separate toiletries packing checklist here.
Carnival Cruise Prohibited Items
So what can you not bring on a Carnival Cruise? You would be surprised about what some people try and bring on board!
On a Carnival Cruise items not allowed include:
Irons, coffee pots, tea kettles or any other personal appliances – You can't bring an iron on Carnival Cruise but you can use them in the guest laundry.
Power strips with surge protectors – Powerstrips like this without a surge protector are fine though.
Water or soda in bottles (cans or boxes are ok)
Alcohol (other than one 750ml bottle of wine per adult)
Drones
Candles – If you're celebrating a birthday on board bring your own decorations but leave the candle at home! Waitstaff will do a cake and birthday candle in the main dining room for you though.
Shoes with wheels, hoverboards or rollerskates
Coolers larger than 12″ x 12″ x 12″
Questions or Comments on My Carnival Cruise Packing List?
Got any questions on packing for Carnival Cruise Lines? Need some help with your Carnival pre cruise checklist? If you have a comment or question on what to bring on Carnival cruise ships then just let me know in the comment section below. I'm happy to answer your specific questions on what can you take on a Carnival cruise,
Join Our Facebook Group to Chat More About Cruise Packing Tips
I hope you've found my Carnival cruise packing tips useful and you now know what to pack on Carnival cruise ships.
If you want to ask a specific question, chat to other cruisers about what to pack for your cruise or share your own cruise packing advice then join our Facebook group on Cruise Packing Tips! We would love to help you work out exactly what to pack or hear your own ideas about what gear you use on your cruise. Join us for some fun and friendly discussions.