This post may contain compensated links. Please refer to my disclaimer here for more information.
Wondering what to pack for a ski trip this winter? I've created this handy ski trip packing list to help you out! I've included a printable ski packing list that you can print at home to help you organise yourself or your entire family. After spending two winters in a row at one of the best ski resorts in North America, I think I have a good idea on what to bring on a ski trip.
I had no idea what to bring skiing when we were headed to Park City at the start of 2015. We had no winter gear so had to start from scratch. If you've never skied before or even visited a cold winter destination, it's hard to know what you need to bring.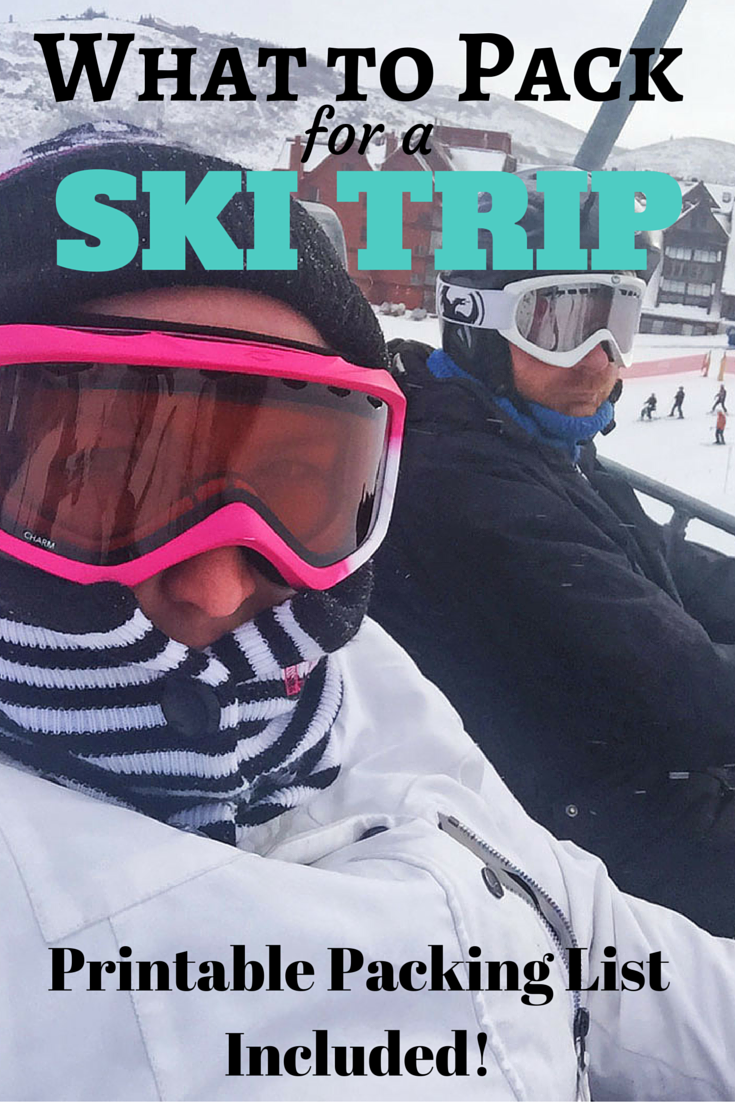 Tips on Packing for a Ski Trip
Pack Like Items Together
Instead of packing each person's belongings in a separate bag, I find it much easier to pack like items together. Pack everyone's ski clothes in one bag, pack off-mountain clothes in another, pack swim gear for the hot tub in a packing cube. If your kids are under 10, chances are Mom and Dad will be helping them get geared up each day.
Organise with Packing Cubes
Use packing cubes to organise your off mountain clothes. If you're travelling as a family, use one packing cube for each family member. Buying different colours will help you know who's is who's. You can keep everyone's swim suits for the hot tub in a separate one too. If you're not already a packing cubes convert, check them out here!
Read my complete guide to packing cubes here including a video on how to use them!
Duffel Bags or Suitcases?
Ski gear is bulky which makes it a little harder to pack and impossible to fold or roll neatly. Your clothes for the mountain will pack better into a duffel bag. Pack your boots in the middle and stuff smaller items, like ski gloves, around them. This duffel bag is a great size and is super cheap!
Be Prepared! 
If you're not used to the cold or haven't skied before, you won't know about all the little things that are essential during cold weather. Be prepared and come with warm clothes, waterproof boots and don't forget your bathing suit. Seriously! We use our hot tub at our ski condo in Park City all the time during the winter.
What to Pack for a Ski Trip
I've broken my ski packing list down into two columns depending on if you're travelling for a weekend or a whole week. Anything longer than a week and you can just wear and wash the same things over again. In North America, most ski resorts and ski condos will have drying racks and washer dryers in the unit. Most will supply laundry detergent but you might want to throw some Tide Pods in a ziploc bag just in case they don't.
Here's what you'll need when you're packing for a ski trip. Download the printable checklist version with quantities below!
Ski Clothes
Ski Gear – If you're renting ski gear on the mountain, skip this section.
Skis / Snowboard
Ski / Snowboard boots
Bindings
Ski poles
Helmet (if necessary)
Off-Mountain Clothes / Apres Ski Clothes
Ski Gear For Baby
Fleece blanket – Very useful for the car or when you're carrying baby around in a capsule, front pack or stroller.
Mittens – Ski mittens for kids are great for babies if they're old enough to play in the snow.
Diapers & Baby wipes
Toiletries
Shampoo & conditioner – Use GoToobs to help you pack lighter.
Deodorant
Soap
Moisturiser
Shaving gear
Hairbrush and ties
Contact lenses (if needed)
Medications (if needed)
Heat packs – These are AWESOME for gloves and boots on cold days!
Coconut oil– Can be used for wind-chapped skin and massaging sore muscles
Useful Extras for Ski Vacations
Ski Trip Packing List + Printable Download
Download this handy printable ski trip checklist for a family ski trip to help make travelling easier this winter. Or pin it for printing out later!
Download the spreadsheet: Click here to download a simple spreadsheet version of my ski trip checklist via Google Docs.
Download the printable: Click here to download the packing checklist as a PDF.
Or just click the checklist below and print!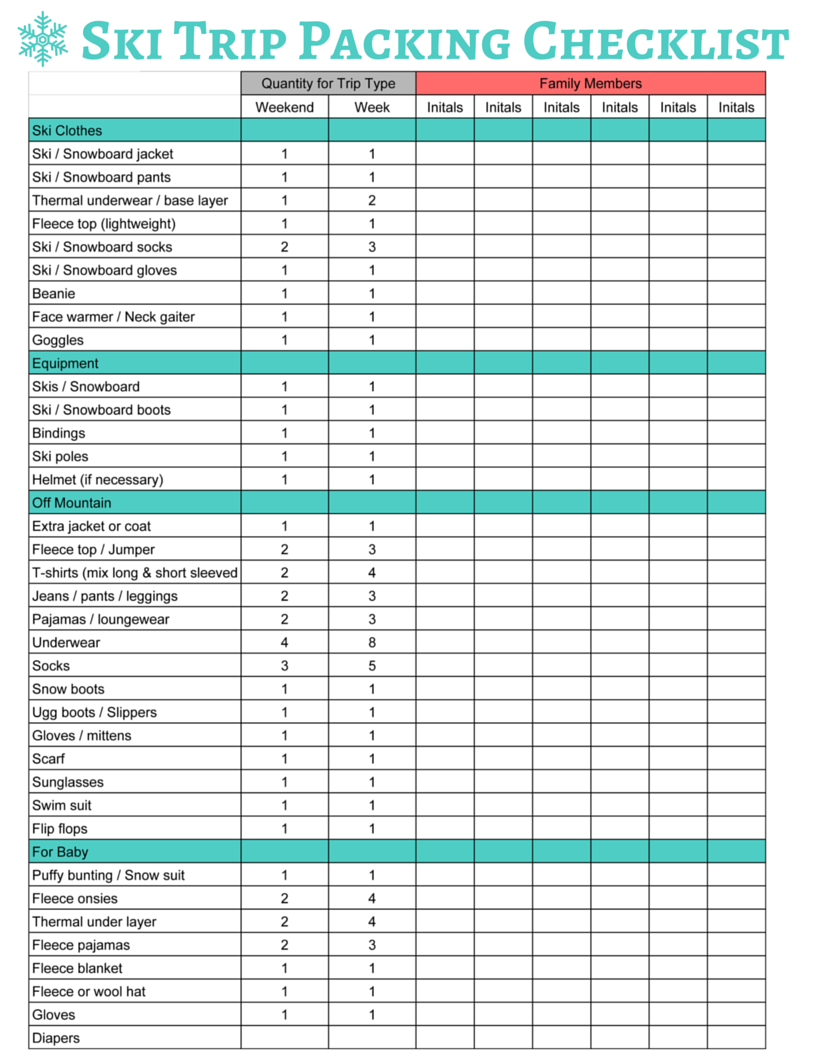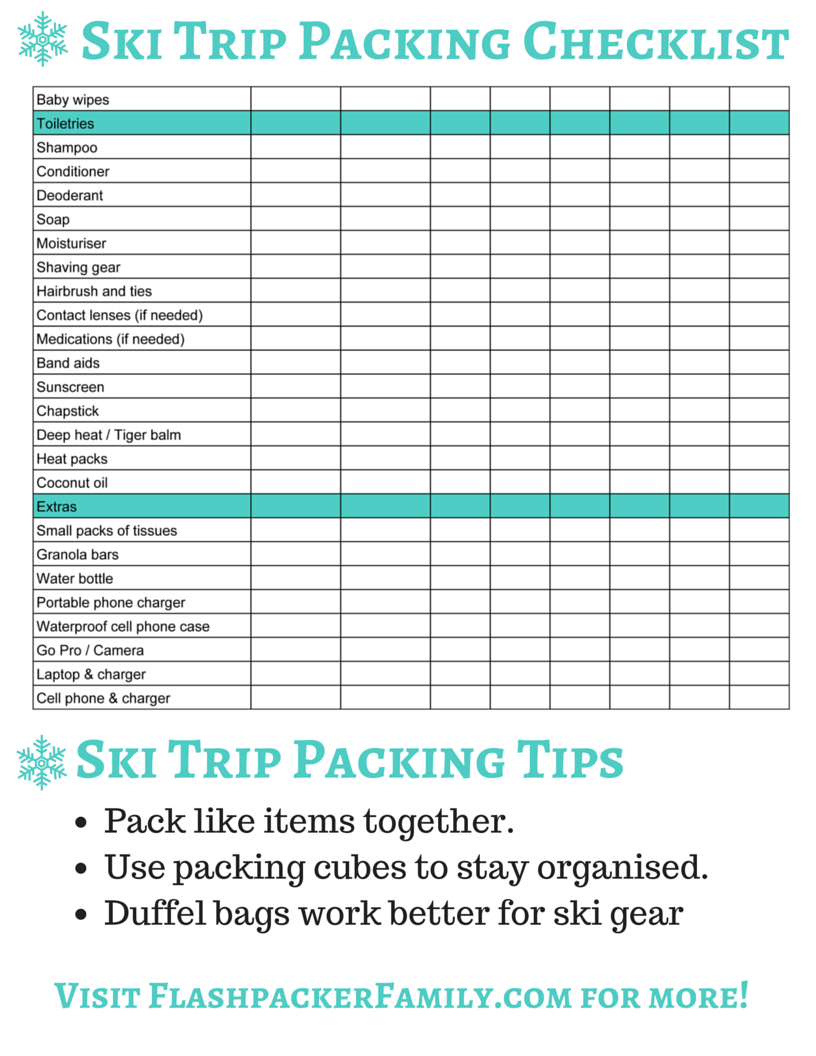 Here are a few pictures to show you what life at a ski resort is like!
PIN IT!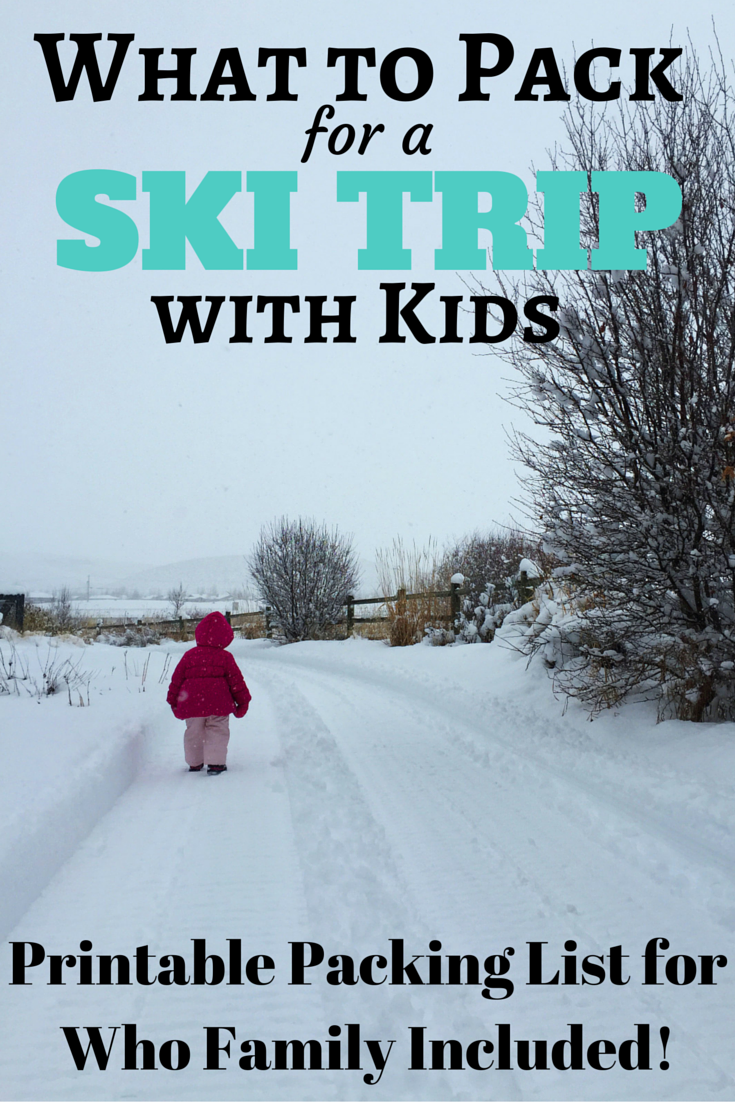 Got any questions?
If you have any questions about what to pack for your ski trip, please drop me a comment below and I'd be happy to help. You can also get in touch with me via my Facebook page.