This post may contain compensated links. Please refer to my disclaimer here for more information.
Koh Samui is one of the most popular islands in Thailand. If you're coming from the capital there are a couple of ways to get from Bangkok to Koh Samui. Some are easier than others. And some are cheaper than others. It's a trade off between money and time in most cases. Let's run through the options and help you decide!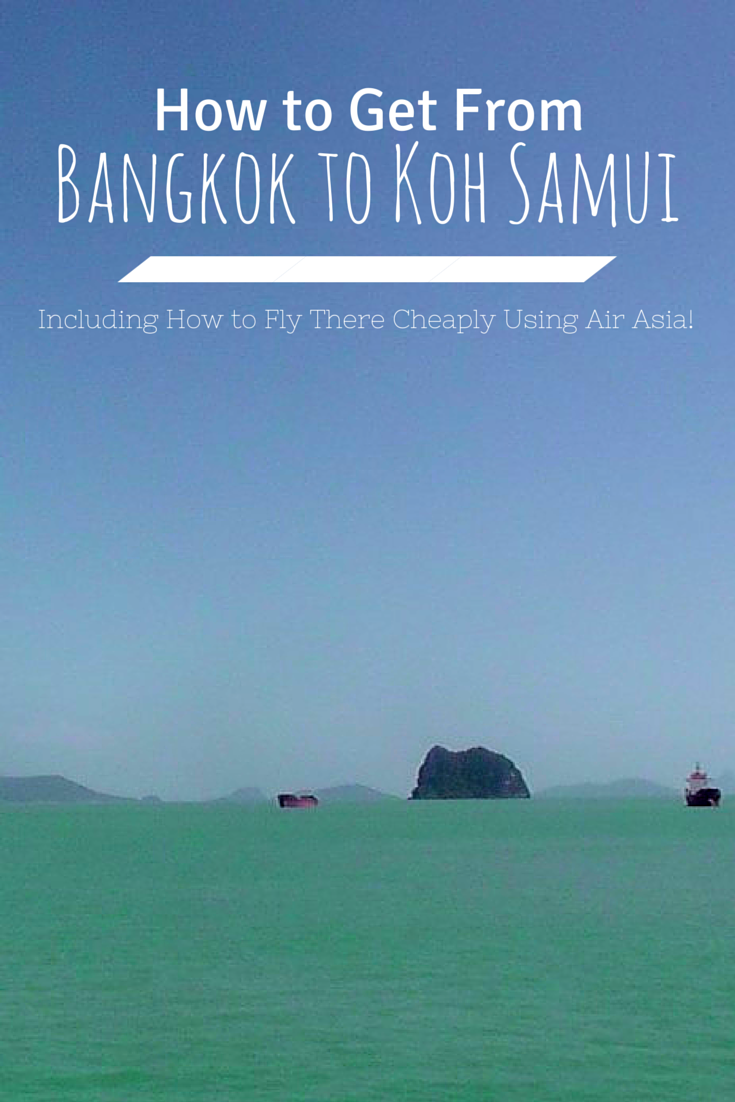 How to Get from Bangkok to Koh Samui:
1. Fly direct on Bangkok Airways.
This flight is incredibly expensive (anything from 3500B to 6000B one way) because Bangkok Airways owns the airport on Koh Samui, hence they have a monopoly on flights. They fly more than a dozen times a day and it is a convenient option if you're short on time and big on budget. The first and last flight of the day are always cheapest. For the average backpacker or flashpacker there are more cost effective options.
2. Take an overnight bus followed by a ferry to Nathon on Koh Samui.
Yuck. No thanks. I'm not into bus rides unless they're under four hours. If it's an overnight trip, the train is a safer and more comfortable option. Having said that, the buses I saw at the Southern Bus Terminal leaving for Surat Thani looked modern and comfortable enough if you were pinching pennies and didn't have a child to consider.
3. Take an overnight train to Surat Thani followed by a bus to the pier at Don Sak and then a ferry to Nathon on Koh Samui.
This is a good option. It'll save you the cost of a hotel overnight and costs under 1500B per person combined. However, the trains are well known to arrive into Surat Thani anything from one to four hours behind schedule. While you might think you will be arriving into Surat Thani at 7am if you're delayed and don't arrive until 11am you're eating into another full day of travel, difficult if you haven't slept well on the train.
4. Fly to Surat Thani on Air Asia then bus to the pier at Don Sak and ferry to Nathon on Koh Samui.
If you don't want to travel overnight, jump on the Air Asia flight to Surat Thani which leaves at 7am and arrives at 8am. If you're lucky enough to find a promo fare you could get this flight for next to nothing. Buying it a day or two before the flight and you'll still only pay around 2000B per person. You can buy a combined bus/ferry ticket on board the flight for another 350B – the same as purchasing them at the airport and saving you the trouble of looking for the ticket counter. The bus meets the flight at the airport and travels for 1.5 hours and then you'll get straight onto a ferry at Don Sak. The ferry then takes another 1.5 hours to reach Nathon on Koh Samui. The timing works perfectly and there is next to no waiting around.
Note: You can also use this method to travel from Kuala Lumpur to Koh Samui via Air Asia flights Surat Thani. Very convenient!
If you're travelling with children and you're on a budget….
We went for option number four. We had planned on taking the train but were put off by a couple with a toddler who had just done it. They experienced delayed train and long wait times between train/bus and bus/ferry. Even though we would have enjoyed the concept of an overnight train ride, the reality was simple – if Reuben lost his shit (once again) we'd be stuck on a seemingly never-ending train ride with a kicking and screaming toddler.
Our flight went well and arrived 10 minutes ahead of schedule. The bus ride was pleasant – pretty countryside dotted with small towns and plenty of greenery. The ferry ride was hot but wonderfully scenic. Lee was impressed by the colour and clarity of the water – it was his first glimpse of the beautiful Gulf of Thailand. Lee's friend who we are staying with on Koh Samui collected us at the ferry terminal.
It couldn't have been an easier journey.
Read more on travel in Thailand!
The Best Resort in Koh Samui for Families
Top Ten Things to Do in Bangkok with Kids
Planning a Short Trip to Thailand
Visiting Krabi in the Wet Season
Everything You Need to Know About Getting a Visa for Thailand