This post may contain compensated links. Please refer to my disclaimer here for more information.
Top 10 Things to Do in Bangkok with Kids: Updated December 2015
Bangkok is paradise for the hedonistic. The nightlife is legendary and things can certainly get wild. Posh party-goers, grungy backpackers and filthy old men are all catered to in abundance. Surprisingly, there is a lot on offer for families in Bangkok. Step away from Khao San Road and Soi Cowboy and you're find plenty to amuse your little ones, no matter what their age.
If you're visiting Thailand with kids, you'll most likely be coming in and out of Bangkok. Here's my list of the top 10 things to do in Bangkok for kids. Enjoy!
Read more: Our Expert Guide on Where to Stay in Bangkok with Kids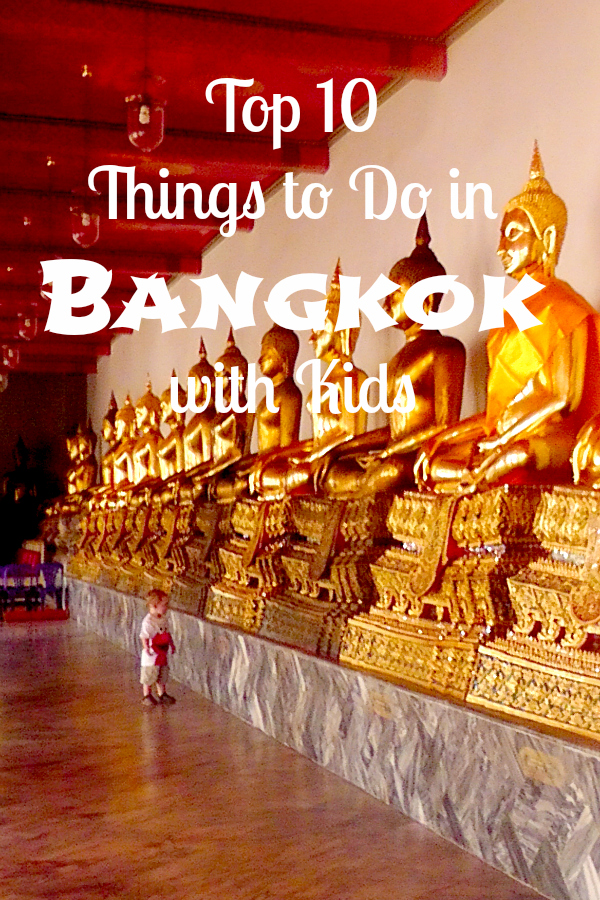 Top 10 Things to Do in Bangkok with Kids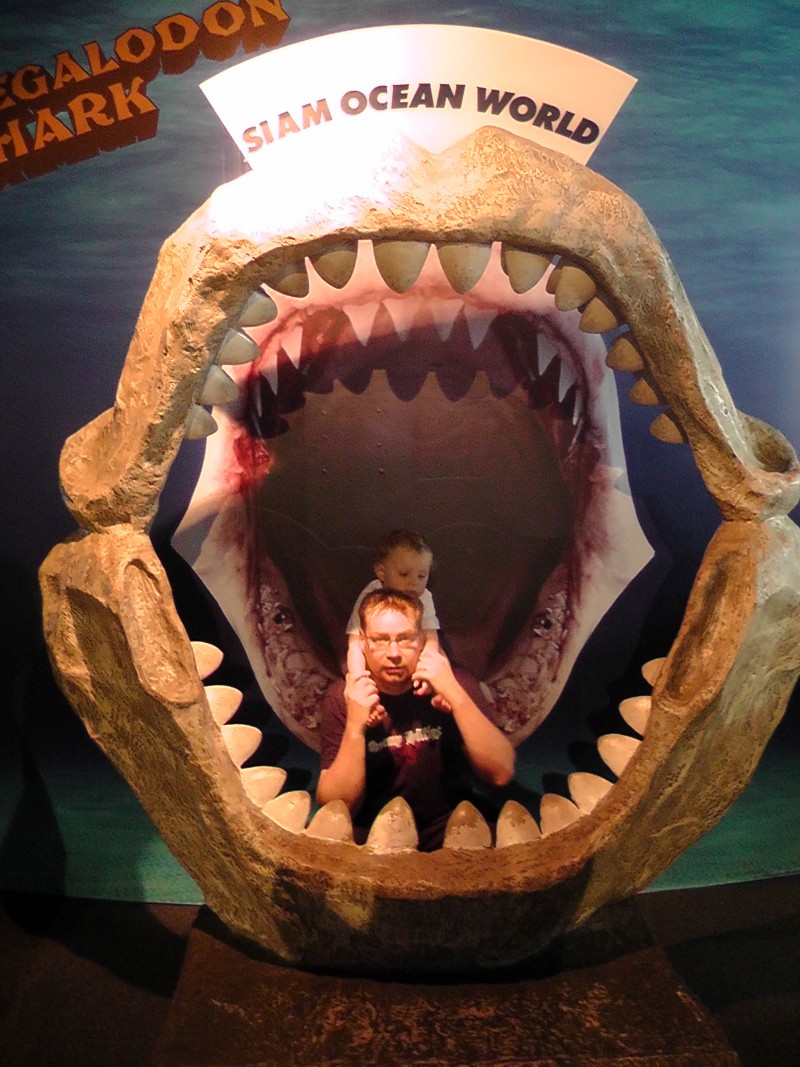 1. Explore Life Under the Ocean Waves
Thailand is famous for it's snorkelling and scuba-diving and even in Bangkok you can experience a little undersea action. Head to Siam Ocean World in the basement of the swanky Siam Paragon Shopping Centre.
Siam Ocean World is an interesting and educational undersea experience that will delight even the youngest children. Get up close and personal with starfish in the touch pool. Check feeding times before your visit and aim to see the penguins being feed. Definitely one of the most fun things to do in Bangkok for kids, but also quite expensive.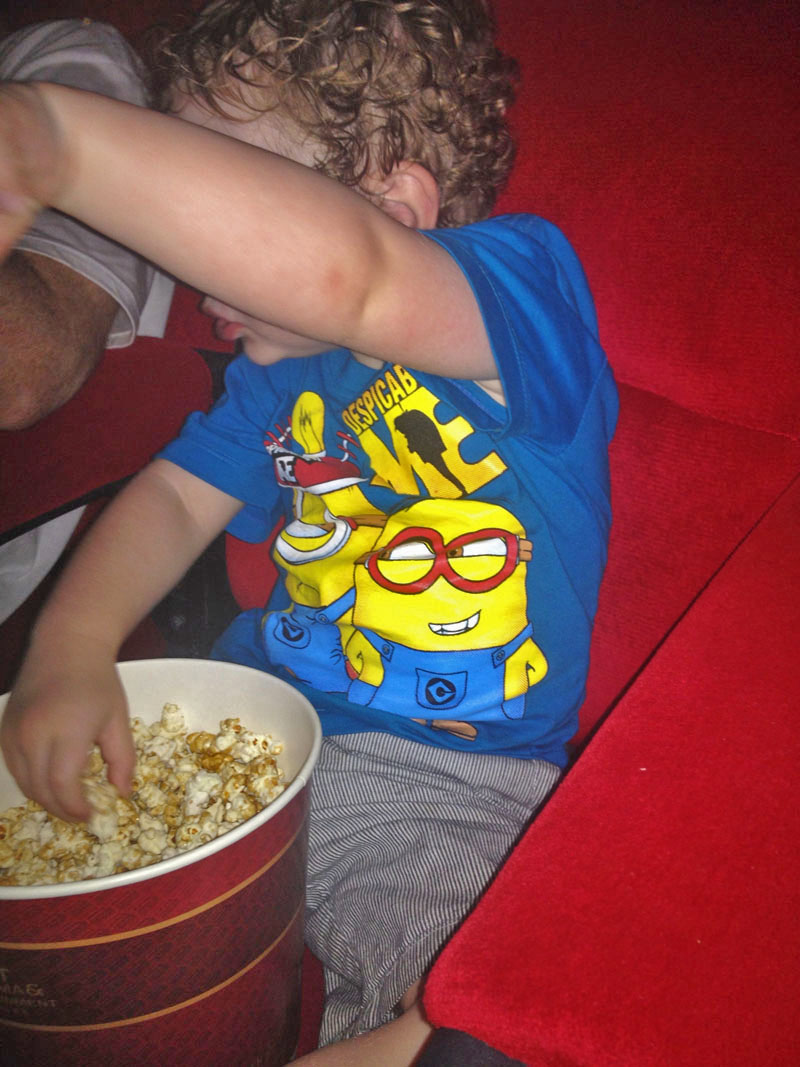 2. Take in a Movie
Movies are a super popular past time for Bangkok locals and are a fun things to do in Thailand with kids. There are several good theatres in town. Compared to the Western world, prices are cheap and standards are high. Almost every cinema has at least one 3D theatre.
You can see the latest Hollywood blockbuster for as little as 80B (US$2.50). Fancy seeing an IMAX movie? Head to the theatre at Siam Paragon. MBK has a range of different cinemas – 3D, digital and cheapies.
If you're staying near Khao San Road, go across the bridge to Pinklao for a quieter, more local experience. Like all the other food in Thailand, movie popcorn is extra delicious. We loved the sweet option – buttery, crunchy caramel or for the more adventurous palate try Teriyaki Salmon. Gulp!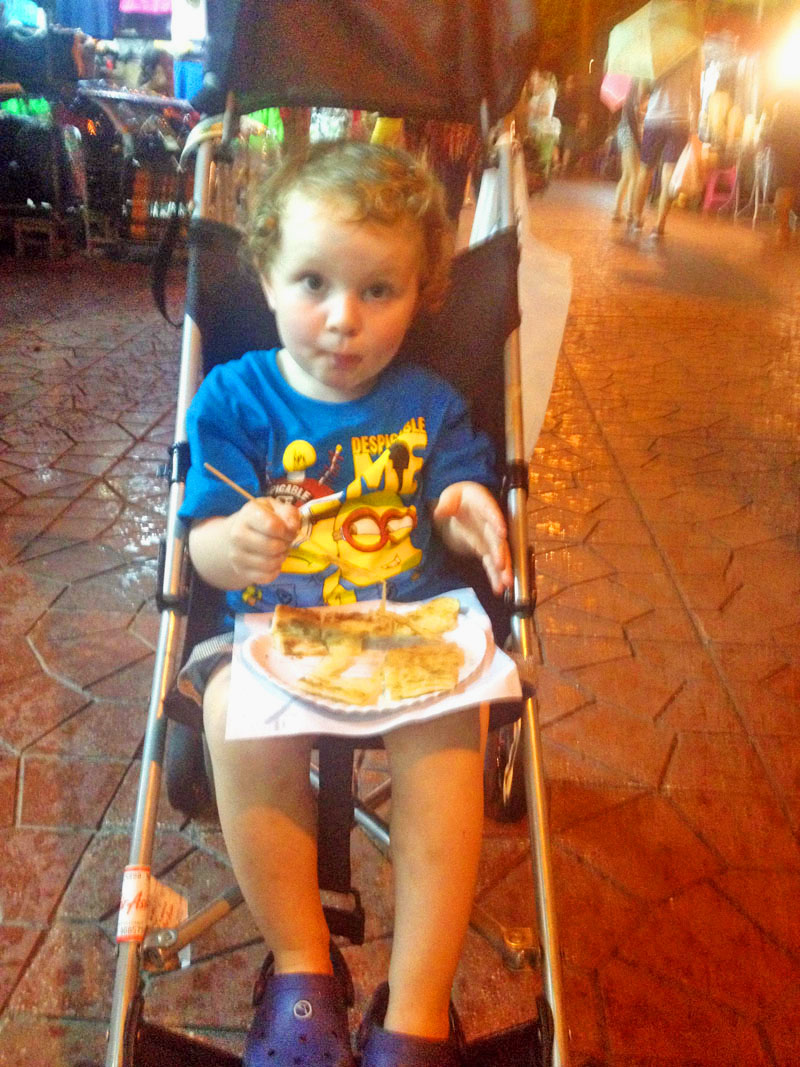 3. Experiment with Bangkok's Street Food Scene
Thai's are addicted to eating. Mealtime, schmealtime. Everywhere you go in Bangkok you'll find tasty street-side snacks, anytime of the day. The food is cheap and delicious. Portions are small so perfect for kiddies who just want to test something out.
When you're visiting Thailand with kids you have to give some local food a go. Grilled meat sticks, corn on the cob, banana roti pancakes and mango and sticky rice are all kid-friendly options. Street food is safe to eat. Look for stalls cooking made-to-order dishes and a high turnover of meals. If locals are eating it, it'll be good.

4. Cruise the Chao Phraya River
Cool down and see Bangkok in a different perspective by taking a cruise down the Chao Phraya River. You could opt for a dinner cruise but why waste money on an average meal? There's a better option when visiting Bangkok with kids.
For a few baht you can jump aboard the Chao Phraya Express which is a river bus running the length of the river that cuts through Bangkok. You'll get a great view of the riverside temples and see all the daily activity on the river. Avoid rush hour as boats can get crowded.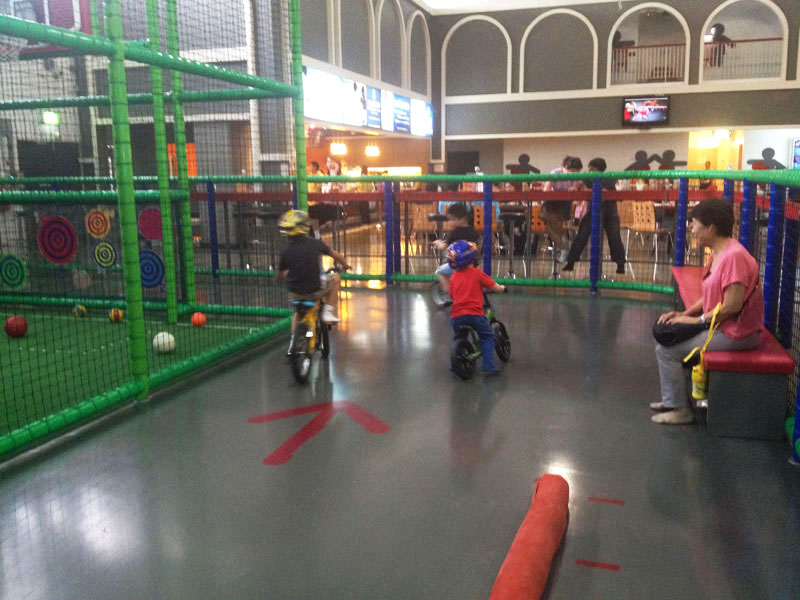 5. Play 'Til Your Heart's Content
With temperatures always hovering well above 30 degrees, it makes sense to head indoors to play especially if your kids are used to the heat. Indoor playgrounds are found in most big shopping malls (MBK is an exception). For 40B or so you can unleash your children into a perfectly padded playground filled with squishy slides and ballpits. Be sure to bring socks to wear. There are good playgrounds inside Central World Mall, Emporium and Siam Paragon (inside Ocean World).
Bangkok also has one of the best indoor playgrounds in the world – Funarium! Funarium Bangkok is a huge indoor playground with climbing structures, slides, ball pits, a bike & skating track, a craft room and more. The pest part is, it's fully supervised so you don't need to hover while your kids play. There's a parents room, a restaurant and even massage available for mom and dad!
Read more: Our full review on Funarium Bangkok and why we love it so much!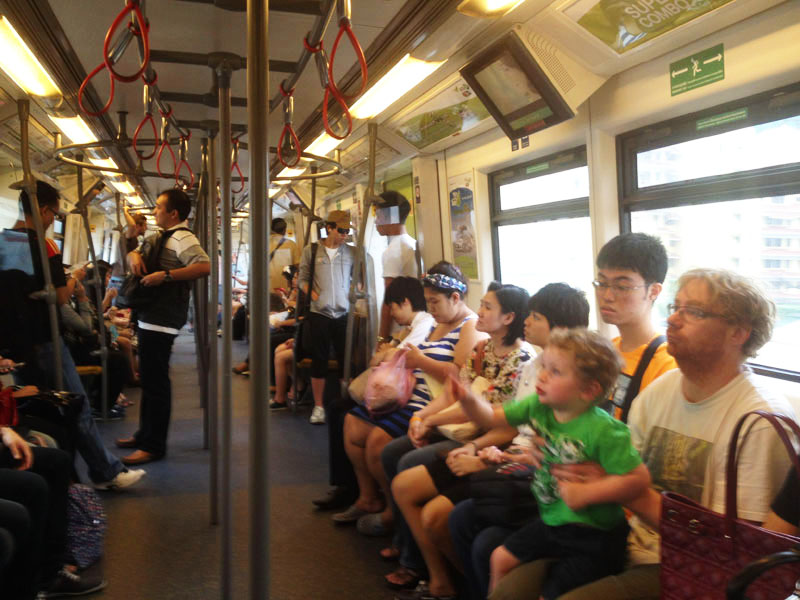 6. Ride the Skytrain
It's not about the destination, it's about the journey. If your not from a big city and don't ride public transport regularly, taking a ride on the Skytrain is super fun. It's fast, modern and futuristic. Train enthusiasts will love it. Not only is it fun, it's a great way to beat Bangkok's congested traffic situation.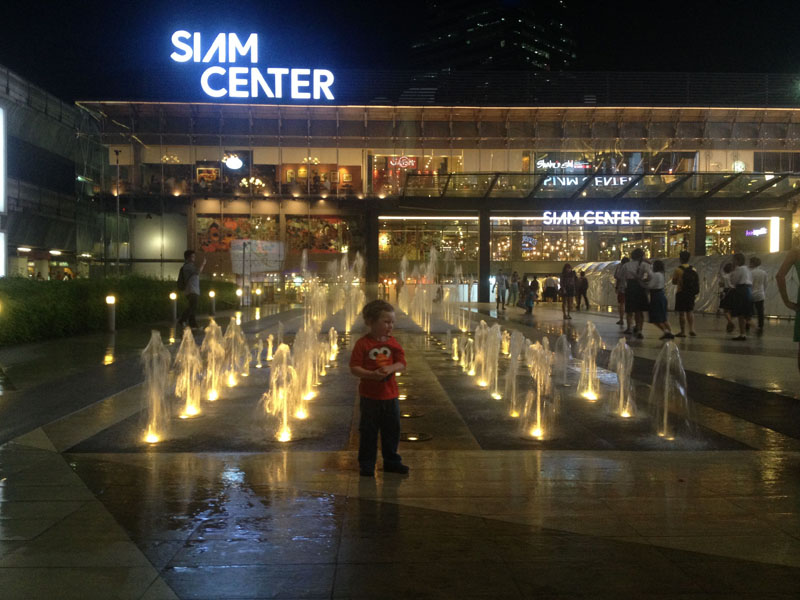 7. Get Outdoors
Bangkok has a few parks that can be explored with kids. Lumpini Park is the main green space in Bangkok and can be a nice spot to observe the early morning rituals of locals. There's a playground at the North of the park. Rot Fai Park, near Chatuchak market, is a popular place for local families on weekends. There's a playground, butterfly garden and lake.
Many of the shopping centres and malls also have an outdoor plaza or square. The plaza in front of Siam Paragon has some fun fountains. The Bangkok Farmers' Market is another fun place to take kids. There's lots of healthy food on offer, activities and entertainment. The location of the Bangkok Farmers' Market varies so check their website to find out where the next market is.
Because of the heat, any outdoor activities are best tackled in the early morning or evening. Just be sure to dose up on Mozzie repellent as this is also when the little blood-suckers are most active.
8. Learn to Cook
Cooking classes are a popular activity for adult tourists and, surprisingly, it's something kids can get in on too. If you'd like to attend a cooking class with your kids, just ask! Thai people love children almost as much as they love food. If they're old enough and well-behaved it could be fun. With Locals is a good place to start searching for cooking classes in Bangkok.
Your kids can also take their own cooking class at Funarium, a large indoor playground near the K Village shopping complex. Funarium offer cooking classes for kids between 5 and 12.
9. Cool Off in a Hotel Pool
Bangkok is one place were a hotel with a pool is a must! Nothing beats jumping into a cool pool after a long , hot day sightseeing. Use it as motivation to get your kids through seeing the sights you want to visit. Swimming is also a great tool to get your little ones over jet lag. For as little as 700B (US$23) you can stay in a hotel or guesthouse with a pool. Definitely worth it!
10. Go Out for Cocktails…
…no? Seriously! Just because you're travelling with kids doesn't mean you should miss out on a little fun. Taking kids out and about at night isn't frowned upon in Bangkok like it would be in Auckland or London.
You can take your older children up to the SkyBar atop the Lebua State Tower, made famous from the movie "The Hangover: Part Two" – kids over seven are welcome. If you're travelling with littlies, head for the Vertigo Bar at the Banyan Tree Hotel where there's no age limit. Provided you're scrubbed up well enough, you're welcome in the bar area. The view is great and the bar snacks are yummy.
What's on your list of top ten things to do in Bangkok with kids? Have I missed anything that you and your kids loved? Chime in and share your ideas!