This post may contain compensated links. Please refer to my disclaimer here for more information.
Food is a big deal in Penang. The locals are very proud of their cuisine. There a restaurants, food courts and hawker centres everywhere.
Hawker centres are a fantastic concept. Picture an outdoor food court where you can pick and choose from Chinese, Malay, Thai and Indian cuisines. Plates of food are cheap, at around 5 RM, and small enough to allow you multiple choices at every meal. Place your order with a vendor, tell them where you're sitting and when it's ready, your meal is served up to your table. If I could pick one conecpt to import to my life in New Zealand, the hawker centre would be it. The best ones we came across in Georgetown were the Gurney Drive Hawker Centre and Red Garden.
Having said that, we didn't warm to the traditional Penang delicicies. We found the famous fish laksa unstomachable, the char kway teow (fried noodles with prawn, cockles and Chinese sausage) overly greasy and the ice kaching (shaved ice topped with candied fruit, corn and beans) just down right weird. We tried the Malay food on offer, several times, and couldn't enjoy it. After Thai food, which we could happily eat plate after plate of, the Malaysian food tasted oily and bland. We much prefer the array of vegetables that comes with Thai food and the lighter, more fragrant palate of herbs and coconut milk. I can't stand chicken skin and it seemed to be in abundance in every meal we ate – sometimes more skin and bone than actual meat. MSG is used in almost everything which left us headachey and sleep deprived. Even when we asked for our food to be cooked without adding MSG (aginomoto) and were assured it wouldn't be used, we still felt the effects. It sure is nasty stuff!
After a few meals we worked out what we did like.
Lee and Reuben ate endless amounts of chicken satay… I'm talking 40-50 skewers per sitting!!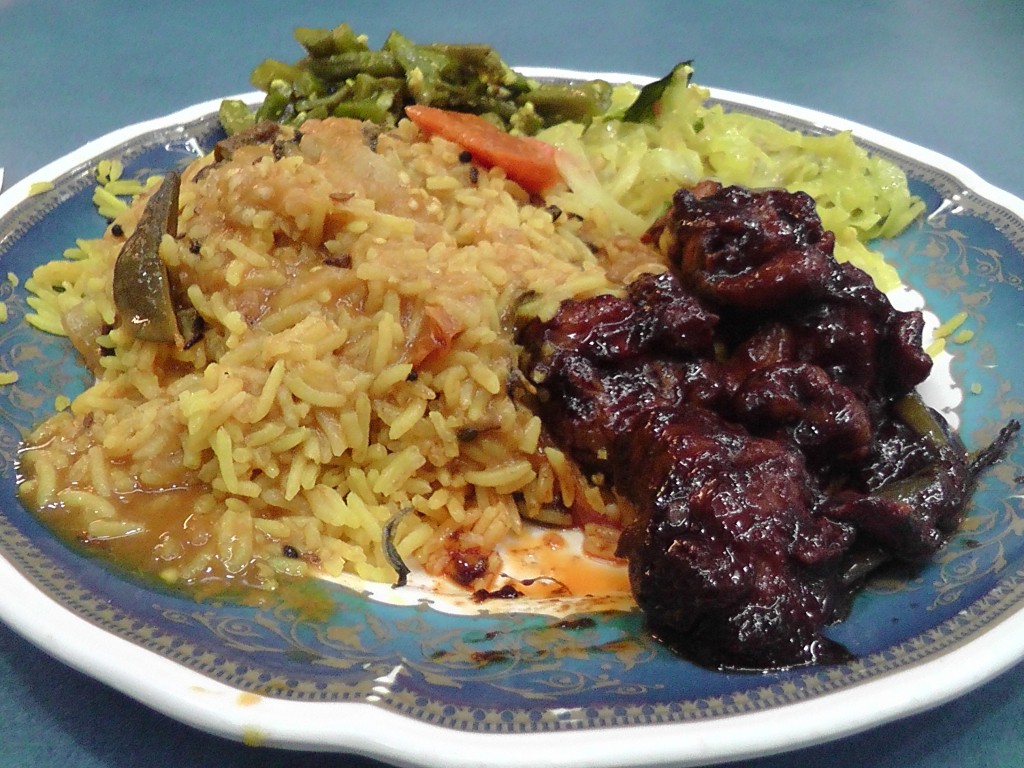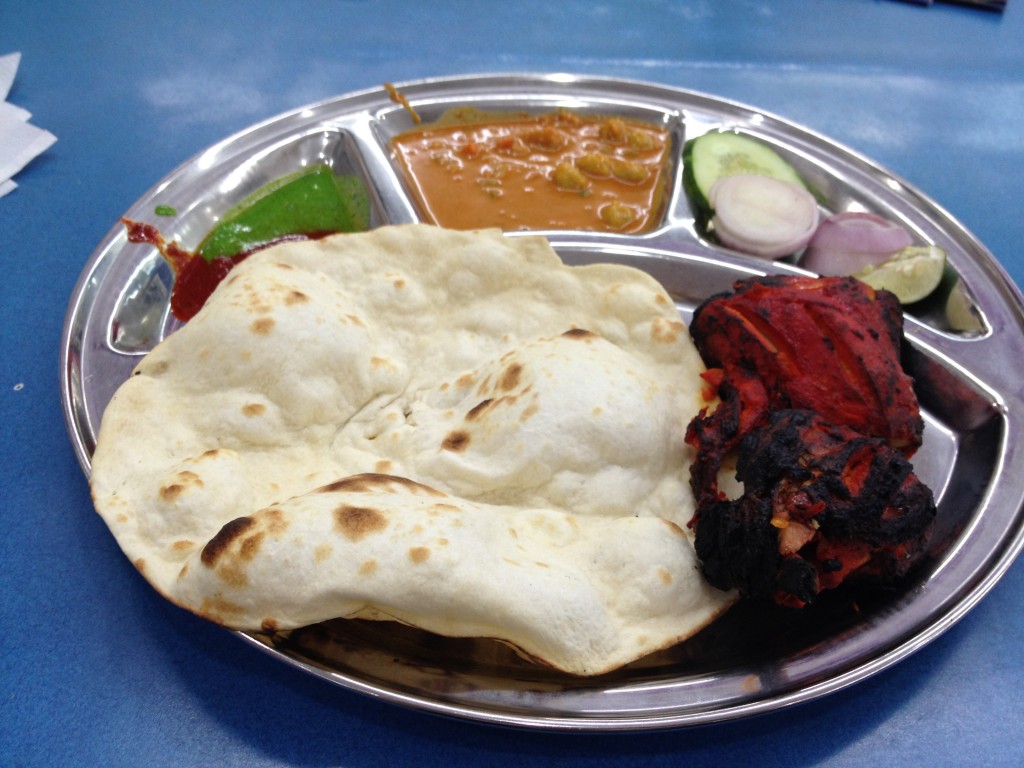 I couldn't get enough of the wonderful Indian food. If my meal had roti in some form I was a happy girl. Fortunately for us, there was a Resotran Jaya (found in several spots across Penang and open 24 hours) across the road from our hotel which made for conveinient breakfast, lunch and dinner. Roti Canai was the best – a warm, flaky roti filled with chopped tandori chicken and cucumber dipped into a mild dahl and a spicy curry. Just a few ringgits for a plate full of deliciousness.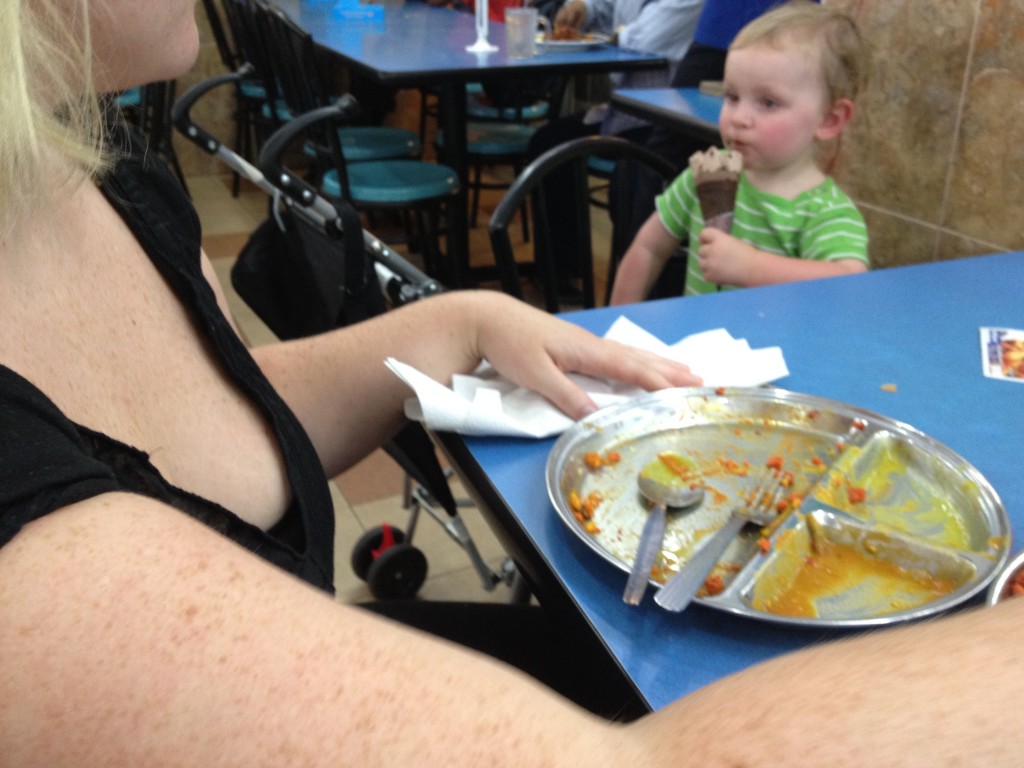 We had a few meals in malls which were OK – a neat sushi place where you ordered from an iPad at your table and a cook-it-yourself Korean BBQ. The food court in the basement of Gurney Plaza has an excellent food court. The one in Prangin Mall and First Avenue Mall weren't so good.
We sampled a traditional Indian banana leaf meal at the best place for it in Penang – Passions of Kerala in the New World food centre. While the food was just OK, the experience itself was great. Lots of little vege side dishes to accompany a big leaf full of rice and two massive bowls of chicken curry. I really enjoyed digging in with my fingers though found it hard to fight the urge to use my left hand. One only eats Indian food with the right hand. The left hand is reserved for my unsavoury activities.  I had to sit on my left hand to stop it creeping into my curry.
Expectations are a funny thing. After five weeks in Thailand, we were so looking forward to a different cuisine. We'd heard so many good things about Penang's food scene but ultimately we came away disappointed.
I'd love to hear from others on their opinions of the food in Penang and Malaysia.
If you liked this post, use the buttons below to share in on Twitter, Facebook or email it to a friend.