This post may contain compensated links. Please refer to my disclaimer here for more information.
Singapore and Kuala Lumpur are two of the major airport hubs in South East Asia. If you're travelling in the region you're bound to end up passing through one of these cities at some point on your journey.
But, if you've got a choice between Singapore or Kuala Lumpur, which should you choose for a stopover?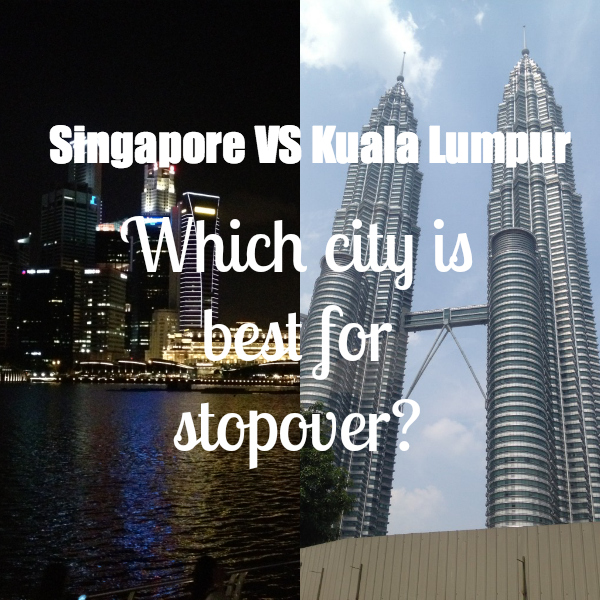 We recently passed through both cities for stopovers of three to five days so I thought I'd weigh up the options for you and let you know which city is best in which categories.
Let's find out!
Airport
Both Singapore and Kuala Lumpur have big, efficient, modern airports. It's hard to make a judgement call on this one. Singapore's Changi airport is closer to the city (about 20kms from the central business district) and the subway system makes it a snap to get to. KLIA (Kuala Lumpur International Airport) is much further from the city centre (almost 60kms) so you need to factor in a lot more time to reach the airport. If you're flying on a budget airline you'll also need to go through the low cost carrier terminal (LCCT) which is quite far from KLIA and rather crusty.
Win: Singapore

Accommodation
Both Singapore and Kuala Lumpur have some world class hotels but you'll pay through the nose for accommodation in Singapore while Kuala Lumpur is one of the most affordable places in the world to stay in 4 or 5-star luxury. We just stayed at the Shangri-La in Kuala Lumpur for US$200 a night…. the Shangri-La in Singapore is more like $450 a night. If your looking for guesthouse and hostels, Kuala Lumpur is definitely a better choice. If you do plan on staying in Singapore have a look at my tips on how to save money on hotel in Singapore. See my recommendations below on where to stay in both Kuala Lumpur and Singapore.
Win: Kuala Lumpur
Getting Around
Singapore definitely wins on the public transportation front. The SMRT is amazing. There's no need to taxi anywhere in Singapore as the subway system is great and only costs $2-3 a ride. While KL has public transport options, they don't cover the entire city or intersect with each other in an easy manner. Taxis are cheap in KL but traffic can be a nightmare in peak hours.
Win: Singapore

Food
The food in Singapore has got to be some of my favourite on the planet! I'd travel there over anywhere else in the world just for the food. Give me a bowl of noodles and I'm happy. Unlike the accommodation, the price of food in Singapore is actually more in line with the rest of South East Asia. You can eat a delicious meal in a food court or hawker centre for just a few dollars. Kuala Lumpur does have a good range of food options too. I'm not a fan of Malaysian cuisine though – I find it too greasy and MSG laden for my tastes. I do love the Indian food in KL but you can get that in Singapore too.
Win: Singapore
Things to Do
There's a lot on offer in both Singapore and Kuala Lumpur. Singapore has a lot of leisure activities like the zoo, night safari and all the fun stuff on Sentosa Island. It's a bit more Westernised feeling than Kuala Lumpur and some say it lacks a bit of charm or feels sterile. I don't agree and think it has it's charms such as the shop houses around Chinatown. Kuala Lumpur has the edge when it comes to iconic buildings. The Petronas Towers are beautiful and quite amazing from afar and close up. Sure, Singapore has the Marina Bay Sands now but it's not in the same league as the Petronas Twin Towers. There are quite a few fun things to do in Kuala Lumpur… there's even a theme park inside a shopping mall. There are a few popular culture activities like the Batu Caves in KL which Singapore just doesn't have.
I'd say this one is a draw.
Shopping
Singapore is famous for it's shopping. There are strings of shopping malls on Orchard Road. It's mostly high end or western chain stores like Top Shop, Esprit etc. Electronics and camera gear have always been popular purchases in Singapore. Kuala Lumpur has plenty of glitzy shopping malls too like the new Pavilion mall. It also covers the cheaper end of the scale. You can buy lots of knock off perfumes, handbags and watches in the night market on Jalan Petaling in Chinatown.
I'd say this one's a draw too.
The Result?
If budget permits, don't miss Singapore. Even if your stopover is for the food alone. Kuala Lumpur is a great antidote when you feel like you've had too long on tropical beaches and in jungles. KL covers pretty much all the same bases as Singapore but at better prices. Both cities are great stopover cities, three or four days in each should suffice. If you've got the time, why not do both? It's a short flight between KL and Singapore and if you buy it right it'll only cost between $20 and $60.
Looking for a hotel in Kuala Lumpur or Singapore?
Here are some of the best hotels in Kuala Lumpur or Singapore that we personally have stayed at and can recommend:
Kuala Lumpur
Traders Kuala Lumpur – One of my absolute favourite hotels on the planet. Right in the heart of KLCC with views of the Petronas Towers, a roof top pool & bar and stunning views. 5-star with prices from $120 a night. Check prices and availability for your dates here.
Shangri-La Kuala Lumpur – A beautiful hotel with the biggest bed I've ever seen. The hotel also has an excellent buffet. Location is walking distance to KLCC. This might be the cheapest Shangri La to stay at in the world! 5-star with prices from $145 a night. Check prices and availability for your dates here. 
Concorde Hotel Kuala Lumpur – A lovely hotel with a great pool deck and one of the best FREE breakfast buffets ever. Walking distance from KLCC, the Concorde has a great view of the Petronas towers. 4-star with prices from $65 a night. Check prices and availability for your dates here.
Singapore
Hotel Fort Canning – A beautiful, colonial building converted into a luxury hotel. Set in green space in Fort Canning Park and surrounded by the city, this hotel is very special. You can read my review of Hotel Fort Canning here. 5-star with prices from $230 a night. Check prices and availability for your dates here.
Carlton City Hotel – This hotel is a new addition to Singapore's skyline. When we visited, it was only a few weeks old. A modern, high rise hotel just steps from Tangong Pajar metro station. 4-star with prices from $135 a night. Check prices and availability for your dates here.
Amara Singapore – Glass and glossy on the outside but with warm, welcoming decor and the most wonderful smell inside. The Amara has a wonderful pool deck that sits among the high-rise buildings surrounding it. Just a short walk from Tangong Pajar metro station.  4-star with prices from $123 a night. Check prices and availability for your dates here.