This post may contain compensated links. Please refer to my disclaimer here for more information.
Wondering what to pack for Japan? I decided to put together a Japan packing list after our recent trip there. This was my second trip to Japan so I've visited once in September/October and once in April. to help you know plan the essential things to bring to Japan.
This post also covers what to wear in Japan (and conversely what not to wear in Japan). You'd be surprised at how many people wonder how to dress in Japan and what do Japanese people wear. I guess it feels like such a foreign culture that it could seem overwhelming working out what clothes to wear in Japan.
You can print out this Japan travel checklist and use it to organize your packing. There's a PDF and spreadsheet towards the end of the post.
While this post is about packing for Japan, we also visited Korea and Shanghai on the same trip so you could definitely use this as a guide for what to pack for Korea and China also.
What You'll Find in This Post
What to Wear in Japan
Here are a few tips on what to wear in Japan:
Smart casual clothing is what people wear in Japan. Shorts are not commonly worn even when it's warm (although people will understand you're a tourist!). No leggings as pants. Japanese people always look well put together and smartly dressed.
Flip flops are for inside so don't wear them out and about.
Jeans are a great option for Japan. I normally don' travel with jeans but found them useful in Japan.
One nice outfit for cocktail hour at the Park Hyatt Tokyo. Add this to your list of what to pack for Tokyo.
Shoes that slip on and off easily are essential. Even for sneakers, pick ones that pull on instead of lace up.
Comfortable shoes for lots of walking. We regularly walked 15,000 to 20,000 steps a day in Japan!
Layers! The weather in Japan can change quite quickly.
Modest dress is recommended for temples and shrines. No shirts, covered shoulders.
Bear in mind the seasons as the weather is quite a factor when working out what your Japan trip packing list. Here are some tips:
What to wear in Japan in Summer – Summer is hot and humid in Japan so pack light, airy clothes.
What to wear in Japan in October / November – Fall is a great time to travel in Japan. Bring clothes you can layer as the weather can go from quite warm at the start of October to crisp and cool.
What to wear in Japan in Winter – Winter in Japan can get super cold and snowy. Bring good shoes or boots plus layers, a coat and a waterproof outer layer. If you're visiting the snow monkeys in Japan you'll definitely need to bring gloves and a hat plus sturdy shoes and warm socks for the hike!
What to wear in Japan in April / May – Spring is the ultimate time to travel in Japan. Again, bring layers as it can go from warm and sunny to cold and windy.
Here are some examples of what I wore in Japan (and Korea & China as this was part of the same trip):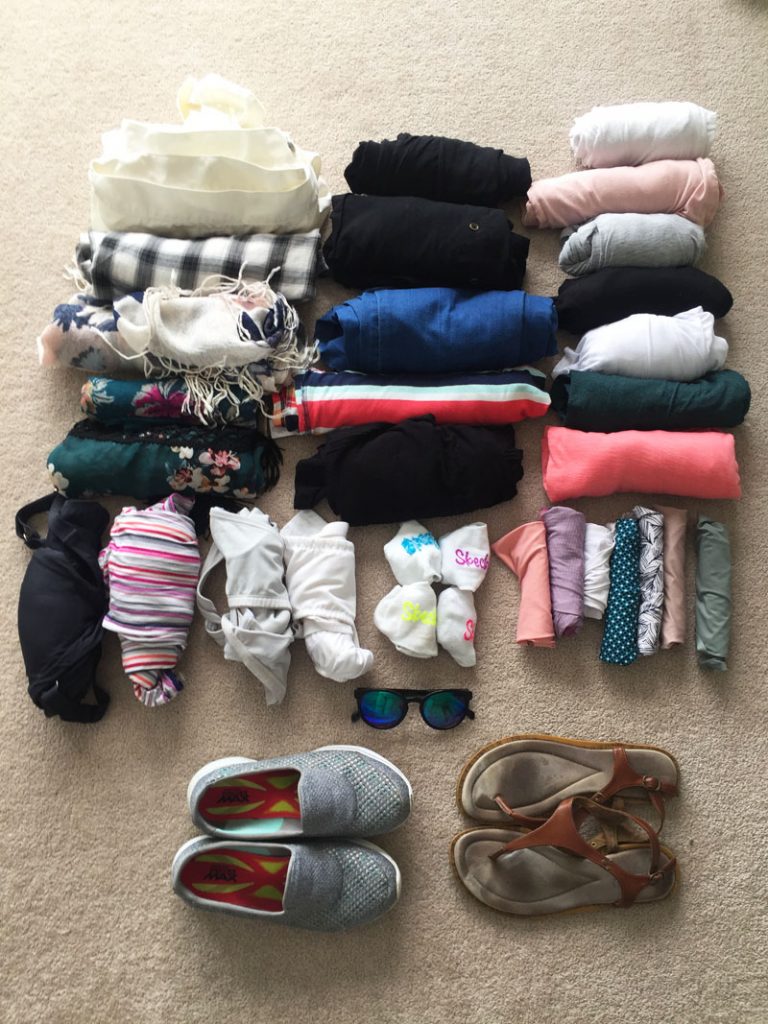 Japan Packing list
I've outlined everything you should be packing for Tokyo and beyond. Scroll further down to get a printable version of this Japan travel packing list.
Clothes to Pack for Japan
This list of what to pack for a trip to Japan is enough clothing for one to three week trip. I recommend packing light for Japan. If you're on a two or three week trip to Japan you will find it pretty easy to do laundry along the way in Airbnb or hotel laundry rooms so you can wash your underwear and t-shirts and get another week out of them.
Consider this list a Spring/Fall packing list for Japan. If you're traveling in summer, sub out the jeans for shorts and lose the jersey and merino. If you're traveling in winter, you will need to add in a jacket or coat, an extra jersey, some long sleeved t-shirts, socks and an extra pair of warm leggings (or thermals).
Jeans x 1-2 – Generally, one blue and black works best for me for travel. Jeggings all the way for comfort! I only bought my blue ones with me to Japan because I checked the weather before we left and noted how warm it was going to be so switched out my black jeans for a black skirt instead. If you're traveling in summer I would sub out one pair of jeans for another dress or skirt.
Leggings – To wear on the plane or under dresses as a layer (a pair of joggers works for guys)
T-shirts x 6
Dresses x 2 – I only packed two for travel in September/October, one striped and one black that I could dress up for evening. In summer I would pack another one for sure.
Skirt
Shorts – For guys, traveling in Japan during the Spring, Summer or early Autumn I would recommend bringing 1-2 pair of shorts. It was very warm when we were in Japan in September/October and I only saw TWO Japanese men wearing shorts in two weeks! That's not to say don't bring them but just bear in mind that it's not common to see people wearing shorts in Japan. I didn't see any women wearing shorts the entire time I was in Japan. I would suggest skirts or dresses for women instead but… girl, if you really love shorts. then bring them.
Cardigan/Jersey/Hoodie – One for Autumn, two for winter. I didn't bring a jersey or cardigan and just used a light jacket instead as the weather forecast was much warmer than I expected. Lee packed a light hoodie which was perfect for early October.
Light jacket – A brought a white denim jacket with me and it was very useful.
Casual shirt – I have a light chambray denim shirt which is great as an extra layer when traveling, can be worn open or closed. A plaid shirt would work too. I bought plaid because I wanted it as a warmer layer in case the weather cooled off as it was Autumn.
Dressy top – I bought one kimono-style top with me to dress up my black dress or wear over t-shirt & jeans for a light layer. I find these chiffon kimono-style tops the most useful things to pack because they take up almost no room but are very good at quickly elevating an outfit. For guys a polo shirt or dress shirt is fine.
Merino base layer – The weather can be quite changeable in Japan and a Merino base layer doesn't take up much room but can make any outfit instantly warmer.
Lightweight rain jacket – Even if you're traveling in Summer, bring a lightweight rain jacket. We had to buy ponchos on our first day in Japan and used them several times during our trip because of the rain.
Bras x 3 – I only packed two and REALLY wished I'd had a third because it was quite hot and humid when were there.
Underwear x 7-10 – Depends on if you're the type of person who likes to change their underwear if they change clothes from day to evening!
Socks x 4-5
What Shoes to Wear in Japan
Sneakers – Comfy walking shoes are a must for Japan
Flats – Either sandals, ballet flats or ankle booties depending on which season you visit
For me, two pair of shoes was enough to pack for Japan. A wore a pair of Sketchers Go Walk sneakers on the plane and packed a pair of leather sandals which were good enough to wear out at night. Lee only bought one pair of Onitsuka sneakers and wore them the entire time. We did get caught in the rain a couple of times during our Japan trip. We had to dry our sneakers with a hair dryer!
Accessories
Sunglasses
Sunhat – If you're visiting the theme parks I would definitely recommend a cap or sun visor that easily packs.
Scarf x 1-2 –  Either light or warm depending on the season, good for changing the look of an outfit without much effort.
Hat and gloves from November to April
Swimsuit
Toiletries
Make up – Japanese women tend to wear light make up and a bright lip. Make up is a good buy in Japan so you can definitely pick some great products up there!
Menstrual products – Definitely add these to you list of things to buy before going to Japan as the type used in Japan is quite different to other countries.
Electronics
Japan has 100V electricity which is slightly different to the rest of the world. Make sure you bring dual voltage electronics with you to Japan.
Laptop / iPad / Kindle
Camera
Smartphone
All chargers
Travel plug adapter – If you're from the US, you won't need one as they use the same plugs as North America.
Power strip – If you're bringing lots of electronics that need charging it's useful to bring your own power strip so you only need one international plug adapter
Hair straightener / Flat iron – You won't need a hair dryer as they are most often provided, even in Airbnbs. You might like to bring a travel flat iron with you.
Japan Travel Essentials
When planning what to bring to Japan there are a few little things tha can make your trip more comfotable. Here are some Japan travel essentials:
Pocket wifi like TEP wireless (or pick up a local sim card on arrival)
Water bottle – You can drink the tap water in Japan so bring a refillable water bottle. Collapsible water bottles like this are great for travel.
Facecloth – Paper towels and hand dryers aren't common in Japanese restrooms so keep a facecloth in your bag for drying your hands (or buy one there!)
Hand sanitizer – Often there is no soap in bathrooms so bring hand sanitizer
Documents
Passport
Visa – Many countries do not need a visa for visits to Japan under 90 days e.g. New Zealand, Australia, USA, Canada and EU countries. Check here to see if you need a visa for Japan.
Japan Rail Pass – You must purchase this in advance outside of Japan and bring the printed voucher with you. Very important!
Cash – I would definitely recommend bringing some local currency with you just in case your card doesn't work at the airport ATM
Credit / debit cards
Travel insurance – If you're coming from Australia/New Zealand we recommend Travel Insurance Direct. If you're coming from the US we recommend World Nomads or Allianz.
Japan Travel Checklist
Best Luggage for Japan
Now you know what to bring to Tokyo and beyond, you need to know how to pack for Japan. Travelling with luggage in Japan is quite easy but I recommend you only travel with carry on sized luggage.
Carry on suitcase – A small carry on sized suitcase with spinner wheels is the best luggage for Japan. Why? You'll be climbing lots of stairs at train stations, navigating crowded metros and storing in overhead luggage compartments on a Shinkansen. Don't be the jerk who takes up a whole row of seats on a crowded train because their suitcase is so big.
Backpack – In addition to a carry on suitcase I would also bring along a backpack. A small folding backpack like this makes an excellent Japan travel backpack. It folds up and you can store it in your luggage when not using it. If you're not confident you can pack everything into a carry on suitcase then bring along a bigger backpack that is still carry on sized. This post has some awesome travel backpacks for women.
Crossbody Travel Purse – I find a crossy body bag like this the most useful travel purse.
Packing Cubes – Definitely bring along packing cubes to organize your luggage. It makes it so easy to pack with carry on only. You can read my tips on how to use packing cubes here.
Laundry Bag – I was surprised at how easy it was to do laundry in hotels in Japan. Almost every hotel and Airbnb we stayed at had a laundry room or washer/dryer. We always travel with a dirty laundry bag like this.
Toiletry Bag – This is my favorite toiletry bag for travel.
If you're looking for useful gifts for someone travelling to Japan then any of these packing items would make a great present.
What to Bring to Japan for Kids
Working out what to bring to Japan for kids is actually pretty simple. It's so easy to buy anything you need in Japan and "stuff" is quite cheap. I don't think you need to pack anything special when visiting Japan with kids.
Don't bring many toys! Your kids will want to buy stuff in Japan! There is so much cute & cool stuff for kids in stores in Japan. It would be wise not to bring any toys or games with you and just let them pick up fun, new bits and pieces as you go at places like Daiso. We ended up buying puzzles, bingo cards and Hello Kitty everything.
Should you bring a stroller to Japan? Unless you have a toddler who is a real runner, I would not recommend bringing a stroller to Japan. In train stations and subway stations, there are often stairs without an easily accessible escalator or elevator. If you have a baby, a baby carrier is a better option and it's what I saw most Japanese mothers using in the cities. It is easy to rent a stroller for theme park visits. There are also free strollers to use at shopping malls and supermarkets which were very handy.
Japan Packing Tips
Here are a few Japan packing tips to help you organise your list of what to take to Japan:
Bring a carry on sized suitcase for your clothes plus a backpack to use for day to day stuff like your guide book, snacks for the train and jacket.
Make sure you leave some space in your luggage for souvenirs. There is so much cool stuff to buy in Japan from cosmetics to toys. Leave a little space for purchases or bring a canvas shopping bag or small, foldable tote bag.
Bring a few small gifts from your home country in case you are invited to a Japanese person's home or for a host. Gifting is a big thing in Japan and it's nice to have a few stickers or magnets to give out to people.
Check the weather forecast before you visit and bear Japan's seasons in mind when you are packing. You might be surprised at just how warm it can be in Japan! We experienced several days in the early 30s° C / mid 80s° F even when traveling to Japan in the early Autumn.
Prepare for changeable weather in Japan. We found that the temperature varied quite a lot from day to day and between locations. A rain jacket or umbrella is a must in any of the seasons. Definitely add this to your Tokyo packing list.
If you do want to travel with a larger suitcase, for example if it's winter or you're on a ski holiday, the consider using a luggage forwarding service which is a popular concept in Japan where you send your suitcase on to your next destination from hotel to hotel.
Got Questions on Things to Pack for Japan?
Thanks for reading through my list of things to take to Japan. These travel essentials for Japan will help you get organized and work out how to prepare for a trip to Japan.
I hope my Japan trip checklist has helped you plan the right things to bring when traveling to Japan. If you've got a question or comment on my Japan travel list then do let me know in the comments below. If you're still wondering "what do I need to travel to Japan?" I would be happy to help!
Pin this post for later!