This post may contain compensated links. Please refer to my disclaimer here for more information.
With the winter approaching and school holidays coming up next month, now is the time for Kiwi and Aussie families to book a trip overseas. Escape the cold weather, school days and break out of your routine with a journey to one of these fantastic holiday destinations. School holidays are time to relax together as a family and create precious memories through travel. You can travel as near or as far as your budget permits but I've put together a few suggestions for family holiday destinations you might like to consider.
Kiwis are taking advantage of the school holidays with a much needed break. Auckland Airport is expected to be the busiest airport with more than two thirds (68%) of all school holiday travellers set to pass through its gates over the two week period over the winter school holidays. 9 July and 15 July the most popular days for departure so if possible choose to fly on another date.
While Australia remains the number one destination for Kiwi families, and with good reason, there are a couple of other options that I would love to share with you! Here are my top choices for a break from winter for Kiwi & Aussie families.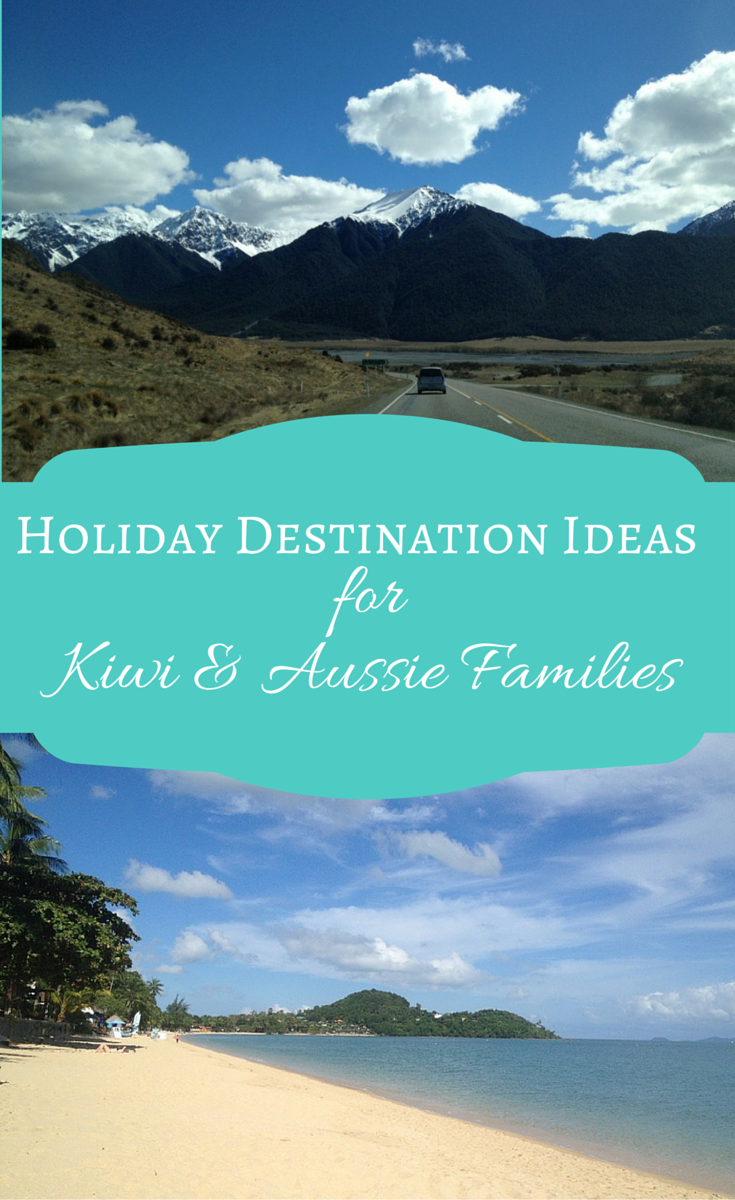 Far North Queensland
Kiwi & Aussie families have long been heading to the Gold Coast and Sunshine Coast in Queensland for their family vacations. It's the first place I visited overseas when I was a five year old! While these are still good choices for the school holidays, venture a little further north in the Sunshine State and you will be greatly rewarded. From Cairns you can easily access the Great Barrier Reef, travel to Fitzroy Island, ride the Kuranda Scenic Railway and explore the Daintree Rainforest. Townsville is a great winter family destination with lots of things for families to do. There is a lovely walk along the seafront called The Strand that has playgrounds, cafes, and swimming pools along it, as well as the sandy beach.
Travel Tip: From Townsville, catch a ferry over to Magnetic Island for the day and, from July to August, you might see some whales on the way. Hop on a bus to travel around the island.
Getting There: To explore FNQ, you can fly into Cairns or Townsville easily from many cities across Australia. From New Zealand you can fly direct from Auckland to Cairns otherwise you'll have to make a connection in either Sydney or Brisbane.
Campervan Trip Around New Zealand
Embrace the cold weather and enjoy some of New Zealand's best sights by taking a campervan trip around either the North or South Island. The North Island will be slightly warmer than the South. The North Island is packed with geothermal pools which are great for a winter soak as well as sights like the Waitomo glowworm caves and the Hobbiton movie set in Matamata. If you want to enjoy a spot of skiing, then head to the South Island and road trip anticlockwise around the island from Christchurch before parking up in Queenstown for a few days on the slopes.
Travel Tip: If you can be a little flexible with your dates, you can get campervans for only $1 per day by relocating them between Auckland and Christchurch. You generally get 5-7 days to complete your journey. Search for relocation rentals on Imoova.
Getting There: Flights into Auckland or Christchurch are easy to find from any cities in New Zealand or Australia. New Zealand is a good choice if you don't want to fly too far for your holiday.
Bali
Bali is Australia's favourite holiday island… and with good reason. It's the closest place for Aussie families to escape for a tropical break with side of Asian culture. Don't go to Kuta Beach! There are much better spots to visit in Bali for families. Nusa Dua and Seminyak are the best beaches to head to for a five-star resort break. Ubud is a hot spot for Balinese culture and lovers of the alternative lifestlye. Think yoga, raw food and reiki.  You can also venture further afield to the delightful Gili Islands which are part of Lombok but only a short speedboat ride from Bali.
Travel Tip: Bali's dry season runs from April to September so it's also a great place to visit over Easter or during the September school holidays.
Getting There: Bali is very easy to get to! There are direct flights in Denpasar from Auckland, Sydney, Brisbane, Melbourne, Adelaide, Perth, Cairns, Townsville and Darwin.
Thailand
Thailand has a lot to offer families who want a great holiday and fantastic food at an affordable price. Thailand has an extremely family-friendly culture so even families with small children will feel welcome and comfortable. Bangkok is a great place to start your Thai holiday. There's a tonne of fun stuff to do in Bangkok for kids. Once you've had a few days in the city, head south for some beach time. Koh Samui is a great island for families who want to escape the Southern winter. Koh Samui has beautiful white sand beaches with clear & calm water. It is a touristy island but if you avoid staying in Chaweng it's very pleasant.  We recommend this resort in Koh Samui for families. If you're not keen on Thailand because you've been before or want something more adventurous then look into a trip to Sri Lanka. Similar flight time but something a bit different.
Travel Tip: Picking a beach in Thailand depends on what time of year you're visiting. From June through to September, you'll get the best weather on the Gulf Coast so pick Koh Samui or Koh Phangan. From November to March, you'll find the best beach weather on the Andaman Coast so travel to Phuket, Krabi or Koh Lipe.
Getting There: There are multiple airlines that will fly you into Bangkok from all over Australia and New Zealand. You can also fly direct into Phuket from Sydney & Melbourne.
Hawaii
Hawaii is always a good choice for families. If you want to island hop, we recommend allocating one week for each island. If you've only got two weeks, then stick to two islands. You'll start and end your journey in Honolulu and exploring Oahu is a dream. Despite the bad traffic at times, we think Oahu is the most beautiful island in Hawaii. Oahu offers a good mix of beaches, shopping, coastline and activities for families. Don't miss snorkelling in Hanuama Bay! If you want solitude and stunning landscapes then Kauai is the island for you. A helicopter tour over the island is a must! Maui is the best choice for families that want a bit of everything as it has beautiful beaches, interesting drives and historic towns. Sunrise or sunset at Haleakela is not to be missed. Finally, for families that want their beach holiday with a side of adventure and intrigue, there is the Big Island. The Big Island has loads of Hawaiian culture, lovely beaches, swimming with turtles, and of course the Volcanoes National Park.
Travel Tip: You'll need to complete an ESTA form online before travelling to the US. New Zealanders and Australians get a 90 day visa waiver when visiting the US.
Getting There: You can fly direct into Honolulu from Auckland, Sydney, Brisbane and Melbourne. From there, it's easy to connect through to any of Hawaii's other islands.
Alaska Cruise
While it might be winter in the Southern Hemisphere, in the North they're gearing up for summer. Summer in the US is the perfect time to take an Alaska cruise. If you've got a healthy budget and an appetite for stunning vistas, amazing hiking and wildlife encounters then an Alaska cruise is a wonderful choice. Don't scrimp on an inside cabin. Opt for an oceanview or balcony stateroom so you can gaze at the glaciers and fiords. Alaska cruises run from May to September so you could also plan one for the September school holidays and cruise prices are slightly cheaper in September after American kids are back in school.
Travel Tip: Wondering what to pack for an Alaska Cruise? Read through my dream packing list here.
Getting There: You'll need to fly into Vancouver or Seattle depending on where your cruise begins. You can fly direct into Vancouver from Auckland and Sydney so cruises that start in Canada are a better choice if you want to maximise your travel time. For cruises starting in Seattle, you'll need to fly to the US and connect via LAX or San Francisco.
Tell me about your plans for the upcoming school holidays! Where are you escaping to this winter?
Leave me a comment below or join in the discussion on Facebook and tell me where you're off to this winter to escape the cold and spend time with your family! And don't forget to enter the competition over on Instagram.