This post may contain compensated links. Please refer to my disclaimer here for more information.
Whether you're from here or abroad, there is so much to see and do in the United States. It's one of the most kid-friendly countries for travelling in with children of a young age. There is so diversity in the United States from state to state. After spending over a year road tripping across America, we've been through quite a few cities. In no particular order, here are what we think the 10 best cities in the US are if you're visiting with kids.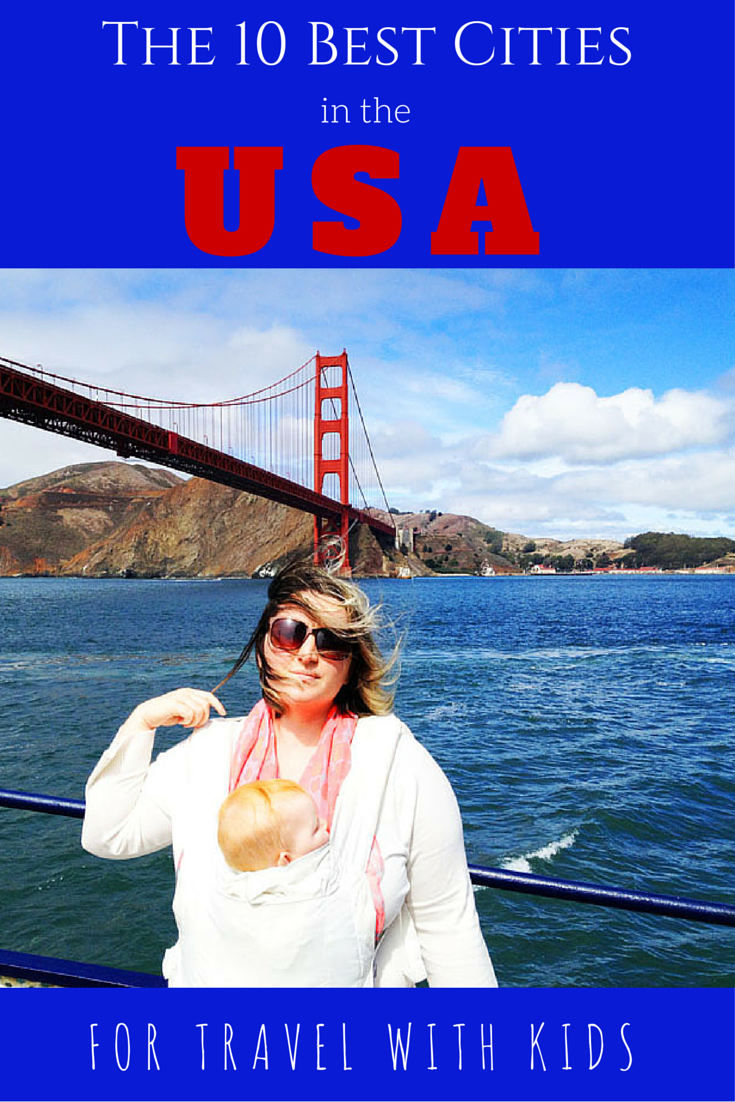 The 10 Best Cities in the US to Travel with Kids
Orlando
Orlando caters to family fun 100% of the time. I doubt there's a great concentration of theme parks in the world. All the big ones are here – Disney World, Universal, Seaworld. Orlando is a winner with families! There's great shopping in Orlando for mum & dad, lots of family friendly accommodation and fantastic weather. (Seriously, I'm sitting outside in Orlando right now writing this post, it's 9am and it's a perfect 80F / 27C.) The beaches of Clearwater and Cocoa Beach are just an hour or so away. The Kennedy Space Center at Cape Canaveral is also a must visit. You can cram a whole lot of holiday into Orlando!
New York City
If you want a big city experience, New York City can't be beat! It's surprisingly kid-friendly to boot. Kids will be in awe of the towering skyscrapers, the hoards of pedestrians and the yellow taxis zipping by. The Natural History Museum is right next to Central Park so combine these for a fun day out. Head up the Empire State Building or Top of the Rock for grand views over the city or go on a Circle Line cruise to see Manhattan from the water. They're all on the New York CityPASS so you can do them all if you wish. The USS Intrepid is also an amazing day out for kids. Make sure you buy some freeze-dried ice cream from the gift shop!
Accommodation Tip: New York City hotels will bust your budget! Using Priceline, we got a 4-star hotel in Times Square for under $150. Read the tips in this post to find out how. If you're in the city for more than a few days, switching hotels a couple of times will get you the best rate. This also gives you the chance to check out different parts of the city.
Seattle
We loved Seattle! Granted, we visited in summer and had perfect weather. Seattle is a very cool city. Parents and kids will both love the Experience Music Project where you can teach your kids about Nirvana, rock out on guitars and even meet Daleks face to face. A trip up the Space Needle is an essential Seattle experience. As is a giant Space Needle cup for the kids! Then there's the Woodland Zoo, Pike Place Market, Microsoft…. I could go on! You can easily spend a week taking in the sights of Seattle.
Read more: Top 10 Things to Do in Seattle with Kids
Washington DC
One of the best things about visiting Washington DC with kids is that all the museums and monuments are free. Heck, even the zoo is free in DC! You absolutely can't miss the Smithsonian Museum of Air & Space, National Museum of Natural History and the National Archives which houses the US Constitution, the Declaration of Independence and the Bill of Rights. Oh, and there's some "white house" where a man called Obama lives too.
Accommodation Tip: Hotels in Washington DC itself are quite pricey but you can save some cash by staying across the bridge in Arlington, Virginia. We stayed at the Holiday Inn Rosslyn @ Key Bridge which was great value and less than 10 minutes drive to the Lincoln Memorial.
Nashville
Nashville just might be my favourite of America's smaller cities. Nashville has it's own unique country culture and cuisine which makes it feel like you're visiting something special.  Nashville has a lot of cool stuff going on for families. What ever your kids love, you'll find it in Nashville. Science? Check. Music? Check. Art? Check. It's all there in Nashville and it's all kid-friendly.
Read more: Top Ten Things to Do in Nashville with Kids
Philadelphia
Philadelphia is hot spot for US history. If you want to experience US history fist hand, this is a great place to start. The Constitution Center, the Liberty Bell and Independence Hall will tick the boxes for history buffs. If food's more your thing, there's iconic Philly cheesesteaks to try and Big Gay Ice Cream. Our kids loved the Franklin Institute and the Please Touch Museum. The Adventure Aquarium, technically across the bridge in New Jersey, is an absolute winner with it's unique hippo enclosure.
Accommodation Tip:  Stay at the beautiful Loews Philadelphia if you can! It's a historic building right in the center of town and Philadelphia is very flat and walkable. Kids are well looked after thanks to the Loews Loves Kids program with special treats and amenities for family.
Las Vegas
Many would argue against visiting Vegas with kids. I say, take them! Las Vegas isn't just a city for sinners, there's a lot to drive families to visit. The lights, the scale and the energy will amazing little ones. There's a tonne to do in Las Vegas with kids and a lot of it is free. There are also a few top-notch shows in Las Vegas that your kids will enjoy. Our favourite was the Popovich Comedy Pet Theater. It can also be a very economical destination to visit if you avoid major holiday weekends and big conference & events.
Read more: The Best Hotels in Las Vegas for Families
San Francisco
It's worth visiting San Francisco with your kids for the California Academy of Science alone! It's one of the best experiences for fun and education for families we've come across on our travels across America. The Exploratorium at Pier 15 would come a close second. A cruise around the bay and under the Golden Gate Bridge is a must. All three of these activities are on the San Francisco CityPASS which will really save you a lot of money. It also includes the aquarium at Monterrey which everyone raves about. If you don't find it too creepy you can also visit Alcatraz too (though remember to book your tour in advance).
Read more: Things to Do in San Francisco with Kids
Key West
Key West is charming, historic and beachy. It's totally flat so very walkable with kids… if you don't mind the heat & humidity. It's uniqueness can't be argued against either. Sitting at the Southernmost tip of the continental United States, Key West is stuffed with historic homes, pirate history and natural beauty. The Conch Train is a great way to get an overview of the historical sites in Key West. Don't forget to stop somewhere for a bite of Key Lime Pie! And definitely make sure you catch a sunset.
Read more: Visiting Key West with Kids
Boston
Boston is another city where you can get up close with US history. A trolley tour of Boston is a must if you want to learn as you go. There's a Museum of Science is amazing. Time your visit to watch a lightening storm be created in the Theater of Electricity. They have their own Faraday cage and the world's largest  Van de Graaff generator. It's amazing! The New England Aquarium is another must visit as is the Legoland Discovery Center. Don't miss out on a cannoli from Modern Pastry in Little Italy!
Accommodation Tip: Hotels in Boston are very expensive! Staying just outside Boston will save you a tonne of money if you have a car. We highly recommend the Four Points by Sheraton in Wakefield.
What's your favourite city in the US to visit with kids?