This post may contain compensated links. Please refer to my disclaimer here for more information.
I've been travelling for the past decade and have a tonne of travel knowledge knocking about in my brain. For the past month or so I've been sharing a "Daily Travel Tip" on my Facebook page. It's my way of sharing all the tricks I've learnt to travel smart, save money and make my trips as awesome as possible.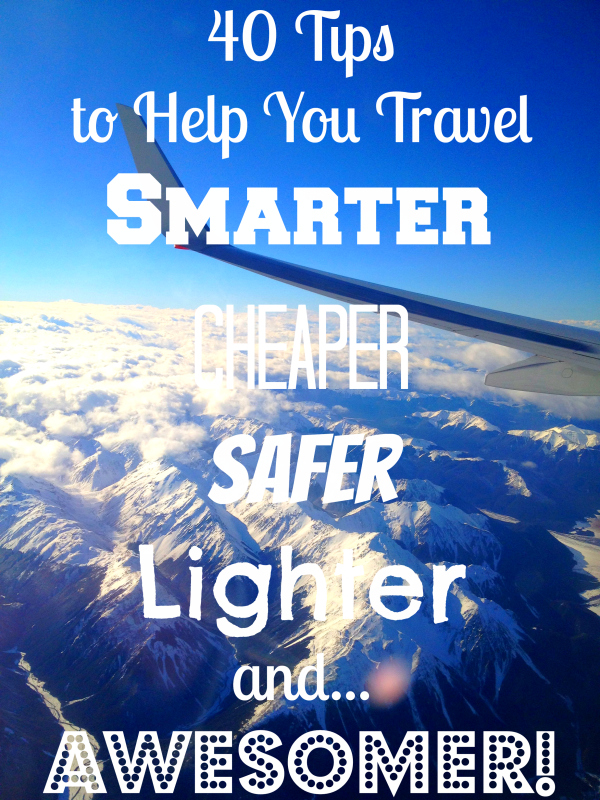 If you've missed any of these travel tips over the last few weeks, I've combined them all to share in one easy place… right here in this post! So read on, fellow travellers, and let me help you make the most of your travels with my 40 best travel tips.
General Travel Tips
1. Want to meet up with fellow travellers on the road? Do a #hashtag search on Twitter and see who's in your current destination.
2. Get a Skype number. Technophobic family and friends who don't use Skype online can use to get in touch with you simply by calling a local number. You can pick up the call on a computer, tablet or mobile phone.
3. Commit your family's passport numbers (and expiry dates) to memory. It makes filling out immigration arrival cards so much easier. No more fossicking through cabin bags right before the flight lands!
4. Fresh air and sunshine are the best cures for jet lag… not sleep! Avoid the temptation to nap after a long flight. Find a park, take a walk and try your best to stick to local time.
5. Street food is a delicious little window into a culture so don't be scared to try it. Look for busy vendors with a high turnover so food isn't sitting around. Choose stalls doing a single dish, generally they make one thing REALLY well. Observe how clean bowls/utensils are and where they are washed. Look at how clean the vendor her/himself is – clean fingers, clothes etc are a good sign of general hygiene.
6. Don't listen to people who tell you not to go somewhere or not to do something. Sometimes personal perspective and expectations can play a big part in why people don't like a certain city, country or activity. Collect information from other sources but decide for yourself.
Money Saving Travel Tips
7. Sundays are usually the cheapest nights to stay in hotels. Weekenders usually check out on a Sunday morning and business travellers don't check in until Monday. Staying a Sunday night can dramatically change the cost of a hotel booking.
8. When taking a road trip, try booking your rental car from an overseas website. Booking from within the US can work out more than twice as expensive as booking from outside the US. Check the .co.uk, the .com.au and the .co.nz versions of car rental sites. Doing this saved us $800 on a recent trip.
9. Spending a foreign currency can feel a bit like spending Monopoly money so tracking your daily expenses is a good idea. I use a pen and a little notebook but there are also apps like Trail Wallet.
10. When buying hotel deals through sites like Groupon, always check what additional charges get tacked on. Resort fees and parking can make these seemingly cheap stays more expensive than they appear.
Bonus tip: Another way to save money on travel is by using travel reward cards. Check out how Debra from Traveling Well For Less travels for free.
Travel Planning Tips
11. If you want to know what a destination is like in a certain season, do an advanced search on Flickr for photos taken in that month. See comments for an example.
12. If you're planning a trip to a country you've never been to before and you want to map out a sample route, take a look at the tour itineraries on sites like Intrepid Travel and G Adventures. I find they do a good job of hitting the highlights plus one or two more interesting places. Figure on independent trips taking about a third longer than an organised tour.
13. Use social media for personal recommendations. Poll your friends via Facebook or Twitter for the best restaurants in town, the cheapest hotel or the most interesting things to do. If you only have a friend or two in your destination city, ask them to post it on your behalf. First-hand knowledge is the best!
14. Find out when school holidays are in a country before planning your visit. Flights at the beginning and end of school holidays are way more expensive, accommodation is more heavily booked and attractions more crowded.
15. Planning your summer holiday? Think about going somewhere where summer is the off-season. Ski resorts like Whistler in BC and Vail in Colorado have a tonne of summer time activities for outdoorsy people – mountain biking, hiking, swimming. These winter resort towns are well set-up for visitors and there are plenty of vacation homes to use.
16. Consider travel by rail. By the time you schlep out to the airport, wait to check in, go through security etc a flight can actually end up taking longer than a train ride. Especially true in Europe.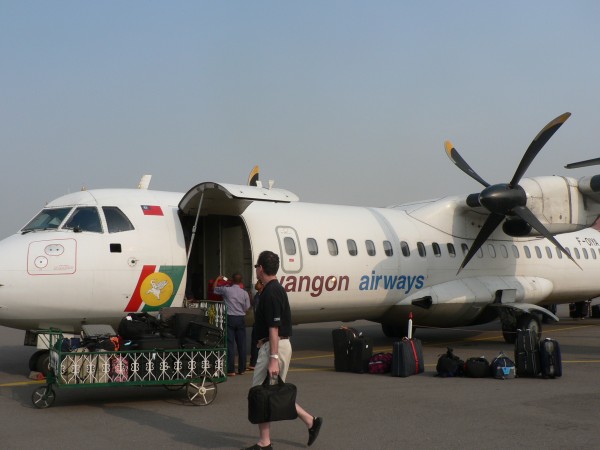 Tips for Booking Flights
17. Want to know which airlines fly a specific route? Search "flights City A to City B" into Google and the first entry will give the detailed flight schedule between the two cities including the flight times, duration of the flight, the airline and what day of the week the flights run. Searching within a booking engine like Kayak or Skyscanner won't necessarily show up every airline that flies each route. Read more on how to use Google Flights here.
18. Conventional RTW tickets (on an airline alliance) might seem like a good idea in theory but in reality it's almost always cheaper to build your own custom RTW tickets with one way flights. Doing it yourself gives your greater flexibility, freedom to change your travel plans as you go and the ability to see the exact destination you want or try something out of the box.
19. Need some travel inspiration? Use the Everywhere search function on Skyscanner.com. From your home airport (or wherever) you can search for the cheapest flights to any country or city. Great if you're not sure where you want to go, you just know you want travel.
20. Low cost (budget) airlines don't always show up on flight booking websites. Luckily, Wikipedia has a list of low cost airlines broken down by continent then country. Make sure you check it for the countries you're visiting before booking flights.
21. When booking budget airline flights with infants, check if the cost of booking them as an adult with a seat is cheaper than booking them as lap infants. This has been the case with sale fares on Air Asia.
22. Want to know what budget airlines fly long haul routes? Check out this great map for ideas. (Click on the green lines to see the airline flying that route.)
23. Before you select your seat on a flight, look up the aircraft seating chart on Seatguru.com. Seatguru will show you the best and worst seats on the plane plus tell you the pitch of the seats and whether there are powerpoints, personal TV screens at that seat. For families, they also show whether bassinets for infants and babychanging facilities are available.
24. Set up a fare alert for any flights you plan on taking. You can set up fare alerts on sites like Google Flights, Kayak and Expedia and they'll send you an email when the fare you're after drops below a certain dollar value.
Travel Tips for the Airport
25. Don't change money at Travelex booths in airports before your trip. It may be tempting to change money before you depart but the exchange rates and fees aren't good. Wait until you arrive at your destination and use an ATM or change a small amount of money at the airport and the rest at a bank in the city.
26. Did you know you can purchase passes to most business class lounges in airports? Just present your boarding pass and pay the fee, usually about $50, and you have access to food, drinks, wifi, TV, kids rooms… even showers and toiletries. If you've got a long layover or a late flight it can be worth the money.
27. Parents rooms in airports usually have a microwave for heating up bottles. Use it to your advantage on long layovers for heating food. Carry a few sachets of instant oatmeal for emergency airport meals. (You can borrow a paper cup from a cafe to make it.) Much better than Burger King at 5am!
Family Travel Tips
28. Snap a picture of your child on your phone/camera before a busy day out e.g. at a theme park. If they get lost you have a picture in the exact outfit they were wearing and can describe it accurately to people/security/police.
29. Instead of buying new toys, books or games to occupy your kids on the plane, hide a few favourite ones a week or two before the flight. They'll be pleased to see them, you know they'll enjoy them and you get to save a little money.
30. Don't be afraid to ask for what you want! If you're travelling with small kids and need a little extra room on the plane to spread out, ask at check-in if the flight is full and ask the check-in agent to keep a few extra seats free around you. As soon as you board the plane, tell the flight attendants the same thing and they'll do their best to help you out. They actually do want your kids to be comfortable and happy on the plane.
31. Choose a middle or window seat for your child when on a plane. In the event of severe turbulence, falling cabin baggage could seriously injure your child if they're seated in an aisle seat.
Travel Health & Safety Tips
32. Put a baby picture in your wallet… even if you don't have a baby! Lost/stolen wallets with baby pictures in them are much more likely to be returned to their owners than those without.
33. Always keep a few hundred dollars of emergency stashed in your luggage. We hide ours in the lining of our suitcase but a baby bag or dirty laundry bag also works.
34. Keep a card with your ICE (in case of emergency) contact's details in your wallet at all times. If you get into an accident it's important that authorities can contact someone at home. Do the same with cell phone. Add the term ICE to your emergency contact's details on your phone.
35. Safety regulations in developing countries are not the same as they are at home so research/buy before you leave home any safety items to bring abroad… especially if you're travelling with kids. You may not be able to buy or rent what you need once you're there – car seats, child sized helmets or life jackets. For example, we knew we'd be taking a lot of small boat rides in Thailand and Malaysia so bought a toddler-sized life jacket along for Reuben. They weren't available for rent or purchase any of the places we went but we were very glad we brought our own. You can buy kids lifejackets like this
online.
36. If you come down with a case of "Delhi Belly" on the road, don't back yourself up with Imodium
unless you absolutely have to. If you've got a 6 hour bus ride ahead of you go for the Imodium – otherwise, as unpleasant as diarrhea may be, it's best to let the bugs out of your system.
Packing Tips
37. Rolling, instead of folding, your clothes makes them easier to pack. It saves space and the clothes crease less.
38. Packing cubes are your best friend. These are our favourite ones.
 It's a lot easier to find items in your bag when everything isn't jumbled together. If you're travelling solo, use them to separate underwear and outerwear. If you're travelling as a couple or family, each person gets their own space. Use another small one to bundle up all your electronics. You can buy packing cubes online here.
39. Tip your vitamins into small Ziploc bags. They'll pack flat and no risk of smashing the glass bottle.
40. When packing, don't throw things in for "just in case" situations. An extra jacket, umbrella or spare pair of flip flops will take up valuable space and can be easily purchased on the road. Having a jacket from Melbourne, an umbrella from London or a pair of flip flops from Thailand make for great souvenirs.
Want more travel tips?
Another 40 Tips for Smarter, Better, Cheaper, Awesomer Travel
40 Tips for Travelling in Europe with Your Kids
10 Tech Tips for Travelling in Europe
60+ Ways You Can Pay for Travel with Paypal
How to Book Cheap Five-Star Hotels in Las Vegas with This Amazing Priceline Hack
Bidding for Business Class – How to Get an Upgrade
The $20 Trick: How to Score Amazing Hotel Upgrades in Las Vegas
Join us on Facebook or sign up to our newsletter below for more great travel tips and posts on how to maximise your travels.
This post contains affiliate links which may help me earn a small commission at no extra cost to you.